Redskins vs. Steelers: Observations and Analysis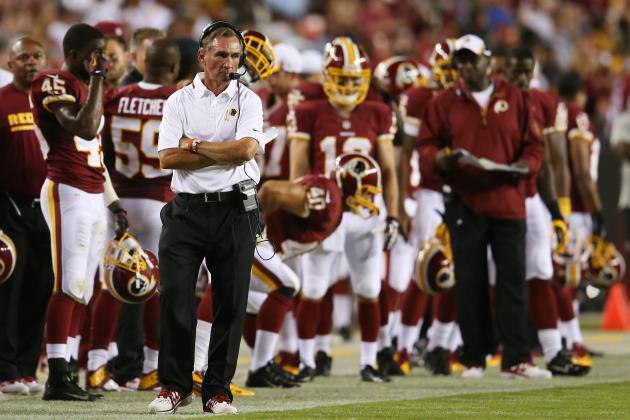 Rob Carr/Getty Images

There was a little bit of everything on Monday night. Kirk Cousins limping scared the daylights out of us. Barry Cofield looks like he wants to be the best nose tackle in the game, and Ryan Kerrigan continues to impress.
Despite some minor injuries, the Washington Redskins came out relatively unscathed and were victorious yet again against the Pittsburgh Steelers, 24-13. Even though the winning or losing is rather meaningless in the preseason, it's good for the locker room to experience a victory.
Anyway, I'm continuing my weekly observations. Please remember this is all based off of my notes, so it's very informal.
Begin Slideshow

»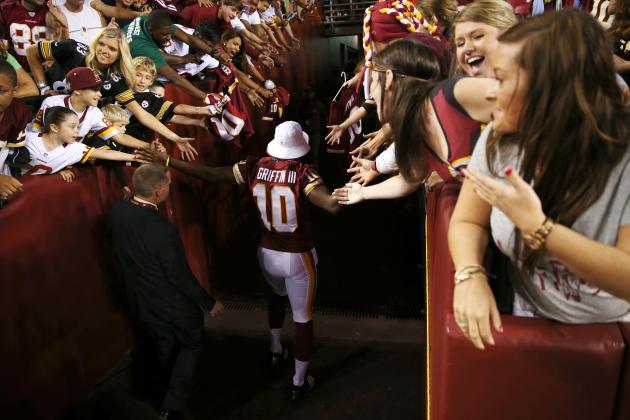 Rob Carr/Getty Images

Let's just take a collective sigh that Cousins' foot injury isn't serious. We didn't see much from the second-year player this year, but even on the play that he got injured during, he was able to flash his undervalued athleticism.
Of course, he's nowhere near on the same level as Robert Griffin III, but he can make a play on his feet when needed.
Yes, Rex Grossman threw another inception, but that turned out to be Jordan Reed's fault. Then again, this is why Grossman is still on the roster.
He's an established veteran and had a great game with all things considered. He still has a tendency to lead his receivers too much (Aldrick Robinson's catch) or put too much loft on some of his passes; however, he proved that he's still a good insurance policy.
Pat White definitely wasn't as impressive as he was last week, but Kyle Shanahan did implement the zone-read option with him at quarterback, and it paid dividends. On the other hand, his accuracy remains a question as he had an inexcusable interception in the fourth quarter.
And of course, the RGIII update. He was shown in warm-ups running, throwing and even sprinting. There doesn't appear to be any hitch in his movement. I would be surprised if he's not starting Week 1.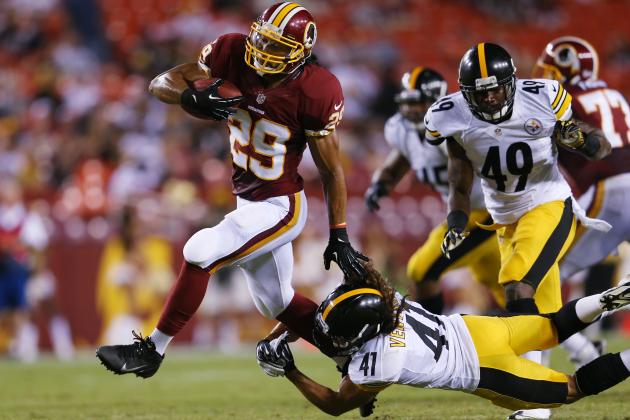 Rob Carr/Getty Images

This group struggled. Alfred Morris wasn't able to break anything off, which isn't a huge concern considering the Steelers are a very good defense.
I was surprised to see Keiland Williams get more carries over rookies Chris Thompson and Jawan Jamison.
Williams continues to be productive, excluding his turnover exchange with Grossman.
Roy Helu really wasn't featured in yesterday's game, but he was used in the two-minute drill and scored on an untouched 30-yard run. As long as Helu stays healthy, I'm a big fan and hope to see his speed and versatility utilized in the regular season.
Thompson had three carries, one of which was a fumble. I would like to see the former Florida State product get some more work in the offense, but his development as an NFL running back is a long ways away.
I liked what I saw out of Jamison. Nothing flashy and he appears to fit the Shanahan zone-running scheme.
Like a lot of positions, there's a backlog of running backs. The question remains out there: Who is going to carve out a role?
Alfred Morris is clearly the team's starter, and he'll be the workhorse until his productivity waivers. Roy Helu seems to have solidified his role as a third-down back and receiver out of the backfield.
That leaves us with Evan Royster, Williams, Thompson and Jamison.
Royster and Williams seem to be very transparent in their skill sets. They do all the "little" things right. They're good blockers, pass-catchers and if there are four yards to gain, they'll get you those four yards—no more, no less.
That leaves us to Thompson and Jamison. Could both be destined for the practice squad? Last year, they basically survived the season with just two running backs (Morris and Royster), so it will be interesting to see how this pans out.
Lastly, it was nice to see Eric Kettani get some playing time. His problem is that his competition is one of the best fullbacks in the league—Darrel Young. Either way, he's someone everyone can root for. (He's in the military for those that don't know.)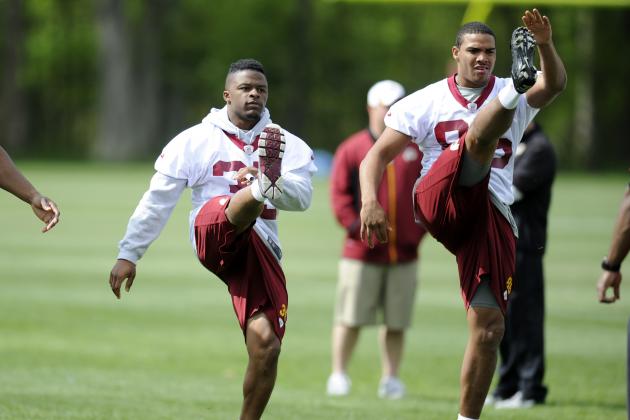 Nick Wass/Getty Images

This group was relatively quiet throughout the whole game. Fred Davis, Niles Paul and Logan Paulsen really stick out.
However, third-round pick Jordan Reed was able to see the field. He's been a mystery since the start of training camp, and it definitely wasn't the best start for the rookie.
He dropped a pass and had a miscommunication with Grossman on a route which led to a turnover.
Even though Reed was an early pick, it's hard to imagine him producing at a consistent level at this point. This feels like he's going to be practically redshirted for his first season.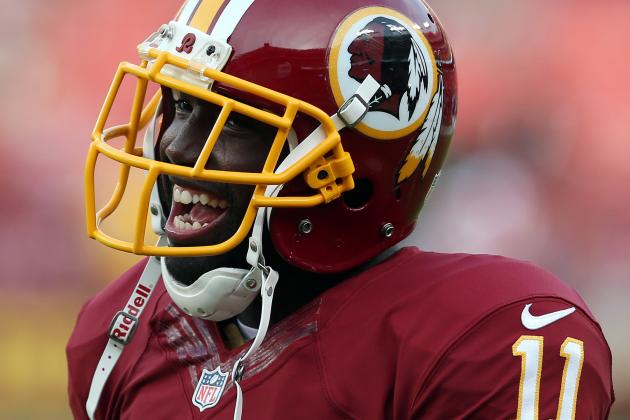 Rob Carr/Getty Images

The Leonard Hankerson story continues to confuse me. He had another crucial drop. I understand that it was a tough catch to make, but if he wants to be more than just a rotational player, he's going to need to come down with those.
As my frustration continues with him, he makes an acrobatic catch in the back of the end zone for a touchdown.
And that's Hankerson for you.
I thought Aldrick Robinson had a great game. He would have had a touchdown, but the Steelers cornerback held on the play to prevent the score.
He made a great catch in traffic and hung onto the ball, and he also made a tackle on special teams. Now making a tackle off the kickoff may seem miniscule to you, but it's versatility like that that will keep him on the roster.
There were only a couple of dropped passes this game, which was an improvement from last week.
Lance Lewis continues to impress me as well.Gat
As far as the three veterans, they continued their work. Pierre Garcon was used in the screen game, Santana Moss continues to succeed in the slot and Josh Morgan is developing into a solid possession receiver.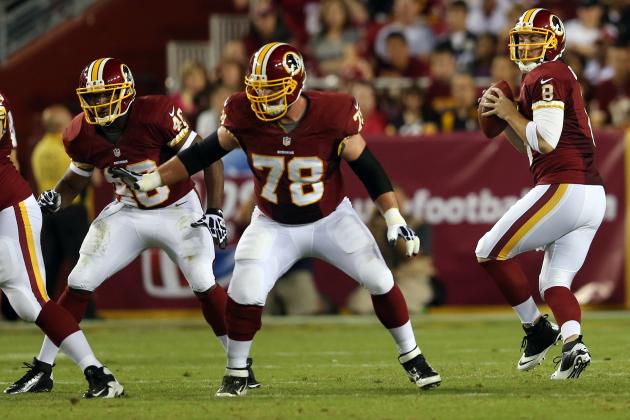 Rob Carr/Getty Images

If there's a weak link on the starting offensive line, it's the right tackle Tyler Polumbus—just like last year. He allowed a sack on Cousins and committed a holding penalty.
I assumed that the right tackle position would have been upgraded this offseason; however, the Redskins front office chose to stick with continuity. Maybe plans were altered, given the salary cap restrictions.
Either way, Polumbus is their best option at the moment.
Both Tom Compton and Josh LeRibeus improved from last game, especially Compton. He was primarily going against Steelers first-round pick Jarvis Jones.
Going against talent like that will be huge for Compton, and he definitely held his own. Looks like Compton is in the lead for the "swing" tackle role.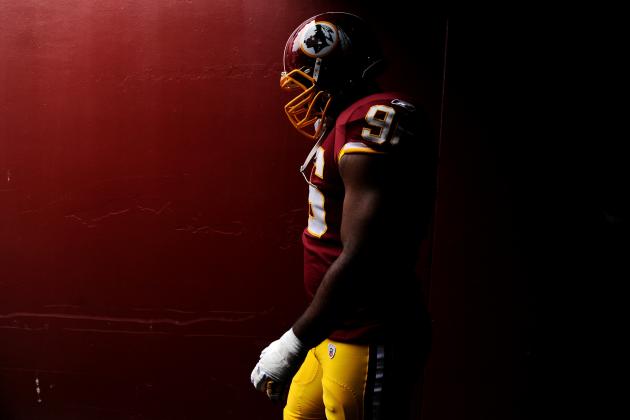 Patrick Smith/Getty Images

This was the most effective corps Monday.
Cofield was a man possessed. He was beating Maurkice Pouncey on just about every single play, pressuring Roethlisberger and gang tackling. Cofield did it all.
Kedric Golston and Stephen Bowen played very well, too; it looks like Golston will be the starter come Week 1.
Don't count Phillip Merling and Chris Baker out either. Baker is transitioning to defensive end this year and was very active against the run.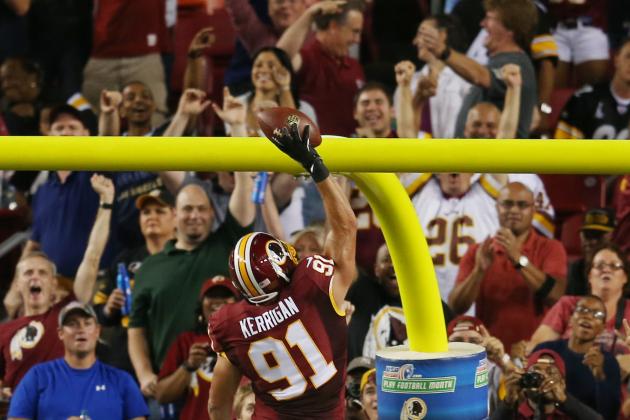 Rob Carr/Getty Images

OK, maybe they were the best group Monday.
A lot of people are talking about Kerrigan today. Not many outside linebackers can read a screen pass like Kerrigan can.
I would normally say how amazing his interception was, but he's been doing that since his rookie year—truly impressive stuff.
This was also the second consecutive game in which they lined Kerrigan up against the guard and had rookie Brandon Jenkins rush from the outside.
That formation appears to be Jim Haslett's go-to on third down.
I like what I have seen out of Darryl Tapp so far, too. He's converting to linebacker after being a defensive end in a 4-3 scheme.
He seems comfortable playing upright, and he looks to be a solid contributor in the future.
Depth at inside linebacker scares me. While I'm happy with starters London Fletcher and Perry Riley, I'm concerned if any injuries were to occur.
Hopefully, the Nick Barnett signing can come to fruition if needed.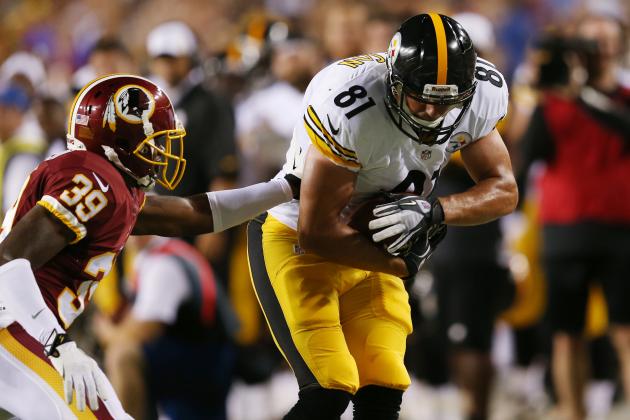 Rob Carr/Getty Images

David Amerson was a little more inconsistent in comparison to the first game. I love his physicality so far, but he did get lost playing in zone coverage.
I was not impressed with E.J. Biggers. He was getting a lot of work as the nickel corner on Monday night, and he was routinely beat in coverage by Emmanuel Sanders and also missed a couple of tackles.
I would like to see Richard Crawford receive an opportunity as the nickel corner, because I don't think Biggers is the answer.
Chase Minnifield did give up a long pass to Markus Wheaton, but Wheaton is also one of the fastest receivers out there.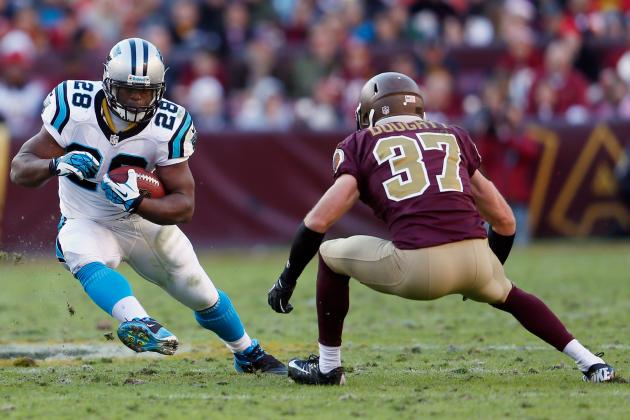 Rob Carr/Getty Images

Two games into Bacarri Rambo's rookie season and he's struggled tremendously. He continued to take bad angles, which led to missed tackles and opportunities.
At this point, that's expected considering he's a rookie. On the other hand, he's been the starter since early on, and starting free safeties cannot afford those mistakes.
Even though he's out of position, I almost think the defense is better off with Reed Doughty as the starter to begin the season. Let Rambo develop at an appropriate pace as Doughty can bridge the gap in the meantime.
The Redskins went through a whole season with Madieu Williams as the starting free safety, and he was the culprit on many big plays throughout the season.
I can only assume that this was a major component to fortifying the defense this offseason, but I'm worried it will be more of the same if this continues.
DeJon Gomes appears to be on the bubble, too. He's committing penalties and missing tackles.
After the inferior play so far, the Redskins need to be crossing their fingers for Brandon Meriweather to return. If healthy, he'll make a world of a difference.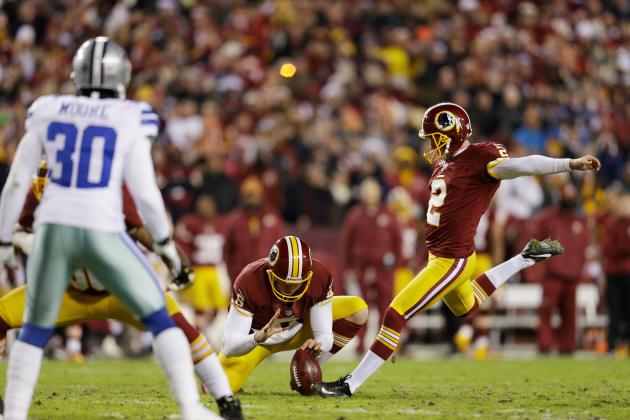 Rob Carr/Getty Images

I don't know if the team has any room for Skye Dawson, but he's doing everything he can to make this roster.
Why was Josh Morgan returning kickoffs? They have to have a better option than that.
I'd like to see Niles Paul get more opportunities as the kick returner, but he has to field a kick that enables him to do so. Richard Crawford hasn't gotten much either on punt returns.