Pros and Cons of 5-Star ATH John Smith's Top 8 Schools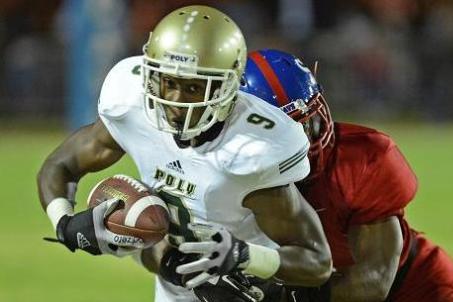 247Sports
John Smith is a 5-star athlete who plays for Long Beach Poly in Southern California. He has outstanding agility, explosiveness and field vision, as a receiver and safety.
Known by many as "JuJu", Smith is wanted by major programs from all over the country. Examining a report by Brian Dohn of Scout.com, it's become clear eight schools have the best chance to land him.
With so many offers, he will have to make a difficult decision. Smith could stay close to home, but still must choose between two local programs. He has a pair of SEC schools on his trail, plus three programs in the Midwest.
Player evaluations are based on review of tape at Scout.com, Rivals, 247Sports and ESPNU.
Begin Slideshow

»
Scott Halleran/Getty Images

Pros:
The Rebels are an upstart program in the SEC. Smith would be able to play early on a team with solid young talent in the nation's best conference.
Ole Miss has underrated tradition, a great fanbase and Hugh Freeze's staff genuinely cares about its players. Smith would be able to play with talented players such as freshman defensive end Robert Nkemdiche.
He could form a great receiving tandem with freshman receiver Laquon Treadwell, or team up with freshman safety Antonio Conner in the secondary.
Cons:
Oxford is culturally different than Southern California. Smith must decide if he wants to travel far away from home. The Rebels play in the SEC West, which places them below Alabama, LSU and Texas A&M in their own division.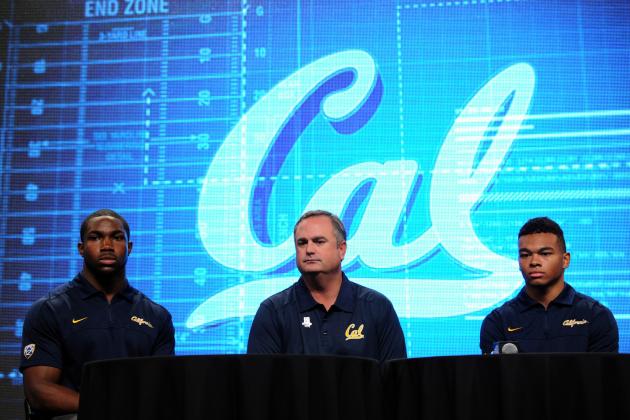 Jayne Kamin-Oncea-USA TODAY Spor

Pros:
The Bears are under new management, as new head coach Sonny Dykes has brought his spread offense to Berkeley. Smith could play receiver at Cal, catch a ton of balls and leave for the NFL in three seasons.
With Jared Goff and Zach Kline on the roster, Cal has a solid quarterback depth chart.
Signing with the Bears would also keep Smith close to home. Cal also has terrific academics, as a degree from UC Berkeley would be a big asset for Smith after he is finished playing football.
Cons:
Dykes is unproven in the Pac-12 as a head coach. Cal has not contended for a Rose Bowl berth in several seasons, plus schools such as USC, Oregon and Stanford are above it in the league's pecking order.
Kirk Irwin/Getty Images

Pros:
The Buckeyes are a winning program with a history of dominating the Big Ten and playing in prominent bowl games. Head coach Urban Meyer is a winner, recruits at an exceptional rate and has Ohio State clicking on all cylinders.
He would be surrounded by fabulous talent, play for a large fanbase and have access to solid facilities.
Smith would also become one of the fastest players in the conference.
Cons:
Smith has to decide if Meyer's spread-option offense would be able to consistently showcase his talent at receiver. Ohio is not the first place a young adult from Los Angeles thinks of when deciding where they want to live for the next three to five years of their life.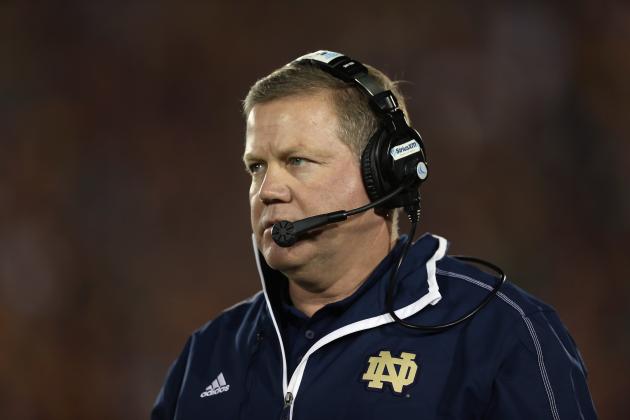 Jeff Gross/Getty Images

Pros:
Notre Dame is a program with a storied history full of tradition and mystique. The Irish are led by head coach Brian Kelly, who is one of the top coaches in the country.
Kelly is an offensive-minded coach who loves getting the ball to his playmakers on offense. Smith could also be part of a great safety duo with freshman defensive back Max Redfield, if the 2013 recruit stays on defense.
Notre Dame also has a disciplined campus environment and offers a rare academic experience.
Cons:
Notre Dame has an environment that is ideal for some recruits, but could be a turn-off for others. So Smith must make sure he gets an excellent feel for the program during his visit on October 18th.
The weather in South Bend isn't exactly attractive.
Kelly could leave for an NFL job before Smith graduates. Also, several other programs on Smith's list have better young quarterback talent than the Irish.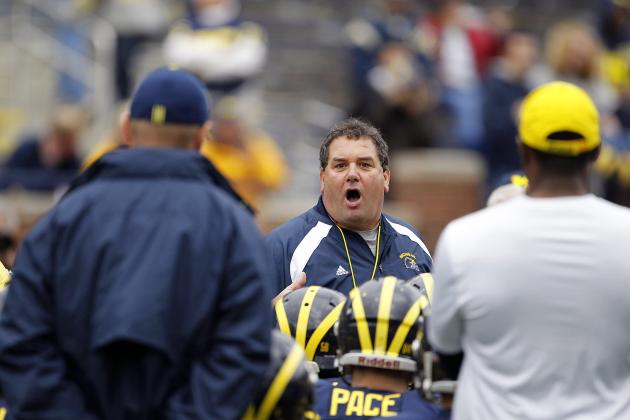 Leon Halip/Getty Images

Pros:
With the Wolverines wanting to bolster their receiver depth chart, Smith could get early playing time in Ann Arbor. Freshman quarterback Shane Morris is the future face of the program, and playing with the talented passer must be appealing to Smith.
Another player who could attract Smith is 2014 commit Jabrill Peppers, a 5-star prospect who is viewed as a rare talent.
Head coach Brady Hoke is beloved by his players, Michigan has terrific facilities, and the academics are not bad. If Smith plays safety, he can learn from defensive coordinator Greg Mattison, who is one of the top defensive minds in the nation.
Big Blue has a ton of young talent, a history of winning and receives national coverage. The Wolverines have a good alumni network, plus they receive awesome support from their fans.
Cons:
Ann Arbor is far from Southern California. Michigan experiences tough weather during the latter part of the season.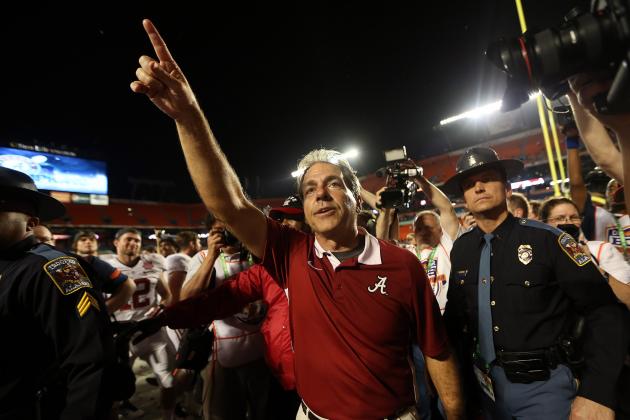 Streeter Lecka/Getty Images

Pros:
It doesn't get any better than Alabama, as this is the premier program in the country. 'Bama dominates on the field and on the recruiting trail.
Smith would essentially play on an all-star team in college. Head coach Nick Saban is the best coach in the country and runs the program like an NFL organization.
Smith would join a roster with exceptional talent, plus he could catch passes from quarterbacks such as freshman Cooper Bateman, 5-star 2014 commitment David Cornwell or 5-star 2015 commitment Ricky Town.
If Smith plays safety, he would be trained in an NFL scheme. Alabama also has an intense fanbase and plays in big games basically every Saturday.
Cons:
Distance and culture fits are the only major possible cons for Alabama in Smith's recruitment. He also must decide if he likes the serious approach of the program.
Christopher Hanewinckel-USA TODAY Sports

Pros:
The Bruins offer Smith the chance to stay close to home while playing for a player's coach in Jim Mora. If Smith plays safety in college, Mora is a former NFL defensive back coach who would certainly take a hands-on approach to Smith's development.
Mora's staff has given the Bruins a renewed swagger. He's loaded the roster with solid young talent and beat rival USC last year.
UCLA also has great academics. Being from Los Angeles and having a Bruin degree would help Smith outside of football.
Cons:
The Bruins will always be a basketball school. They have not played in a BCS bowl since the 1999 Rose Bowl, and Mora could leave to go back to the NFL in a few seasons.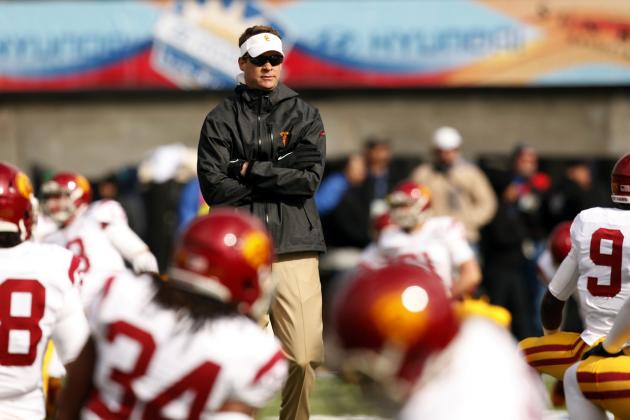 Ivan Pierre Aguirre-USA TODAY Sports

Pros:
Long Beach Poly is a solid pipeline to USC, as many former Jackrabbits have gone on to be great Trojans. USC is close to Smith's home, has a fantastic winning tradition and features good young talent.
Lane Kiffin runs a pro-style offense, which would prepare Smith well for the NFL. Clancy Pendergast is a good defensive coordinator with an NFL background who coaches defensive backs himself, so Smith would receive great coaching if he played safety in Troy.
The program has outstanding facilities, a large fanbase and receives national attention. Attending USC would put Smith in its exceptional alumni network.
Cons:
Kiffin enters the 2013 season on the hot seat, as USC's 7-6 2012 season will go down as one of the most disappointing team performances in college football history.
The Trojans are no longer perceived to be an intimidating program and have not played in a BCS bowl game since the 2009 Rose Bowl.
Smith is No. 19 on the 2014 Bleacher Report College Football Recruiting Heat Map. Use this mobile-ready resource to locate him and other elite prospects in the country.
Edwin Weathersby is the College Football Recruiting Analyst for Bleacher Report. He has worked in scouting/player personnel departments for three professional football teams, including the New York Giants and Cleveland Browns.