Atletico Madrid 1-1 Barcelona: 6 Things We Learned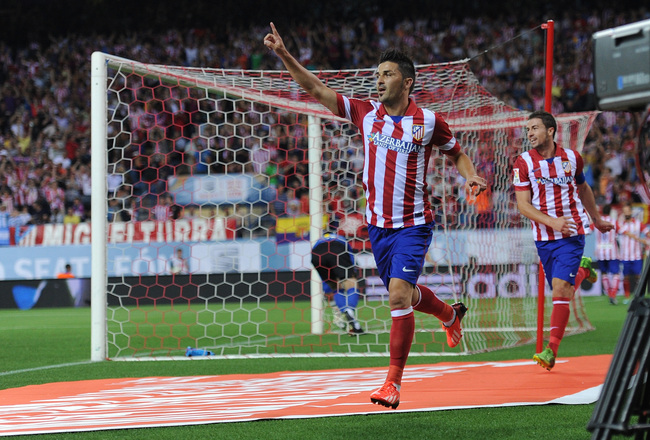 Denis Doyle/Getty Images
Atletico Madrid thrilled football fans everywhere in their 1-1 draw with Barcelona in the first leg of the Spanish Super Cup on Wednesday. The Vicente Calderon Stadium was rocking throughout the entire match, and there were many lessons to be learned.
From errors to miraculous plays, fans were dazzled. But what did each side learn from the thrilling draw? In this article, we will take a look at the six things we learned from the first leg.
Note that all statistics are courtesy of WhoScored.com.
The Same Issues Still Exist for Barcelona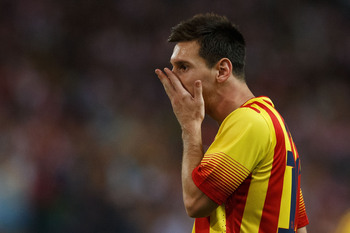 Gonzalo Arroyo Moreno/Getty Images
After all the problems Barcelona had last season, you would think that things have changed. However, if the match against Atletico Madrid is any indication, nothing has been fixed.
The Blaugrana defense was pulled out of position several times as evidenced by the unnecessary forward runs by Gerard Pique. And at the same time, Jordi Alba and Dani Alves could not coordinate their runs without risking a counterattack.
Barcelona's midfield looked as strong as ever, but again they were unable to create any chances as Atletico marked them out of the game.
In front of goal, Barcelona failed to be direct and wasted possession on several occasions. Facing a parked yet active defense kept the Catalans from creating many chances, and the offense suffered.
In the end, it was apparent that this is the same Barcelona that we saw last season. Little tweaks have been made by manager Tata Martino, but the real issues have not been addressed.
David Villa Is the Perfect Replacement for Radamel Falcao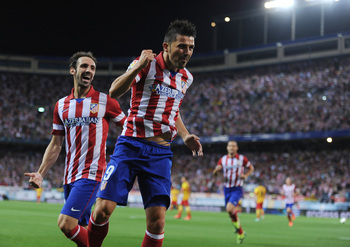 Denis Doyle/Getty Images
It has been exhilarating to see David Villa move to Atletico Madrid, but it was hard to judge just how much of an impact the 31-year-old would have on the club.
Well, now we know.
Not only did he finish an incredible goal to open up the scoring, but he fit in perfectly with Diego Simeone's system. Villa will prove to be the best replacement that Atletico Madrid could have brought in for Radamel Falcao.
He was able to get off five very good shots while enjoying a passing rating of 73 percent, further showing that he did not skip a beat.
Atletico fans will be excited after this match as it looks like Villa will not only fit in at the club but will thrive as well.
Neymar Can Handle Pressure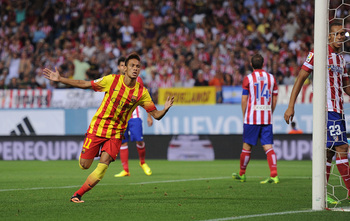 Denis Doyle/Getty Images
As the match progressed, things were getting more physical by the moment. The Barcelona players were being defended well, and it became difficult to link-up play.
When Neymar entered the game, it was easy to think that he would receive the same treatment. At his size and with his playing style, he should have gotten kicked around more than anyone, and yet he handled the pressure well.
For the first time since joining Barcelona, he looked strong in the face of physicality. The Brazilian refused to go down during challenges, and his hard work was paid off with a wonderful header to level the score.
Watching Neymar in this match should give Barcelona fans something to be excited about. He appeared to be comfortable on the pitch, and pressure was not an issue.
Atletico Madrid Are Ready for the Champions League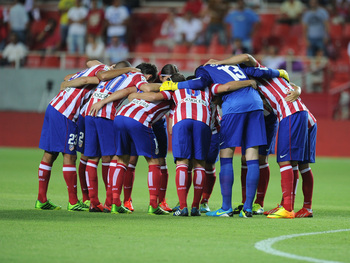 Denis Doyle/Getty Images
Atletico Madrid will be competing in the Champions League this season, and this match gave fans every reason to believe that they will be a major player.
The lineup looked strong, but more importantly Diego Simeone's men were organized. From top to bottom, the squad has tremendous talent. Barcelona and Real Madrid will not be the only Spanish clubs thriving in Europe this season.
On top of individual talent, Atletico Madrid is also a deep club.
Simeone brought on both Leo Baptistao and Oliver Torres in the second half, and the team did not miss a step. Everyone in the squad seems to have bought into what the manager wants, and that will show up even more in Europe.
Atletico is not only ready for the Champions League, they are welcoming it. It is hard to take anything away from just one match, but it is equally hard to discount quality.
Xavi's Time as Starter May Be Coming to an End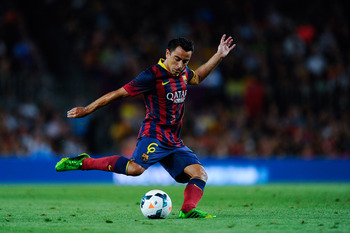 David Ramos/Getty Images
After many seasons as the brains of Barcelona, Xavi's time as a starter may be coming to an end.
While the Catalan midfielder enjoyed a passing rating of 96 percent, he did very little throughout the match. He struggled to keep pace with his opponents and did not create a single scoring chance.
The 33-year-old did show his class with his ability to keep possession, but the worrisome part was what he did with that possession. With Cesc Fabregas now looking like he is back to best form, it may be time for Xavi to take a back seat.
Xavi is still capable of pulling off brilliant plays and creating magical chances, but those moments are starting to come few and far between. It is not that he is now playing badly, but rather he is just not the maestro he used to be.
Atletico Madrid Aren't Going Anywhere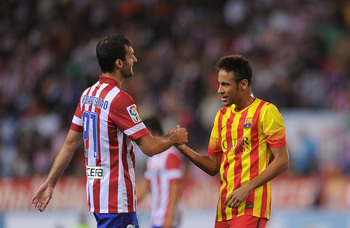 Denis Doyle/Getty Images
After a storybook year last season, many have wondered if Atletico Madrid would be able to repeat their success in La Liga. Well, that question may have been answered already.
Atletico Madrid again showed that they have the squad to rival Barcelona and Real Madrid. But the club also showed that they are able to stand toe-to-toe with the Spanish giants.
Los Colchoneros proved against Barcelona that they have what it takes to be competitive against the best clubs around. Spain's two-legged race may actually be tested this season, and it will all begin with Atletico Madrid.
This may have been only one match, but it demonstrated that Atletico can beat the best. That statement was shown to be true last season, and against Barcelona, Diego Simeone's men revealed that they are not going away anytime soon.
What did you take away from the 1-1 draw at the Vicente Calderon? Who was your man of the match? Leave your thoughts and comments below!
Tre' Atkinson. Follow me on Twitter for more discussions on all Spanish football!
Keep Reading