Dinamo Tbilisi vs. Tottenham Hotspur: 6 Things We Learned in Europa League Clash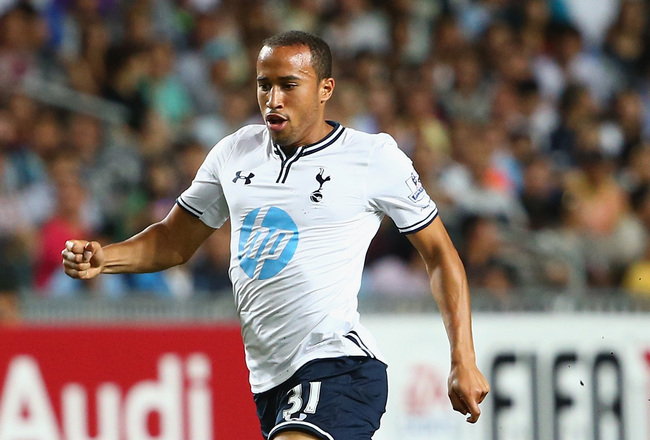 Andros Townsend starred for Tottenham in their 5-0 Europa League win over Dinamo Tbilisi.
Robert Cianflone/Getty Images
The last time Tottenham Hotspur played Dinamo Tbilisi away, they drew 1-1 in a UEFA Cup third round first-leg match—the late Ralph Coates grabbing the visitors' only goal.
Times have changed somewhat—unsurprisingly, given the almost 40 years that have passed since then. Rather than the stout Soviet opposition Tottenham came up against in 1973, the Tbilisi side they faced today was a still proud, but vastly inferior, football team.
Andre Villas-Boas' side dispatched the reigning Georgian champions 5-0 thanks to goals from Andros Townsend, Paulinho, Roberto Soldado (two) and Danny Rose.
Spurs still have to negotiate next week's second leg at White Hart Lane, but they will be feeling confident about finishing the job with minimal fuss.
For now they can reflect on a winning start to their 2013-14 European campaign.
The Captain Conundrum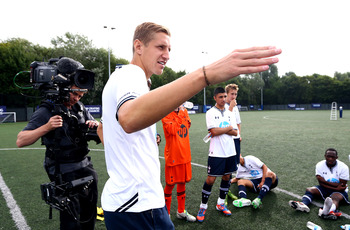 Michael Dawson.
Jan Kruger/Getty Images
A few eyebrows were raised at Younes Kaboul wearing the captain's armband against Tbilisi, even though normal skipper Michael Dawson was playing.
The decision may have been based on something as innocuous as celebrating the Frenchman's first start following a lengthy injury absence.
Or, Andre Villas-Boas may have viewed the game as an ideal opportunity to give someone else experience as captain. Dawson hardly needs an official title to lead anyway.
More conspiratorially, was this a sign Villas-Boas is once more edging away from deploying Dawson as one of his starting centre-backs?
Kaboul alongside Jan Vertonghen would certainly be an improvement on the combination the latter was a part of with an aging William Gallas last season. In fairness, the Belgian was hardly the weakest part of that defense, and was still settling into his new league.
Still, it took Dawson being selected for Spurs to regain any semblance of solidity.
Leaving him out again would mean Villas-Boas placing his trust in Kaboul and Vertonghen to form an effective partnership immediately. Any real judgement on that decision would have to wait until it actually happened.
At the time of writing Villas-Boas had not stated his reasoning for instigating this little captain conundrum. Regardless, this was a reminder that there are few guarantees as to who will start in this Spurs side right now.
Speaking of which...
Lennon Is Facing Serious Competition for His Place from Townsend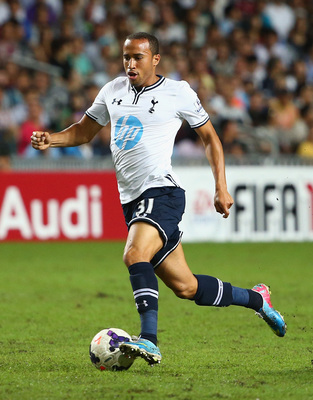 Andros Townsend.
Robert Cianflone/Getty Images
Dinamo Tbilisi will be among the weaker teams Tottenham face this year. Even so, the latter's performance was impressive for a side attempting to put together some early-season form.
The stand out performer was undoubtedly Andros Townsend.
His goal was an intelligent piece of work. Driving forward on the counter-attack, he proceeded to show impeccable decision-making and awareness in finishing his run with a superbly taken shot.
That understanding of the situation at hand was replicated in both his assists for Paulinho and Roberto Soldado.
Townsend was handed the start partly because Aaron Lennon was being rested back home ahead of this weekend's fixture versus Swansea City.
A fit Lennon remains a very fine winger. But with Townsend playing so well, he is facing serious competition for his place in right midfield.
This was not the first time Townsend has impressed in a cup game. While these outings have predominantly come against "lesser" opposition, his successful loan spell at Queens Park Rangers last season showed he can cut it in the top-flight.
The 22-year-old is ready to do a job for the Spurs first team should the chance come his way.
New Signings Should Not Be at the Expense of Spurs' Young Players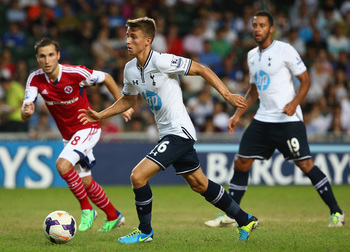 Tom Carroll.
Robert Cianflone/Getty Images
Townsend was almost joined by fellow Tottenham youth product Harry Kane in making an impact against Tbilisi.
The England youth striker headed against the post after he replaced two-goal man Soldado. Following some eye-catching preseason displays, a goal would have certainly boosted Kane's confidence even more.
Tom Carroll also appeared as a substitute. Kyle Naughton—though not from the Spurs youth system—put in a good shift at right-back.
All of them combined to remind their manager that there is already quality at the club without spending further vast sums of money on outside players.
Talk of £30 million being spent on Willian—as reported by Sky Sports—and other transfer rumours have seen the club's youngsters who have impressed in recent times somewhat overlooked.
Villas-Boas should add to his squad if he feels that to be what is best for his team. That this is his thinking seems an inevitability, especially as the players who have been brought in are already proving their worth.
However, it would be a shame if further recruits came in at the expense of the squad's young players at least getting their chance.
Spurs have not had such a talented crop of academy graduates for well over a decade. To see their promise go unfulfilled—or fulfilled elsewhere—would be hugely disappointing. Especially at a time when English football is desperate for new talent to make the grade.
Spurs' Squad Is Looking Strong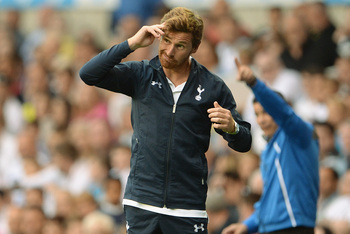 Andre Villas-Boas.
Michael Regan/Getty Images
Despite the previous page's plea for opportunities for Tottenham's young players, Villas-Boas should be commended for the acquisitions he has brought in—with the assistance of Technical Director Franco Baldini—to strengthen his squad.
Though a few have also left, the Tbilisi game showed there is good strength in depth at Tottenham right now.
Kaboul and Naughton came in and ensured the Spurs defense barely missed a beat. As already noted, Townsend excelled, while Etienne Capoue also played decently in his first start.
This is particularly important as once again Spurs are looking like taking the Europa League seriously.
Even with the best will in the world, an assault on more than one front can eventually take its toll.
Villas-Boas will face plenty of challenges to come in balancing his squad between competitions. Not to mention keeping numerous egos in check as some play more than others.
Seeing an altered lineup come away with a 5-0 win is as good a start as anyone could probably have hoped for in Europe, though.
The next fortnight will likely give us an insight—in the form of their transfer dealings—about what Villas-Boas feels is needed to make Spurs even stronger.
Methods of Attack Are Still Being Figured Out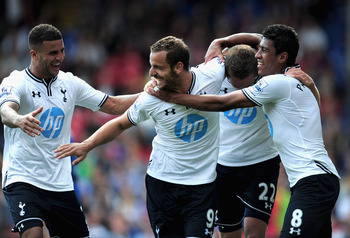 Getting to know you: Soldado and his Spurs teammates.
Jamie McDonald/Getty Images
Perhaps it was Tottenham sussing Tbilisi out, the latter getting tired or a combination of both. But after some difficulties initially finding a way through the Georgian outfit's defense, Spurs figured out ways to open them up.
These chiefly came from the flanks, with the pacy Townsend and Nacer Chadli—and to a lesser extent the full-backs Naughton and Danny Rose—working opportunities to cross.
Paulinho and Soldado were the chief beneficiaries here. Provided with chances, the prowling pair were always going to give the goalkeeper something to think about.
Despite scoring five, it was clear the components of the new look Spurs attack are still figuring each other out.
Against tougher opponents they will have to work harder for their openings and chances. It will become important that these new teammates understand how each other work best.
Swansea City will provide an interesting test of that process on Sunday. Not least because there are likely again to be changes to the Spurs lineup.
While this experimentation occurs, there might still be one or two hiccups along the way.
Lloris Is Looking Like Villas-Boas' No.1 for Europe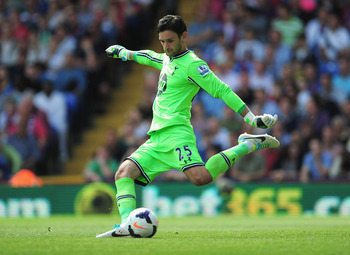 Hugo Lloris.
Jamie McDonald/Getty Images
Hugo Lloris was in goal for Tottenham against Dinamo Tbilisi, possibly indicating Villas-Boas intends to play him throughout the team's run in the Europa League.
After the Frenchman displaced him as Spurs' No. 1 last season, Brad Friedel played in the remainder of their European games.
It is likely Friedel will be chosen to see out this qualifying round next week. Should Spurs make the group stage, do not be surprised to see Lloris in the starting lineup for Europa League matches thereafter.
Keep Reading

Tottenham Hotspur: Like this team?