Predicting Which Big Names Will Move Before the 2014 NHL Trade Deadline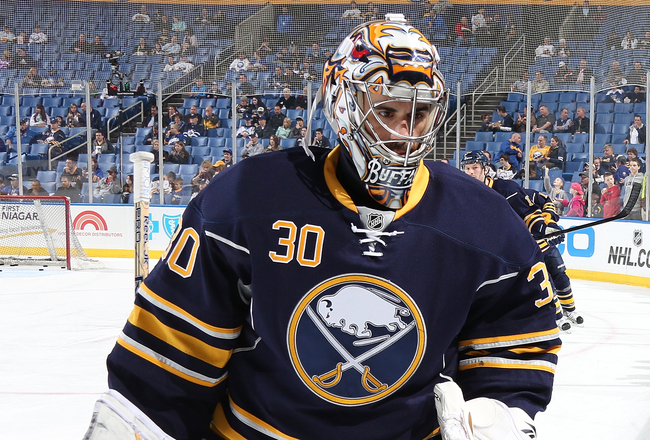 Sean Rudyk/Getty Images
Trades have always been a part of hockey. Some are blockbusters involving Hall of Famers like Wayne Gretzky, Phil Esposito, Brad Park or Mark Messier while others are minor deals involving fringe players or late draft picks. This article predicts which big name NHL players are most likely to be traded by the trade deadline this year.
There are many factors that are taken into account and being on this list doesn't necessarily mean a player or team will be disappointing. It just means that this particular player and/or his contract may no longer be a good fit with his present team.
All of the players on this list are heading into the final year of their contracts which means they will either be signed to an extension, traded by the deadline or allowed to leave as a free agent next summer.
Feel free to comment on the list and add any player you feel I may have overlooked or disagree with any player on the list. As always, indicate why you feel the way you do.
10. Mike Cammalleri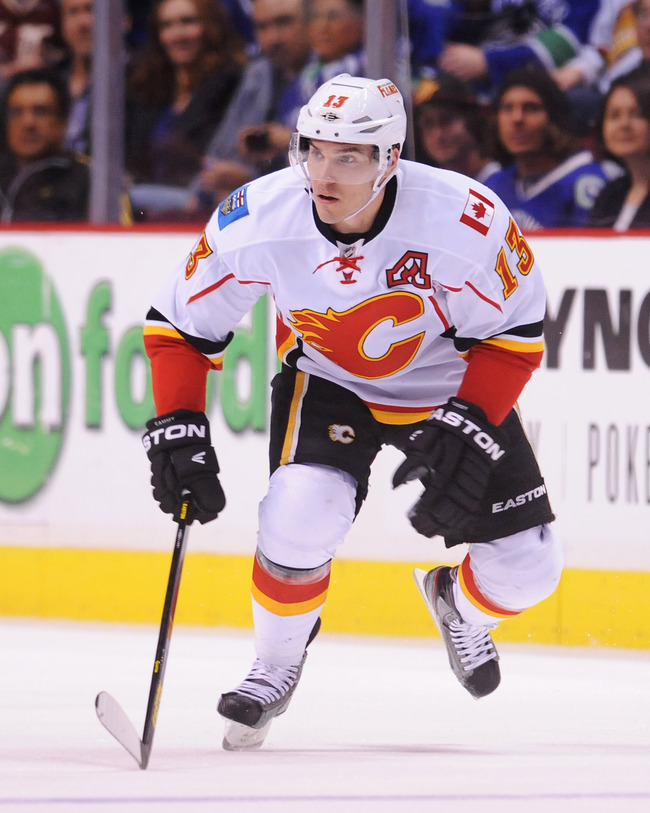 Veterans with value like Cammalleri could be dealt by the Flames.
Derek Leung/Getty Images
With both Jarome Iginla and Miikka Kiprusoff now part of the past, the Calgary Flames begin their long overdue rebuilding process this season.
The Flames are not expected to make the playoffs this season, but the club has started to get younger and prepares to enter a new era in the franchise's history.
Cammalleri is a useful veteran in the last year of his contract. He probably isn't a part of the long-term rebuilding plans of the Flames, and if they can get a younger player or a prospect that can help the team, Cammalleri will be traded.
9. David Legwand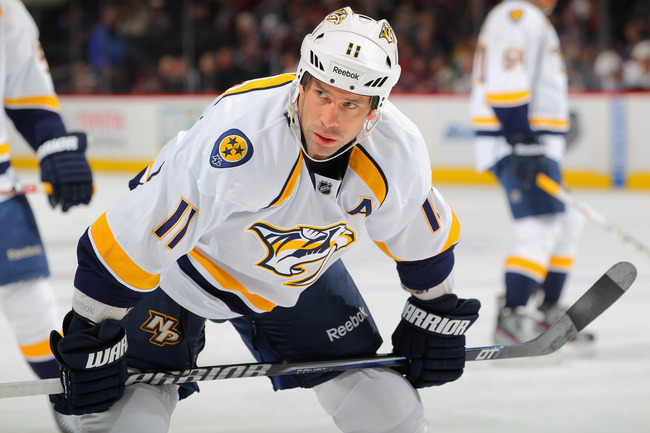 The Predators may look to move Legwand before his contract expires.
Doug Pensinger/Getty Images
David Legwand was drafted by the Nashville Predators with the second overall pick in the 1998 NHL draft. That was the first pick in franchise history.
The Detroit native is now 33 and still a valuable contributor to the Nashville lineup. But his contract is up at the end of this season, and the Predators have several younger and cheaper players who are being groomed to fill Legwand's role.
Legwand has been a leader in Nashville for several years and would add valuable intangibles to any club that acquired him for the rest of the season.
8. Paul Stastny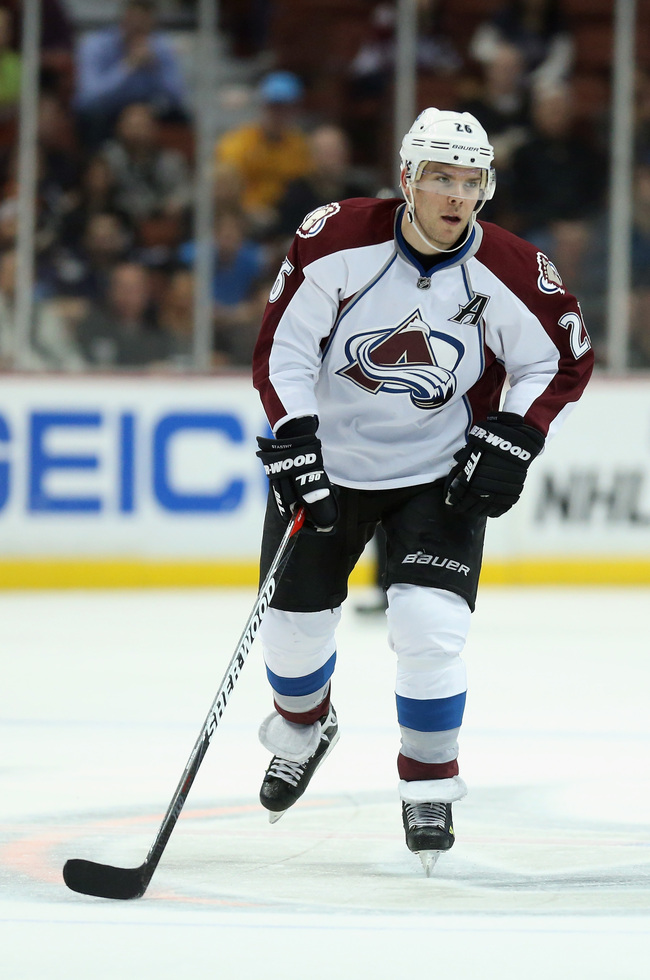 The Avalanche have a glut of young talent at forward.
Jeff Gross/Getty Images
The Colorado Avalanche have several young and talented forwards in their lineup and still have a need to fill on defense.
Each of those young players will eventually come off their entry-level deals and will have to be paid if the Avs want to keep their core together as they hope to transition from a rebuilding team to a contender.
Paul Stastny is one of the older forwards and he'll turn 28 in the middle of this season. He also has a $6.6 million cap hit and a contract that expires at the end of this season.
If the Avalanche struggle this season, they will trade Stastny earlier in the season. Unless he is willing to offer Colorado a home-team discount, it is unlikely Stastny will re-up with the Avalanche so he will probably be traded by the deadline anyway unless the Avs feel they absolutely need him to reach the postseason this year.
7. Patrick Marleau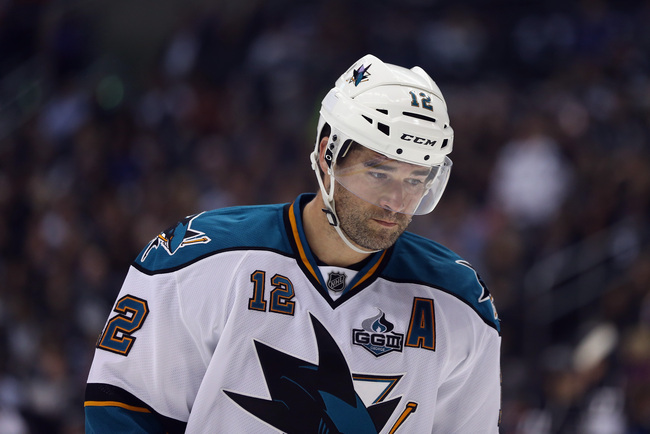 This may be the year the Sharks finally deal Patrick Marleau.
Jeff Gross/Getty Images
Patrick Marleau is not as highly regarded as he once was in San Jose. He has already been stripped of the captaincy in San Jose although he still wears an "A" on his chest. He is now more of a second-line player rather than being a part of the team's two or three most indispensable players.
He has been rumored to be traded several times over the years, but the Sharks have never pulled the trigger on a deal with their former captain.
Marleau is now in the final year of his contract and has a cap hit of $6.9 million. At 34, Marleau is still productive and had 31 points last year in 48 games.
He could certainly be a valuable rental player for a contending team, even if his playoff performances have been uneven in the past.
6. Jaroslav Halak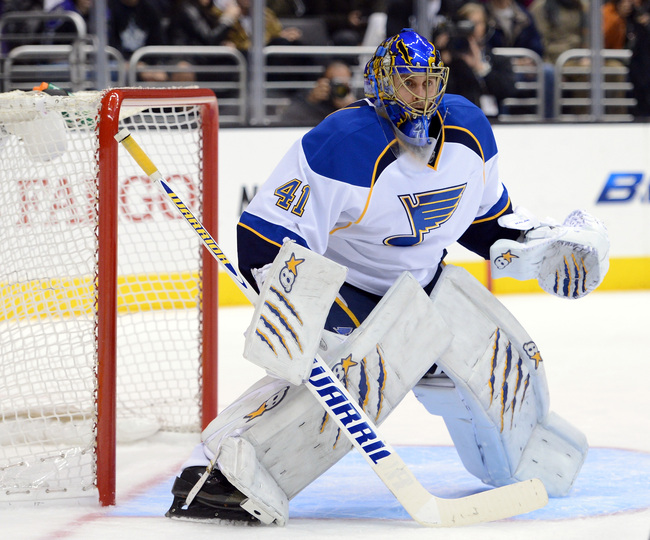 A goalie glut in St. Louis may force Halak out of town.
Harry How/Getty Images
The St. Louis Blues have a glut in goal right now with Jaroslav Halak, Brian Elliott and Jake Allen all available right now and prospects like Niklas Lundstrom and Jordan Binnington in the system.
The most logical player for the Blues to trade would be Halak. He is older than Allen and has a higher salary than Elliott. He also has more playoff experience and success than Allen and Elliott which may make him more appealing to teams looking to add somebody as a rental player.
There have already been trade rumors surrounding Halak and they are likely to continue until the Blues trade one of those three netminders.
5. Kimmo Timonen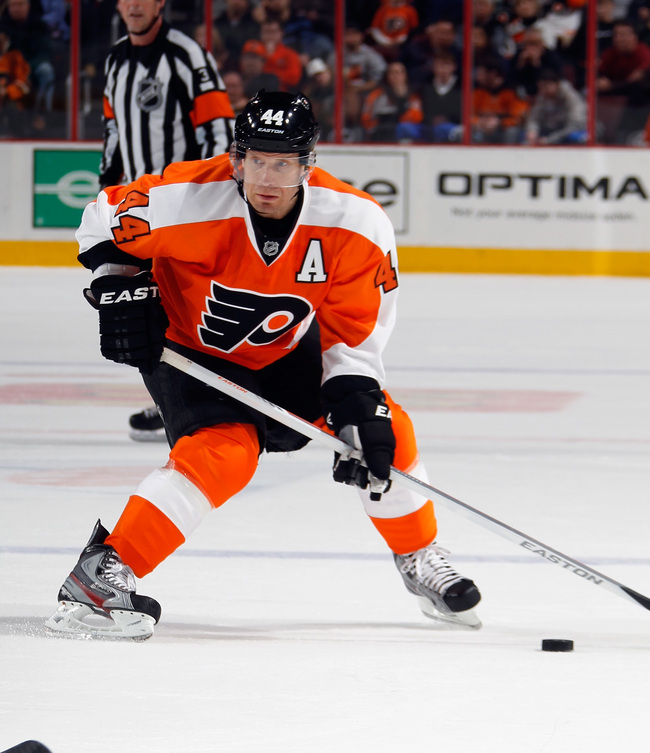 Kimmo Timonen may not be needed in Philadelphia by the end of the season.
Bruce Bennett/Getty Images
There are a few reasons Kimmo Timonen is a good candidate to be traded before the trade deadline by the Philadelphia Flyers.
While Timonen is still a very productive offensive defenseman, the veteran Finn will be 39 before the coming season is over. He is also in the final year of his contract and carries a cap hit of $6 million according to capgeek.com.
The Flyers also just signed Mark Streit to a four-year, $21 million free agent deal earlier this summer. Streit is also an offensive-minded defenseman who excels on the power play which means Philadelphia already has a potential successor to Timonen on their roster locked up for the long haul.
If the Flyers are in contention, they may hold off on trading Timonen. But if Philadelphia has an early season slump or falls out of contention, Timonen may be one of the first players to be dealt.
4. Thomas Vanek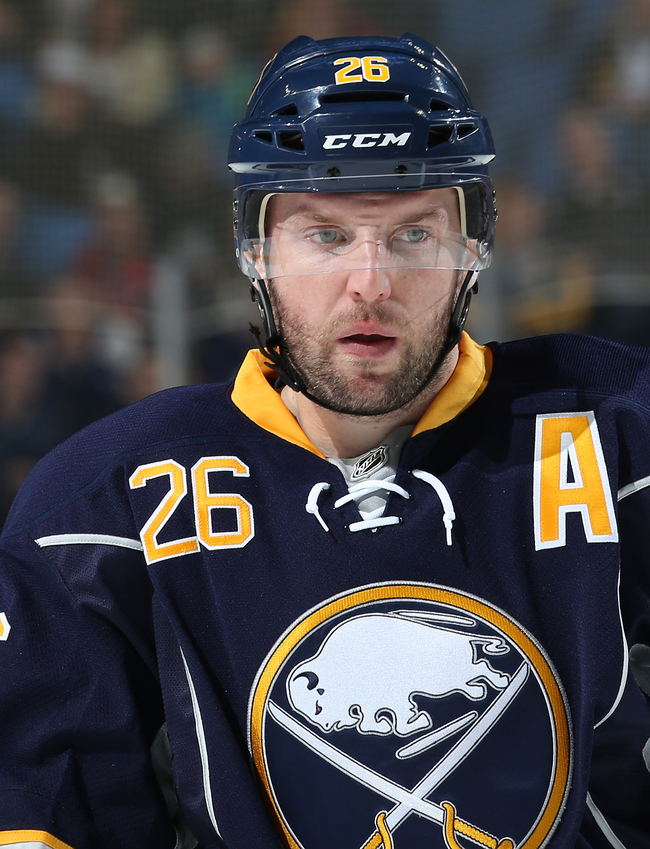 Buffalo's rebuilding for the long term so Vanek should be available.
Jen Fuller/Getty Images
With the Sabres in rebuilding mode, Thomas Vanek should be one of the players general manager Darcy Regier looks to trade this season.
Vanek is in the final year of his contract and carries a cap hit of more than $7 million.
At 29, Vanek is still in his prime and productive. He led the Sabres in goals and points and tied for the team lead in assists last season.
Players who can consistently put up good offensive numbers are always in demand as rental players. Because he's not too old, a team interested in a longer-term deal may also be willing to trade for Vanek if they can sign him to a new deal.
3. Olli Jokinen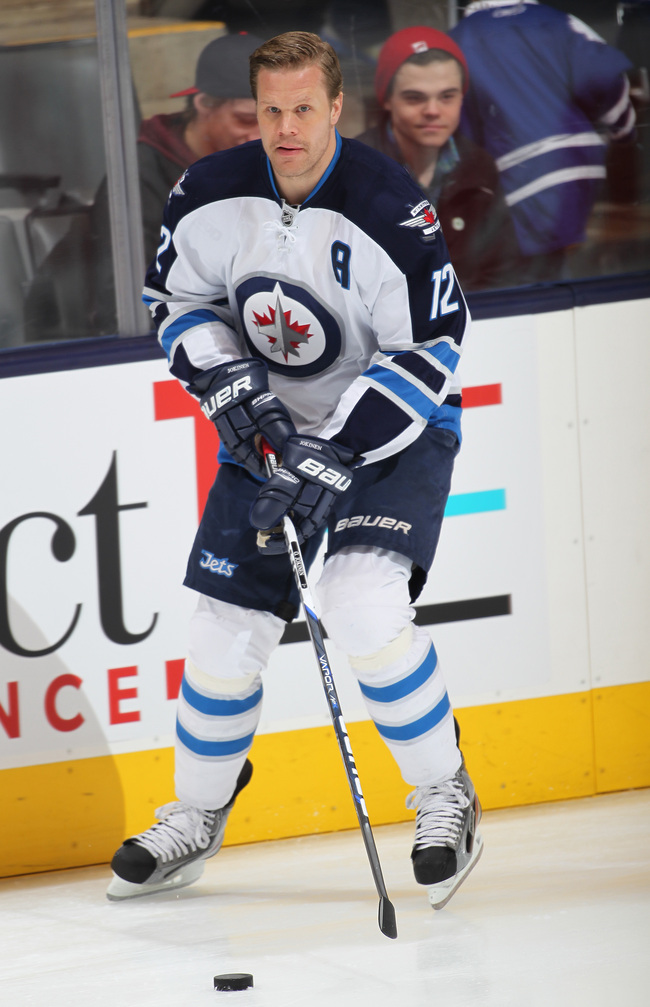 The young Jets may deal a veteran like Jokinen who can get them long-term help.
Claus Andersen/Getty Images
Veteran forward Ollie Jokinen is a curious player. He's good enough to spark interest from a lot of clubs but never seemingly good enough for them to hold onto them once they get him. The Jets are his eighth different NHL team and, by the trade deadline, he very well could be on his ninth.
The Winnipeg Jets are a team built around younger draft picks and Jokinen is there just to add a little offense and experience. Last season, he didn't add much offense, scoring only seven goals and 14 points in 45 games, not enough to justify a $4.5 million cap hit.
If the Jets get off to a slow start, they would look to trade Jokinen. They may also deal him if they get off to a good start but Jokinen's production doesn't improve.
Either way, this much-traveled player should be heading to yet another destination before the trade deadline.
2. Dany Heatley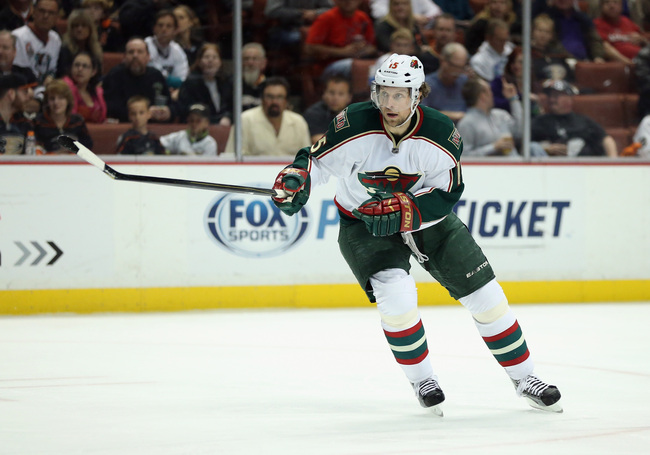 Heatley's lower production and high salary are good reasons for the Wild to move him if they can.
Jeff Gross/Getty Images
Forward Dany Heatley has a very high, $7.5 million cap hit and his contract is up after this season.
Unfortunately, Heatley's production hasn't matched his high salary. The 32-year-old native of Germany hasn't topped 30 goals in a season since 2009-10 when he was with San Jose. Last year, he scored just 11 goals and 21 points in 36 games. He missed time with a shoulder injury.
The Minnesota Wild have plenty of offensive weapons on their roster, especially if players like Mikael Granlund, Charlie Coyle, Nino Nederrreiter and Jason Zucker provide younger and cheaper alternatives to Heatley.
If two of those players prove productive this season, Heatley would be dealt to any team willing to take on his salary as a rental player.
1. Ryan Miller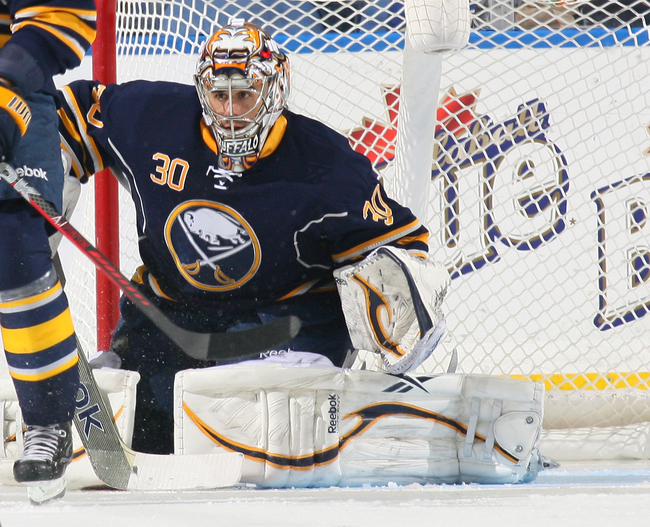 The Sabres are rebuilding so Miller may be expendable.
Jen Fuller/Getty Images
The Buffalo Sabres are starting a long-term rebuilding process. General manager Darcy Regier has already said he wants to make the painful part of the rebuild "as short as possible," but we know things may get worse record-wise in Buffalo before they get better.
No player was more central to the Sabres success over the past decade than goalie Ryan Miller. But Miller is now 33 and his contract expires at the end of the 2013-14 season.
It wouldn't make a lot of sense for Miller to stick around and wait two or three years until the Sabres become playoff contenders again, and Buffalo is better off developing a younger, less expensive goalie to rebuild around.
Miller is still young enough to be either a valuable late season rental or a solid addition to a team that needs an upgrade between the pipes and wants to win now.
Look for Regier to trade Miller to be moved before the trade deadline passes.
Keep Reading