The Biggest Move for Every NHL Team During 2013 Offseason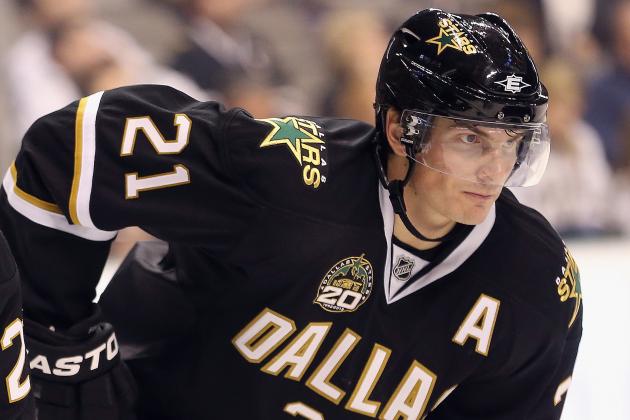 Ronald Martinez/Getty Images

This summer, NHL franchises were busy trying to revamp their rosters, and the Boston Bruins' trade of Tyler Seguin was arguably one of the biggest moves of the summer. Other teams remained relatively quiet, but they did at least address some needs.
Training camp starts in a few weeks, and fans will get a glimpse of each of their team's newest players. Here are the biggest moves for each team that occurred during the offseason.
Begin Slideshow

»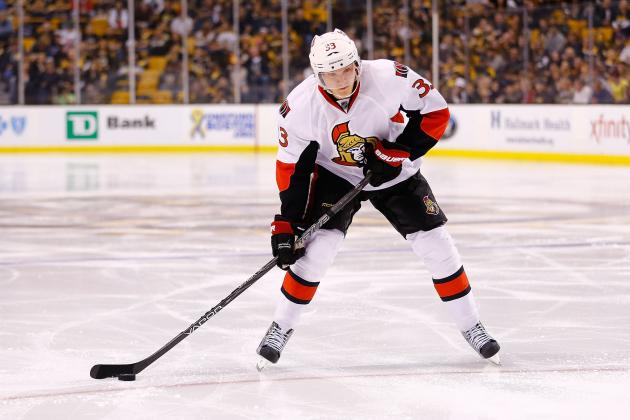 Jared Wickerham/Getty Images
Jakob Silfverberg is a dynamic two-way winger with upside.
The Anaheim Ducks made a splash when they shipped 30-goal scorer Bobby Ryan to the Ottawa Senators. After the Senators lost captain Daniel Alfredsson to the Detroit Red Wings, they lacked an offensive threat in the lineup.
The Ducks and Sens made a move quickly, and Jakob Silfverberg was the principal player acquired by Anaheim. The Swedish sensation is a responsible two-way scoring forward who could have a dynamite year taking Ryan's former spot in the top six.
Loui Eriksson is not Tyler Seguin, but he gives the Bruins something that Seguin couldn't. While Seguin could have an All-Star career with the Dallas Stars, he wasn't a fit for the Bruins.
Seguin is a natural center, but the only place for him in the lineup was at right wing on the third line. Dealing the 2010 No. 2 overall pick was a huge move, but the return for him was even bigger. Eriksson is an underrated two-way scoring threat who adds speed and creativity to the Bruins.
For years, the Bruins have lacked a top offensive threat that could push 30-plus goals and 80 points. Eriksson could be that player if everything goes his way.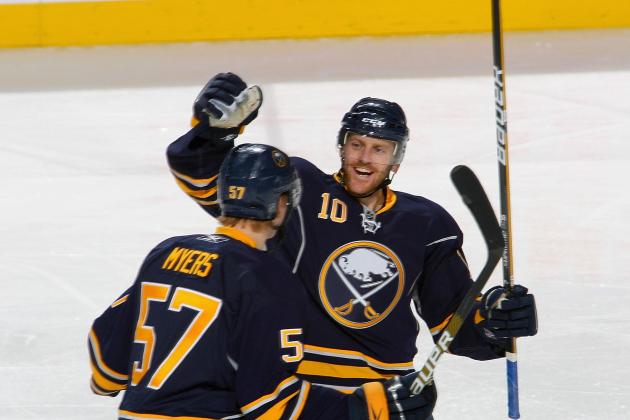 Rick Stewart/Getty Images
Myers and Tallinder were a solid defense pairing.
The Buffalo Sabres had a quiet summer, but their biggest move was the reacquisition of defenseman Henrik Tallinder. On the surface, it appears to be a minor move, but it can have other implications on the roster.
Tyler Myers has had two subpar years, and it may not be a coincidence. He played his best hockey when Tallinder was his defense partner, and Harrison Mooney of Puck Daddy suggested that the move could reinvigorate the behemoth defender.
That remains to be seen, but the Swedish blueliner should add some depth to a defense that was shaky last season.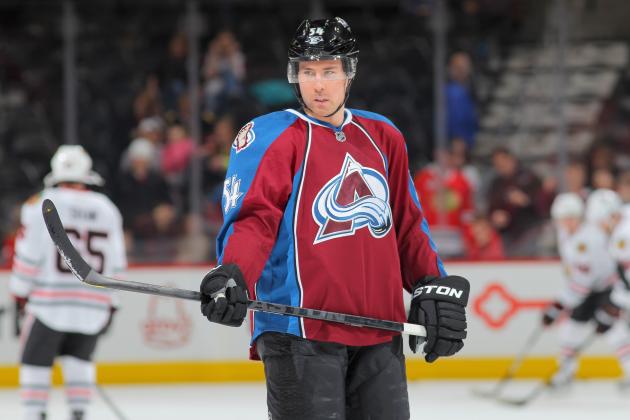 Doug Pensinger/Getty Images
Jones could be a good fit for the Flames.
David Jones was dealt to the Calgary Flames from the Colorado Avalanche this summer. Jones is a top-nine forward whose career high in points is 45.
With the Avs, he became a victim of numbers on the depth chart, and he should have a bigger role with the Flames. He is a responsible two-way forward, and his scoring upside could be a huge plus for Calgary this season.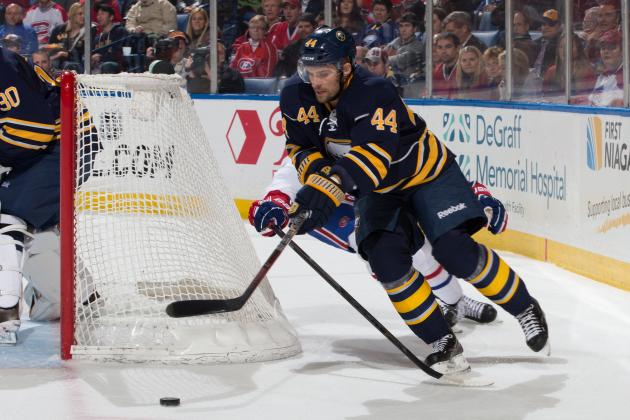 Rick Denham/Getty Images
Sekera will add some skill to the back end.
The Carolina Hurricanes shipped out Jamie McBain and a second-round pick for Andrej Sekera, and it was a great move by general manager Jim Rutherford. Sekera is a solid puck-moving defenseman and skater.
The 6'0" blueliner can play important minutes, and he adds defensive depth to a team that was shallow on the blue line in 2012-13. His veteran presence should allow him to teach young defenders like Justin Faulk, and he will also be a capable top-four defender.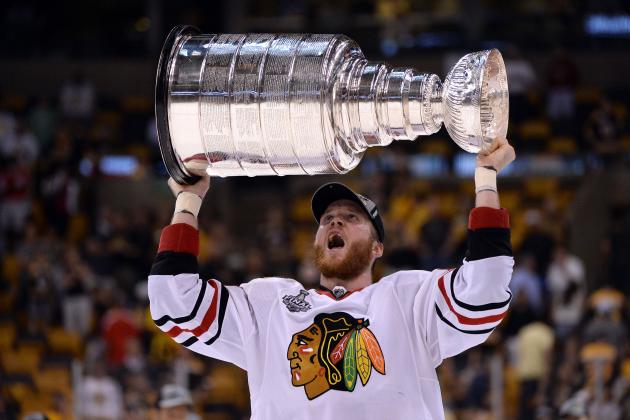 Harry How/Getty Images
It was pricey, but Bickell has a niche with the Blackhawks.
The Chicago Blackhawks did a masterful job of keeping together a majority of forwards on their roster. While a number of players were moved out, that is because some youngsters are ready to transition into NHL roles.
Given the moves made by general manger Stan Bowman, the 'Hawks should be a favorite to repeat this season, and they will have some flexibility if they feel the need to make wholesale changes.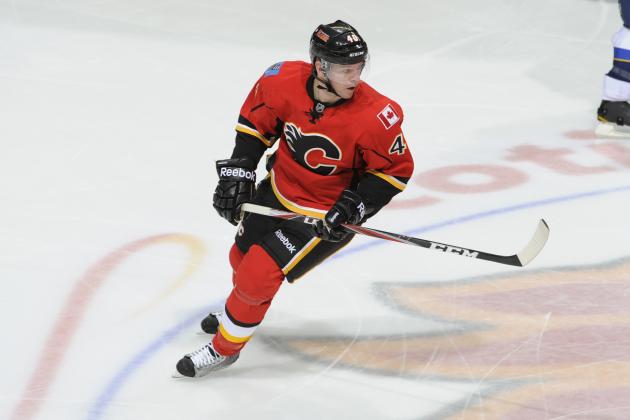 Dale MacMillan/Getty Images
Alex Tanguay is a player who could be a steal in fantasy hockey this season.
The Colorado Avalanche could be a dark-horse contender this year, and Alex Tanguay could play a role in their success. He was a member of the Avalanche during their glory days, and he is still a player who can contribute.
In 2012-13, he averaged 0.68 points per game, which is solid production for a second-line winger. He will have the opportunity to play with better players in Colorado, and he could have a nice season with a new and improved Avalanche franchise.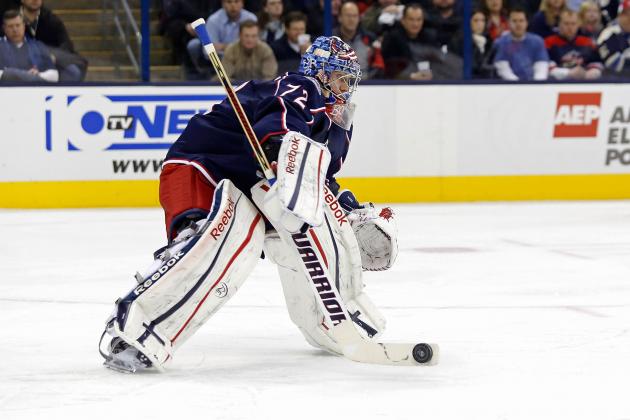 Kirk Irwin/Getty Images
Sergei Bobrovsky will be watched closely this season.
It would be easy to say that signing Nathan Horton was the biggest move made by the Columbus Blue Jackets, but upon further review, the nod goes to the re-signing of Sergei Bobrovsky. Horton will start the season on injured reserve, and he won't have as immediate of an impact.
Bobrovsky, on the other hand, is vital to the success of the franchise. He was given a two-year "bridge" contract, and he will be motivated to prove he is the real deal. He has shown that he has the potential to be an all-world goaltender, and his newest contract should compel him to improve upon his success from 2012-13.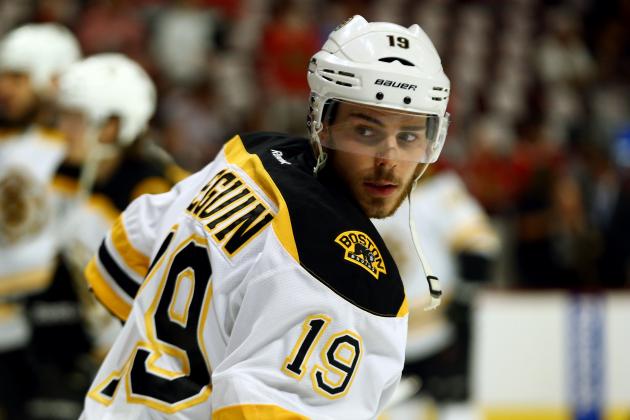 Bruce Bennett/Getty Images
Seguin could have a monster year in a new environment.
From the Dallas Stars' perspective, this deal is a huge win, because it allowed them to upgrade their roster and place one of their best players in his natural position.
Jamie Benn is a natural winger who has been playing center for Dallas. Seguin will fill the No. 1 center void that was left by Mike Ribeiro and Brad Richards, and Benn will be able to thrive in an area where he is most comfortable.
Elsa/Getty Images
Weiss will be an two-way offensive threat.
Daniel Alfredsson's arrival in Motown is a move worth mentioning for its impact, but Stephen Weiss fills a larger need for the Detroit Red Wings. They were once known for their dynamic duo of Steve Yzerman and Sergei Fedorov at center during the 1990s.
Pavel Datsyuk and Henrik Zetterberg have been formidable in their own right, but Zetterberg is better suited to play on the wing. The arrival of Weiss will allow the Wings to deploy their captain on the wing alongside Datsyuk.
The Weiss signing hasn't gotten the attention it deserves, because the first thing people look at are his points totals. While he hasn't been anything more than a 60-point player, he has played on some bad Florida Panther teams.
On a team where he is surrounded by talent and support, don't be surprised if he pushes for 75 points this season.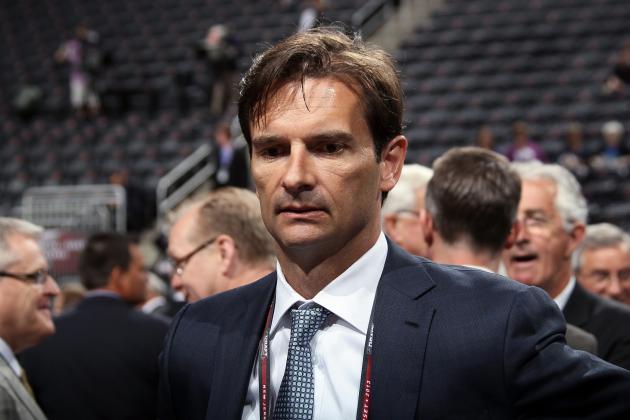 Bruce Bennett/Getty Images
Eakins is a skilled leader who expects the best from his players.
Dallas Eakins' job is to take the Edmonton Oilers to the playoffs. Tom Renney and Ralph Kruger served well as nurturing shepherds for the young flock of the Oilers, but it was time to install a tactician who can take the team to the next level.
Eakins demands the best from his players at all times and holds himself to the same standards. He is a fitness guru, a rink rat and a hockey nut with the right combination of attributes to take the Oilers where they have to go. The young guns are still young, but they have some experience under their belt.
This year should be a big step for the Oilers, and the offseason hiring of Eakins could be one of the biggest moves in the NHL.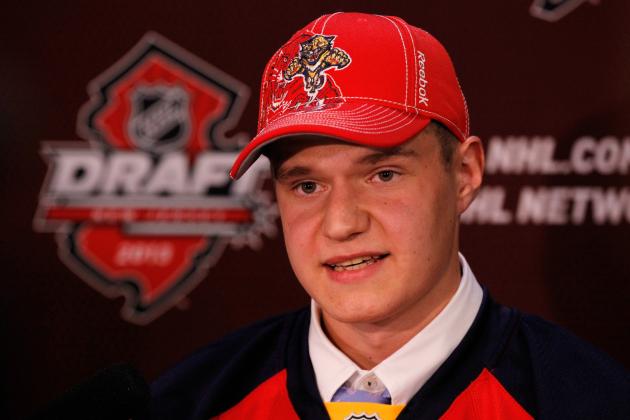 Mike Stobe/Getty Images
Barkov is a forward with a ton of skill.
The Florida Panthers had a monotonous summer, allowing their roster to remain status quo. The only summer move of note was the drafting of Aleksander Barkov.
"Sasha" is a skilled forward who could make the team this season, and he will be a key member for a Panthers team in the middle of a transition.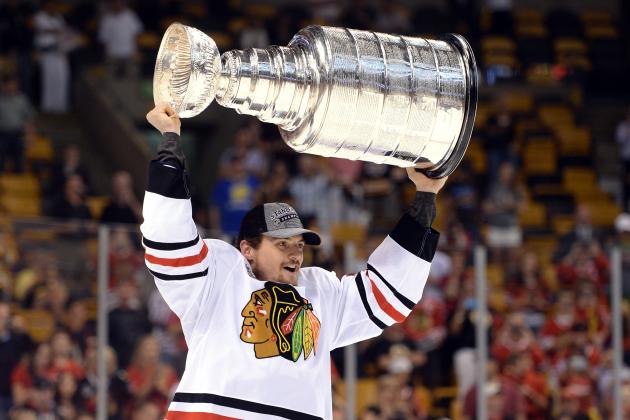 Harry How/Getty Images
Dan Carcillo is an agitator who plays with an edge.
Dan "Carbomb" Carcillo is a scrappy agitator who will be a great fit for the Los Angeles Kings. He is a tenacious forward who loves to chirp, cause havoc and get underneath the skin of opponents. The Kings needed some additional edge and grit, and he will have no problem filling that role in 2013-14.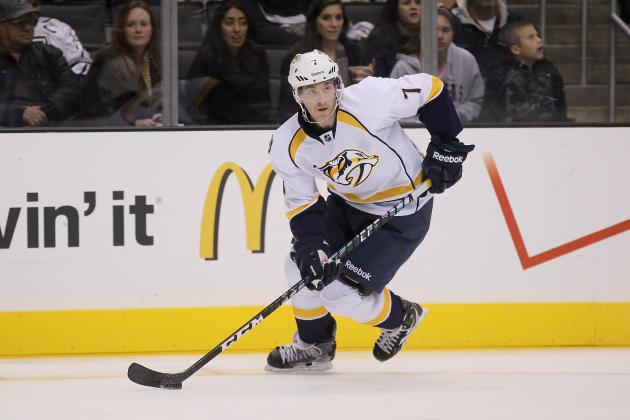 Jeff Gross/Getty Images
Blum was a great pickup for the Wild.
The acquisition of Jonathon Blum via free agency was a great move by the Minnesota Wild. The young blueliner was the Predators' first-round pick in 2007, but he never progressed as planned.
His kills are impressive, and in the right environment he could blossom into a solid top-four defender. In Minnesota, he will get to play with his former mentor Ryan Suter, and that could help him return to form.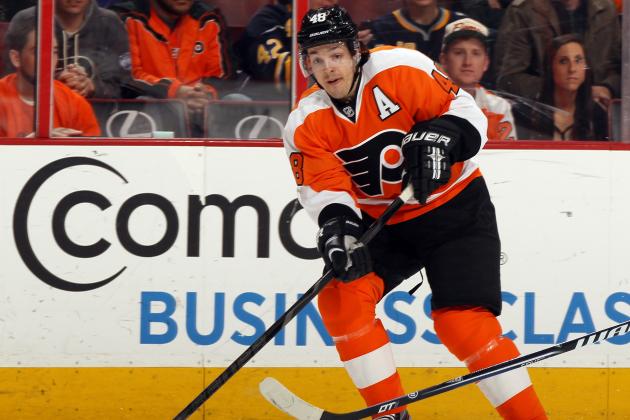 Elsa/Getty Images
Briere is a secondary scorer with experience.
Daniel Briere should thrive in a reduced role with the Montreal Canadiens. He won't be expected to shoulder the load offensively like he was with the Philadelphia Flyers, and he will add experience to a young Canadiens team.
There could be pressure playing in a hockey hotbed like Montreal, but at this stage of his career, Briere should be able handle the stress. The former Flyer is still a decent secondary scorer, and he should play solid hockey without the burden of being a main roster contributor.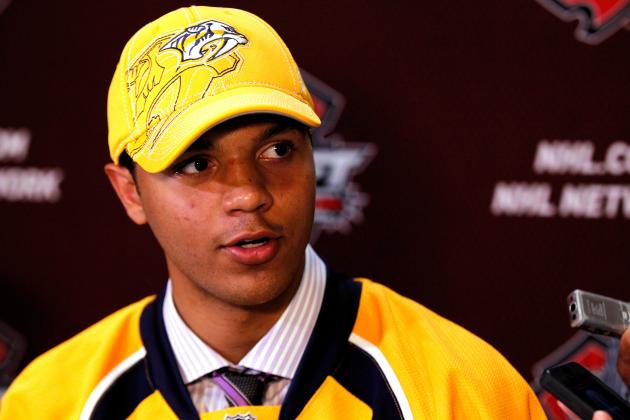 Mike Stobe/Getty Images
Seth Jones could be the steal of the draft.
The Nashville Predators made a number of signings during the early days of free agency, but their biggest splash was on draft day. The Predators were lucky enough to draft Seth Jones at No. 4 overall after three teams passed on him.
Jones is a mobile two-way defenseman that impressed for Team USA at the WJC tournament, and he could start the season paired with Shea Weber.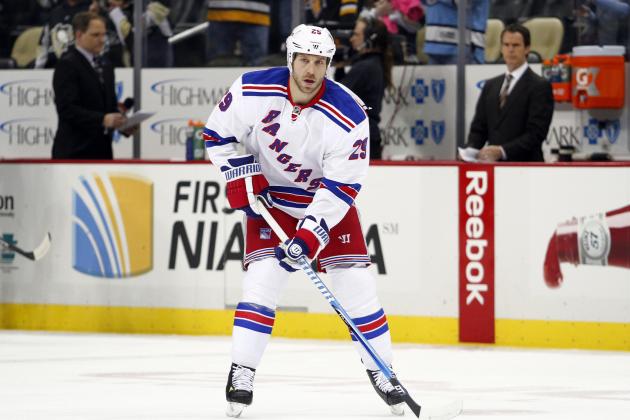 Justin K. Aller/Getty Images
Ryane Clowe is a power forward looking to bounce back.
Ryane Clowe is an effective scoring power forward when he is at the top of his game. Last season he suffered multiple concussions and didn't have a big impact for the San Jose Sharks and New York Rangers.
With the Devils, he will have a top-six role and the opportunity to prove that he is still one of the NHL's top power forwards. Clowe will be looked upon to fill the void left by David Clarkson, and he has a good chance to bounce back in a big way if he is healthy.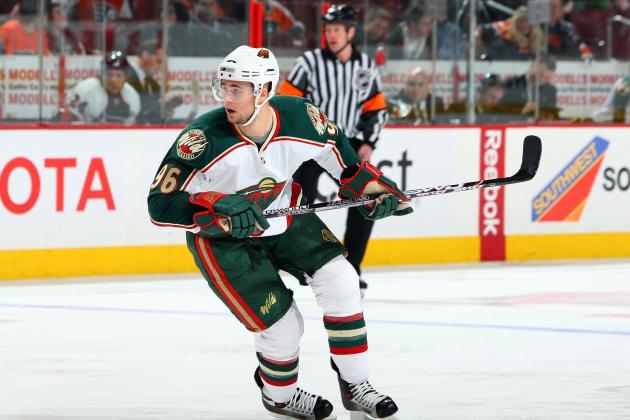 Jim McIsaac/Getty Images
Pierre-Marc Bouchard will fill the PA Parenteau/Brad Boyes role.
Pierre-Marc Bouchard projects to be a great signing if the New York Islanders plan on using him as Brad Boyes' replacement. If paired with Matt Moulson and John Tavares, Bouchard could have an explosive year with the Islanders.
He is a talented offensive player who has struggled to find his way since returning from a 13-month absence from the NHL because of a concussion. He will have a golden opportunity to thrive this season, and there is every reason for him to produce.
The New York Rangers' best move of the summer is re-signing future franchise blueliner Ryan McDonagh. General manager Glen Sather masterfully locked up the 24-year-old for an additional six years at a rate of $4.7 million per season.
Since the signing was announced, other blueliners of less esteem than "Mac Truck" have inked new deals, and the move comes off as another steal by good ole "Slats."
The Ottawa Senators had to part with Jakob Silfverberg, Stefan Noesen and a 2014 first-rounder for Bobby Ryan, but the deal will still pay huge dividends. Ryan is a skilled 30-goal scorer on the cusp of being considered an elite forward.
He skates well, is a power-play ace and is just great offensively. Alongside Jason Spezza, Ryan should thrive. He may be what the Senators need to get over the hump.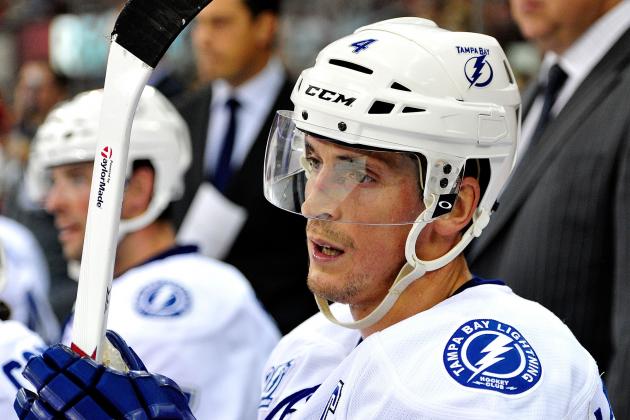 Grant Halverson/Getty Images
Lecavalier will want to prove he can still be dominant this season.
The Philadelphia Flyers inked free-agent center Vincent Lecavalier to a five-year contract after the Tampa Bay Lightning bought him out. The addition will bolster the Flyers offensively, as Lecavalier is an elite thinker and offensive player.
Injuries have plagued him from time to time, but that hasn't stopped him from being one of the best players of his era. There is a lot of potential upside for Lecavalier, and he could be a great linemate for Claude Giroux.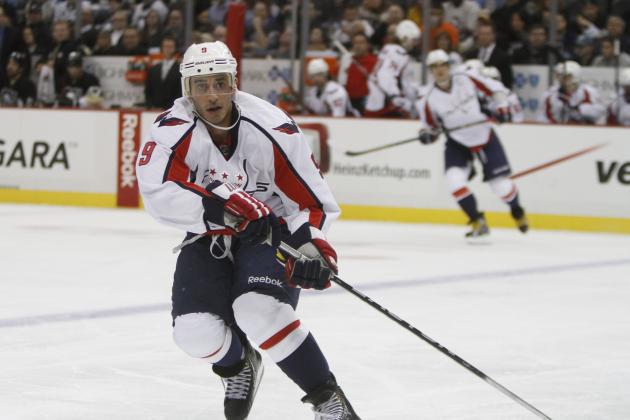 Justin K. Aller/Getty Images
Ribeiro's playmaking will help Phoenix.
Mike Ribeiro will make the Phoenix Coyotes a better team and a threat to contend in the West. The Coyotes now have stable ownership (knock on wood), and the addition of Ribeiro should just be the start of change to come.
The 'Yotes will still need some more offensive help, but he will help current members of the team in the interim. He is an elite passer and setup man, and his ability to get the puck into high-scoring areas should help wingers like Mikael Bøedker.
The Coyotes are trending up, and the addition of Ribeiro was a huge plus.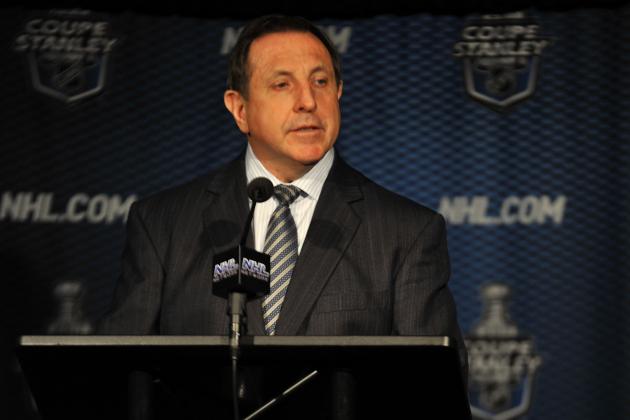 Phillip MacCallum/Getty Images
Jacques Martin is a seasoned veteran.
The Pittsburgh Penguins' signing of Rob Scuderi is a move that will benefit Kris Letang, but the hiring of Jacques Martin will help the entire franchise. Martin is a seasoned coach who will bring a ton of experience to the Penguins. Some of his credentials include 613 wins and a Jack Adams Trophy.
While Dan Bylsma has been assured that his job is safe, it is fair to say that the addition of Martin will be a motivator. While Martin is happy to join the franchise where winning a Stanley Cup is the ultimate goal, things could get interesting if the Penguins falter early this season.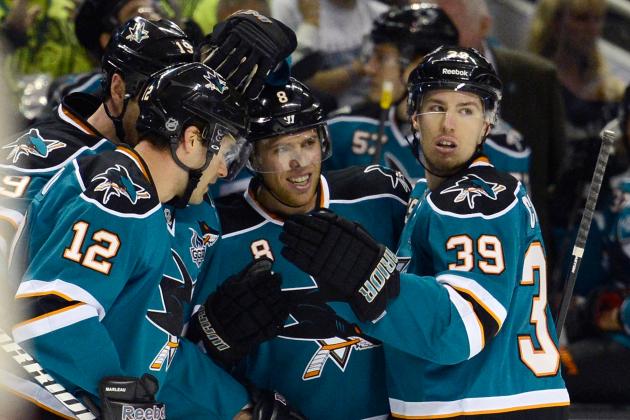 Thearon W. Henderson/Getty Images
Couture and Pavelski are the future of the franchise.
Logan Couture and Joe Pavelski have different but equal importance when it comes to the success of the San Jose Sharks, and the re-signing of both players was huge.
The Sharks are a team that could be in transition given the number of veterans on the roster, and both Couture and Pavelski decided to commit to the franchise for the next six years no matter what the team looks like going forward.
Pavelski (29) could have hit the unrestricted free-agent market next July and reaped in an ungodly bounty, but he took a discount to remain in black and teal. Couture is younger (24) and has the potential to have a prolific career alongside Pavelski.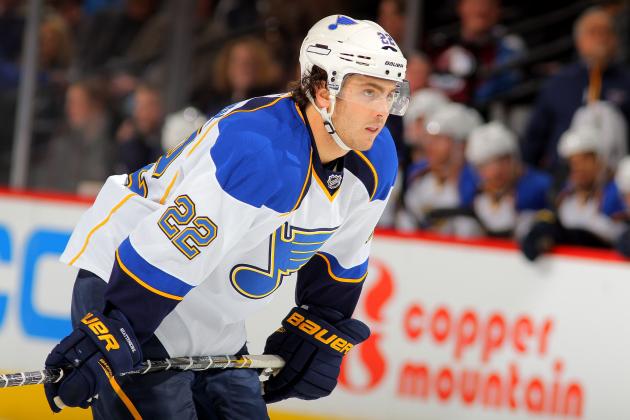 Doug Pensinger/Getty Images
Kevin Shattenkirk has had a nice career to date.
The last two seasons have been amazing for Kevin Shattenkirk, and it was only a matter of time before he was handed his just desserts. This summer he was given a new contract, and it was a fair one that didn't break the bank for the St. Louis Blues.
Shattenkirk and the Blues came to terms on a four-year deal that pays the young blueliner $4.25 million a year. The Blues made a wise choice to ink him to a new deal, but they still need to take care of business with Alex Pietrangelo.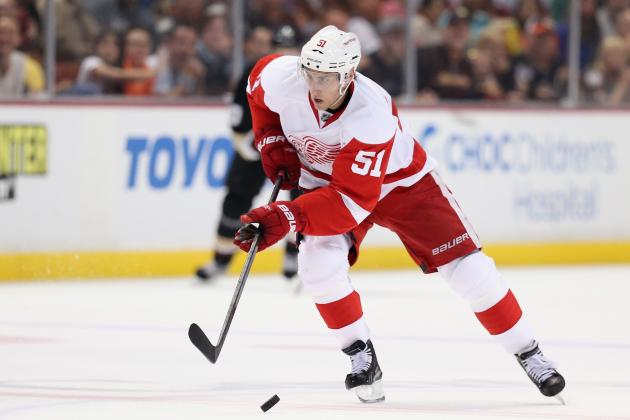 Jeff Gross/Getty Images
Filppula will need to prove his worth this season.
Valtteri Filppula was a solid addition for the Tampa Bay Lightning even though Steve Yzerman overpaid to sign him. The former Red Wings forward has some skill, and he will add scoring depth.
The key for Lightning will be pairing him with capable linemates so he is utilized to his full potential. With other offensive players, he can thrive, but don't expect him to be a one-man band for the Lightning.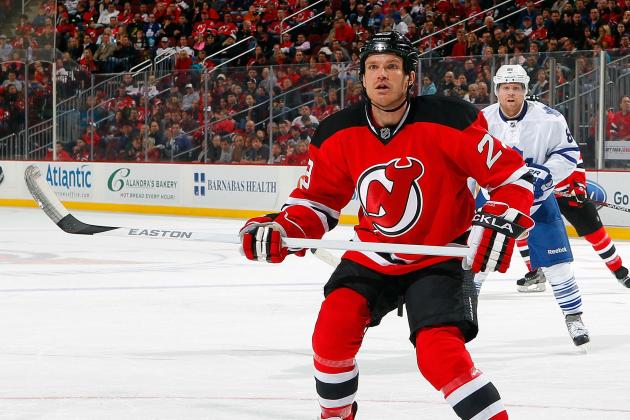 Paul Bereswill/Getty Images
David Clarkson will have a lot of expectations to live up to.
Adding David Clarkson was a huge move for the Toronto Maple Leafs, because they successfully added a power forward with 30-goal potential. He also brings muscle, toughness and truculence to the lineup.
He was dubbed "Wendel Clarkson" by the Toronto Sun, but the newest Maple Leaf isn't going to try and recreate his legacy.
Clarkson has a tough road ahead of him, and it is fair to say the media will be more aggressive than they were when he was playing in New Jersey.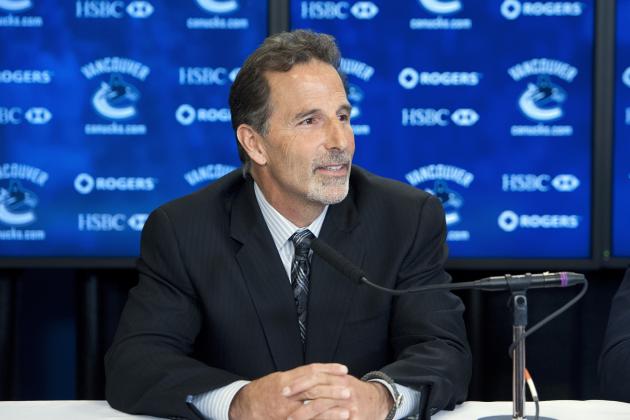 Rich Lam/Getty Images
Tortorella could be a great fit for the Canucks.
The Vancouver Canucks went in a completely different direction when they named John Tortorella as Alain Vigneault's successor. Vigneault is known for his gentle approach as a players coach, and Tortorella is known for his rugged approach as a strict disciplinarian.
The Canucks' window for winning a Stanley Cup is closing, and Tortorella may have the attitude and determination to push the team in the right direction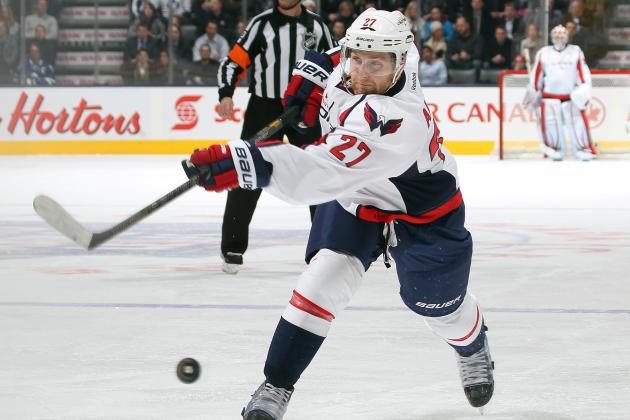 Claus Andersen/Getty Images
Alzner is a gem for the Capitals.
The Washington Capitals re-signed Karl Alzner at an amazing rate this offseason.
He will earn $2.8 million per year from 2013-14 through 2016-17, which is a bargain for a blueliner with a combination of skill and stability. He is known for his two-way play and has some offensive upside.
Alzner will turn 25 this September and provide tremendous value for the Caps over the next few seasons.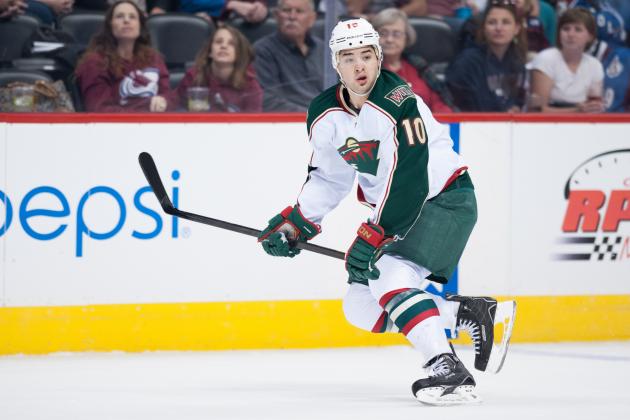 Dustin Bradford/Getty Images
Setoguchi is a skilled scorer with upside.
The Winnipeg Jets made a smart deal by acquiring Devin Setoguchi. Although he has trouble producing consistently, he has great hands and amazing wheels that allow him to create offense.
He scored 13 goals last year, and there is no reason why he can't surpass that total with a quality center this season. No matter how you look at it, the Jets only gave up a draft pick, so they have very little to lose.