10 Biggest Flops for MLB's Most Disappointing Teams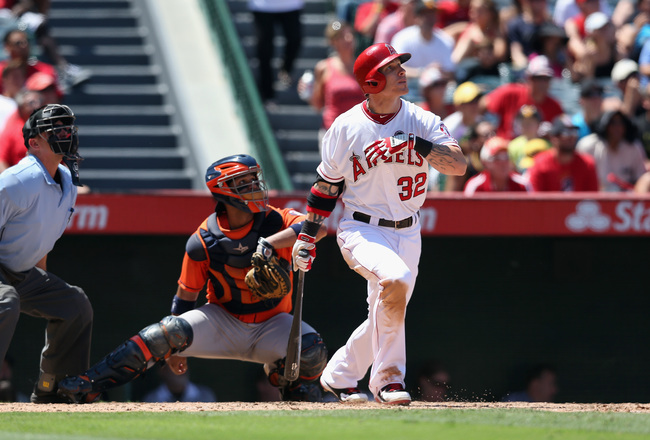 Jeff Gross/Getty Images
The beginning of the 2013 MLB season brought hope for many fans.
Whether their team made a blockbuster trade, signed a big-time free agent or called up a stud prospect, just about every fanbase had hope for success in 2013.
However, that hasn't been the case, as some of those players have failed to meet expectations.
Then there's those players who normally have big years but fail to produce as well.
Here's a look at the 10 biggest flops from MLB's most disappointing teams.
10. Denard Span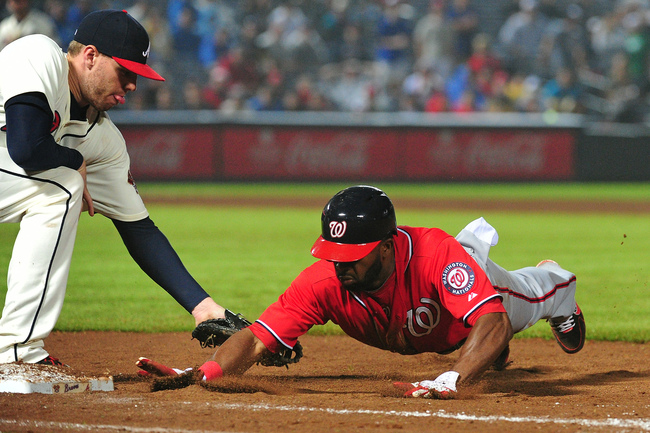 Scott Cunningham/Getty Images
The Washington Nationals traded for Denard Span in the offseason in hopes of giving a boost to the leadoff position.
However, Span has been all but a boost this season in Washington.
Span is sitting at his lowest on-base percentage (.315) of his career, and he has a measly 11 stolen bases.
He's struggled leading off games, batting .219 in 103 plate appearances, while having an overall .254 batting average from the leadoff spot.
All of the Nats' troubles can't be placed on Span. They've dealt with multiple injuries, and the entire offense has been sluggish all year.
However, for a team that gave up the No. 35 prospect in baseball in Alex Meyer, more of a return is needed from Span.
9. Starlin Castro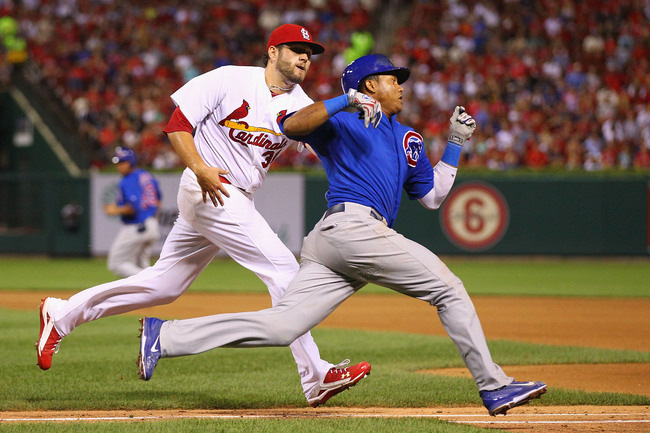 Dilip Vishwanat/Getty Images
The Chicago Cubs signed Starlin Castro to an eight-year, $60.57 million contract last year and got good production from the shortstop.
However, this year has been anything but good for Castro.
He is batting .240 with seven home runs and 32 RBI, as the Cubs continue to struggle to make noise in the NL Central.
Chicago fans have become used to being disappointed by players, but Castro was supposed to be different.
He was supposed to represent the team's future that includes the likes of Anthony Rizzo, Jorge Soler and Jeff Samardzija.
Now, there's a big question mark hanging above him, especially considering yet another mental lapse on Sunday, according to Bruce Miles of The Daily Herald.
In the fifth inning against the St. Louis Cardinals, Matt Carpenter had a pop-up ruled an infield fly with the bases loaded and one out. Castro caught the ball, but then put his head down. Jon Jay, the runner on third base, realized what Castro was doing and sprinted home to score the Cardinals' second run.
Miles wrote:
This has not been a banner year for Castro, whom team president Theo Epstein gave a seven-year, $60 million contract extension last season. Castro has continued to make mental mistakes, even as his fielding at shortstop has improved, and he is not hitting as he had his first two-plus seasons with the Cubs from 2010.
Whatever it is, the Cubs have a lot invested in Castro, and he needs to correct his mistakes.
If not, Chicago fans will continue to wait for that elusive world title.
8. Ryan Howard
Justin K. Aller/Getty Images
Ryan Howard is just a disappointment overall for the Philadelphia Phillies.
The past two seasons have been ones to forget for Howard.
After injuring his Achilles tendon in the 2011 playoffs, Howard was limited to 71 games in 2012. This year, he's missed a significant amount of time again with a torn left meniscus.
When healthy, Howard has been pretty good. But that's when he's healthy.
He just can't seem to stay on the field, and the middle of the Phillies' order has suffered.
7. Carlos Quentin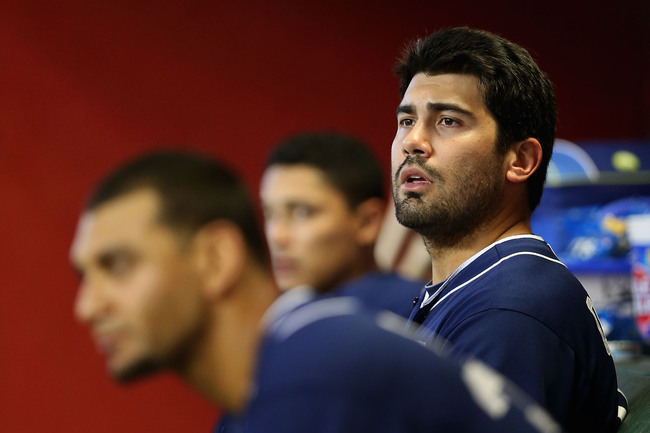 Christian Petersen/Getty Images
Nobody really expects much from the San Diego Padres, but they did expect more from Carlos Quentin.
For the year, Quentin is batting .275 with 13 home runs and 44 RBI.
However, he hasn't played a game since July 30 and could be out for the rest of the season, according to Scott Miller of CBS Sports.
Since Quentin signed his four-year, $37.03 million deal last year, he's batted .268 with 29 home runs and 90 RBI.
Those aren't bad numbers, but like Howard, he can't stay healthy and on the field.
6. Dan Haren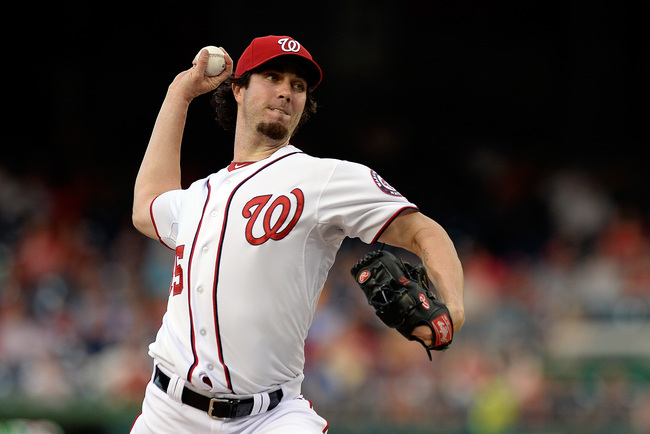 Patrick McDermott/Getty Images
Pitching is something the Nationals didn't think they would have to worry about this year.
After all, they had Stephen Strasburg and Gio Gonzalez at the top of their rotation.
Bringing in Dan Haren was thought to give the Nationals one of the best rotations in all of baseball, but Haren has struggled all year.
He is currently 8-11 with a 4.64 ERA this year.
He's pitched well as of late, only giving up five earned runs in his past five starts, but that doesn't take away from his struggles earlier in the year.
To put it into perspective, Haren has given up five or more earned runs six times this year. That's not exactly what the Nats were thinking when they signed him as a free agent.
5. Matt Cain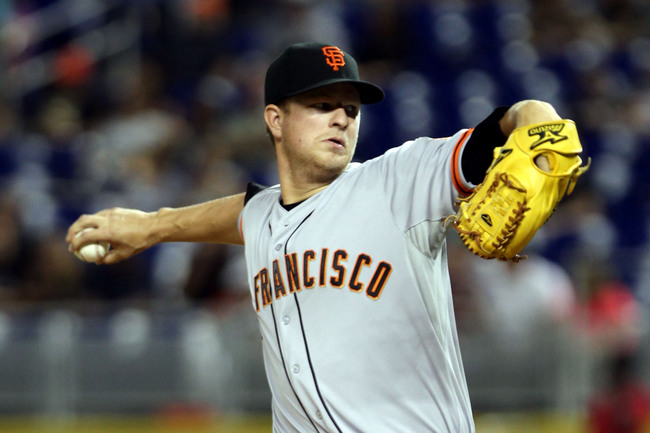 Marc Serota/Getty Images
Where do we start with Matt Cain?
Just a year after signing a five-year, $112.5 million contract extension with the San Francisco Giants, Cain has struggled throughout the year.
He's currently 8-8 with a 4.35 ERA.
Over the past few starts, he's gotten better. But like Haren, it doesn't take away from his struggles earlier in the year.
Of course, some will attribute it to a horrible April in which he had an ERA of 6.49. But since then, he's also had three starts where he gave up six or more runs.
4. Cole Hamels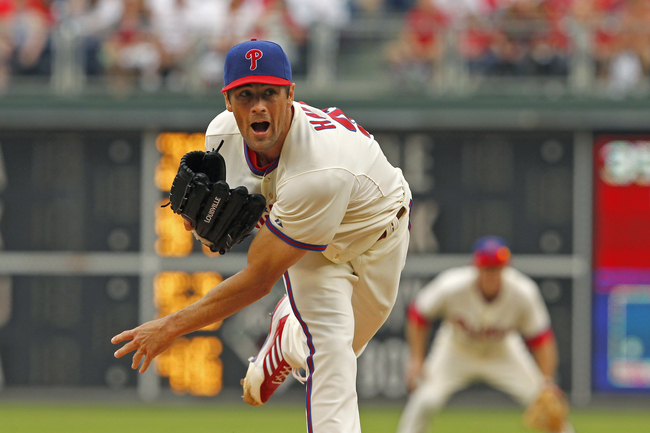 Hunter Martin/Getty Images
Cole Hamels fought for so long to be the ace of the Phillies staff after Cliff Lee and Roy Halladay came to town.
This year, he finally got that chance, being named the Opening Day starter.
But Hamels has been anything but an ace this year.
Hamels currently has a 5-13 record with a 3.61 ERA.
Some will point to his 3.23 runs of support each start, but other pitchers are having better seasons with little or no run support.
Need examples? How about Clayton Kershaw (3.38 RS) and Lee (3.00). Both are getting the job done. So why isn't Hamels?
3. R.A. Dickey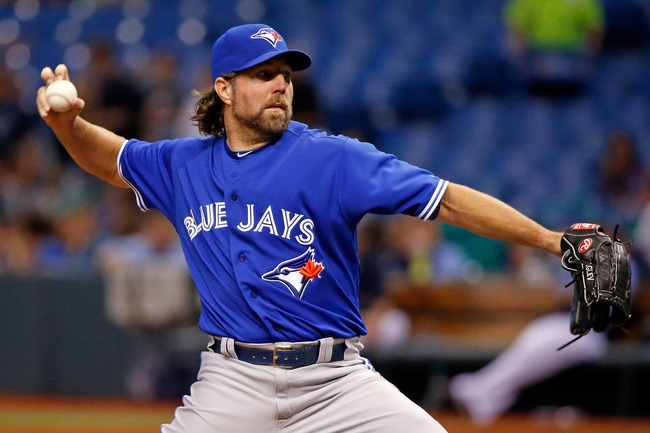 J. Meric/Getty Images
R.A. Dickey was supposed to make a difference for the Toronto Blue Jays this year.
In fact, he was supposed to lead the pitching staff that was supposed to dominate the AL East and win the division.
However, that hasn't happened.
Dickey is 9-12 with a 4.49 ERA thus far. He's given up at least one home run in nine of his past 10 starts, and in 18 games total. He ranks third in all of baseball with 28 home runs given up.
He's simply not gotten the job done and has been the biggest flop of any pitcher this year.
2. Josh Hamilton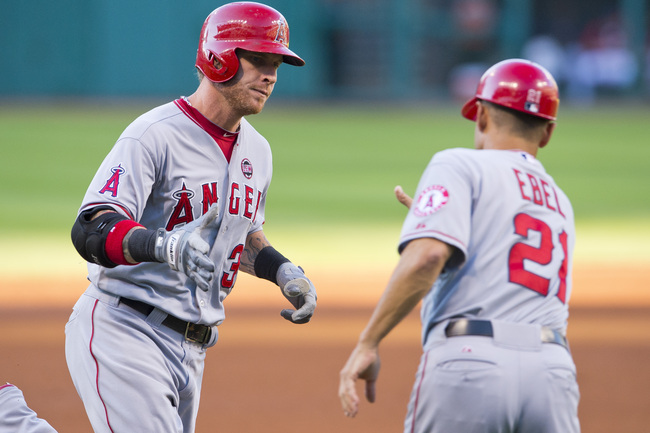 Jason Miller/Getty Images
Everyone in baseball is disappointed by Josh Hamilton's performance this year.
Hamilton signed a five-year, $133 million deal with the Los Angeles Angels in the offseason and has disappointed the fanbase.
This year, Hamilton is batting .229 with 19 home runs and 60 RBI.
Those power numbers look a little better now, especially considering it took him until June 17 to hit his 10th home run.
Hamilton's struggles have played a large role in the Angels' struggles.
With the season lost, fans can only hope he can return to hitting for power and average like he did in Texas.
1. Ryan Braun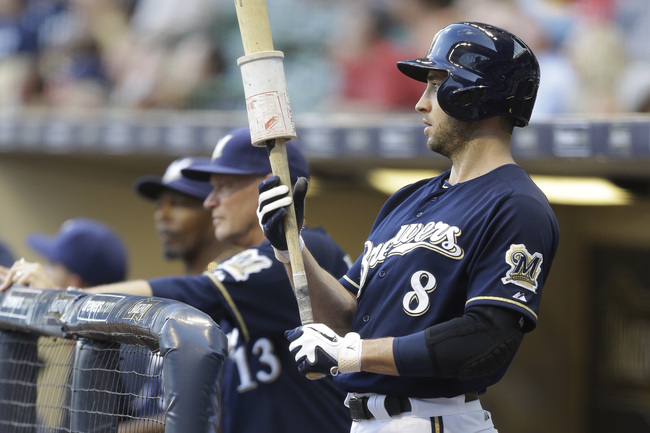 Mike McGinnis/Getty Images
I don't care what you say about his on-field performance, Ryan Braun is the biggest flop of all players this year.
For starters, the Milwaukee Brewers have been horrible this year, which is in line with the theme of disappointing teams. I have to admit I saw it coming prior to the start of spring training.
With all of the rumors and news surrounding the Biogenesis scandal, and the fact that Braun maintained his innocence after failing a test in 2011, it was sickening to see how it all went down.
Braun accepted a 65-game suspension from baseball, which is through the rest of the season.
He has yet to answer to the media, unlike the other players involved, and will come back next year as if nothing ever happened.
For an organization that chose him over Prince Fielder, it had to be disappointing. After all, your face of the franchise could no longer be that because of his cheating.
Because he chose to lie his way out of mistakes, subsequently dragging other people through the mud to do so, Braun is the biggest flop this year.
Why No Alex Rodriguez?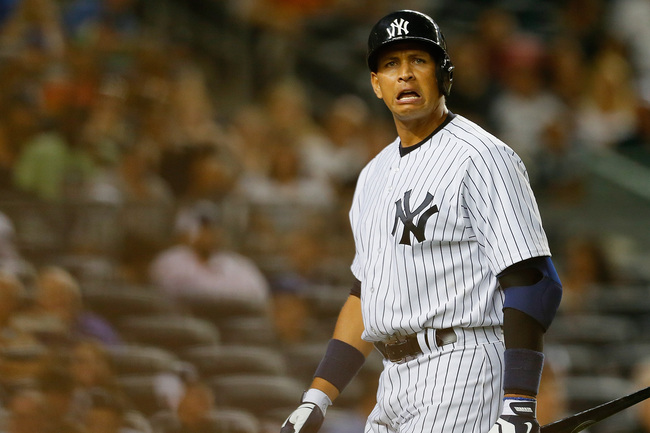 Mike Stobe/Getty Images
Despite the multiple articles I've written criticizing A-Rod, I will actually give him the benefit of the doubt in this one.
Until all of the evidence is presented to the public about what he did, there's no honest way to assess his situation.
Plus, let's not forget the Yankees haven't really been disappointing this year. They're still in the playoff race.
Like what I wrote or think I'm totally full of it? Comment below for hit me up on Twitter @chris_stephens6. Keep it clean and I'll likely respond back to you.
Keep Reading