Arsenal's Premier League defeat against Aston Villa was not only costly to Arsenal's points tally and morale. They also suffered a series of injuries during the game.
In the treatment room after the match, there were concerns over Kieran Gibbs, Bacary Sagna, Aaron Ramsey, Jack Wilshere, Tomas Rosicky and Alex Oxlade-Chamberlain.
Most of those players recovered swiftly and have travelled to Turkey for Arsenal's Champions League qualifier with Fenerbahce. Oxlade-Chamberlain, however, has remained behind.
In yesterday's pre-match press conference, Arsene Wenger told The Metro that the young midfielder would miss up to six weeks with a ligament problem. Later that evening, Oxlade-Chamberlain himself confirmed that his absence would last closer to three months.
The news that Oxlade-Chamberlain will be out until November is a huge blow to the player.
With Arsenal having sold Gervinho, there was a real opportunity to establish himself in the team. The fact that Oxlade-Chamberlain was selected ahead of Lukas Podolski on the opening day of the season tells you how highly he is regarded by Arsene Wenger.
After a difficult second season last year, 2013/14 represented Oxlade-Chamberlain's opportunity to cement his place in the Arsenal XI. He may yet manage it, but he'll have to be patient.
While the injury is a personal blow to Oxlade-Chamberlain, it's also a significant problem for Arsenal and Arsene Wenger.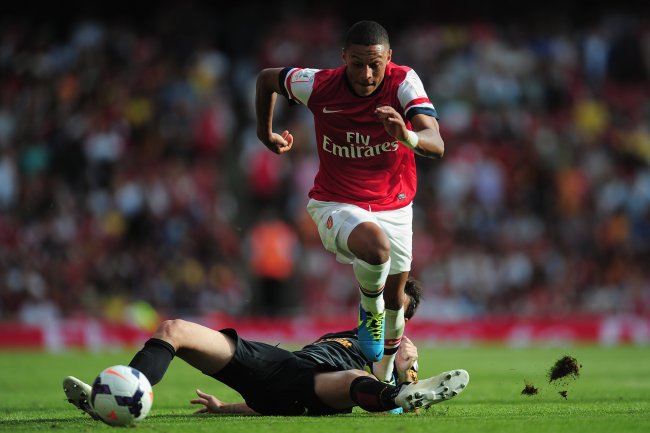 Jamie McDonald/Getty Images
Oxlade-Chamberlain's versatility is one of his greatest strengths. Although much of his career has been spent on the flanks, he spent a good proportion of preseason playing through the middle. He is capable of lining up on either wing, behind the striker or as a deep-lying midfielder. His absence leaves not just one gap in the Arsenal squad, but three.
The obvious way to rectify that situation is by spending some money. Since Oxlade-Chamberlain hobbled off against Villa, Arsenal have been linked by SkySports with a move for Newcastle's French midfielder Yohan Cabaye. Cabaye could help provide cover in the centre of the park, but wouldn't assist in replacing Oxlade-Chamberlain's fleet-footed wing play.
In order to sufficiently cover for Oxlade-Chamberlain's absence, Arsenal need to bring in at least two new players: a central midfielder such as Cabaye and a quick wide player to provide ammunition for Olivier Giroud. Relying on the inexperienced pair of Serge Gnabry and Ryo Miyaichi is simply too big a gamble.
James McNicholas is Bleacher Report's lead Arsenal correspondent and will be following the club from a London base throughout the 2013/14 season. Follow him on Twitter here.