Following conflicting reports in the press, Liverpool defender Daniel Agger's future at the club still remains uncertain amid speculation linking the player with a move to Barcelona.
As reported by Declan Warrington of the Daily Mail, Danish defender Agger reportedly confirmed that he would be staying with the Anfield club, effectively ruling himself out of a move to the La Liga Champions.
In an interview with Spanish newspaper Sport, Agger was reported to have said:
Barcelona are obviously a big club, but I have never thought about leaving Liverpool, unless they want to sell.

Everyone at the club are an integral part of my life.

I have a YNWA tattoo.

Frankly I don't mind if we don't finish in the top four, I love the club.
Where will Daniel Agger be playing his football when the transfer window closes?
It has been suggested that the Catalan club have been in the market for a centre-back throughout the summer following the injury-plagued 2012/13 campaign of Spanish defender Carles Puyol, who is no spring chicken.
Gerard Pique still remains a defensive rock at the heart of the Barcelona defence, but with midfielders Javier Mascherano and Sergio Busquets often having to plug the gap, the situation isn't an ideal one for new Barca head coach Gerardo Martino.
The Spanish giants tabled a formal £15 million bid for the 28-year-old, which was rejected, as James Pearce reported in the Liverpool Echo.
And following news of Agger's defensive partner Sebastian Coates' knee ligament injury, as reported by Ed Malyon in the Mirror, Liverpool will be even more determined to keep hold of the Dane.
It has since been suggested that, due to being rebuffed on the £15 million bid, Martino would wait until the January transfer window to reassess his defensive options as Puyol continues to recover from injury—that meant that Agger would be staying with the club he joined in 2006.
Per Reuters via Yahoo! Sports, Martino was reported as saying:
I know what the club was doing before I came here and what they wanted, even with Tito here.

What I say is that as long as (Carles) Puyol is fine - and he will be because his recovery is going well - with Gerard Pique, Javier Mascherano, Marc Bartra, Adriano or Sergio Busquets as centre-backs, we are fine.

If we have an injury, there is always the winter transfer window.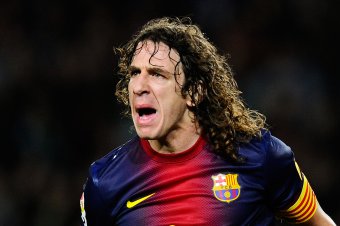 David Ramos/Getty Images
However, Agger's agent, Per Steffensen, has been quick to come out and state that his client has had no contact with any journalists and that any such quotes were untrue.
The Danish agent spoke to Denmark's national newspaper, Bold, and his comments were subsequently reported by Marcus Christenson in The Guardian: "I just spoke with Daniel and he has not spoken with any journalists. The quotes are untrue – simply fabricated."
With just 12 days to go until the transfer window slams shut, it seems that Agger's future remains unresolved.
One thing is for sure, though: Liverpool will certainly like to keep hold of their main centre-half ahead of a long Premier League season, but with the spending power of Barca and their insistence on getting their man—take Cesc Fabregas and Neymar as examples—it could be a difficult task for the Reds to accomplish.