Who's the Odd Man Out in NFL's Toughest Positional Battles?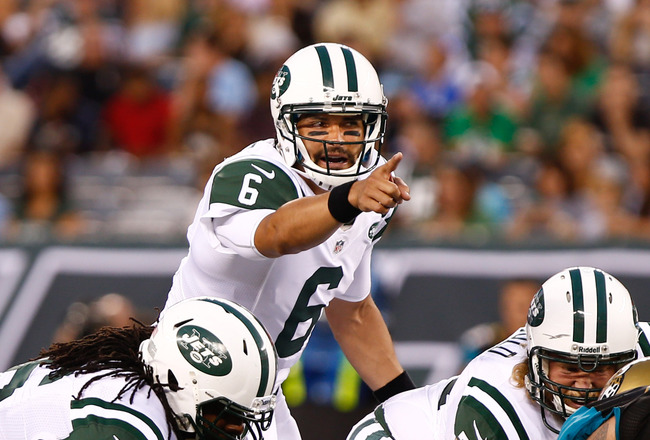 Debby Wong-USA TODAY Sports
Losing your job in an NFL preseason battle is a terribly painful process. Few things can sting a competitive athlete worse than losing the very right to continue the competition itself. It is in this end that a loser must taste the bitter flavor of defeat.
If those flavors were created through a series of steps and ingredients, this slideshow would be the cookbook.
Considering the men listed here are all projected to suffer such a devastating blow, the least we can do is focus a little bit of attention on them before they're completely phased out of the limelight.
The Pittsburgh RB Battle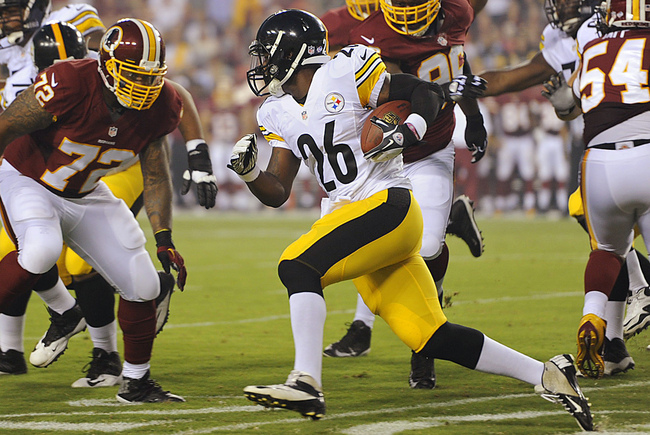 Geoff Burke-USA TODAY Sports
The bad luck continues for rookie running back Le'Veon Bell, who left his debut preseason game early after a mild foot-sprain ended his night.
Training camp started looking promising for the former Michigan State standout, who had early success replicating the same combination of power and prance that garnered national attention at the collegiate level. However, just days before the Steelers' preseason opener, Bell suffered his first setback with a minor knee injury that kept him out of the game.
Many eyes in Steelers camp predicted Bell as the early favorite to come away with the starting running back title after his impressive start—though, regardless of who the starter is, a generous rotation should be expected from Tomlin considering his tendency to favor the "running back by committee" approach.
Veterans Jonathan Dwyer and Isaac Redman won't take this opportunity for increased reps lightly and have been notable in their own right throughout the preseason. Dwyer looked especially promising last Monday as he ran with bad intentions all night against the Redskins defense. He seems to be the front-runner for the starting job now that Bell looks to be out of commission for at least the near future.
Bell may make a push to become RB1 as the season goes on, but he first needs to stay available before he can even think about carrying the bulk of the team's rushing demands.
Packers' Backup QB Situation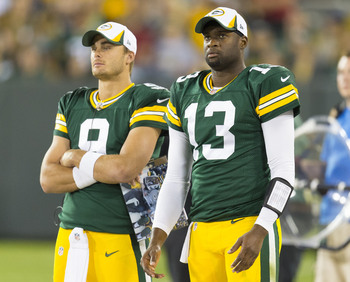 Vince Young and Graham Harrell look toward an unknown future in Green Bay
Jeff Hanisch-USA TODAY Sports
The inauspicious timing of adding Vince Young to the battle to become Aaron Rodgers' understudy must have been fueled by disappointment in the status quo.
Enter the man who was once named the NFL's Rookie of the Year back in 2006.
Last time I checked, the NFL places a huge value on experienced backups at the quarterback position. Vince Young has this in abundance relative to his competition—though Vince may not be quite the "Young" he once was.
At 30 years of age, he's still only two years the senior to incumbent backup Graham Harrell—the same Graham Harrell who has attempted only four passes in his NFL career thus far.
Seventh-round rookie B.J. Coleman looked to be the odd man out initially with the arrival of Young, but he has since made this competition more interesting by showing a few signs of life. Of the three backups currently on the roster, Coleman happens to be the only one who has thrown for a touchdown this preseason.
Vince Young, on the other hand, has the roughest road to travel as he learns Green Bay's complex offense on the fly.
With only 12 pass attempts, he has thrown for 33 yards in two games. Those aren't the type of numbers often rewarded with an NFL backup role. This may have contributed to him receiving the fewest number of reps so far this summer, per Pro Football Focus (paid site).
In the end, Vince Young would be by far the more dangerous weapon in a pinch. However, all signs are pointing toward his departure as he struggles to resurrect what was once a promising NFL career.
If nothing else, he could be called off the street in an emergency considering he now has some familiarity with the offense and the organization as a whole.
D.J. Williams vs. Jon Bostic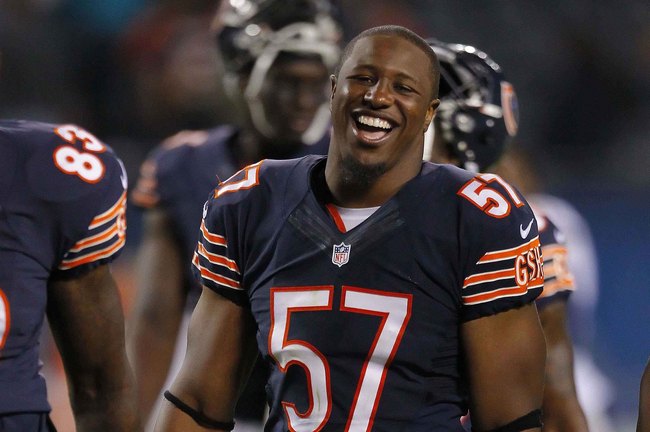 Dennis Wierzbicki-USA TODAY Spor
It's a good thing the Bears already have a decent idea what veteran linebacker D.J. Williams can do as he sits out of action with a strained calf. Otherwise, the starting job would be handed to second-year rookie Jon Bostic.
The plan was to have Williams start this season while Bostic served as a backup and learned the game. However, Bostic has shown a great deal of promise in his first two preseason outings and may be edging toward a full-time gig with the first-stringers.
Clearly the Bears think highly of him and expect him to eventually be the future at inside linebacker. What they didn't expect was the future may have come earlier than hoped for, thanks to injuries and impressive preseason performances by Jon Bostic.
These two players are on opposite career trajectories, as Williams has failed to stay healthy the last two seasons and appears to be breaking down at the age of 31. Meanwhile, Bostic has been impressing both coaches and teammates with interceptions, defensive touchdowns and big hits.
Williams is still listed as the starter on the Bears' depth chart, but it looks like he might be the odd man out in this battle, thanks primarily to his durability issues.
One thing is for sure: The rookie won't give the job back without a fight.
Tyrann Mathieu vs. Rashad Johnson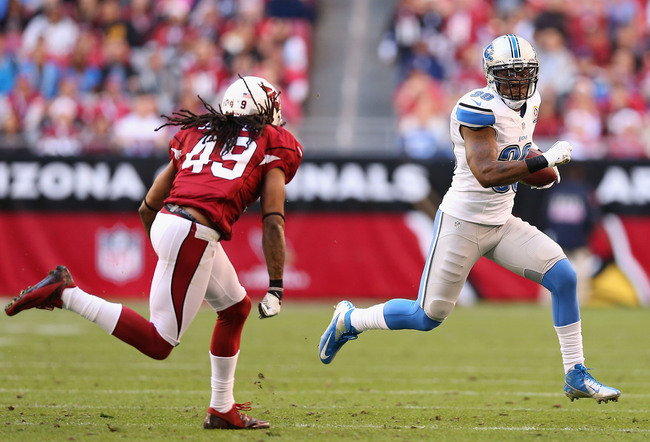 Rashad Johnson's starting job could be running away from him.
Christian Petersen/Getty Images
Last week, Tyrann Mathieu was awarded his first start in an NFL game. Sure, it was preseason, but a guy has to start somewhere—and start he did.
The little engine that could, known better as Mr. Mathieu, has done everything right this summer in his position battle with fifth-year pro Rashad Johnson.
Though Johnson is listed as the starter on ourlads.com, his mediocre career is not nearly a strong enough buffer to hold off the impending tide of the Tyrann Mathieu show.
In 57 career games in the NFL, Johnson has managed to pick off only three passes. Mathieu can match that number in two or three games alone.
Any scenario where the kid formerly known as the Honey Badger actually plays second fiddle to Johnson would be highly unlikely at this point. Few people in the league so far have looked as good as Mathieu. Meanwhile, all Johnson has to go off of is a career that, when taken as a whole, fails to even compare to a rookie's first two games in the preseason.
The odd man out here has to be Johnson.
49ers Wide Receivers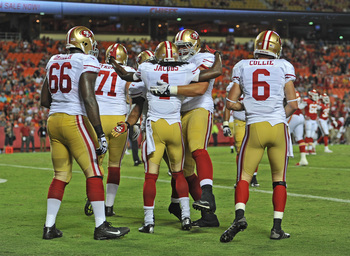 Peter Aiken/Getty Images
Here's what we know at this point.
The two starting 49ers receivers from Week 1 of last year, Michael Crabtree and Mario Manningham, are both going to miss at least the first half of the season, according to Taylor Price of 49ers.com. Manningham is still recovering from a knee injury sustained last season, while Crabtree is in the process of rehabbing his torn Achilles.
This leaves Kyle Williams as the only healthy receiver left from last year's unit, though Williams technically isn't healthy enough yet. He has yet to see a single snap so far this preseason.
New to the scene is veteran wideout and recent Super Bowl champion Anquan Boldin.
Boldin was acquired via trade from the Baltimore Ravens. They also brought in rookie receiver Quinton Patton to compete as they snagged up a group of guys off the street like Lavelle Hawkins, Kassim Osgood, Marlon Moore, Austin Collie, Ricardo Lockette, Chad Hall and Chuck Jacobs.
In addition, the Jonathan Baldwin trade for A.J. Jenkins should be something to keep an eye on as we get closer to opening day.
None of the players from these acquisitions have achieved much in their career to date, but at least some of them will be called upon early and often this preseason with the hopes to shine bright enough to make the team.
Unfortunately, with the injured Crabtree and Manningham taking up roster spots and Boldin and Williams a lock to make the roster, the 49ers are forced to make some tough decisions and let go of some players they hoped to have during the season.
Patton is their shiny new toy who has yet be healthy this season. He's also a lock for a roster spot. Of the names mentioned earlier, only Jonathan Baldwin and Kassim Osgood have any chance of making the final 53.
The odd man out in this scenario has to be Kassim Osgood.
Osgood is a longtime special teams ace in this league who offers little to no value on offense. In nine years of NFL football, Osgood has only managed to muster up 749 passing yards.
This type of luxury player has no place on a team looking for guys who can contribute on offense for at least half the season.
Who Wins the Starting Quarterback Job in New York?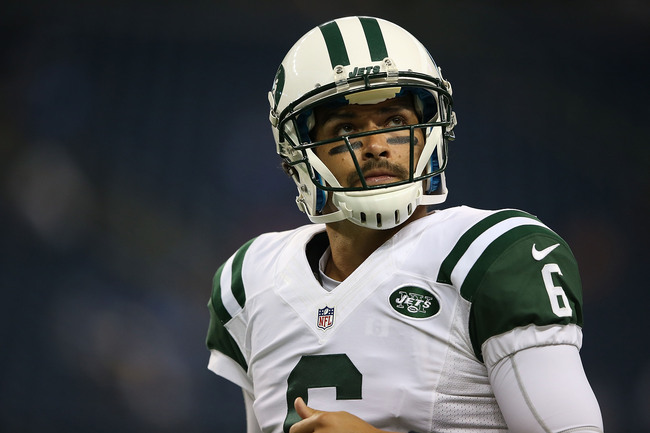 Leon Halip/Getty Images
There's perhaps no bigger position battle raging onward this summer like the one for the starting quarterback job in New York. Mark Sanchez and Geno Smith both seem to be unable to separate from the other as they each struggle with consistency and ball security.
If we were to isolate this battle for just Week 1, it stands to reason that Sanchez holds a slight edge based on experience alone. But those experiences have often been laden with errors of comedic proportions.
Unfortunately for the rookie, Geno might have already won the starting job had he not sprained his ankle in the first preseason game, causing him to miss Week 2.
Both men have had their ups and downs, while Sanchez has had the lion's share of the reps in preseason thanks in part to Smith's ankle. This aspect alone may prevent Geno from getting a fair shake at the starting job.
However, there's still time left for the second-round pick to wow his coaches with two more preseason games remaining. Head coach Rex Ryan expects Geno to play in the Giants game and will be placing enormous value on his performance in regards to making a decision on his starter.
We've all seen what Sanchez can do as an NFL quarterback, and he's been disappointing Jets fans for years. Regardless who starts on opening day, eventually Mark Sanchez will step aside for Mr. Geno Smith. There comes a time when every marginalized fanbase must stand up and say "I'm mad as hell, and I'm not going to take it anymore!"
Keep Reading