New Orleans Saints: Winners and Losers from the Texans Game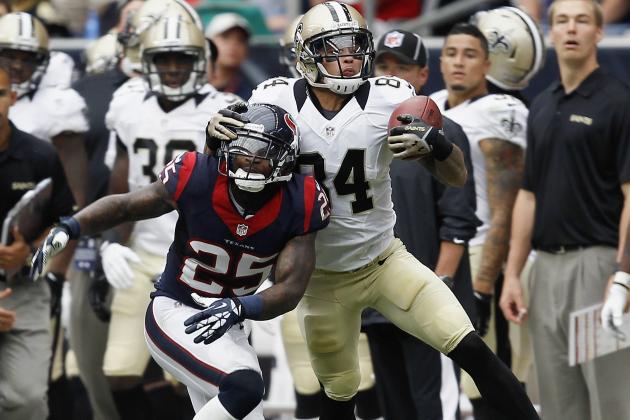 Bob Levey/Getty Images
Kenny Stills
In the penultimate game of their 2013 preseason, the New Orleans Saints played a very good game as a whole. This would be great news in itself, but considering the opponent was a very formidable Houston Texans squad, it makes the results that much more damning.
The Saints can hang their collective hats in quite a few areas. Conversely, they can hang their heads in some areas that are pretty important. Let's have a look at some winners and losers from this preseason tilt.
Begin Slideshow

»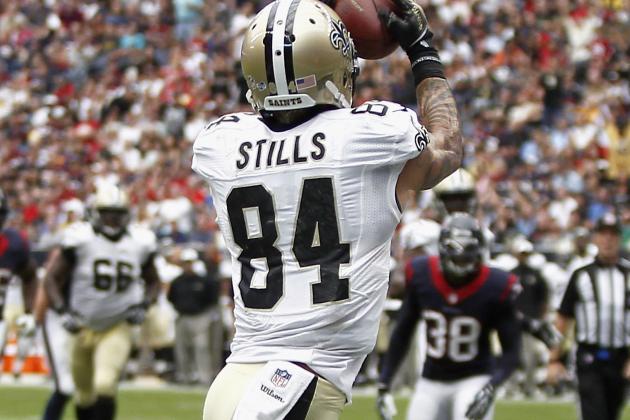 Bob Levey/Getty Images
Kenny Stills TD
Yes, Kenny Stills only had two catches. But when one catch is a 40-yard bomb, and the other is a 14-yard touchdown, on upper-echelon corner Jonathan Joseph no-less, you will most certainly turn some heads. Stills continues to make plays and leap off the TV screen this preseason.
He looks indefensible in the short game. He looks fast enough to be the Saints field-stretcher at times. He just generally looks like another Saints late-round gem.
As a fifth-round pick, most pundits weren't counting on Stills making a major impact in the 2013 season. But due to injuries to receiving starters Joseph Morgan (season-ending) and Marques Colston, the rookie has found himself as the focal point of the offense, thus far, in the preseason.
Stills has lined up all over the formation and has made an impact at each position. One has to wonder if the Saints brass has designs on featuring Stills during the season or if they're simply establishing depth. Once the season starts, I expect Colston, receiver Lance Moore and tight end Jimmy Graham to emerge as the top three receiving targets.
But with as good as Stills has looked, thus far, it shouldn't be out of the realm of possibility to see him shoot up the depth chart as soon as the middle of the year. He's been that good!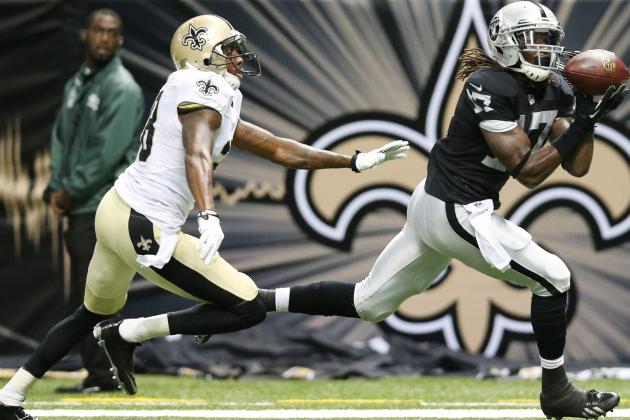 Crystal LoGiudice-USA TODAY Sports
Lewis
Now don't get me wrong, every corner not named Revis struggles against the great Andre Johnson. As I stated in the game preview, he's simply too big and too fast. But the way Lewis struggled is a bit concerning.
On certain plays against Johnson, he wasn't even in the frame. I saw him losing confidence in his ability to compete with the behemoth, and it started to show up in his technique.
Lewis would often turn his whole body around in an attempt to try and beat Johnson to the spot. In these circumstances, your technique should be the aspect that keeps you afloat. He needed to turn his hips in whatever direction necessary while staying in Johnson's hip pocket.
To make matters worse, Lewis was starting to get frustrated and point fingers toward his teammates in an attempt to deflect the blame. That's a no-no!
This game was a microcosm of what I've seen from Lewis throughout the preseason. He's been extremely unimpressive for his top billing as a free-agent acquisition.
Maybe this is just a blip on the radar.
But if not...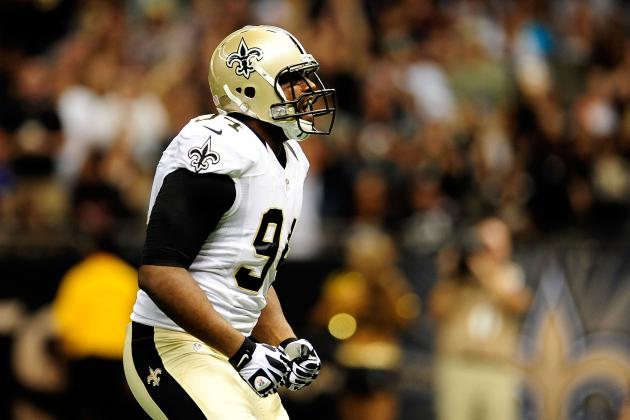 Stacy Revere/Getty Images
Cameron Jordan
Cameron Jordan continues to solidify himself as the best player on the Saints defense. There's a strong argument to be made that he's the best overall player on the team after Drew Brees. His ability to be a backfield disruption is not lost on me. He plays the run just as well as he rushes the passer.
He can line up at the 5-technique and pressure from the interior. He can line up at the Wide 9 (outside shoulder of the tight end) and conjure up similar results. I'm almost starting to think that he could even be a better option at OLB over incumbent Will Smith. He's just that versatile.
Having a player with his type of motor producing at that high of a level is worth its weight in gold!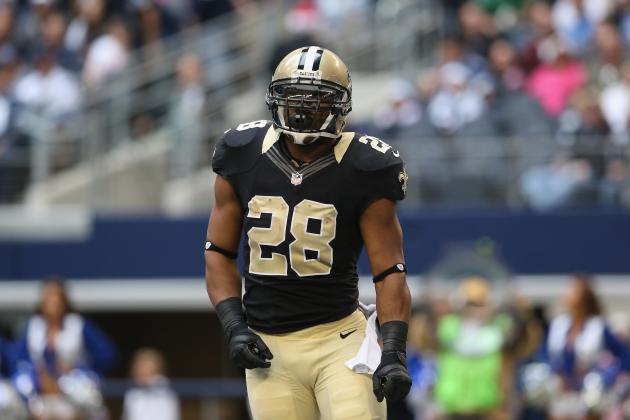 Ronald Martinez/Getty Images
Mark Ingram
Mark Ingram is a bit of a pariah for Saints faithful. In their mind, he's starting to conjure up memories of another former Heisman-winning running back. I happen to think the comparisons to Reggie Bush are unwarranted. If Ingram flops, it will be due to offensive philosophy.
It has to be frustrating if you're a physical specimen like Ingram. He's being used similarly to a scatback. One run here. A swing pass there. Basically, there's no rhythm to speak of at all. Saints fans will point to the effectiveness of former back Chris Ivory in a similar role.
I counter with they are two totally different types of runners.
If you watched Ingram at Alabama you would notice that a good chunk of his yards came as the game went along. He's a physical guy who wears down the defense. Once the defense has physically deteriorated, he uses his vision and agility to break off big gains.
A guy like Chris Ivory was a one-cut-and-go type back. He can be efficient with 10 or less carries. It's kind of like a sixth man in basketball.
Vinnie Johnson, the old sixth man of the Detroit Pistons, was effective with less minutes and never really needed to warm up to drop 20 points. Did that mean he was better than Isiah Thomas? Not in the least bit.
Same theory applies to Ingram.
This doesn't make Ingram an inferior player. It simply makes him different. He needs 15-plus carries to get warmed up. With Sean Payton as coach and Drew Brees as the signal-caller, that won't be happening anytime soon. And that's a shame.
Note: Ingram played well in this game. But he needs more than six touches to fully live up to expectations.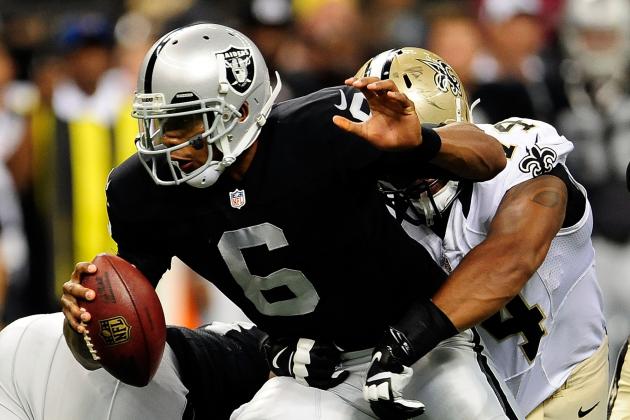 Stacy Revere/Getty Images
Glenn Foster with the sack on Raider's QB Terrelle Pryor
You talk about seizing the moment!
Glenn Foster has been pretty much unstoppable at times for the Saints this preseason. With four sacks playing predominately at the 5-technique, Foster is looking like the Robin to Cameron Jordan's Batman.
Foster is an undrafted rookie—out of the University of Illinois—who had four sacks his entire college tenure! Playing the 3-technique in a 4-3-based defense, Foster didn't maximize his full potential. In the Rob Ryan scheme, he's now lauded for his versatility and overall wherewithal.
At 6'4", 285 pounds, Foster is the perfect mesh of athleticism, tenacity and skill. He is making a name for himself with each passing day. Considering the success the Saints have had with players out of Illinois (Pierre Thomas, Joseph Morgan and Martez Wilson), Foster's play may earn him the opportunity to supersede them all. It's early, but the returns look promising.
Chris Graythen/Getty Images
Andy Tanner
Veteran Andy Tanner just continues to make plays. He's made the most of his playing time and has developed a little bit of a following in the process.
As a receiver vying for the fifth spot, it's more than clear that special teams will play a big part in the decision of who stays and who goes. Between Tanner, Preston Parker and Courtney Roby, the Saints have some tough decisions to make on the final day of cuts.
Tanner's penchant for scoring touchdowns should weigh heavily on the coaching staff. His ability on special teams shouldn't go unnoticed either. It will be a tough decision that I'm glad I don't have to make.