Barcelona Transfers: Pieces La Blaugrana Would Love to Add Before Deadline Day
David Ramos/Getty Images
The new football season may already be underway, but the transfer window is still open. Clubs are making the final alterations to their squads, and these last days could decide the season for multiple teams.
Barcelona will again be looking to compete in three major tournaments this season and will need a very strong squad to do so. Tata Martino's team may already be complete, but the club could benefit from some late signings.
Let's look at the last remaining pieces that could help Barcelona, and see if those moves will actually take place.
A Replacement for Victor Valdes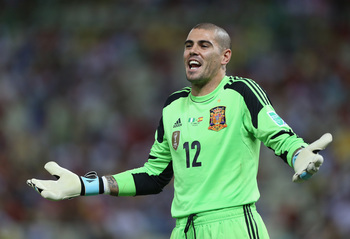 Jasper Juinen/Getty Images
Ever since Barcelona goalkeeper Victor Valdes announced that he would be leaving the club at the end of his contract, there have been odd feelings.
This season, the Catalan will remain the squad's undeniable starting keeper. But what about the future?
Barcelona could benefit greatly from a late signing of a keeper who can learn under Valdes this season and be ready to make an impact next year. Waiting until next summer to address the issue might be too late, so the club should act now.
It is always better to fix a problem ahead of time rather than waiting until you have no choice but to do so. The Valdes issue needs to be dealt with this summer and the club should be making moves.
Sadly, it does not appear as though Barcelona will be looking to bring in Valdes' replacement until the Catalan shot-stopper is actually gone.
The club has made little effort this summer in bringing in a keeper, which could spell trouble for this time next year.
A Defensive Upgrade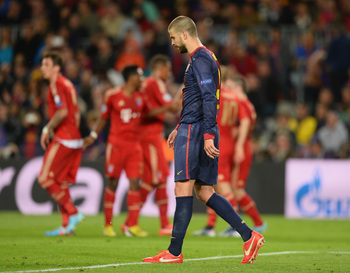 Mike Hewitt/Getty Images
In all honesty, this may be the only real reenforcement that Barcelona needs this summer.
The fact it has not been made is therefore more shocking than any other move that has failed to materialise.
Last season, the football world saw the defensive problems at Barcelona. It was no secret that a new defender needed to be brought in.
Yet, surprisingly, no one has made the move to the Camp Nou at this stage.
Barcelona defender Marc Bartra told AS (via Goal.com): "All I can do is focus on my game and show those that watch me play that I'm good enough to stay at Barca and that perhaps the club doesn't need to buy another center-back."
Though Bartra may be the defender of the future and could possibly grow into the role that needs to be filled, no one is expecting him to be the answer right now.
On top of the defensive dilemma, the club recently announced on their official website that captain Carles Puyol had returned to training and could be considered a singing after returning from injury.
Regardless of the claims or options that Barcelona already has, the defensive problem has not been addressed in the slightest. Above anything else, Barcelona would love to add a defensive piece to the squad, yet sadly it looks as if that just isn't going to happen.
Is the Squad Set?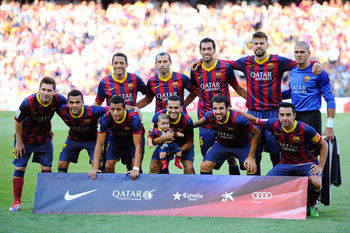 David Ramos/Getty Images
With the club only needing two more pieces, many could argue that the squad is good enough as is. However, the importance of those pieces cannot be overstated.
Barcelona could possibly do without bringing in Valdes' replacement right now, but it is very unlikely that La Blaugrana will have a successful year without addressing the defender dilemma.
In short, the squad is not set mainly because there is a glaring weakness in the back line.
Tata Martino and others at the Catalan club may think that Barcelona will get by without making a defensive purchase. Sadly, though, there seems to be no way that will actually be the case.
Is the Barcelona squad set for the new season? There are two answers to that.
Firstly, yes—this will most likely be the squad when the transfer window closes. Do not expect any more arrivals this summer.
Secondly, no. The squad should not be set as is.
Martino is taking a big gamble by not signing a new defender and could also be putting the club in a dangerous place by waiting to sign a new keeper. The choice not to bring in a new center-back could come back to haunt Barcelona and that is exactly what fans are scared of.
When the transfer window officially closes, expect the squad to be the same as it is now. And expect that to be a real big problem in the coming months.
Who should Barcelona look to bring in during the coming days? Is the squad good enough as it is right now? Leave your thoughts and comments below!
Tre' Atkinson. Follow me on Twitter for more discussions on Barcelona and all Spanish football.
Keep Reading

FC Barcelona: Like this team?