Predicting Award Honors for the Houston Texans 2013-2014 Season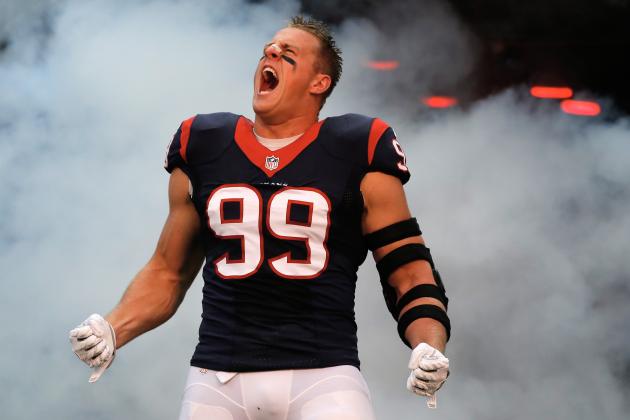 Scott Halleran/Getty Images

Football is a team sport. In order for a team to emerge victorious in any contest, all players on offense and defense must work together in perfect cohesion, as a single body instead of a collection of individuals.
Some players, though, rise above the rest. They make such significant impacts that their acts overshadow the rest of the team. These players are superstars.
A great example of this can be found when one compares the Texans' 2011 and 2012 defenses. In 2011, no one player really stood out. There were many stars, but none were known as the face of the defense.
Last season, whenever the Texans' defense was mentioned, J.J. Watt immediately came to mind, and for good reason. He was the superstar, the player who could impact the game in dramatic fashion.
Players like Watt are so key to the success of NFL franchises. They have great chemistry with their teammates, and they never challenge their teams ideals, schemes and goals.
These players deserve to be awarded. They deserve to be recognized for their awesome accomplishments.
Who are these players who are so deserving of being awarded on the Texans? Of course, Watt is one of them, but who else? Read on, and find out.
Begin Slideshow

»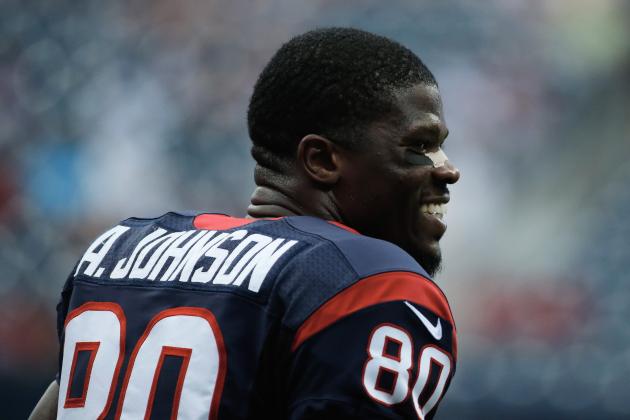 Scott Halleran/Getty Images

When discussing the most important player on the Texans offense, the list usually comes down to three names: Matt Schaub, Arian Foster and Andre Johnson.
Each player is key to the Texans offense in many ways. Schaub runs the Texans play-action passing scheme to perfection, Foster is responsible for the Texans' deadly efficient running game and without Johnson the Texans passing game might be startlingly bad.
Considering the above, the Offensive MVP award will not go to the player that is most important to the offense. Instead, it will go to the one who has the best individual season.
And that's Johnson. With DeAndre Hopkins starting opposite him, Johnson is set to have another career season.
Last year, the Texans receiving core consisted of mostly inexperienced and inconsistent receivers who failed to make much of an impact on the offense. Johnson was routinely forced to face double and even triple teams on nearly every play.
He still put up nearly 1,600 yards on the season.
This season will be a completely different story. Hopkins, the Texans' first-round draft choice, has the skill set to contribute right away.
If Hopkins can start producing right away, which he is expected to, then opposing defenses will be forced to stop double-teaming Johnson as much as they would have in the past.
Remember how dominant Johnson was last season? Now try to imagine how good he can be when he only has to face single-man coverage.
Winner: Andre Johnson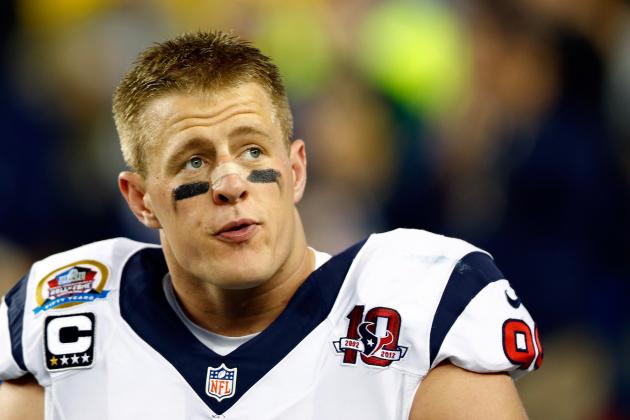 Jared Wickerham/Getty Images

With the reigning Defensive Player of the Year on the roster, there is really only one obvious choice for this award: J.J. Watt.
Actually, though, Watt does have one serious competitor for this award: Brian Cushing. The Texans' star inside linebacker tore his ACL last season in week 5, and after his injury, the Texans' defense slowly deteriorated.
Cushing is central to the identity of the Texans' defense; he does nearly everything required of him. Whether he is stuffing running backs in the backfield, smothering tight ends on pass plays, bull-rushing the quarterback or commanding the defense, Cushing does it like a star.
The Texans' defense will be much, much improved with Cushing finally back.
Watt, however, is still the star. Last season, with his 20.5 sacks, he accounted for nearly half of the defense's total sacks. Without Watt, the Texans' defense would have put up pathetic sack numbers.
And Watt should continue to be an absolutely dominant force for the Texans' defense. He will get his sacks, tackles for loss and batted passes.
But Watt's impact will extend even further than that. Offenses will double-team Watt as often as they can, as they did last season. This should open up huge pass-rushing holes for the likes of Whitney Mercilus, Brooks Reed and Antonio Smith.
If those three players, or any other Texans' pass rusher, puts up big sack numbers this season, much of the responsibility will belong to Watt.
Watt is a one-in-a-generation type of player. The Texans are lucky to have him.
Winner: J.J. Watt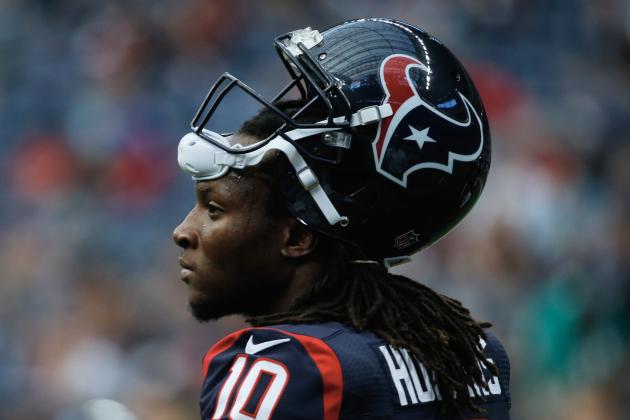 Scott Halleran/Getty Images

The obvious and pretty much only choice for this award is DeAndre Hopkins. The first-round receiver stands a great chance of making a huge impact on the Texans offense this season.
Hopkin's only competitor for the Rookie of the Year Award, D.J. Swearinger, will be coming off the bench this season.
Yes, the Texans run defensive sub-sets quite often, and Swearinger should play in many of those situations, but the starting receiver has a much larger chance of consistently making plays for the team.
Hopkins does not have to put up big numbers for his season to be considered a success. In fact, it would be quite impressive if he filled up the stat sheet; most rookie receivers do not.
All Hopkins has to do is become a threat. If he can quickly gain Schaub's trust and be able to consistently beat man-on-man coverage, he will do wonders for the offense.
As mentioned before, Hopkins can free up Andre Johnson. And if he does, that could be a potential game-changer for the Texans offense; it could join the ranks of the most dangerous offenses in the NFL.
Hopkins possesses an NFL skill set, and he is ready to makes plays right away.
Winner: DeAndre Hopkins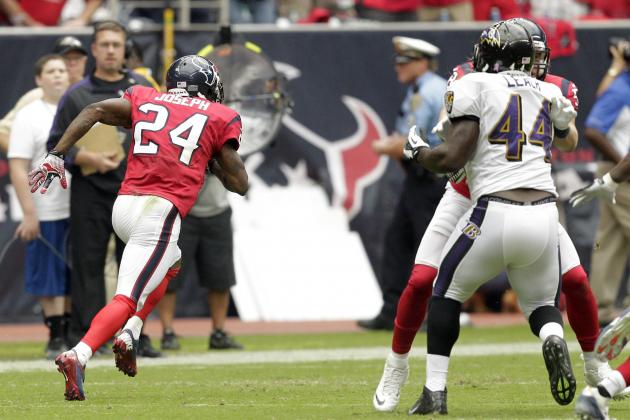 Bob Levey/Getty Images

There are so many candidates for this award. So many players who failed to impress last season, but could certainly become major factors for the team this season.
Keshawn Martin, DeVier Posey and Derek Newton headline the list.
But, unfortunately, none of these players win the award. Instead, the award for the Most Improved Player on the Texans roster goes to... Johnathan Joseph.
Say what? Joseph was a Pro Bowler last season, how in the world could he even be considered for this award?
Well, truth be told, Joseph made the Pro Bowl solely because of his reputation. He was actually fairly bad last year, but the reason was obvious: Joseph played all season with two sports hernias, which are incredibly debilitating injuries.
Fully healthy now, Joseph is capable or returning to his 2011 form, when he was one of the top cornerbacks in the league.
Winner: Johnathan Joseph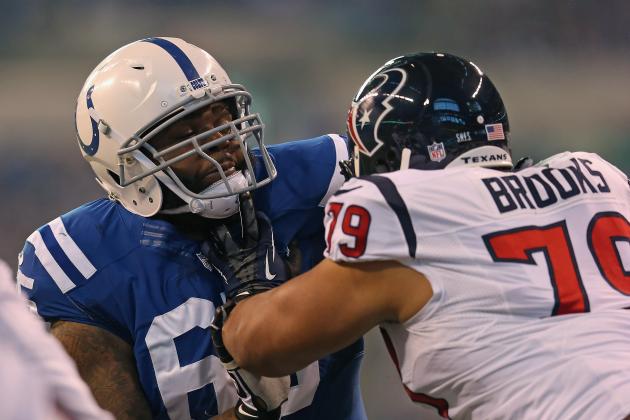 Jonathan Daniel/Getty Images

Last season, the right side of the Texans offensive line was tremendously bad. Ben Jones and Derek Newton slowed the running game down to grinding stop, and they both allowed pass-rushers to hit Matt Schaub on a frequent basis.
If there's a place where the Texans need a surprise player, it's the right side of the line. And, fortunately, that's exactly where it will be.
Brandon Brooks was supposed to have Ben Jones' starting right guard job last season. The talented rookie, though, was overweight and struggled with conditioning. He was physically unable to play effectively throughout an entire game.
This offseason, however, Brooks showed up in incredible shape according to Stephanie Stradley of The Houston Chronicle.
Brooks is a big offensive lineman who possesses a ton of athleticism. He has great footwork, is extremely quick and his strength is overpowering.
Now that he is conditioned, he can finally display his natural athleticism and developed skill set on the big stage. He will not disappoint, and he will become a key figure on the Texans offensive line moving forward.
Winner: Brandon Brooks