Predicting Team Awards for the Tampa Bay Buccaneers' 2013-14 Season
Grant Halverson/Getty Images
Bolstered by a slew of key offseason additions, the Tampa Bay Buccaneers enter the 2013-14 season looking to silence the critics and naysayers by restoring the luster of this once-proud franchise.
Gone are the days where five or six wins was expected because the team was young or the owners were broke, as having doled out well in excess of a quarter-million dollars in total contracts to veteran players over the last 18 months; both excuses are no longer valid.
Quite frankly, this team is expected to perform.
Oh, and win.
Naturally that is much easier said than done, particularly in the ultra-competitive NFC South, where the Bucs face the likes of Drew Brees, Matt Ryan and Cam Newton twice a year, not to mention the rest of their challenging schedule.
About this time last season, I wrote a similar piece predicting how I felt the Bucs season would unfold, including who I thought would win a handful of various team-oriented awards.
Well, you guessed it—it's that time of year again.
No, I won't break down their schedule game by game (at least not right now), but I will hit on an overall season prediction, as well as who I feel will be the team MVP, among other honors.
So, let's get to it.
Rookie of the Year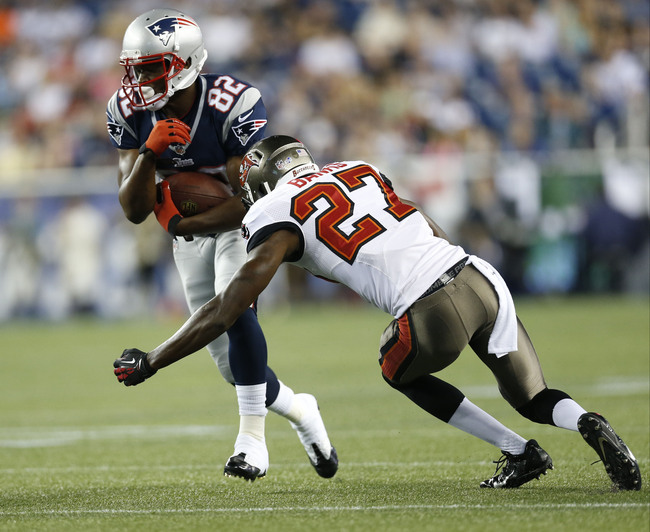 Greg M. Cooper-USA TODAY Sports
With All-Pro cornerback Darrelle Revis expected back and ready to start come Week 1 against the New York Jets, rookie Johnthan Banks will be tested early and often by opposing quarterbacks for most, if not all, of the season.
In most cases, teams would be reluctant to throw a rookie defensive back to the wolves, knowing full well opposing teams would attack said rookie in that manner. Such is apparently not the case for the Bucs, who have consistently trotted Banks out to line up across from the one's during training camp and preseason play.
Luckily for Banks, the 2012 Jim Thorpe Award winner, he possesses incredible ball skills and instincts and has shown himself capable of handling the increased pressure and scrutiny. Listed at 6'2", he has the height and length to match up against any receiver.
By a law of averages, Banks is going to allow his share of big plays. That said, he'll also have ample opportunity to make his share of big plays, and for what it's worth, I see a lot of that happening from No. 27 this season.
As such, Johnthan Banks is my choice for rookie of the year.
Honorable mention(s): DT Akeem Spence, DE Steven Means
Biggest Surprise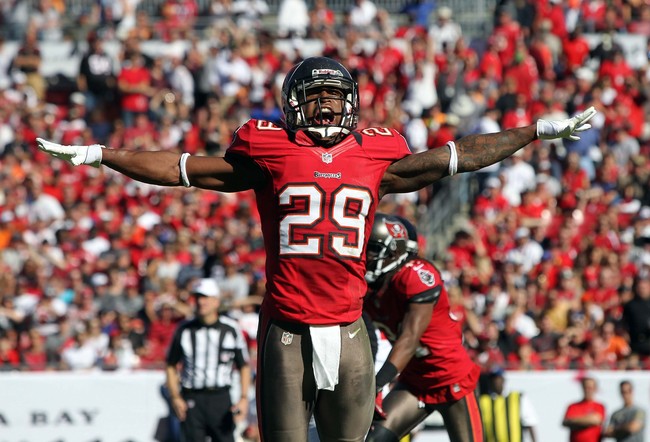 Kim Klement-USA TODAY Sports
Much in the same way Johnthan Banks will benefit the presence of Darrelle Revis, cornerback Leonard Johnson will benefit from both Banks and Revis.
Last season, Johnson, an undrafted rookie from Iowa State, saw significant playing time due to injuries and suspensions. During his rookie crash course, which included six starts, Johnson managed to intercept three passes and quickly established himself as an up-and-coming defensive back for the Bucs.
Fast forward a year, and he finds himself as an integral part of what the team is hoping to accomplish defensively. Johnson has seen extensive time with the first team defensive during camp, lining up in both the slot and outside corner positions.
As I mentioned in a previous slide, opposing teams may initially test Revis to gauge his effectiveness, but sooner or later will opt to attack Banks and the other members of the relatively inexperienced secondary.
They do so at their own risk.
Admittedly, Johnson was torched on a handful of plays last season and is anything but a prototypical shutdown corner, but he's certainly more than serviceable.
And considering this secondary is sure to see a slew of passes coming their way, Leonard Johnson will prove to be the biggest surprise this season.
Honorable mention(s): TE Tom Crabtree, DE Steven Means, WR Kevin Ogletree
Biggest Disappointment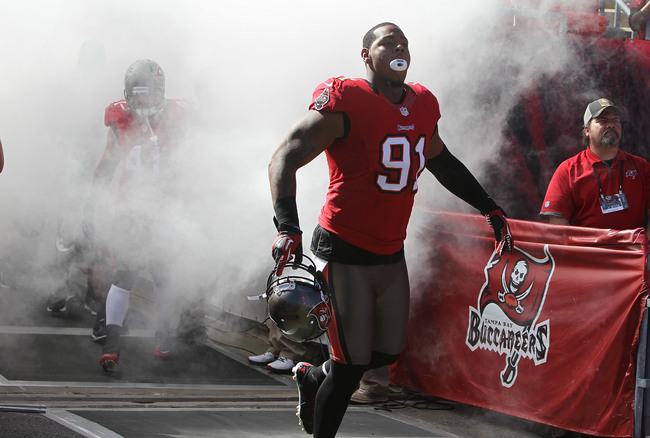 Kim Klement-USA TODAY Sports
After allowing defensive end Michael Bennett to walk away with a paltry one-year deal with the Seattle Seahawks in free agency, the Bucs had high hopes for third-year defensive end Da'Quan Bowers.
This was true, even in spite of the multiple injuries Bowers had suffered and overcome in his first two seasons in Tampa Bay.
Yet, they left themselves vulnerable to the possibility that, perhaps, Bowers may never quite live up to the billing. Injuries happen, I get that much. They're as much a part of the game as cheerleaders and Jumbotrons, and teams specifically stockpile young talent for that very purpose.
But, knowing what the organization's expectations were heading into the season, Bowers allowed himself to arrive at camp out of shape anyway. Bowers has gone on to admit he needs conditioning in order to be the dominant player he feels he's capable of being.
Which would've been nice to know, say, four or five months ago when the team decided to stand pat during free agency and allow Bennett, John Abraham and other notable defensive ends to sign elsewhere.
Instead, they find themselves less than a month before the season starts with questions about someone they were counting on to finally become a full-time player.
I hope Bowers proves me wrong and has a solid season for the Bucs, but until I see it, I have no choice but to say Da'Quan Bowers will be the biggest disappointment in 2013.
Honorable mention(s): MLB Mason Foster, S Mark Barron, G Carl Nicks
Comeback Player of the Year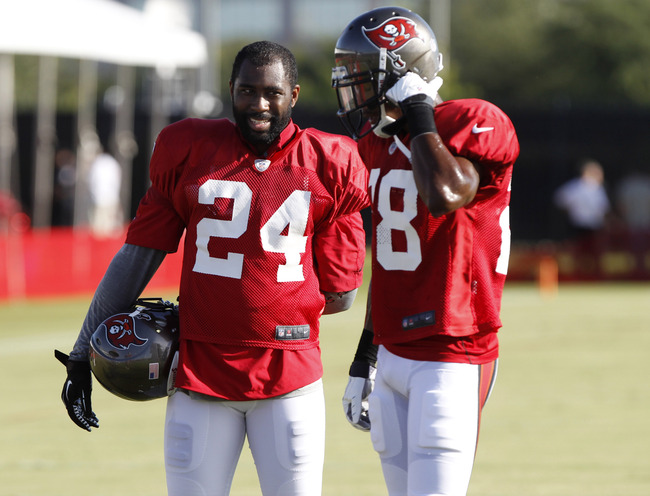 Kim Klement-USA TODAY Sports
After trading away two draft picks—including the 13th overall selection—and handing over the richest contract ever given to a defensive back, cornerback Darrelle Revis is expected to not only fix what was the 32nd-ranked pass defense a season ago, but also help get the Bucs back into the playoffs.
Talk about big expectations.
With all signs pointing toward Revis being at full health for Week 1 at the New York Jets, the team—and its fans—will learn pretty quickly which Revis they're getting: the one who was widely considered the best cover corner in the game or someone coming off a serious knee injury and is but a shadow of his former self.
For what it's worth, I choose the former.
The Bucs have been deliberately cautious in their handling of Revis this offseason, opting to ease him back into football rather than expose him to further injury risk, which should pay off huge dividends in the long run.
Sure, his numbers may not scream All-Pro his first year back, but his true impact should be gauged on how well his younger, less-experienced teammates in the secondary fare.
Because whether they like it or not, they'll be subject to what I call, "The Revis Effect." That is, of course, a term used to describe the expected inundation of pass attempts due to Revis' presence on the other side of the football field.
Call him what you will: "Revis Island," "Savior," "Miracle Worker" and so on. For now, I'll call Darrelle Revis the 2013 comeback player of the year for Tampa Bay.
Honorable mention(s): DE Adrian Clayborn, G Davin Joseph
Defensive Player of the Year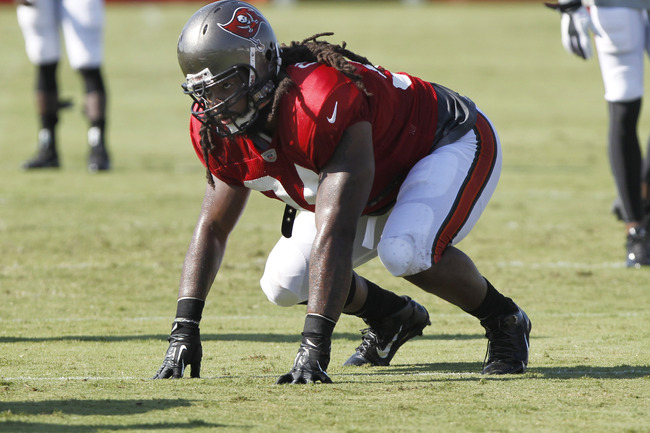 Kim Klement-USA TODAY Sports
While some may scoff at the notion that anyone other than cornerback Darrelle Revis should even be considered, I can't shake the notion that defensive end Adrian Clayborn is going to have a colossal season for the pewter pirates.
Yes, I realize that he is battling back from a serious knee injury and has been relatively limited in camp, but from what little I have seen at One Buc Place, Clayborn is primed for a breakout year.
First of all, he's got a nonstop motor. The guy never quits on a play, and he's solid in run support. Oh, and has a lot to prove coming off the injury.
Further, given the upgrades in the secondary, the defensive line should, in theory, have a little extra time to get after the quarterback. I know, I know—we haven't seen that during the preseason yet, but in fairness, Revis hasn't played, and we don't quite know how much of the defensive playbook the Bucs are putting out there for teams to see.
Lastly, and getting back to my initial thought, it's just a gut feeling I have. Last season, I said defensive tackle Gerald McCoy would be the DPOY, and I was blasted for it. After all, McCoy hadn't played a full season due to injuries and was the furthest thing from disruptive to that point in his career.
When I made the declaration, I made it for essentially the same reason: a gut feeling.
That's not to say I'm predicting X-number of sacks from Clayborn, although double digits wouldn't surprise me, but rather that I expect No. 94 to be an absolutely disruptive force along the line and an impact player on the field.
As such, Adrian Clayborn is my choice for defensive player of the year.
Honorable mention(s): DT Gerald McCoy, LB Lavonte David, CB Darrelle Revis
Offensive Player of the Year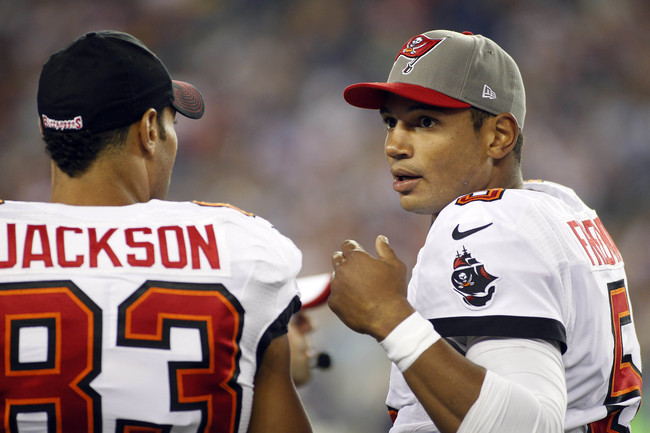 Stew Milne-USA TODAY Sports
As much as it pains me to not choose running back Doug Martin for this award, and believe me it was hard not to, I opted for quarterback Josh Freeman instead. Now hear me out.
At 25, Freeman hasn't quite entered the prime of his career, yet he finds himself neck-and-neck statistically with quarterbacks who are largely considered elite talents.
His 4,065 passing yards in 2012 ranked ninth in the NFL, ahead of the likes of Matt Schaub, Eli Manning and Joe Flacco, among others. His 27 touchdowns were tied for seventh-most, and his 16 completions of 40 or more yards led the NFL.
Yet, for all of the upside and strengths he possesses, Freeman cannot seem to do enough to pacify the doubters, who are quick to point out his flaws and weaknesses, but they seemingly overlook his true worth to the franchise.
Oh, and for the first time in his five-year career, he enters consecutive seasons with the same offensive coordinator, which is a fact that shouldn't be overlooked by anyone.
Yes, he's erratic and inaccurate. Yes, he tends to stare down his receivers, and he double-pumps too often. And no, he hasn't led the Bucs to the playoffs. All are fair and accurate criticisms.
But the fact remains: Freeman is the best quarterback this organization has ever had. Period.
Look, I get that the Bucs haven't been blessed with strong lineage at quarterback in their 30-plus years, but that doesn't take away from the fact that, even in light of his shortcomings, he's their best chance at winning this year, next year and for the foreseeable future.
And we haven't even mentioned that No. 5 is entering his contract year, which is sure to serve as nice motivation.
Sure, Doug Martin will have a handful of highlight-reel runs and dazzling touchdown scampers and is a deserving candidate for this award.
But for my money, I believe Josh Freeman will be the offensive player of the year.
Honorable mention(s): RB Doug Martin, WR Vincent Jackson, WR Mike Williams
Team MVP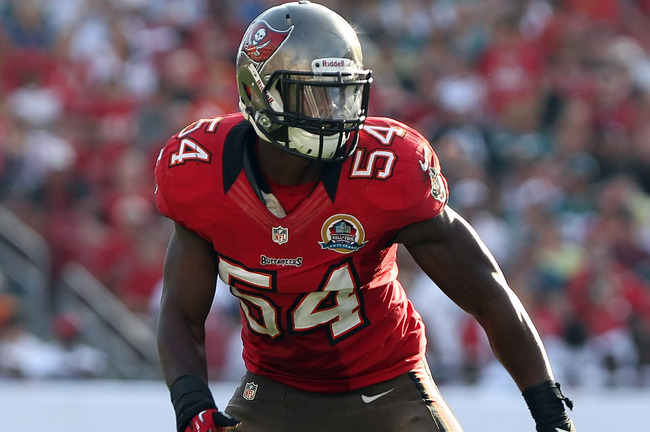 Kim Klement-USA TODAY Sports
Although Gerald McCoy may hold the unofficial title as leader of the defense, for me, Lavonte David is the true heart and soul of the unit.
Aside from the tackles and splash plays David made as a rookie, it was the quiet, confident manner in which he went about his business that most impressed me.
The Bucs felt comfortable enough in his ability to lead and manage the game plan that they placed the defensive headset in his helmet, relying on a rookie to relay the play calls from the sideline.
And all David did in return was reward them for their faith in him.
Entering his second season, I am expecting even bigger and better things out of No. 54. The tackles will be there, as will the occasional sack, but where David stands to benefit the most, and where I feel his biggest impact will come from, will be in pass defense.
He's fast and agile enough to excel in coverage, and he has the instincts to match—much like a young Derrick Brooks did more than a decade ago.
Lofty expectations, you say? Team MVP for a second-year linebacker? Doubt my choice and my reasons all you want. Just don't doubt David's ability to accomplish them.
That's all I'm saying.
Honorable mention(s): QB Josh Freeman, DT Gerald McCoy, RB Doug Martin
Season Prediction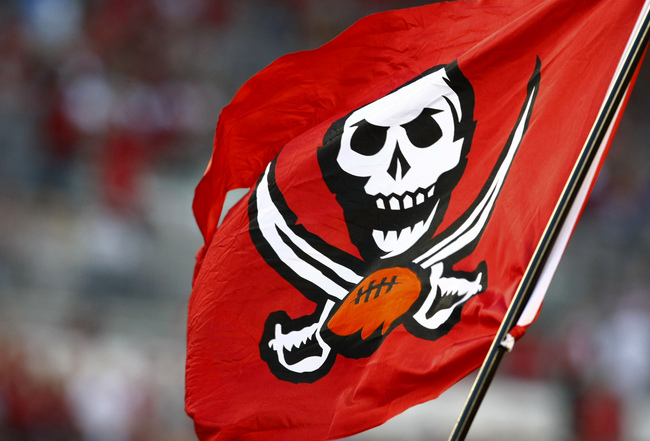 Douglas Jones-USA TODAY Sports
A year ago, I predicted the Bucs would finish "...6-10, with an outside shot at 7-9" and, not to toot my own horn, but I was spot-on with my analysis.
This season, while the expectations from fans have indeed increased, the ease of obtaining more wins has not. Their schedule, much like their division, is tough—road games at New England and Seattle and hosting the Niners and the Philadelphia Eagles.
Simply put, they're in for a battle week in, week out.
Below is a game-by-game breakdown of how I see the season unfolding.
As you can see, I predict the Bucs will finish 10-6, although I'm not certain if that will be enough to make the playoffs. At the very least, they will have laid a solid foundation for the 2014 season.
J.J. can be reached via email at BRJJRodriguez@gmail.com

Follow @JJ__Rodriguez
Keep Reading

Tampa Bay Buccaneers: Like this team?