College Football: 15 Standout Returners from Teams Who Were Terrible Last Season
Mark Dolejs-USA TODAY Sports

As the beginning of the college football season draws near, key players are highlighted and analyzed. Watch lists come out, detailing many of the players to keep an eye on this season. Some deserving players, however, are overlooked because they play for teams who were the opposite of successful last season. Let's take a look at 15 such standout returning players who produced at a high level despite playing on bad teams last season.
Note: Only players who played for teams who won two or less games last season were considered for this article. These players played for the worst of the worst, teams who couldn't even win a fourth of their games.
Begin Slideshow

»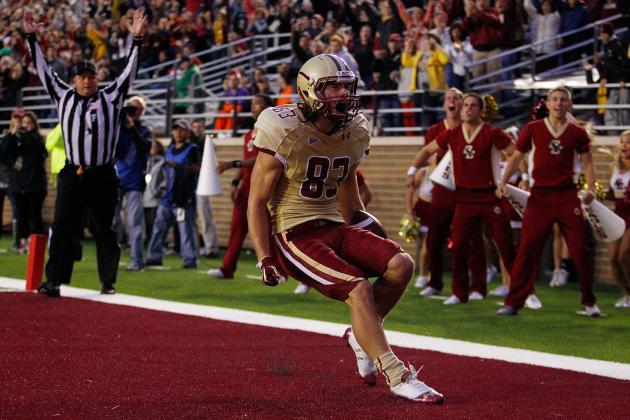 Jared Wickerham/Getty Images

Team record last season: 2-10
The Eagles had only one receiver who had at least 500 receiving yards last season. That player was Alex Amidon, who had more than double that amount. Amidon had 78 receptions for 1,210 yards and seven touchdowns, leading the team in all three of those categories. He also added 55 yards and a touchdown on four rushing attempts. His feats led to him being named to the all-ACC first team.
Danny Wild-USA TODAY Sports

Team record last season: 2-10
Bacon came to Army as a wide receiver/free safety. Despite being undersized, he was moved to linebacker. Weighing in at just 207 pounds, his lack of prototypical linebacker weight hasn't been a problem at all. Last season, Bacon totaled 136 tackles, the ninth-best season mark in school history. Considering how storied of a tradition Army has, that's quite the feat. He also added an interception, a sack and a forced fumble. While Army may have lost the heart of its offense in QB Trent Steelman and RB Raymond Maples, it will still have the heart of its defense intact with Bacon's return this season.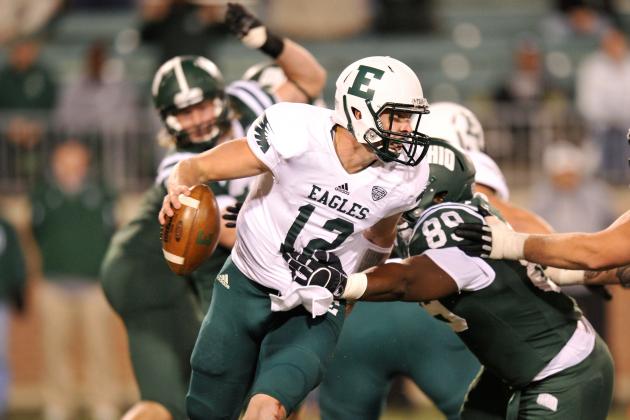 Jamie Sabau/Getty Images

Team record last season: 2-10
After a 6-6 finish in the 2011 season, EMU went into last season with high hopes, led by its senior QB Alex Gillett. After a dismal start that saw Gillett throw countless interceptions, the Eagles handed over the reins of the offense to Tyler Benz. While EMU didn't win many more games, it sure wasn't Benz's fault. Despite starting just nine games, he threw for over 1,500 yards and 14 touchdowns. He also added 114 yards and a touchdown on the ground. For a team as terrible as the Eagles were last season, that's some excellent production out of the QB position.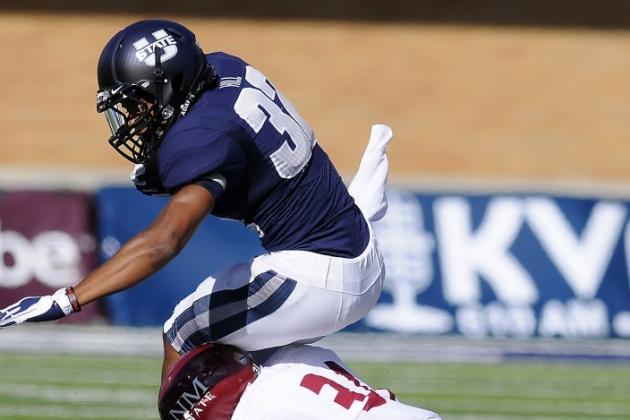 Photo credit Eli Lucero (The Herald Journal)
Team record last season: 1-11
With star wide receiver Austin Franklin academically ineligible this season, the Aggies are in desperate need of a playmaker. Luckily, they still have one on the defensive side of the ball in free safety Davis Cazares. Despite starting only 10 of the Aggies' 12 games, Cazares racked up a whopping 116 tackles. From the free safety position, nonetheless. He had three tackles for loss, a forced fumble, and even blocked a kick. His efforts earned him a spot on the all-WAC second team.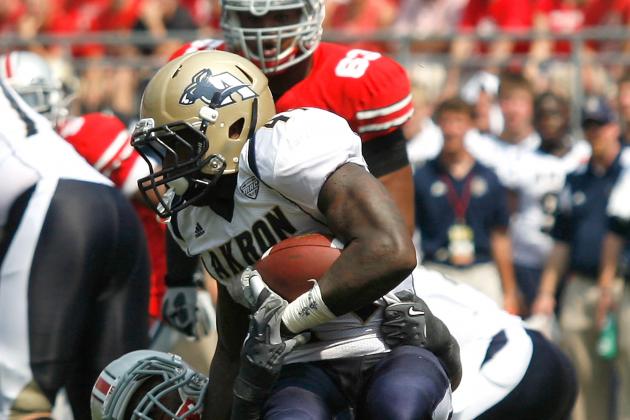 Kirk Irwin/Getty Images

Team record last season: 1-11
As a team, the Zips only racked up 1,373 rushing yards total on the season. 953 of those yards belonged to Jawon Chisholm. A playmaker on a team in desperate need of one, Chisholm managed those 953 yards on only 180 carries, good for an average of 5.3 yards per carry. Along with nearly 1,000 rushing yards, Chisholm had five rushing touchdowns. He was equally dangerous as a receiving threat out of the backfield, hauling in 38 passes for 310 yards and two receiving touchdowns. Considering that he only started 10 of Akron's 12 games, those combined rushing and receiving totals are absolutely phenomenal.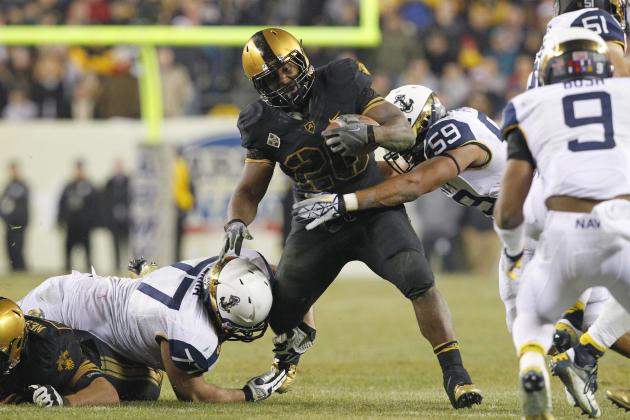 Hunter Martin/Getty Images

Team record last season: 2-10
On most teams, the fullback doesn't get much glory. On teams that run the option as their main strategy, the fullback is one of the most important players on the offense. The Black Knights had one of the best in the country filling that role for them last season. Dixon rushed 140 times for 839 yards and six touchdowns. This gave him an average of 6.0 yards per carry, which is astounding for a player whose position basically calls for him to run straight up the gut every time he gets the ball. Dixon's ability to really move the ball north-south wasn't his only contribution to the team. He served as a constant decoy, leading the Wall Street Journal to write an article last season calling him "College Football's Most Pummeled Man."
Mark Zerof-USA TODAY Sports

Team record last season: 2-10
Dupree spent all of last season as an outside linebacker in the 3-4. This season, new defensive coordinator D.J. Eliot is moving him to defensive end. If Dupree's production is anywhere near last season's, the Wildcats' front line will be a force to be reckoned with. Last year, Dupree totaled 91 tackles, 12.5 tackles for loss and 6.5 sacks. Switching positions shouldn't be a problem for Dupree, as he has already switched from tight end to wide receiver to outside linebacker during his time with Kentucky.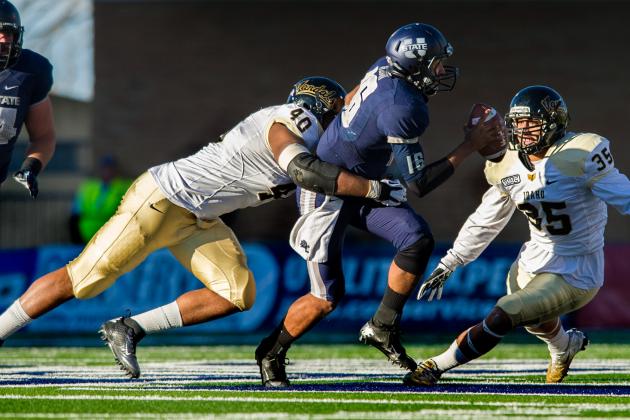 Douglas C. Pizac-USA TODAY Sport

Team record last season: 1-11
The Vandals weren't exactly solid on defense last season, allowing at least 40 points in six different games. Playing on a defense like that, it's easy to be overlooked. Defensive end Maxx Forde, however, put on a very complete performance last season. While his stats weren't eye-popping, he registered solid numbers in a whole variety of defensive categories. He had 37 tackles, five tackles for loss, four sacks, four quarterback hurries, recovered two fumbles and even had four pass breakups. If Idaho is to improve this season, they'll need that sort of all-around production from Forde again.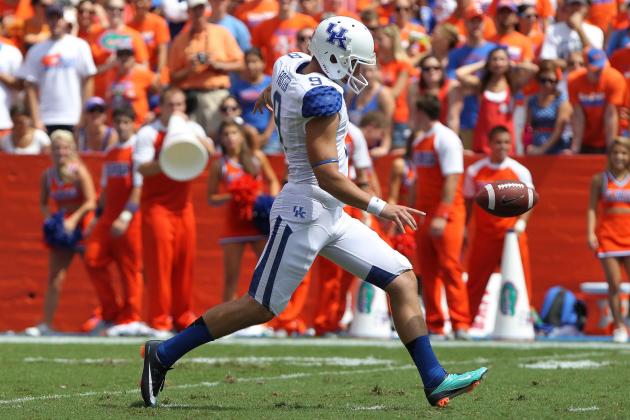 Kim Klement-USA TODAY Sports

Team record last season: 2-10
Alvin Dupree wasn't the only standout on an otherwise lousy Kentucky team last season. True freshman Landon Foster came in and immediately put his mark on the Wildcats' special teams. He punted 61 times with an average of 42.9 yards per punt. Twenty-two of those punts were over 50 yards, 13 were downed inside the 20 and only three rolled into the end zone for touchbacks. His stellar leg earned him freshman all-American honors.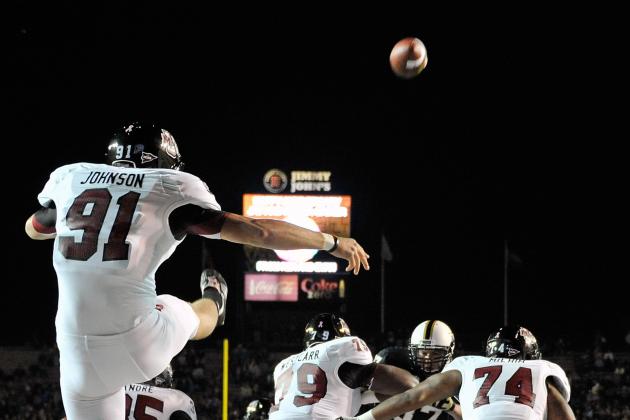 Frederick Breedon/Getty Images

Team record last season: 1-11
Speaking of terrific punters on terrible teams, UMass punter Colter Johnson had quite the season last year. On a team that struggled offensively, Johnson was called upon often last season, and he didn't disappoint. Despite having to attempt 64 punts, Johnson averaged an impressive 43.8 yards per punt. Nineteen of those punts traveled over 50 yards and 16 of them were downed inside the 20. The Minutemen hope that they don't have to turn to Johnson nearly as often this season, but when they do need his services, they can rest assured that they are putting the ball on the foot of arguably the best player on the entire team.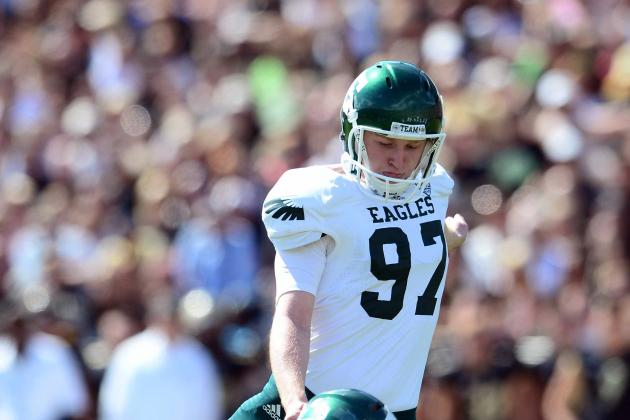 Andrew Weber-USA TODAY Sports

Team record last season: 2-10
Despite the turnover at the QB position for the Eagles last season, they still managed to line up 11 field goal attempts for their kicker, Dylan Mulder. He connected on all but one of them. After replacing the struggling Kody Fulkerson three games into the season, the true freshman quickly solidified his hold on the kicker position. Going 10-for-11 is nothing to sneer at, and these weren't just chip shots that Mulder was converting either. Three of his ten makes came from over 40 yards.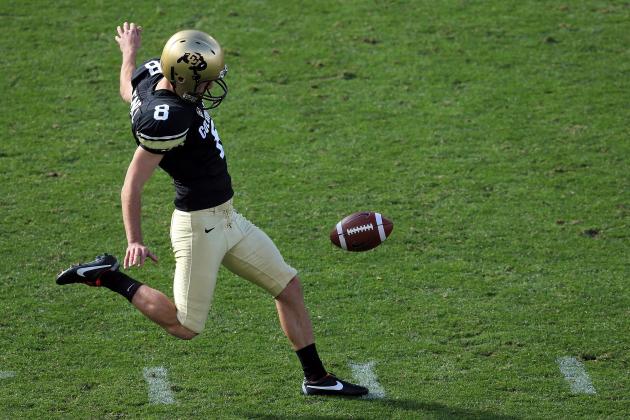 Doug Pensinger/Getty Images

Team record last season: 1-11
The Buffs carry three kickers on the roster currently, but only one punter. When your punter is Darragh O'Neill, there's no reason to have any more than one. On a team that was atrocious last season, no player had to carry a heavier workload than O'Neill. He had to punt an insane 76 times. For reference, last season's Ray Guy Award winner, Louisiana Tech's Ryan Allen, only had to attempt 45 punts. O'Neill's leg stayed strong all season, averaging 43.5 yards per punt despite the heavy workload. Twenty-five of those punts were downed inside the 20, and not a single one rolled into the end zone for a touchback. Punting 76 times and not having a single touchback may very well be one of the most impressive feats of any player in all of college football last season.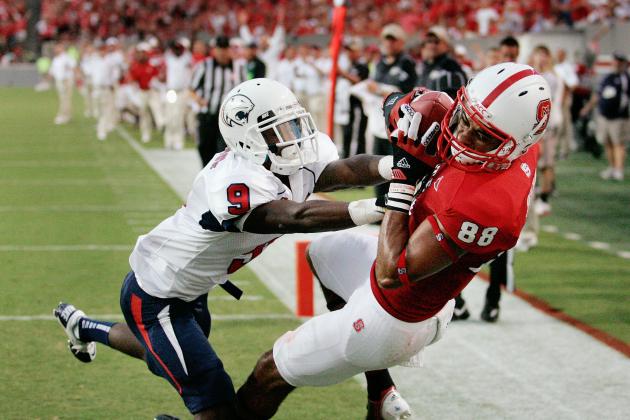 Mark Dolejs-USA TODAY Sports

Team record last season: 2-11
In their first season transitioning to the FBS level of college football after only having started their football program at all in 2009, it was no surprise that South Alabama struggled. The newness of the program gave several players the chance to shine at the FBS level, who otherwise probably wouldn't have gotten a shot. One of those players was cornerback Tyrell Pearson, a JUCO transfer from Mesa Community College in Arizona. Although small in stature, the 5'8", 150-pound corner played big on the field. He led the Jaguars with four interceptions and 11 passes defended. His production and experience will be of tremendous value to a team looking to make great strides forward in its first season of full FBS eligibility.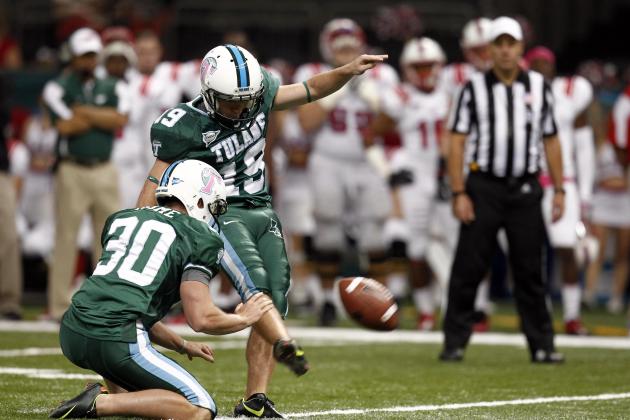 Derick E. Hingle-USA TODAY Sports

Team record last season: 2-10
Tulane was the only team willing to give Santos a chance. He wound up proving more than worthy of their trust. In fact, it was Tulane who wound up not being worthy of Santos last season. Despite the Green Wave's overall struggles last season, they did have the best kicker in the country. Santos won the Lou Groza Award for the nation's best kicker. He was a perfect 21 for 21 on field goals, and these weren't just gimmes either. Thirteen of those were from over 40 yards, and two of them were from over 50 yards. That included a school record 57-yarder. Tulane may have struggled, but Cairo Santos delivered perfection.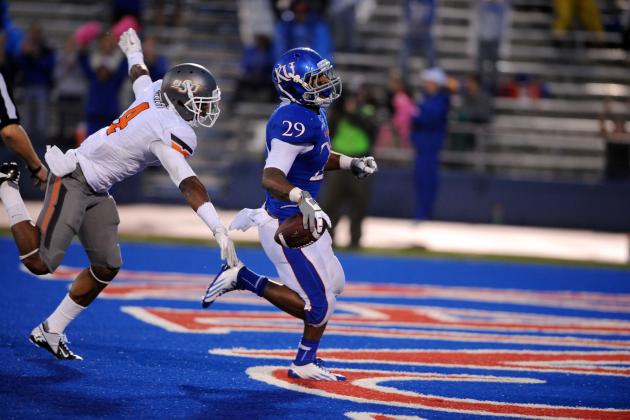 John Rieger-USA TODAY Sports

Team record last season:1-11
Charlie Weis' first season in charge in Lawrence didn't go so well, but there are plenty of reasons for hope moving forward, especially when it comes to the running game. James Sims was suspended for the first three games of last season following an arrest, but was absolutely phenomenal upon his return to the gridiron. In just nine games, Sims rushed for 1,013 yards and nine touchdowns. He added 14 receptions for 168 yards and a touchdown. Just imagine what he can do with a full season in uniform for the Jayhawks.