Penn State Football: Christian Hackenberg Should Start at QB
Photo Credit: Twitter – @chackenberg1

"For the things we have to learn before we can do them, we learn by doing them."
–Aristotle, Nicomachean Ethics
Penn State's collective heart sank earlier this month, when the Big Ten Network visited Happy Valley and reported that Tyler Ferguson—not blue-chip freshman Christian Hackenberg—was leading the team's quarterback battle.
It's not that PSU fans dislike Ferguson. He was the No. 5 JUCO quarterback on 247Sports' composite and looks every bit the part of a capable college passer. They would be happy (and lucky) to have him as a backup and revere him as a valuable insurance policy.
But Hackenberg is already a folk hero. He was the No. 2 pro-style quarterback on 247Sports composite and No. 1 on the site's subjective ratings. He's 6'4'' and only scratching the surface of his potential. He's been billed as the savior of a program that desperately needs saving.
Unless he performs drastically worse than Ferguson in practice, Penn State fans want to see Hackenberg out there in Week 1 vs. Syracuse. They want the new era of Penn State football to get underway this season. They want to take off Hackenberg's water wings, push him in the deep end of the pool and see if he can swim.
And they're absolutely right for wanting to do so.
Hackenberg is a rare prospect, earning a perfect grade of 100 from 247Sports and a .9925 on its composite (which is aggregated out of 100 from various recruiting services). Whenever a player of his merit comes along, there's debate as to whether he should ease into action or start right away.
In the past 10 years, eight true freshman have started eight-plus games after scoring 98-or-higher on the 247Sports composite. Here's how they fared:
Blue-Chip QBs Starting as True Freshmen (since 2002)

| | | | | | |
| --- | --- | --- | --- | --- | --- |
| Player | Year | Grade | Starts | Rating | TD:INT |
| Christian Hackenberg (PSU) | 2013 | .9925 | ?? | ?? | ?? |
| Braxton Miller (OSU) | 2011 | .9833 | 10 | 138.4 | 13:4 |
| Matt Barkley (USC) | 2009 | .9993 | 12 | 131.3 | 15:14 |
| Terrelle Pryor (OSU) | 2008 | .9996 | 12 | 146.5 | 12:4 |
| Jimmy Clausen (ND) | 2007 | .9987 | 9 | 103.9 | 7:6 |
| Matthew Stafford (UGA) | 2006 | .9975 | 8 | 109.0 | 7:13 |
| Mitch Mustain (ARK) | 2006 | .9961 | 8 | 120.5 | 10:9 |
| Chad Henne (MICH) | 2004 | .9924 | 12 | 132.6 | 25:12 |
| Chris Leak (UF) | 2003 | .9940 | 9 | 132.9 | 16:11 |
| | | | AVG: | 126.9 | 13:9 |
247Sports / Sports-Reference
That provides a general baseline on what to expect from Hackenberg, and though solid, it's decidedly unspectacular. Matt McGloin threw 24 touchdowns to five INTs last year, supplementing it with a 137.7 efficiency rating. So even if that baseline is taken as gospel, Hackenberg will almost surely be a drop-off from last season.
That drop-off gets even bigger when you remove the dual-threat quarterbacks, Braxton Miller and Terrelle Pryor. The six pro-style freshman above averaged an efficiency of just 121.7, more than five points lower than before. Again: If Hackenberg is the starter, no matter how cant-miss of a prospect he is/was, there are bound to be some bumps in the road.
Were Penn State concerned solely with the upcoming season, Ferguson vs. Hackenberg, as a battle, would hold genuine merit. But if it's looking to the future, that table doesn't just not compromise Hackenberg's claim to start—it validates it.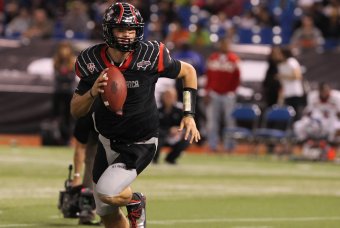 Kim Klement-USA TODAY Sports
Why the change in verdict? Ignore the numbers on the list and look closely at the names. Other than Mitch Mustain, who promptly (and foolishly) transferred from Arkansas to USC, the others all benefited greatly from starting as true freshmen.
Especially the pro-style passers.
How greatly, you ask? Every single one of them, sans Mustain, would post a season-efficiency of 143.0 (or better) at one point of their career. After their first-year average of 121.7, their career average since rose to 143.5.
They are five of the more-accomplished BCS passers of the past decade, and none can be rightfully labeled a "bust." Chris Leak won a BCS National Championship and Matt Stafford was a No. 1 overall draft pick. Even much (and unfairly) maligned Jimmy Clausen threw 28 touchdowns to four interceptions as a junior in 2009.
Playing as a true freshman helped them all reach new heights.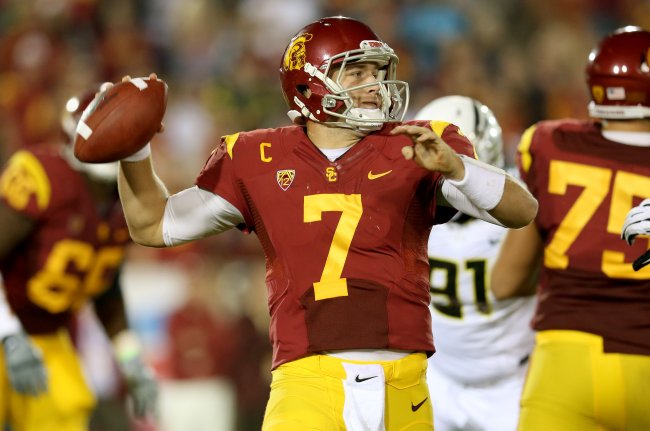 Stephen Dunn/Getty Images
Need further proof? From 2002-2011, 13 other pro-style passers earned a grade of 98-or-better on the 247Sports composite. Some, like Tajh Boyd and Mark Sanchez, enjoyed elite college careers in spite of sitting early. Their talent was that great.
But on a list of just 13, check out how many busts were produced:
Garrett Gilbert*, Texas/SMU
Dayne

Crist

, Notre Dame/Kansas
Aaron Corp, USC
Rhett

Bomar

, Oklahoma/Sam Houston State
Kyle Wright, Miami
Tommy Grady, Oklahoma/Utah
Ben Olson, UCLA
Seven! Seven out of just 13! More than half of the "cant-miss" QBs who didn't start as true freshmen ended up missing anyway. As compared to just one-of-six who did start—and who's to say how good Mustain might have been had he stayed in Arkansas?
Ferguson, too, comes with relative hype, but compared to Hackenberg he might as well be chopped liver. Out of high school he had just a .7833 on the composite and now that's up to a mere .8383. He was the No. 5 pro-style prospect out of JUCO this year, but in the past three seasons, BCS schools have had little success starting those players in Year 1:
Top-Five Pro-Style QBs Starting Right Out of JUCO (BCS Leagues)

| | | | | | |
| --- | --- | --- | --- | --- | --- |
| Player | Year | Grade | Starts | Rating | TD:INT |
| Tyler Ferguson (PSU) | 2013 | .8383 | ?? | ?? | ?? |
| Chandler Whitmer (UCONN) | 2012 | .8556 | 12 | 119.0 | 9:16 |
| Steele Jantz (IAST) | 2011 | .8800 | 7 | 106.8 | 10:11 |
| Zack Stoudt (MISS) | 2011 | .8307 | 4 | 79.6 | 2:8 |
| Quinn Mecham (KAN) | 2010 | .8222 | 3 | 109.6 | 4:5 |
| | | | AVERAGE | 103.6 | 6:10 |
247Sports / Sports-Reference
Whitmer could still come around for Connecticut, which is counting on him to not throw twice as many picks as TDs this coming season. But the other three guys on that list all fizzled out—and fast. History says a guy with Hackenberg's pedigree will become a superstar. Ferguson's forerunners all became forgotten.
It's wrong to say Penn State has "nothing" to play for this season, despite its bowl ineligibility. Ohio State proved that point with last year's 12-0 mark, which it has quickly parlayed into success with recruiting. There are reasons, both morale-based and financial, that winning would be a good thing in Happy Valley this year.
Who Should Start at QB for Penn State?
But Bill O'Brien can't just ignore the bowl ban either. He has to realize the bigger picture at hand; he must remember that unless Ferguson is demonstrably better than Hackenberg today, the latter provides a better chance to win tomorrow. He has to sacrifice, arguably, a win or two this year if it ensures his QB will actualize.
Like Aristotle said, the things we're supposed to learn through seeing are better learned by doing. Hackenberg can't learn to be a starting quarterback by sitting and watching Ferguson. He can only learn to be a starting quarterback by starting games at quarterback.
And that's exactly what he should do.
*Garrett Gilbert is still active and has a chance to shed the "bust" label in 2013.
This article is
What is the duplicate article?
Why is this article offensive?
Where is this article plagiarized from?
Why is this article poorly edited?

Penn State Football: Like this team?