WWE Night of Champions 2013: Matches That Would Make PPV Must-See for Fans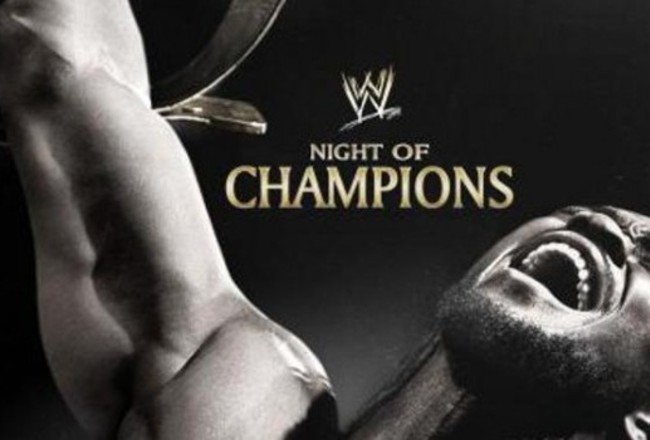 With SummerSlam in the rearview mirror, it is time for World Wrestling Entertainment to turn its attention to its annual September pay-per-view offering, Night of Champions.
It is the only night of the year on which all of the promotion's titles are defended.
This year, the fate of the WWE Championship will likely play a major role in the show, especially given the latest storyline in which the McMahon family is attempting to keep it around the waist of their chosen champion.
But Night of Champions is about more than the WWE title. It is a pay-per-view event in which some of the prestigious midcard titles are given equal opportunity to be showcased. The Intercontinental and US titles are often treated with dignity, class and respect for the first time all year. The tag team titles play a major role on television around this time, and the Divas title match gets a little more time on the show.
With the pay-per-view coming up on September 15, here is a look at matches that would make fans plunk down their hard-earned money to see.
World Title Match: RVD vs. Christian vs. Alberto Del Rio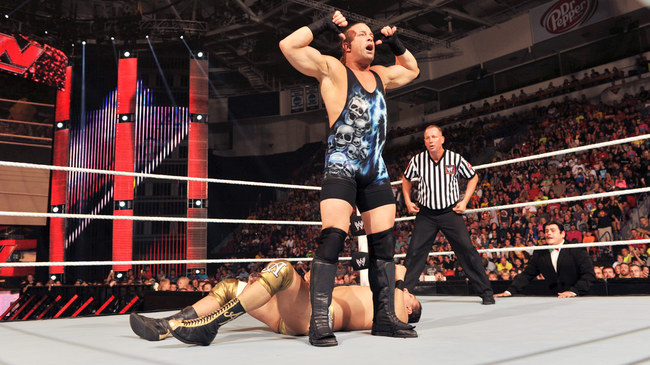 Photo Credit: WWE.com

If Monday's Raw is any indication, it looks like Rob Van Dam will be the next challenger to Alberto Del Rio's World Heavyweight Championship.
That match will likely continue Del Rio's streak of solid pay-per-view matches in 2013, but there is an opportunity to not only continue showcasing the champion's aggressive mean streak but also to find a spot for another Superstar who has felt his wrath over the last two months.
Christian and Del Rio had a great match at SummerSlam, with Captain Charisma coming up just short in his attempt to dethrone the champion.
Van Dam has been on quite the roll in terms of match quality and his in-ring performances most certainly have earned him a shot at the second-most important title in World Wrestling Entertainment.
The match would provide fans with a showcase for three tremendous athletes and great professional wrestlers to do what they do best.
Del Rio's meeting the challenge of two Superstars of the stature of Van Dam and Christian would continue to build the credibility of the Mexican Superstar as champion.
Most importantly, it would allow Christian to stick around the main event scene and Rob Van Dam to earn his first title match since returning in July.
Intercontinental Championship: CM Punk vs. Curtis Axel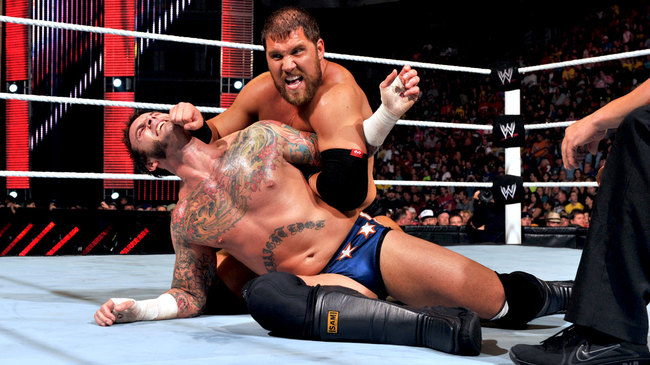 Photo Credit: WWE.com

Is CM Punk above the Intercontinental Championship?
At this point in his career, yes. But a match against Axel would allow the angle involving Punk and Paul Heyman to continue and would immediately help to elevate Axel, who has been essentially MIA over the last three weeks.
Punk's determination to get revenge on Heyman should be a major part of WWE programming over the fall months and maybe even stretch into the winter. In order for that to happen, they will have to remain intertwined with one another, and the best way for that to happen is for the Second City Saint to mix it up with Heyman's clients.
Curtis Axel is a very solid wrestler who has very solid matches. He has not, however, had that one really good match that makes him stand out on a roster full of very solid wrestlers. CM Punk is on the hottest streak of his career right now and would have no problem helping elevate Axel to the next level in terms of his in-ring performance.
United States Championship Match: Dolph Ziggler vs. Dean Ambrose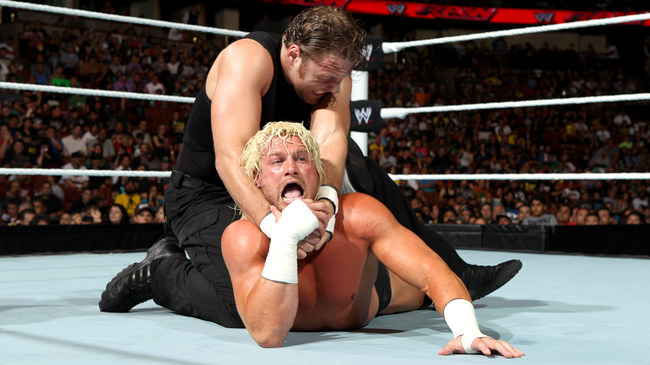 Photo Credit: WWE.com

Daniel Bryan was not the only Superstar to suffer at the hands of Triple H and the McMahons on Monday night.
Dolph Ziggler spoke out about The Game, taking to Twitter to voice his distrust of the COO. He paid for his words by enduring the wrath of The Shield in a three-on-one handicap match. WWE's resident showoff put up a hell of a fight but fell just shy of pulling off a monumental upset, thanks to a devastating spear at the hands of Roman Reigns.
As another Superstar standing up to the powerful regime running World Wrestling Entertainment, Ziggler could finally be elevated to the level at which so many believe he deserves to be, all the while becoming another top babyface to help take some weight off of John Cena's and CM Punk's shoulders.
A match against Dean Ambrose for the US title could go a long way in building Ziggler into that free-speaking, anti-authority babyface role that worked so well in the late-1990s and early-2000s.
Has Ziggler earned the right to move past the midcard level and the secondary title chases? Yes. But for right now, as the new direction the company is taking continues to reveal itself, it may very well be the best chance for him to finally achieve the success he has rightfully earned.
Tag Team Championship Match: The Prime Time Players vs. The Shield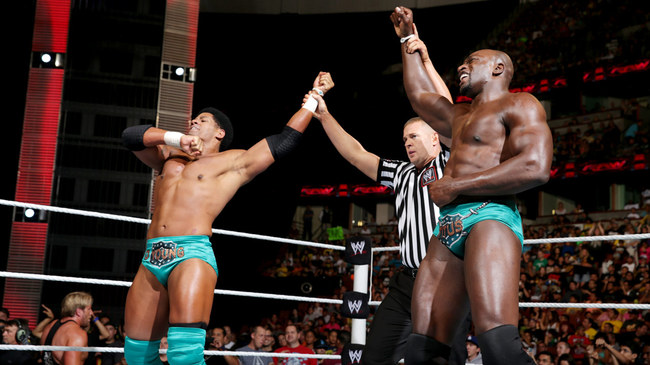 Photo Credit: WWE.com

Yes, The Big Show has already expressed his and Mark Henry's intentions to challenge The Shield's Seth Rollins and Roman Reigns for the tag team titles. With that said, there is an already established tandem that would make a far better choice to challenge the champions on September 15 at Night of Champions.
On Monday's Raw, The Prime Time Players scored a huge tag team win over Jack Swagger and Antonio Cesaro. Darren Young and Titus O'Neil brought great energy and intensity to their performances, and the crowd in Anaheim responded accordingly.
Over the last year, the Players have showcased humor and charisma in a way that other teams on the receiving end of pushes have not. Their personalities matched those of babyface performers, even thought they were being pushed as villains.
On Monday night, they proved they could make convincing babyfaces, and their work was better overall.
Rollins and Reigns have been phenomenal as tag champions, their match with The Usos prior to July's Money in the Bank pay-per-view being one of the more underrated matches of the last few months.
A Prime Time Players-Shield tag title match would be fresh and would allow the company to test the waters with a new babyface team who, if given the opportunity, could become breakout stars for the company. More importantly, it would give a legitimate tag team the opportunity to shine as the company continues its attempts at restoring the tag team division.
Divas Championship Match: Naomi vs. AJ Lee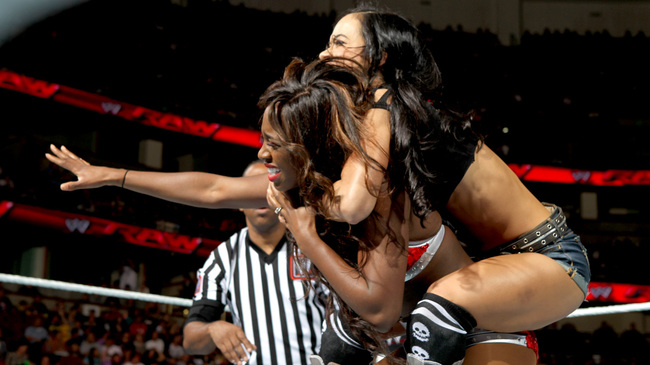 Photo Credit: WWE.com

After her upset win over Layla in tag team action on Raw, Naomi immediately becomes a candidate to challenge AJ Lee for the Divas title at Night of Champions.
A star of WWE and E! Network's Total Divas, Naomi has long been the most athletically gifted Diva on the roster with a move set that is both exciting and innovative. For whatever reason, she has never been given the opportunity to prove her worth in any expanded in-ring activity or storyline.
AJ, on the other hand, is the most valuable Diva in the company over the last two years and has proven it with her performance in and out of the ring.
A match between the two would be an excellent way to promote the successful reality show while also showcasing Naomi as a true alternative for fans of women's wrestling or WWE.
The Miz vs. Fandango
Photo Credit: WWE.com

There are a lot of fans with a lot of opinions of The Miz, but the former WWE champion has done an admirable job in his role as midcard babyface. Conversely, Fandango has overcome what could have been a disastrous gimmick and made it a success thanks to his immersion into the character.
Neither man is likely to see the main event scene anytime soon, nor will they capture any heavyweight gold over the next year. But they are both phenomenal at their job, and their blossoming rivalry has the potential to be a lot of fun.
A match between them would provide a great change of pace from the rest of the championship-heavy card and would allow their rivalry to continue to grow.
Fandango in particular has been such a solid addition to the roster in terms of in-ring performance that he deserves to be showcased on pay-per-view competition. The Miz, for all of his faults, is an established star who has a heavyweight title reign on his resume and is an excellent spokesperson for WWE.
He would make the perfect opposition for Fandango in a rivalry that would be little more than harmless midcard filler.
And, contrary to some opinionated fans, that is not always a bad thing.
WWE Championship Match: Daniel Bryan vs. Randy Orton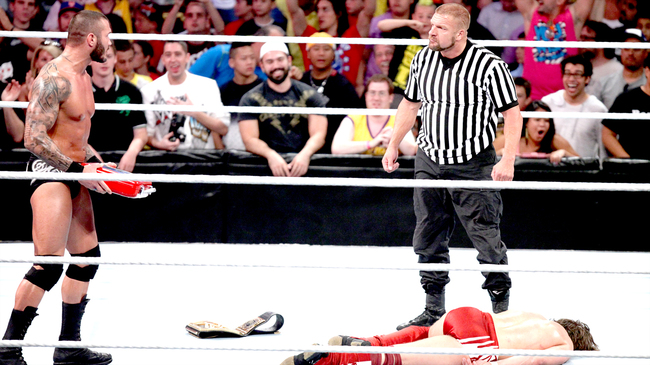 Photo Credit: WWE.com

This may be the likeliest match of all, especially on the heels of a Monday Night Raw during which Daniel Bryan was solidified as a top babyface in the company and Orton was established as the corporate champion.
Bryan is now the people's champion, their choice to be the WWE champ and the face of the company. With Triple H, Mr. McMahon and Stephanie McMahon on the same page and working together to keep their company's top prize off of the goat-face underdog, it should be interesting to see how Bryan handles the hurdles put in his path towards championship glory.
The match itself, beyond all of the storylines surrounding it, would be a phenomenal one. Bryan and Orton have exhibited great chemistry in previous matches, including a No Disqualification Match a few months back on Raw.
In a high-pressure situation such as a pay-per-view main event, and with what should be a hot crowd cheering Bryan on, the two veterans will have all of the ingredients to deliver a special match.
Keep Reading