What's to Love and Hate About the New Jersey Devils' Special Teams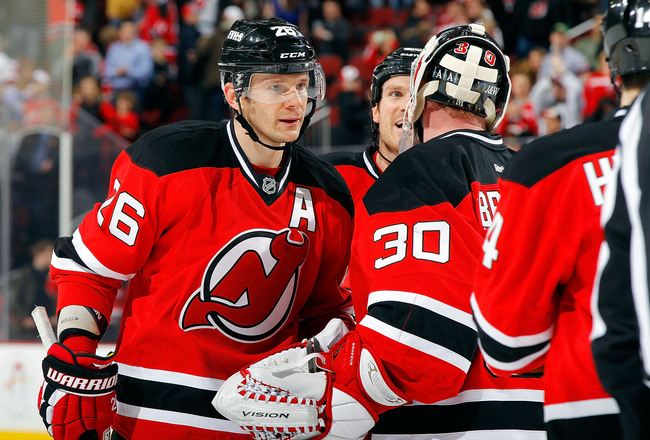 Jim McIsaac/Getty Images
Special teams play can make or break a team's season. In 2012, for example, the New Jersey Devils rode a historically efficient penalty kill unit deep into the postseason. One year later, their special teams floundered, and the Devils missed the playoffs.
A lot of Devils fans are not looking forward to this year's power-play and penalty kill units, and quite frankly, they are justified in their logic.
There is a lot to hate about the team's special teams units for the impending season.
But it's not all bad.
Believe it or not, there are a few things to love about the 2014 version of this team's PP and PK units. If you doubt me, then read ahead and see for yourself, but first, let's start with some bad news.
Hate: Ilya Kovalchuk Is Gone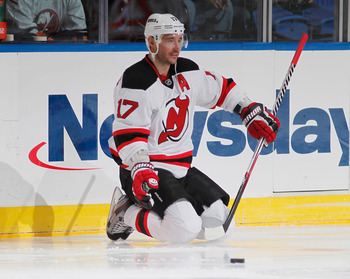 Andy Marlin/Getty Images
I figured we'd get this slide out of the way first because I know Devils fans do not want to hear about Ilya Kovalchuk anymore. Love him or hate him (who am I kidding?), every Devils fan has to acknowledge one very important fact—he will be sorely missed in 2014.
In 2013, the Devils had 176 power-play opportunities. That breaks down to about three and a half per game.
Now consider the fact that Kovalchuk finished the season with about 186 PP minutes. Divided by the 37 games in which he played, he was on the ice for an average of five power-play minutes per game, or about three and half power plays.
The point of all that math, shoddy as it may be, is that statistically speaking, when the Devils were on the power play in 2013, Ilya Kovalchuk was on the ice 100% of the time.
Even though that is an exaggeration, it isn't by much.
The fact of the matter is that there is no one player who can replace Kovalchuk in the Devils power play. Even two guys would find it difficult to replicate Kovalchuk's time on the ice in 2013.
On top of that, on the power play last year, Kovalchuk scored two goals and added twelve assists. The Devils only scored 28 power-play goals all year.
That means that before New Jersey can even think of improving upon their special teams numbers, they have to realize and account for the fact that Ilya Kovalchuk was involved in 50% of the Devils PP points last year.
I could go on to talk about Kovalchuk on the PK, but I think you all are ready for some good news.
Love: Marek Zidlicky Is Back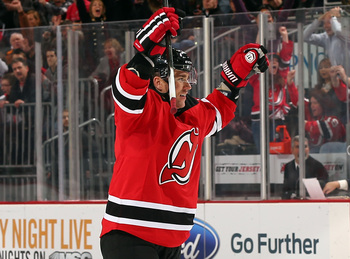 Elsa/Getty Images
The Devils did not have any control over the Ilya Kovalchuk situation. They did, however have some say in whether Marek Zidlicky returned to New Jersey.
When the Devils re-signed the Czech defenseman in early July, they certainly avoided further catastrophe to their special teams units.
Zidlicky's loss would not have hurt the PK unit very much—Zid is not much of a defender—his value lies in his offensive ability.
In 2013, Zidlicky put up more points than any other defenseman for the Devils. Included in those number are 10 assists and a goal on the power play.
Besides the actual points that Zidlicky put up while on the mad advantage, he was on the ice for nearly 70 minutes longer than the next defenseman.
His ability to move the puck from the point and his mean slap shot made him a force on the Devils' PP.
Even before Kovalchuk and David Clarkson decided to leave, the Devils knew that Marek Zidlicky was too valuable to the power-play team to let him go.
Love: Shorthanded Goals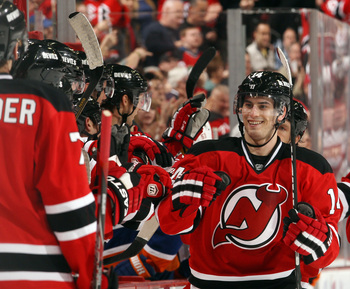 Elsa/Getty Images
For the second year in a row, the New Jersey Devils led the league in shorthanded goals in 2013. They were the first team to lead in that category for two years in a row since the 2007-08 Ottawa Senators. (The Senators actually did it three years in a row).
Some might say that this phenomena of scoring while down a man will end soon for New Jersey now that Kovalchuk is gone, but that's not necessarily the case.
He did lead the team with four shorthanded goals in 2013, but Adam Henrique added two and Andy Greene, Travis Zajac, Ryan Carter, Mark Fayne and Patrik Elias all added another shorty each.
In 2012, five different players all scored multiple shorthanded goals for the Devils, so it is safe to say that this is not a coincidence, and it does not come down to one player.
Instead, it indicates that the Devils are always looking to score. They are always ready to pounce on their opponents' mistakes and turn them into points.
That is a very welcome change from the defense-first, low-scoring Devils of old.
Devils fans would love to see their team match the 2008 Ottawa Senators and lead the league in shorthanded goals again this season. They'd rather see them do it the way they did in 2012, though, instead of allowing so many power-play goals.
Head coach Pete DeBoer echoed that sentiment last year when he said:
It would be nice if we could score the shorthanded (goals) and keep out the power-play goals. That's the key. We've got to kill the penalty first. But definitely the contribution of the shorthanded goals takes a little bit of the sting out of the fact that we're giving up too many power-play goals.

It would be nice if we could score the shorthanded (goals) and keep out the power-play goals. That's the key," DeBoer said. "We've got to kill the penalty first. But definitely the contribution of the shorthanded goals takes a little bit of the sting out of the fact that we're giving up too many power-play goals. - See more at: http://blogs.northjersey.com/blogs/fireice/comments/shorthanded_goals_softening_impact_of_devils_pk_troubles_loktionov_impresses_again/#sthash.z3ApMNoD.dpuf
Whether the PK unit is struggling or not, however, it is hard to argue that a shorthanded goal can revitalize a team in an instant.
Hate: Shorthanded Goals!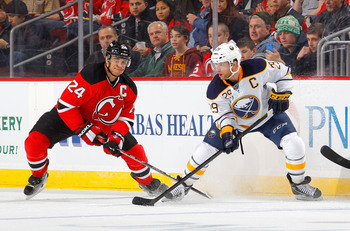 Jim McIsaac/Getty Images
While there may not be many things in regular season hockey more exciting than when your team scores a shorthanded goal, there isn't anything much more demoralizing than having a shorthanded goal scored against you.
Unfortunately, while the Devils have had the distinction of leading the league in shorthanded goals for over the past two years, they have also allowed the most shorthanded goals each season.
A team hasn't allowed the most shorthanded goals two years in a row for more than a decade when the now-relocated Atlanta Thrashers did it in 2003.
And these were some bad Thrashers teams.
In all fairness to the Devils, they were learning new power-play schemes in each of the last two seasons. Particularly last year, the Devils decided to go with a power play based on a lot of movement and misdirection.
More puck movement means more opportunities for an errant pass, which could turn into a breakaway for the other team. That's how many shorthanded goals materialize.
On the bright side, however, the Devils will have a full training camp this year during which they can place more focus on getting their system down while learning to minimize mistakes.
It's safe to say that with a year's experience and a full training camp, the Devils shouldn't find themselves in this spot again.
Hate: Last Year's Results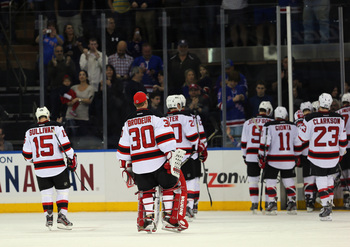 Bruce Bennett/Getty Images
The million dollar question for Devils fans is whether or not last year's special teams numbers were a fluke or a reality.
In 2012, New Jersey sported a middle-of-the-pack power-play unit (17.2%) and an all-time great penalty kill (89.6%). In 2013, those numbers dropped to 15.9% and 81.1%, respectively.
What changed between 2012 and 2013? There were two major things.
The first was the departure of captain Zach Parise via free agency. He was usually the most skilled player on the ice and the leader of the 2012 Devils team.
At the same time, assistant coach Adam Oates left the Devils to become the head coach of the Washington Capitals. Oates coached the power play and was praised by both Pete DeBoer and Lou Lamoriello.
With these two major pieces gone, the Devils have to ask themselves whether they have been adequately replaced.
They certainly weren't last year, and the play of the PP and PK units showed that.
For this upcoming year, unfortunately, even more has been lost. With Kovalchuk and Clarkson now gone, it is beginning to seem unlikely that New Jersey will be able to match last year's numbers, let alone 2012's.
But let's try to put a positive spin on this piece and look at the new players the Devils signed to fill those holes.
Love: New Pieces to the Puzzle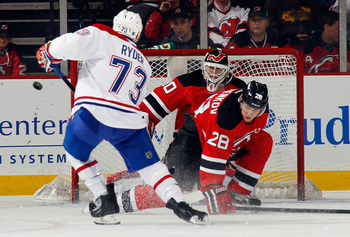 Bruce Bennett/Getty Images
The Devils were looking to improve their power play when they added three new forwards to their roster.
To replace Ilya Kovalchuk, the Devils signed Jaromir Jagr to a one-year deal. Jagr will not be able to replicate Kovalchuk's stamina or ability on the PK, but he still has the skill set to put the puck in the net.
Last year, Jagr netted 11 points on the power play and scored three more power-play goals than Kovalchuk.
For better or worse, Jagr will take Kovalchuk's spot on the number one power-play line this year.
Ryane Clowe was brought in to replicate David Clarkson's toughness. Clowe did see some time on San Jose's and the New York Rangers' power-play units in 2013, but he was not nearly as effective at putting up points as Clarkson.
In 2013, Clowe only contributed four points on the power play.
In 2014, Clowe will most likely find himself on New Jersey's second power-play line. Clowe does not contribute on the PK.
Michael Ryder, on the other hand, was signed to cover the points that the Devils lost when Clarkson left. Ryder spent time with Montreal's top PP line 2013.
He put up 17 points on the power play last year (eight goals, nine assists) and should be more than able to cover Clarkson's offensive production.
Whether or not these new Devils make up for the players that have left is debatable, at best. It is hard to argue, however, that there isn't some potential here.
Don't forget to join the conversation in the Comments below and follow me on Twitter (@MrMarkGoldberg) for more stuff.
Keep Reading

New Jersey Devils: Like this team?