Green Bay Packers Defensive Analysis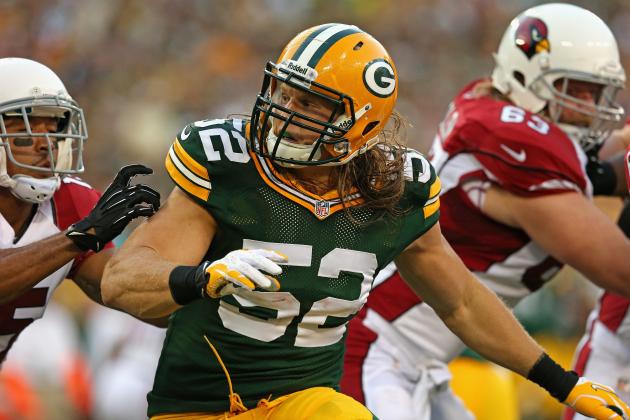 Jonathan Daniel/Getty Images

Certain numbers conjure different meanings in Green Bay, Wisconsin.
Four stands for Brett Favre, 15 represents Bart Starr and 92 means Reggie White.
Now a new number enters the lexicon: 579.
That's the total yardage gained by Colin Kaepernick and the San Francicso 49ers against the Packers in last year's NFC Divisional round of the NFL playoffs. Within the historic confines of 1265 Lombardi Avenue it doubles as a motivational mantra.
The Packers hope the added motivation propels the defense to new heights.
But can they do it? A position-by-position analysis of the roster may paint a clearer picture.
Begin Slideshow

»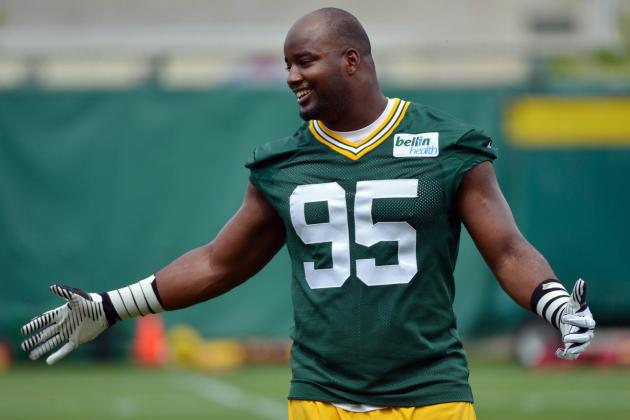 Benny Sieu-USA TODAY Sports

Since Cullen Jenkins left in 2011, the Packers have lacked a consistent pass-rusher on the defensive line.
The Packers expect Datone Jones to change that.
Since being drafted in the first round out of UCLA, Jones has looked impressive. He'll get every opportunity to display his ability on a defensive line that is deep, but lacks top-end talent.
Much is also expected of fifth-year pro B.J. Raji who took a step back last season. Raji needs to improve at getting off blocks and getting to the ball carrier.
Behind them, a stable of big bodies will be called upon to provide reinforcement. Ryan Pickett returns, as do C.J. Wilson, Mike Neal, Mike Daniels and Jerel Worthy.
Perhaps the most important development on the defensive line is the return of Johnny Jolly. Jolly played to his potential Saturday against the St. Louis Rams, batting down one pass and intercepting another. If his strong play continues into the regular season, the Packers defensive line will be much better than it's been in years.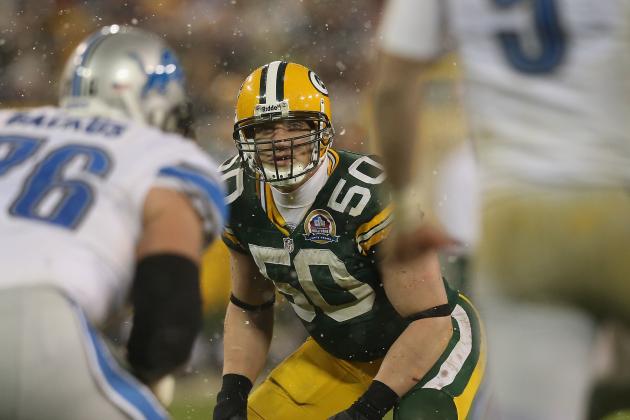 Jonathan Daniel/Getty Images

Losing linebacker Desmond Bishop to Minnesota in free agency might be the most underrated story of the offseason for the Packers.
When healthy, Bishop provided the Packers defense with a consistent brand of smash-mouth football. Without him, last year the Packers defense looked markedly worse.
His former partner-in-crime A.J. Hawk is back to man the middle alongside former outside linebacker Brad Jones. Those two need to improve if the Packers hope to take a step forward defensively. If they don't, things may get ugly.
Behind Hawk and Jones, the Packers have very little. Backups Robert Francois, Jamari Lattimore and Terrell Manning aren't exactly household names.
Best-case scenario: Hawk and Jones stay healthy and play more consistently behind an improved defensive line.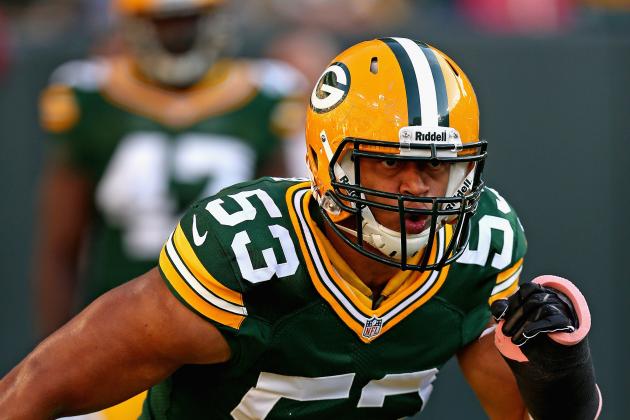 Jonathan Daniel/Getty Images

Clay Matthews has established himself as one of the premier defenders in the National Football League. Once known strictly for pass-rushing, Matthews has developed a knack for chasing down running backs. He is poised for another monster year in 2013.
Opposite him is fellow USC alumnus Nick Perry. Perry's rookie season was cut short by injury just as it was starting to heat up. This season, the Packers expect Perry to hold his own as a pass-rusher and take some of the pressure off Matthews.
If Perry doesn't perform, converted defensive end Mike Neal will be happy to take his place. Neal lost considerable weight this offseason, reporting to camp at around 275 pounds. His explosiveness in practice has impressed the coaching staff and he'll get a real chance to make an impact at outside backer.
Expect big things from this group in 2013.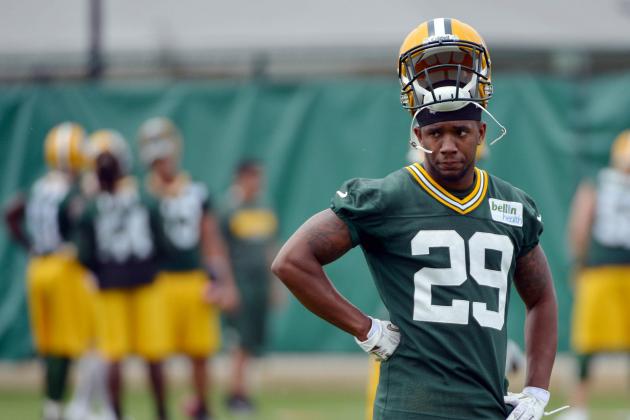 Benny Sieu-USA TODAY Sports

The Packers found a gem last year in second-round pick Casey Hayward. Hayward finished third in defensive rookie of the year after a stellar season in 2012, during which quarterbacks had a league-low 31.1 passer-rating against him.
Now in his first full season playing the nickel corner position, Hayward will have added responsibilities including additional blitzes. If his strong play continues he has a chance at making the Pro Bowl.
Not to be forgotten is Tramon Williams, still the Packers' best overall corner. Williams is called upon to cover the opposing teams' best receiver and usually does a good job of it. In a division with Calvin Johnson and Brandon Marshall, that's saying something.
The wildcard of the group is Sam Shields. Shields possesses elite speed but his instincts sometimes betray him. He needs to be more consistent, which he showed he was capable of throughout his 2010 rookie season.
Fourth corner Davon House showed potential last season but has looked less than exceptional so far this preseason. The Packers hope his spotty play has been an aberration and that House will start playing to his full potential.
This group could be a real strength for the Packers by the end of the season.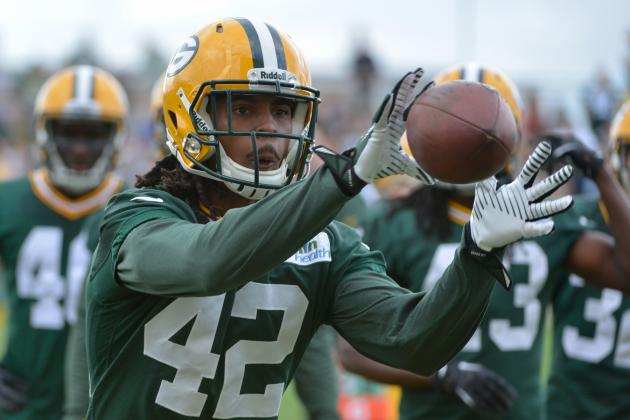 Benny Sieu-USA TODAY Sports

If any position group is weaker than the inside linebackers, it's the safeties.
To be fair, Morgan Burnett is a very good football player. He led the team in tackles in 2012 and was one of only two players in the NFL to play every single defensive snap of the season.
But beyond Burnett, things are pretty bleak.
M.D. Jennings has shown flashes, but he's still known more for the "Fail Mary" play than anything else he's done on the field.
On the bright side, both players are young and improving.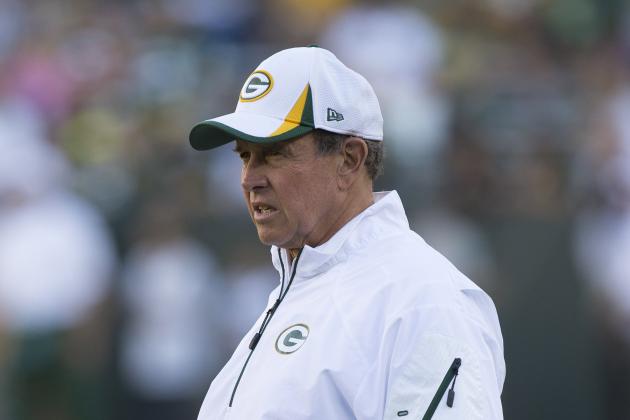 Jeff Hanisch-USA TODAY Sports

The Packers will be better defensively in 2013 than they were in 2012. They have to be.
Nick Perry and Datone Jones should vastly improve a tepid pass rush.
The run defense can't get much worse and B.J. Raji is fighting for a contract—he'll have a big year.
Don't expect the Packers to be a top-ten defense, but don't plan on them being an embarrassment either. Somewhere in between is probably a better bet.