Predicting Awards Honors for the San Diego Chargers' 2013 Season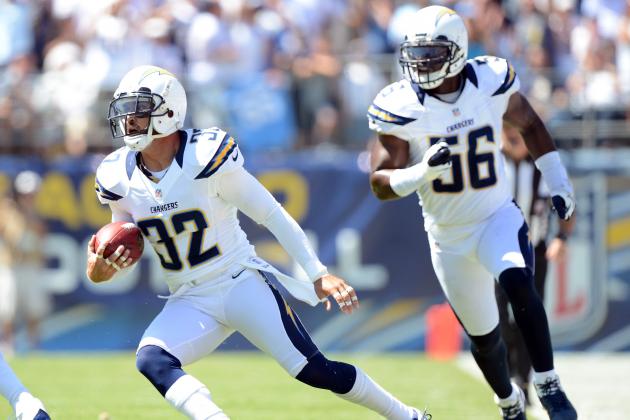 Harry How/Getty Images

In predicting league honors and awards for the 2013-14 season, it's probably a good guess that the San Diego Chargers will not dominate the ballot. Team honors and awards, however, is another story.
The following is a prediction of which players will compete for and win team honors for the 2013-14 season complete with breakdown and analysis for the candidates and winners.
The categories for team honors include defensive player of the year, offensive player of the year, biggest disappointment, biggest surprise, most improved, rookie of the year and the coveted most valuable player.
Begin Slideshow

»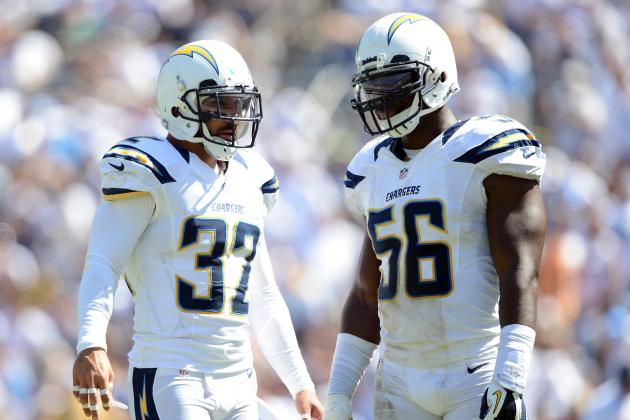 Harry How/Getty Images

Defense will be a bright spot for the Chargers in 2013, so much so that picking just one player to receive the honor of this award won't be easy.
Three players that come to mind as potential candidates for defensive player of the year include FS Eric Weddle, ILB Donald Butler and DE Corey Liuget.
Weddle, arguably the best at his position, led the team in tackles (97) and interceptions (3) last season and earned a third straight All-Pro selection.
Butler finished third in tackles (78) in 2012 and added three sacks, two forced fumbles and an interception returned for a touchdown in just his third year with the Chargers.
Liuget, a first-round pick in 2011, had a breakout sophomore season with 51 tackles, six tackles for loss, a forced fumble and a fumble recovery. He also capped off 2012 with a career-high seven sacks that ranked second on the team.
Of the three, Butler appears to be the player poised for the biggest season worthy of the team's defensive player of the year honor in 2013.
The 24-year-old spent two seasons under the tutelage of Takeo Spikes at inside linebacker and with the veteran now gone, he'll team up with rookie Manti Te'o and attempt to pass along the same type of mentoring that Spikes once provided.
ESPN's Chris Berman put it best when he said "Donald Butler is probably the best player nobody knows about in this country," in an interview with Ricky Henne of chargers.com.
Winner: Donald Butler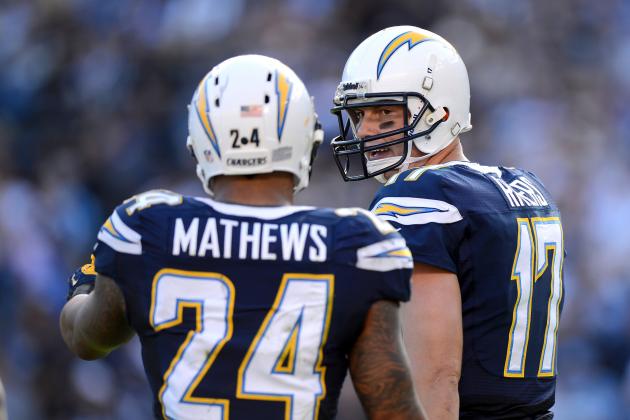 Jake Roth-USA TODAY Sports

The Chargers' offense will go through some rough spots as a unit but three individuals seem likely to help carry the load and potentially earn the title of offensive player of the year in 2013.
The three players that come to mind for this acknowledgement include RB Ryan Mathews, QB Philip Rivers and TE Antonio Gates.
Mathews, who played in only 12 games last season due to injury, led the team in rushing yards (707) despite missing four games with two separate clavicle injuries. He also added 39 receptions for 252 yards.
Rivers had yet another poor season riddled with interceptions (15) and career highs in fumbles (13) and sacks (49), but he still managed to finish top 10 in the league in TD passes (26) and completion percentage (64.1).
In 15 games, the most he's played since 2009, Gates tied for first in TD catches (7), tied for second in receptions (49) and ranked third on the team in receiving yards (538) last season. He was Rivers' second most targeted receiver (78) after Danario Alexander.
Although Rivers and Gates have been focal points of the Chargers' offense longer than he's been with the team, Mathews should end up being San Diego's offensive player of the year by season's end.
With Danario Alexander lost for the season, an offensive line that has yet to prove it can protect Rivers and all the recent injuries affecting the Chargers' receivers, it's hard to believe that San Diego will be much of a threat in the passing game.
For that reason, Mathews will see the ball more and have his opportunity to uphold A.J. Smith's decision of making him the 12th pick in the 2010 draft.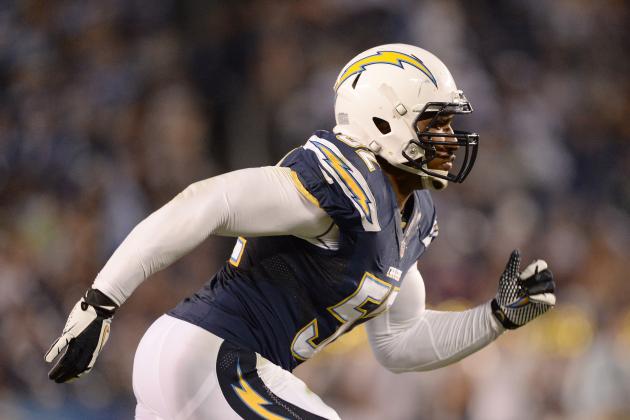 Harry How/Getty Images

Last season's biggest disappointments came in the form of San Diego's top free agent receivers Eddie Royal and Robert Meachem.
Royal concluded his 2012 campaign with 23 receptions for 234 yards and a touchdown while Meachem finished with just 14 receptions for 207 yards and two touchdowns. Both proved to be bust signings and face an uphill battle in redeeming themselves.
This season, however, the three players destined to disappoint include OT Max Starks, SS Brandon Taylor and OLB Larry English.
Starks, formerly of the Pittsburgh Steelers, was signed as a free agent in May to help solidify the left tackle spot of the Chargers' offensive line, but judging from how much more playing time King Dunlap has been getting in training camp and in the preseason, it's looking more and more like Dunlap will be the starter come Week 1.
Unless Dunlap performs horribly and forces Mike McCoy to make a change, Starks can already be viewed as a wasted signing merely brought in for veteran depth.
Taylor finds himself in a similar situation at strong safety. The third-round pick from a year ago suffered a torn ACL last season that forced his recovery process to continue into the start of camp and the time off has caused him to lose ground in the competition for a starting job next season.
Taylor was drafted particularly high by A.J. Smith in 2012 for the sole purpose of one day becoming the starting strong safety for San Diego, but now that the team appears to be moving forward with Marcus Gilchrist, it doesn't seem likely that Taylor will see much of the field anytime soon.
In English's case, it's like listening to a broken record when speaking of the 16th player taken overall in the 2009 draft. Since his rookie season, English has failed to live up to expectations as a first-round pick and 2013 will be no different.
Even with the injury to Melvin Ingram, English will be a nonfactor despite initial talk that he'd be looked to for help in the pass rush in Ingram's absence. For that reason, English will be the biggest disappointment of 2013.
Winner: Larry English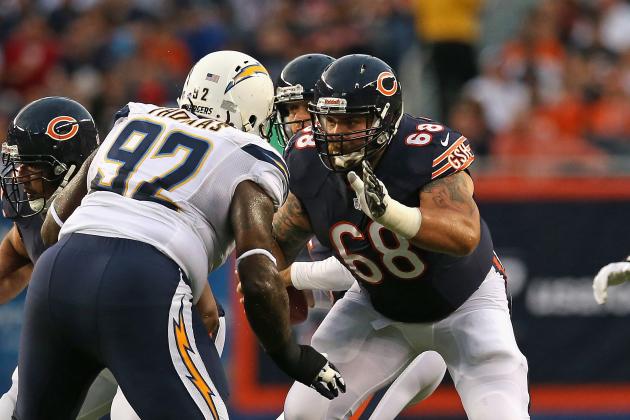 Jonathan Daniel/Getty Images

Potential surprises that lie ahead for the Chargers next season include RB Danny Woodhead, WR Eddie Royal and DT Cam Thomas.
Woodhead, who came over from New England during the offseason, brings versatility to the San Diego run game and will make his presence felt on offense even if Ryan Mathews handles the majority of the workload.
The move to bring in Woodhead took a back seat to the Dwight Freeney signing that grabbed major headlines this summer, but the reality is Woodhead is the more consistent player at what he does.
Royal, who was sidelined with injuries all last season, put up poor numbers in his first year with the Chargers but is now the team's official No. 2 receiver on the depth chart as a result of Danario Alexander's injury.
Royal suffered quite a scare recently when he landed hard in training camp and required emergency medical attention, but after his release from the hospital it was noted that he suffered a bruised lung and a concussion.
While his status for Week 1 is up in the air, its still possible he play the rest of the year at a high level and become a dependable option for Philip Rivers.
Last, but certainly not least, is Thomas in his fourth year with the Chargers. A fifth-round draft pick in 2010, Thomas was part of a D-line rotation that featured Aubrayo Franklin and Antonio Garay at times.
This time around, Thomas is the team's lone defensive tackle returning from a year ago, meaning he'll be at the top of the rotation in 2013.
Woodhead and Royal should be big contributors next season but Thomas seems to be the one player that surprises the most considering he's a name you don't hear very much of.
Winner: Cam Thomas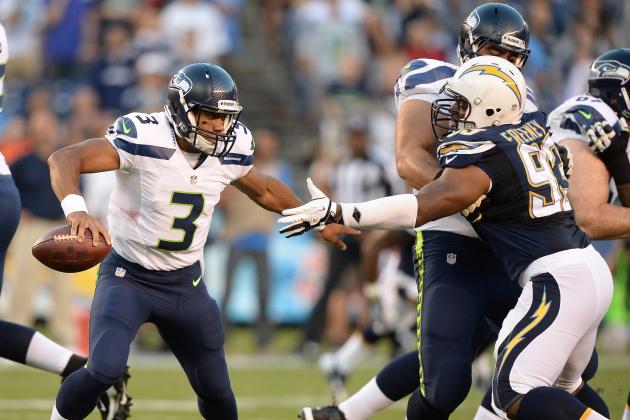 Harry How/Getty Images

The title of most improved usually goes to the one player who drastically improved over the course of a year and overcame his lackluster efforts the year before.
For this award only two names jump out and they are DE Dwight Freeney and RB Ryan Mathews.
Freeney, the big free-agent pickup from the offseason, had one of the worst years of his career in Indianapolis in 2012 and many figured if he'd even be productive any longer in his 12th year.
With a change of scenery, Freeney is sure to put that bad year behind him and prove to the doubters that he still has life left in his career. The Chargers will be relying on Freeney to utilize his pass-rushing prowess in bringing down the quarterback, which he should do on many occasions this season.
Mathews also has a lot to prove to his team in 2013 after his third year was derailed by two clavicle injuries. In three seasons with the Chargers, Mathews has failed to play a complete 16-game season and put up consistent numbers like he did in 2011.
The one player who will take advantage of his off-year and benefit the most from it will be Freeney. The veteran outside linebacker had trouble in a position he wasn't all that familiar with in Indy, but defensive coordinator John Pagano won't force Freeney to change his game, but rather plan around it.
Winner: Dwight Freeney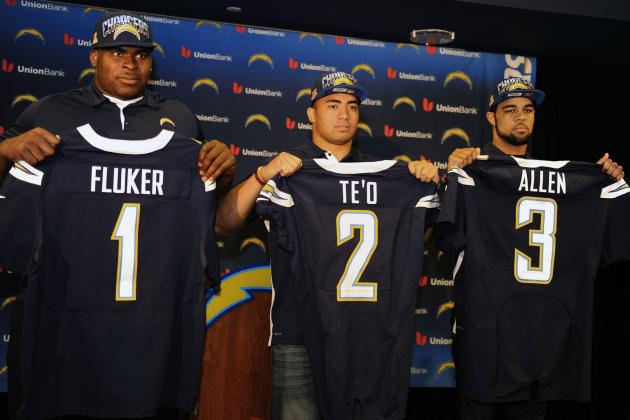 Christopher Hanewinckel-USA TODA

The Chargers drafted three exceptional collegiate standouts last April in Rounds 1-3, but only one will be named rookie of the year for the 2013 season.
OT D.J. Fluker, ILB Manti Te'o and WR Keenan Allen will all receive substantial playing time and have an equal opportunity to shine in their debut seasons.
Fluker is slated to take over at right tackle for the Chargers and help bolster an offensive line that gave up 49 sacks to opposing defenses last season. Of the team's 16 opponents this year, five of them ranked in the top 10 in sacks in 2012 (Denver, Cincinnati, Houston, Miami, Tennessee).
Te'o will also be given a starting job on San Diego's roster as he prepares to fill in at inside linebacker alongside Donald Butler. The second-round pick out of Notre Dame will replace Takeo Spikes, who led the team in tackles in 2011 (106) and finished second (78) in 2012.
Allen, who is coming off a major knee injury in 2012, will compete with Malcom Floyd, Vincent Brown, Eddie Royal and Robert Meachem at the receiver position this season. Danario Alexander's injury in training camp should open the door for the former Cal Bear to have a major impact, especially since Royal and Meachem performed so poorly the year before.
The competition for rookie of the year will be razor-close but the player who stands the best chance to really wow his new team is Te'o.
Fluker will no doubt be an important player moving forward but Te'o has the most to gain in a defense that will make him look good this season. If the former Heisman Trophy finalist can do what he did for the Fighting Irish in 2012, then he'll fit in perfectly on San Diego's defense.
Fluker comes in a close second but given that the rest of the offensive line will likely struggle, it will be hard to notice his success.
Winner: Manti Te'o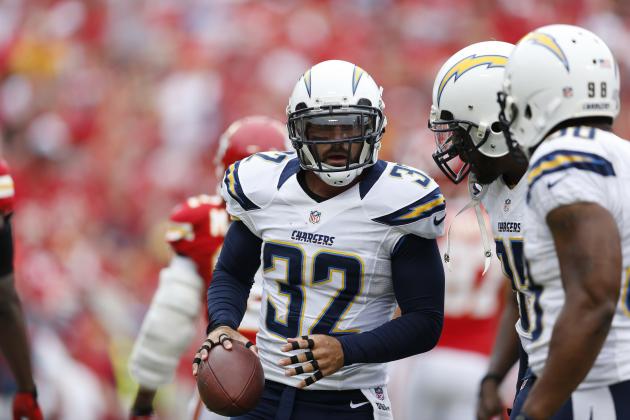 Joe Robbins/Getty Images

Eric Weddle will be the most valuable player on the Chargers' roster next season because of what he can do for his team in addition to playing on defense.
In 2012, Weddle handled his business like the All-Pro safety that he is, collecting 83 tackles, a sack, two forced fumbles and three interceptions on defense.
Weddle's contributions didn't stop there, however, as he also returned seven punts for 48 yards and converted on two fake punts for first downs against the Pittsburgh Steelers and Oakland Raiders last season.
It's that level of participation that earns a player team MVP and Weddle has shown that he can be a multifaceted football player.
In 2013, Weddle may not be fielding too many punts or running fake punts from week to week, but his presence on defense alone is something that simply cannot replaced. Without Weddle in the lineup, this defense would struggle to stop any team.
Winner: Eric Weddle