Abner Mares is not a brawler. Mares is not a tactician, he is not a boxer-puncher. Where other superstars are defined by a specific approach or methodology, Mares' modus operandi is nonexistent.
This absence of style is his style, in and of itself, a paradox manufacturing genius and virtuosity from nowhere but within itself, for itself, by itself.
Mares, of course, said it best when referring to his style of "Mexican Judo":
"Ju' don't know if I'm going to box and 'ju' don't know if I'm going slug, but 'ju' know I'm going to win."
So how far can he ride this out? If the last two years are any indication of Mares' promise, the answer would seem to be really far.
Just 20 months ago, Abner Mares outpointed Joseph Agbeko in defense of his IBF bantamweight title. This was a rematch of their first bout, four months prior.
Mares put on a masterful performance and was pegged as the possible future of the bantamweight division.
But that wasn't good enough for him.
Now, on Aug. 24 Mares (26-0-1, 14 KOs) defends his WBC featherweight title against hard-hitting Jhonny Gonzalez (54-8, 46 KOs). With Miguel Angel (Mikey) Garcia's position at 126-pounds in a state of flux after missing weight for his title fight with Juan Manual Lopez in June, and Bob Arum's pledge to discourage Garcia from ever cutting down to the featherweight limit again—an impressive victory over Gonzalez would make Mares the very best featherweight in the world.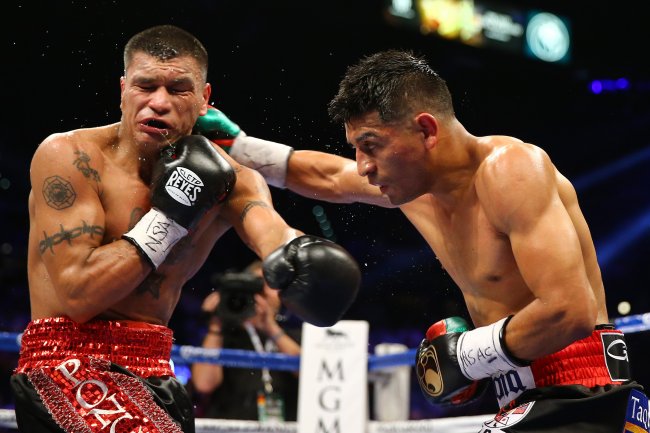 Al Bello/Getty Images
Like most all-time greats, weight-climbing exploits play huge roles in defining one's legacy.
Aged just 27, Mares has already won belts at three different weight classes. That's just one year older than when Julio Cesar Chavez pulled off the same feat. And he's made it clear that he's willing to fight anybody to add to an already admirable resume.
Less than 20 fights into his career, Mares was already a world-ranked bantamweight.
In 2010, albeit in a close affair, Mares was robbed and forced to settle for a draw against Yonnhy Perez, the only blemish on his otherwise perfect record. He then set off fireworks with Vic Darchinyan and earned a split-decision victory and his first world title.
After that, he roughed up Joseph Agbeko with anything the referee would allow in their first meeting—and demonstrated superiority in the rematch.
After a quick pit stop in the super bantamweight division, defeating veteran Eric Morel and winning the WBC strap, Mares out boxed Anselmo Moreno and knocked out Daniel Ponce De Leon to prove a point.
But his biggest win of all came in 2008, not inside of the ring, but outside of it.
Mares was diagnosed with a detached retina. The ophthalmologist was sure Mares would never fight again. But after extensive surgery and an unfailing will to answer the bell once more, Mares returned to the ring in May of 2009 to stop Jonathan Perez in six rounds.
It's this irrepressible doggedness that sets Mares' ability beyond measure.
But he, like everybody else, is confined to the current state of boxing and will only go as far as it allows him to. If he had things his way, he'd have already fought his blood-rival Nonito Donaire. But, of course, the feud between Golden Boy and Top Rank prevents it.
The 126- and 130-pound weight classes are stacked and quality opponents for Mares are seemingly endless.
If he can get his hands on a few of the monsters around this weight like Chris John, Takashi Uchiyama or Mikey Garcia and maybe even in due time Vasyl Lomachenko or Leo Santa Cruz, Mares would have a résumé worthy enough for placement near or even at the very top of the pound-for-pound discussion. It would also give him incredible momentum, enough to springboard his way even further up the weight class ladder in the next couple of years.
But Mares, standing 5'4 ½" with a reach of 66", isn't relatively big for a featherweight, in the first place, as all three opponents he's faced above the bantamweight limit are listed as being taller and possessing a longer reach. So it's hard to imagine any meaningful impact from Mares above 135 pounds.
Still, if Mares can manage to pick up a title at lightweight, that would give him world titles at five different weights (118, 122, 126, 130, 135), joining Pacquiao, Floyd Mayweather Jr., Oscar De La Hoya, Ray Leonard and Thomas Hearns as the only men in history to accomplish such a feat.
It may sound farfetched, and it wouldn't be easy, but Mares has gained a rabid reputation for adaptability and versatility. Who, outside of maybe Mikey Garcia and Adrien Broner, would really be viewed as a clear favorite over Mares from featherweight to lightweight?
Mares has hit his stride—and he's blazing through the fistic realm.
He's made his presence known in three separate weight classes, his skill set and "style" is becoming indecipherable, and, evidenced by his trouncing of the granite chinned Ponce De Leon, he's carrying more power than ever before. To top it all off, Mares has upheld a humble and respectable demeanor through it all.
One can estimate he still has upwards of a decade left of fighting to go, and seeing how fast he's racked up quality wins, the next 10 or so years for Mares look supremely promising.
For now, Mares has the tough Jhonny Gonzalez to look forward to. But nothing suggests Gonzalez can put a halt to the buzz saw Mares has become.
In all likelihood, no one can.