Predicting Awards Honors for the Cleveland Browns' 2013-14 Season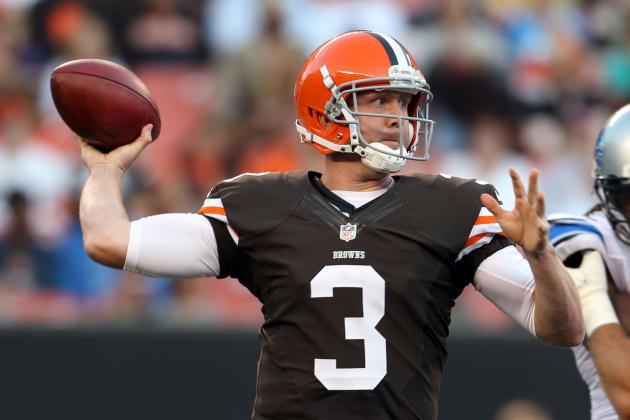 Ron Schwane-USA TODAY Sports

Predicting Awards Honors for the Cleveland Browns' 2013 season begins and ends with players that were on last year's roster.
There is plenty of buzz around northeast Ohio because of the team's success during the first two exhibition matchups. While there is lots of optimism, who will be the surprise performers from both the positive and negative standpoints?
Following is a look at who will be the Browns' most improved player, rookie of the year, biggest surprise; biggest disappointment, offensive player of the year, defensive player of the year and most valuable player.
All statistics are provided by ESPN.com.
Begin Slideshow

»
Jordan Cameron is already being talked about as a rising star in preseason. By the end of 2013, there is no doubt that he is going to be the most improved Brown in both statistics and impact on the field.
The 6'5", 245-pound tight end was in the shadow of Benjamin Watson during his first two NFL campaigns. Teasing fans and coaches with glimpses of exceptional athleticism, this converted college basketball player's main issue was staying healthy.
Since Watson was allowed to leave in free agency and no high-profile tight end signed with Cleveland, it is Cameron's turn to shine.
Through two exhibition contests, the USC alum has tallied three touchdowns. In last Thursday's romp over the Lions he caught all three targeted passes with a long of 27 yards and a pair of scores.
The usual disclaimer of course applies. This is the preseason and opposing defenses are not going to show all of their tricks or formations. However, have we ever seen Cameron look this good for such a stretch?
This 2011 fourth-round draft pick's career statistics are nearly non-existent with one TD and 259 total yards on 26 receptions.
Some of those pedestrian numbers came because he was behind Watson, but a large part was also due to injuries. Staying healthy needs to be the top priority for No. 84.
Head coach Rob Chudzinski said in a press conference on day 13 of training camp that "the best ability is availability." This rings the most true for Cameron.
If Cameron can stay on the field then this new Cleveland vertical downfield offense should turn him into an 800-plus-yards, eight-to-10 touchdown weapon.
WINNER: Jordan Cameron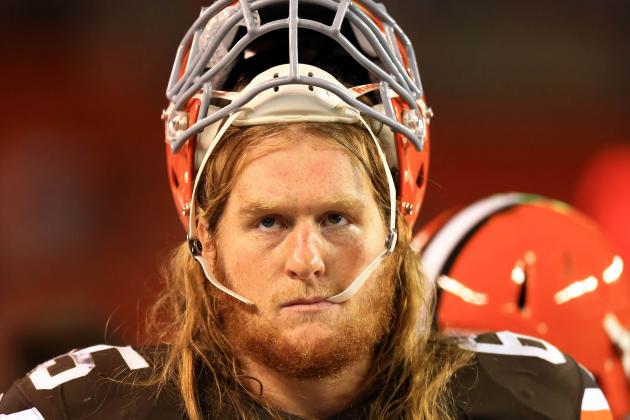 Andrew Weber-USA TODAY Sports
Browns rookie offensive guard Garrett Gilkey
It's not the sexiest of choices, but the seventh-round draft pick offensive guard Garrett Gilkey will be the Cleveland Browns' rookie of the year, and not Barkevious Mingo or Leon McFadden.
Gilkey was thrust into an interesting position during last Thursday's game against Detroit. When offensive lineman Jason Pinkston went down with an ankle injury, Gilkey was next man up.
Thrown into the fire, Gilkey thrived and has continued to do so in practices since then.
At 6'6" and 320 pounds, he demonstrates good bend and flexibility for a man his size. While he is raw, there are definitely signs that Gilkey could end up being a better pulling guard than the ailing Pinkston and Shaun Lauvao.
Coming from a Division II school like Chadron State set low expectations for the golden-haired lineman. I had projected him to the Browns' pick in multiple Bleacher Report mock drafts.
More than ever, I believe that the athleticism Gilkey displayed throughout college, the Senior Bowl and NFL combine can make him a key cog on Cleveland's line.
WINNER: Garrett Gilkey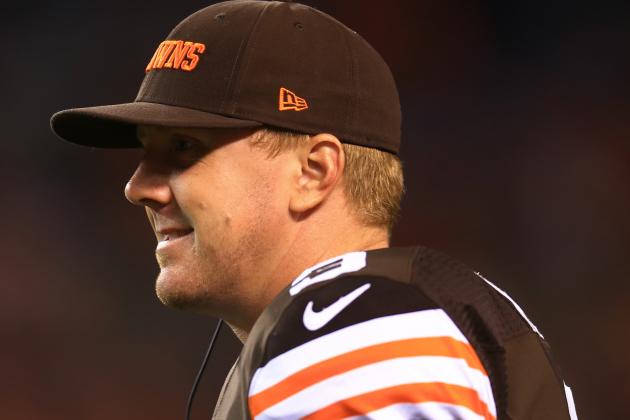 Andrew Weber-USA TODAY Sports
Browns starting quarterback Brandon Weeden
After being written off numerous times by national and local media as well as plenty of Browns faithful during his rookie campaign, Brandon Weeden is going to be the team's biggest surprise in 2013.
Most importantly, it's going to be in a good way.
Bogged down by a West Coast offense that ignored his strengths under former head coach Pat Shurmur in 2012, Weeden was already being considered a bust as a first-round selection.
Then he hit the jackpot.
New sideline general Rob Chudzinski was hired and brought with him legendary quarterback guru Norv Turner as offensive coordinator.
Turner tutored a young Troy Aikman into a Hall of Fame career, made Phillip Rivers a star and also worked for a productive year with Alex Smith. Turner will now be calling in the plays, which means that Weeden will have one clear decision-maker in his ear during games.
Patting the ball, poor footwork and slow reads were all flaws attached to Weeden last season. Through two preseason matchups, those issues appear resolved. In their place is a confident gunslinger.
It's always tough to compare preseason statistics to the games that count, but Weeden's preseason numbers are so dramatic they are worth mentioning.
The former Oklahoma State Cowboy's 2012 completion percentage was 57.4, as he threw more interceptions than touchdowns and his quarterback rating sat at a bland 72.6.
Compare those numbers with the first pair of exhibition contests this season where he has quarterback ratings of 127.7 and 137.8 in the first two games with zero interceptions, finishing red zone drives for touchdowns and completing multiple deep balls for completions. His accuracy is up as well and now stands at 72 percent.
This leap in improvement already makes the Oklahoma native Cleveland's biggest surprise.
This is a different-looking signal-caller who will be turning heads across the league in 2013.
WINNER: Brandon Weeden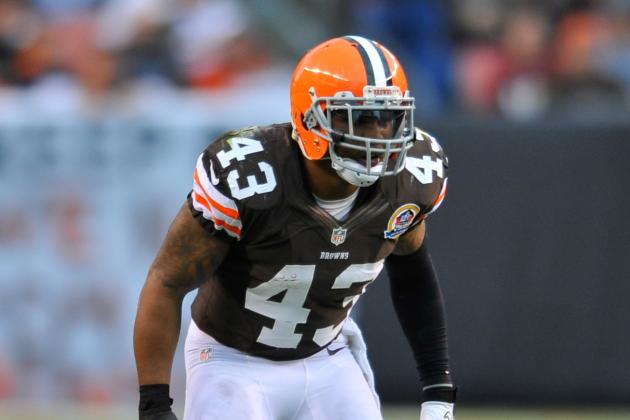 USA TODAY Sports
Cleveland safety T.J. Ward
T.J. Ward's aggressiveness, toughness and non-stop motor are what make him a fan favorite as the Browns strong safety. Unfortunately, he never seems to be able to stay on the field.
Entering his fourth NFL season, this is an important year for Ward. If he is able to remain healthy, new defensive coordinator Ray Horton's multiple-scheme attacking defense appears like a perfect marriage.
The trouble is avoiding injuries. Ward missed two games in 2012, but was consistently battling various ailments. In 2011, he missed half of the season.
His 123 tackles and two interceptions from his rookie year feel like a lifetime ago and the former second-round pick has not come close to those numbers since.
It's not Ward's effort or leadership that are going to crown him as the team's biggest disappointment. The letdown will come once again from missed time due to injury.
He has already missed both preseason contests because of a hamstring problem. The skill set he brings and potential for dominance in the secondary is why Ward's history of absence will earn him this unfortunate distinction.
WINNER: T.J. Ward
Offensive coordinator Norv Turner's downfield passing scheme goes only as far as the success of Trent Richardson's ground attack.
Last year's third overall selection in the NFL draft is finally healthy and ready to dominate the gridiron.
It's truly remarkable that Richardson was able to rush for 950 yards and score 12 touchdowns following minor knee surgery during camp in 2012. Let's also not forget the broken ribs he somehow muscled through for the majority of 2012.
That's all in the past.
As you can tell from the video, T-Rich can quickly take a corner as well as not be affected by ferocious tackling. His 17-yard gallop in last week's victory over Detroit was another demonstration of Richardson's rare combination of speed, agility and pure power.
Much of training camp's focus revolved around the passing game, but impact running backs are always a key to Turner's offenses.
Emmitt Smith, LaDainian Tomlinson and Darren Sproles are just a few of the names that he has previously relied on to force defenses to respect the play-action. That automatically opens up deep-ball opportunities.
Richardson will rush for over 1,100 yards and score double-digits in touchdowns if he can remain off of the injured list.
WINNER: Trent Richardson
Joe Haden is the glue that holds Cleveland's secondary together.
Missing time because of a four-game suspension and another game due to injury last season, the Browns defense floundered without him. In fact, the team lost all five of those contests when he was absent.
Of course a variety of factors go into a defeat, but with Haden out, opposing offenses seemed to be able to pick apart the Browns' cornerbacks at will.
The loss in Dallas was the best example of this as Haden's replacement, Buster Skrine, was clearly out of his element lining up on the outside. Multiple pass-interference penalties and looking generally overwhelmed resulted in a Cowboys' win and Cleveland missing Haden more than ever.
Adding defensive coordinator Ray Horton's multi-front pass-rush strategies should be an exciting upgrade over Dick Jauron's more passive schemes from a year ago.
The reason Joe Haden gets the Browns' top defensive honor comes down to the fact that despite effective blitzing, upper-echelon quarterbacks are going to find ways to get the ball out.
When they do in a rushed fashion, Haden's elite coverage abilities take away half the field. If a bold QB decides to challenge the former first-round selection then he shall be rudely reminded of why many offensive coordinators stay away from Haden.
Remember, the last time Haden found himself in a man-to-man format was his 2010 rookie season. The four-year pro amassed a career-high six interceptions over 16 games that year.
WINNER: Joe Haden
We've all heard the cliches about how the NFL is a quarterback-driven league and how the success of a team all starts under center.
In the Browns' case, it is certainly true and by the end of the 2013 season, Brandon Weeden shall be crowned the club's MVP.
Weeden's future in Cleveland must be as a starter. There's no secret that Cleveland's front office and coaching staff have no allegiance to No. 3 since they did not draft him.
While an analyst on NFL Network, current Browns general manager Mike Lombardi called the 22nd overall selection of the Oklahoma native by the former Browns' regime as a "panicked disaster."
He has softened somewhat on those comments since joining the franchise, but make no mistake, if Weeden does not excel, CEO Joe Banner and Lombardi will not hesitate to draft a replacement.
The 6'3", 220-pound former baseball pitcher has, on paper anyway, the weapons around him to put up some impressive stats.
He's already connected with superstar-in-the-making Josh Gordon several times this preseason and can build off of some beautiful touchdown tosses they combined for in 2012.
Davone Bess was acquired from Miami and is the reliable slot receiver who can convert third downs that the Browns are looking for.
How about tight end Jordan Cameron who looks poised to bust loose for massive success if what the first couple of exhibition matchups carries over into September?
The true test for Weeden comes down to how he performs mentally, not physically. Those natural abilities are there.
How does he respond when defenses throw confusing formations and fakes his way? Will the ability he's shown against St. Louis and Detroit to quickly scan the field and make that split-second decision appear when the games count?
Weeden's more-compact throwing style, cleaner footwork and that he'll be taking more snaps from shotgun all point in the direction of substantial progress.
Soon to be 30 years old, Weeden is ready to become the unquestioned leader of this offense. Get ready for a 3,600 passing yards season that displays marked improvement in accuracy, QB rating and touchdown-to-interception ratio.
WINNER: Brandon Weeden
Follow Andy McNamara on Twitter @AndyMc81
Andy is an accomplished international Sports Talk Host, Play-by-Play Commentator, Reporter and Journalist