Arsenal players showed off some new training kits before their Champions League playoff against Fenerbahce, and the new look could best be described as...striped.
Here, take a look for yourself, via Arsenal's official Twitter account:
The #Arsenal players took part in a vigorous workout at the training ground today... #FENvAFC pic.twitter.com/EVFQbZWToq

— Arsenal.com (@Arsenal) August 20, 2013
Sure, they look normal enough from the front. But let's take a look at the back:

...before moving on to some ball work ahead of the trip to Fenerbahce #FENvAFC pic.twitter.com/9C7XN6OsQe

— Arsenal.com (@Arsenal) August 20, 2013
Does anyone else suddenly have a hankering for Fruit Stripe gum?
Here's one final look:
The boys are in training ahead of #FENvAFC and Olivier and Carl led them out at London Colney this morning pic.twitter.com/U8R3kBKylu

— Arsenal.com (@Arsenal) August 20, 2013
Now, let's keep a few things in mind. First of all, training kits are like the bathrobes of uniforms, only meant to be seen by family members (in this case, teammates) and occasionally by the next-door neighbor when you venture outside in the morning to grab the paper.
Secondly, these are a spin on Arsenal's new away kit, which are pretty sweet. These training kits align with the socks on the yellow and blue away design: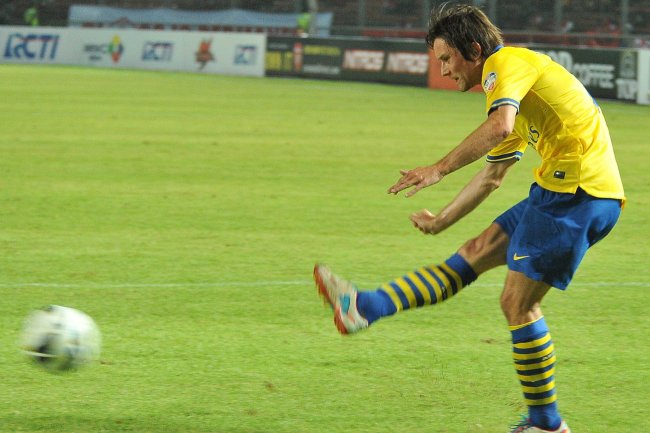 Robertus Pudyanto/Getty Images
So they've got that going for them.
Still, the back of those training kits are mesmerizing, and not in the good way. I feel like I'm looking into Kaa's eyes while he tries to hypnotize me and make me his midnight snack.
Seriously, do not stare at those uniforms for too long. If you do, two hours will pass without you realizing it and anytime anyone says the word "terrific," you'll start squawking like a chicken.
Do you like Arsenal's training kit?
And nobody wants that.
All in all, these are kind of funky, but at least they align with the away kits and make a strong impression. Hopefully, the Gunners wearing these uniforms will be able to make as strong an impression—albeit a more attractive one—the next time they take the pitch.