MLB Would Produce Superior Product, Schedule by Eliminating Divisions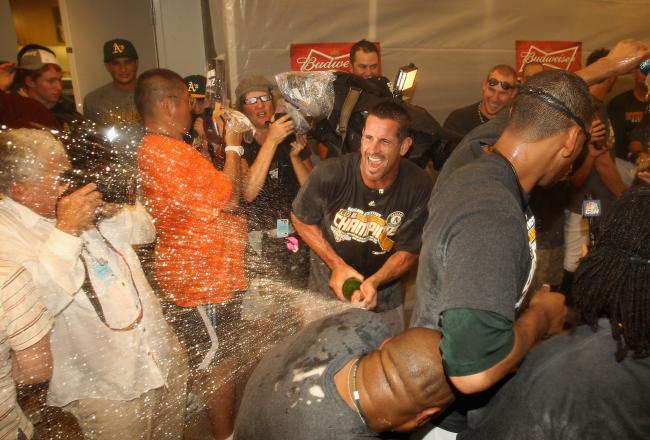 Ezra Shaw/Getty Images
Major League Baseball is so often afraid of change that it can harm the game. But one way to transform the game, for the better, that doesn't get discussed enough is eliminating the six-division structure completely.
Currently, as most fans are probably aware, both the National and American Leagues are comprised of three divisions (East, Central, West). This provides some semblance of order to the way schedules are made and how many times certain teams played.
It was back in 2001 that MLB decided to go with an unbalanced schedule where teams would play 72 games against division rivals (in a five-team division) and limit the number of games outside the divisions that can be played.
Danny Knobler of CBS Sports wrote in June 2012, before Houston officially moved to the American League West, that teams were concerned about the future of scheduling because the unbalanced schedule was about to get even more unbalanced.
In fact, the official said, teams may well go from playing 18 games a year against each division opponent to playing 19 a year. In that case, teams would play 47 percent of their games against teams within their own division.
MLB did end up making the change to a 76-game intra-division schedule, leaving just 86 games to be played against the 10 other teams in the league and the requisite interleague series because of the Astros' move to the AL West.
Because there are a limited number of games left on the schedule, teams are frequently only allowed to play two series (one home, one away) against the rest of their league.
Here is why that schedule, brought on by the six-division format (keeping the two leagues separate), is a huge problem and is actually holding Major League Baseball back from reaching its full potential.
Lose The Special Feeling of Rivalry Games
Even though Major League Baseball isn't built on traditional rivalries, like the NFL and college football, there are a few series that can get even the most casual fan to watch. Or at least there was before this ridiculous schedule robbed these games of any special attraction it once had.
For instance, because of their shared space in the American League East and the unbalanced schedule, the Boston Red Sox and New York Yankees will play each other 19 times in the regular season. Given the pace of those games, it takes them roughly two years to finish a regular-season series.
But because we see those games 19 times, which also limits the number of teams in other divisions one can play, you lose what makes the Red Sox-Yankees rivalry unique and interesting.
There is always going to be an audience for that series because ESPN televises virtually every game they play, but name the last time you actually felt like you were watching something special when Boston and New York played. Was it the 2004 ALCS because of Boston's comeback? Was it more recently?
Speaking for myself, I love the game of baseball and have lost all interest in the Red Sox vs. Yankees because I know that if I miss one game, there are 18 other chances to see it. (It also doesn't help that those games move at a snail's pace, but that's a different story.)
It's not just the Red Sox vs. Yankees that has lost any semblance of meaning. Cubs-Cardinals, Giants-Dodgers and, to use a newly established rivalry, Rangers-Athletics don't feel big anymore.
I tend to think of these rivalry games the way I do many of the big summer movies released in 2013 (Iron Man 3, Man of Steel, World War Z, etc.): Nothing stands out because we have seen all of these stories before.
How do you like your MLB?
You want all the big summer action movies to feel different from the toned-down, artsy nature—also known as awards bait—of movies that are going to be released in the fall. But because these summer movies all have to be turned into franchises where nothing changes and everything is filled with CGI, all of these movies feel exactly the same.
A series between any of the teams previously mentioned shouldn't feel like something we have already seen hundreds of times before. It should be new and get even the most casual fans interested in seeing what happens.
By eliminating the division structure from baseball, you open the schedule up a lot more and allow the people putting things together a chance to make these huge series actually feel special since there is no obligation to have them meet 19 times.
Imagine how different things would be if the Red Sox and Yankees only played, say, 10 times in a season. It's still a lot, but when you parse it out with one series at the start of the year, one series in the middle of the year and one at the end, you can drum up more interest in what's happening when they play.
I would be all in favor of just having those big series happen twice a year, covering six or seven games (two three-game series or one three-game series and one four-game series), but I can understand that might cause problems trying to stretch a schedule to 162 games.
Improving Financial Balance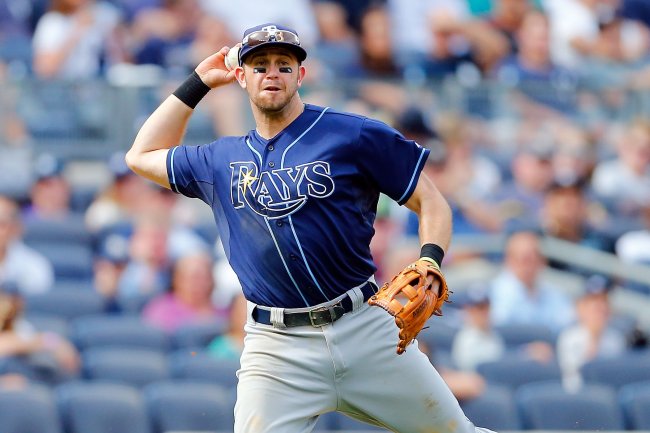 Jim McIsaac/Getty Images
One underrated flaw with the current six-division, unbalanced schedule format is the way it hinders ticket sales for teams throughout the league.
It's simple logic that the more games you play against a traditional rival or a marquee team, the more likely you are to sell more tickets and generate a lot more revenue through merchandise sales, food and drink sales, etc.
To provide context, let's look at the average attendance for the Tampa Bay Rays.
The Rays are an easy target because their attendance issues, especially during the team's run of success starting in 2008, have become almost a part of the story with this franchise.
In 2013, the Rays, who own a 72-52 entering play on Wednesday, have the worst average home attendance in baseball with 18,389 fans per game, per ESPN.com.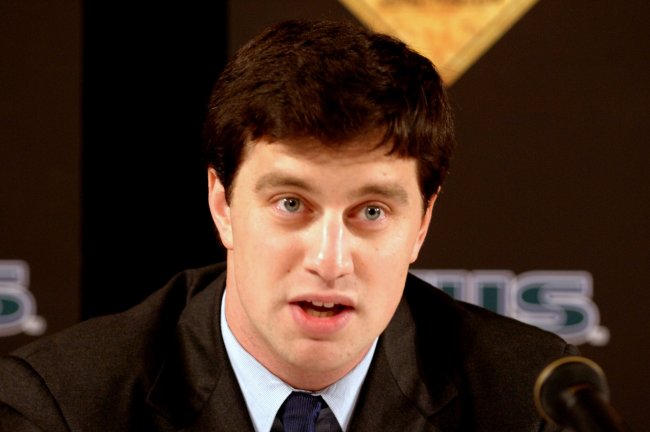 Al Messerschmidt/Getty Images
Widely regarded as one of the best-run franchises in all of sports, the Rays have made the playoffs three times since 2008, played in a World Series and are a half game behind Boston in the AL East, yet they average fewer fans per game than Miami and Houston.
But when they play the Yankees, who travel better than any team in baseball, the Rays averaged 20,001 fans through six games at Tropicana Field this season. That bump of roughly 1,700 fans can result in tens of thousands of extra dollars in revenue.
However, thanks to the unbalanced schedule, the Rays are going to get more chances to play the Yankees and add additional revenue than, say, a team like Oakland. The A's, like Tampa Bay, have stadium issues that make it difficult to attract large crowds unless they are playing a team like the Yankees.
MLB, to its credit, has done its part to even out the financial stream by implementing revenue sharing from the richest teams to the "poor" teams and luxury tax penalties if you go over a certain payroll threshold.
But there is still a huge disparity between the haves and have nots. Teams like the Red Sox, Yankees, Cubs and Phillies are able to spend more money because they generate more national revenue.
Another avenue that has helped smaller-market teams are television contracts, both national and local.
Last year, MLB reached an agreement with Fox, Turner and ESPN that will generate roughly $12.4 billion for the sport over the next eight years. That means more money to be divided up between all 30 teams and help franchises like Tampa Bay give Evan Longoria a $100 million contract extension.
Going over lower-revenue teams and their financial obligations entering the 2013 season, Pittsburgh, Cleveland, Kansas City and Arizona were among the franchises whose payroll increased by at least $10 million from 2012, according to CBS Sports.
By providing yet another avenue where more teams are able to generate more revenue, it becomes easier to open the checkbook for free agents and make trades to add salary when a front office feels its roster is ready to compete for a playoff spot.
You can only get that kind of balance when you eliminate the unbalanced schedule, which is a product of the six-division format.
No More Unjust Playoff Teams
Dilip Vishwanat/Getty Images
The biggest on-field problem with the six-division format is the playoff structure. Specifically, teams that get rewarded with a playoff berth by playing in a lesser division than a team that wins more games in a tougher division.
To use an example from just last season, let's look at the Detroit Tigers vs. the Los Angeles Angels. This was a hot-button issue when discussing the MVP credentials for Miguel Cabrera and Mike Trout.
The people in Cabrera's camp said he deserved the MVP award because the Tigers made the playoffs. What that select group failed to mention was, while Detroit was in the postseason, Trout's Angels actually won more games (89 to 88).
So why did the Tigers make the playoffs and the Angels wound up watching October from Disneyland?
The four other teams in the AL Central (Chicago, Cleveland, Kansas City, Minnesota) had a combined record of 291-357. It was the weakest division in all of baseball by total victories.
Meanwhile, the AL West had two teams that won at least 93 games (Oakland, Texas). The Tigers actually had the worst record of any playoff team, and it wasn't close. They were five games behind Texas and Baltimore's 93 victories.
They also finished behind non-playoff teams Los Angeles and Tampa Bay, but because they could beat up on teams like Minnesota, Kansas City and Cleveland while the Rays had to deal with New York and Baltimore, it was a much easier path to the playoffs for Detroit.
Yes, the Tigers wound up making a run to the World Series, but that doesn't excuse the fact they were still the seventh-best AL team by record in 2012. They are constructed to win a short series because of their power pitching and potent offense, but when you see them over 162 games, the flaws become very apparent.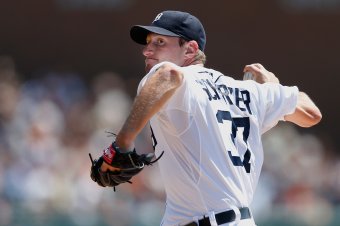 Gregory Shamus/Getty Images
On top of that, because the Tigers were a division winner, they would have had home-field advantage against a wild-card team that won more games during the regular season.
In many ways, this current format actually manages to devalue an already long 162-game schedule for all 30 teams by rewarding lesser clubs just based on their proximity in the world.
By getting rid of the division structure altogether, MLB can actually enhance the importance of the regular season and reward teams that have the best records instead of putting a team like the 2006 St. Louis Cardinals (83 wins) in the playoffs.
Even back when MLB just had the two-division format, it was better than this system but still not ideal. In 1993, the Giants won 103 games but missed the postseason because the Braves had 104 wins to lock up the NL West. The Phillies won the East with 97 wins, six fewer than the Giants, and ended up in the World Series against Toronto.
The only way to truly determine the best teams and ensure they are in the postseason is by putting all 15 teams in the NL and AL against each other an equal number of times and see who the five best teams are after 162 games.
It would have completely changed last year's World Series, since Tampa Bay (90 wins) would have been in the playoffs and Detroit would have been out.
Division I college football—or FBS, whatever it's called nowadays—has been so reluctant to use any kind of playoff system because the NCAA felt it would hurt the importance of the regular season.
MLB gets criticized for having a regular season that is too long, but this new system actually does put more importance on it because the best teams get rewarded for winning the most games.
Playing in a mediocre/bad division no longer guarantees a team that plays only slightly better than average for 162 games a chance to compete for a championship.
This will also help the financial situation we already talked about because there are likely to be a lot more teams vying for the final playoff spots in both leagues that fans will flock to the stadium hoping to see in that last push.
In the End...
I can certainly understand the merits of having a divisional structure. By putting more teams in closer proximity to each other in a situation where they have to play more head-to-head matchups, MLB can schedule around time zones and ensure fans get to see more of their favorite teams at a reasonable hour than games that start too early for West Coast fans and too late for East Coast fans.
It also allows teams the opportunity to try and build their rosters against a handful of organizations instead of having to plan on beating 12-13 teams in order to make the playoffs.
But eliminating the divisional format is so much better for the health of the game, not that it is in any danger right now. You can build so much without having to be confined by the shackles provided by the six-division setup we currently have.
If you want to talk baseball, feel free to hit me up on Twitter with questions or comments.
This article is
What is the duplicate article?
Why is this article offensive?
Where is this article plagiarized from?
Why is this article poorly edited?