There are only a handful of NHL stars who fans couldn't imagine playing for another team.
As the heart and soul of the New York Rangers, superstar goaltender Henrik Lundqvist is one of those guys.
"King Henrik," as he's known in New York, is arguably the best goaltender in the NHL and has been the clear-cut MVP of the Rangers for almost all of his eight-year NHL career. Given his importance to the Blueshirts and place among the best at his position, the 31-year-old is in line for a massive payday before being eligible for unrestricted free agency next July.
According to Will Sammon of Newsday, negotiations between the Rangers and Lundqvist's representatives are finally underway. Lundqvist said, via Sammon:
We're talking. The good thing, though, is that we have another year, so there's no pressure to get it done. But we're definitely talking, and we'll see where it leads. So far it's been a great time in New York, and I don't see any reasons to leave.
The biggest question surrounding Lundqvist's future in New York isn't if he will stay long-term; it's how much will it cost for the team to re-sign him.
New York has 18 free agents to consider re-signing before next offseason—a list that includes stars such as Lundqvist, captain Ryan Callahan, Derick Brassard, Chris Kreider, Dan Girardi, Anton Stralman and Michael Del Zotto.
Keeping these players, signing them to fair deals and being able to fill out the rest of the roster with the amount of depth needed to compete in the playoffs are going to be difficult challenges for general manager Glen Sather over the next eight months.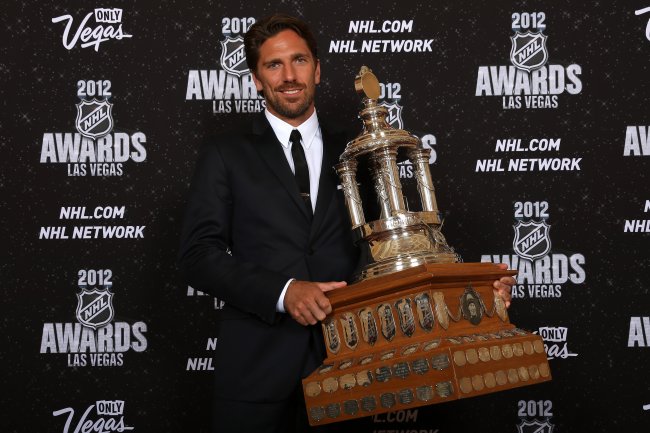 Bruce Bennett/Getty Images
The Rangers' championship window is now open and will remain that way for three or four more years, and it's important for the team to take advantage of what's left of Lundqvist's prime. As someone without a Stanley Cup ring, winning championships will probably factor into Lundqvist's decision.
Per Sammon:
Lundqvist opted to not discuss his preferred length of a potential new contract or dollar amount on Monday. But he did add that, "there's more to just money in this," adding that it matters who surrounds the King in the Rangers' kingdom in years to come.
When Sather is assessing the team's future roster, re-signing Lundqvist must be the team's top priority because almost all of its success is predicated on his consistently elite performances.
How much should Lundqvist make per year in his next deal?
The Swedish netminder has won 35 or more games in six consecutive non-lockout seasons while also receiving five Vezina Trophy nominations (including one win in 2012). He's also durable (average of 66 games played per year before 2013), which is incredibly important for a No. 1 goalie.
Pekka Rinne of the Nashville Predators and Tuukka Rask of the Boston Bruins are the league's highest-paid goalies with an average salary of $7 million, a number that should be the starting point for Lundqvist in contract discussions.
Based on his value to the team and performance, Lundqvist deserves to be paid in the $7.5-9 million range for eight years. Given the impressive shape Lundqvist keeps himself in and his good luck with injuries, it's likely that he will perform at a high level throughout his thirties.
A fair compromise for both sides would be an eight-year contract worth a total of $62 million ($7.75 million per year), which is my prediction for his next deal.
That's only a yearly raise of $875,000, but as a popular and beloved star in the New York market, the opportunities for endorsements should help Lundqvist make up for any hometown discount he gives the Rangers.
In the event that Lundqvist's next contract pays him $7-8 million per year, Sather should be able to build a championship-caliber team around him. The salary cap is expected to rise, maybe even significantly, after next year, which would give Sather more financial flexibility to re-sign his other core players long-term (a Brad Richards buyout would also help).
If there's a way for Lundqvist to be fairly compensated while also giving the Rangers enough cap space to build a competitive roster, expect him to do what's best for the team. He isn't an arrogant superstar who puts himself above the goals of his club.
Nicholas Goss is an NHL Lead Writer at Bleacher Report. He was a credentialed writer at the 2011 and 2013 Stanley Cup Final, as well as the 2013 NHL draft. All salary information via CapGeek.