Predicting Awards Honors for the Packers' 2013-14 Season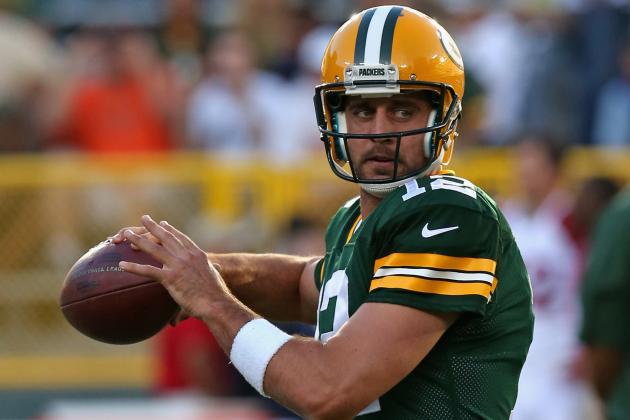 Jonathan Daniel/Getty Images

Many observers believe that the team general manager Ted Thompson has assembled this year is the most talented team that he has ever assembled since he was brought on to run the front office of the Green Bay Packers in 2005.
That talent should be in the running for a number of NFL awards this season.
I'm going to list five award winners for the Packers in 2013. Most of the awards will be for team honors, but one will be for the ultimate honor a player in the NFL can receive.
Begin Slideshow

»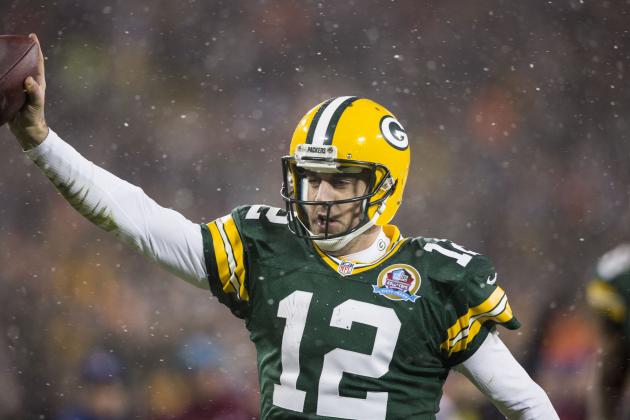 Tom Lynn/Getty Images

In 2011, quarterback Aaron Rodgers won the NFL MVP award. He had a season for the ages as he threw 45 touchdown passes compared to just six interceptions. He also threw for 4,643 yards and had a 122.5 quarterback rating, which is the all-time record in the NFL.
In 2012, Rodgers followed that up with another stellar campaign, as he threw 39 touchdown passes versus just 8 picks. He threw for 4,295 yards and had a quarterback rating of 108.0.
However, Rodgers did not win the NFL MVP award. It went to running back Adrian Peterson of the Minnesota Vikings, who put together a marvelous season, as he had 2,097 rushing yards and had 12 touchdowns. "All Day" also caught 40 passes for 217 yards and had one receiving touchdown.
Bottom line, Rodgers would have won the NFL MVP award last season in most any other year. No. 12 should be expected to have the same type of numbers in 2013, just as he did in 2011 and 2012.
Quarterback Brett Favre won three straight NFL MVP awards from 1995-1997. Favre's two best back-to back seasons in that period totaled 77 touchdown passes, compared to 26 interceptions. No. 4 threw for 8,312 yards in those two years and had a combined quarterback rating of 97.7.
Compare that to the totals Rodgers put up in 2011-12. Rodgers threw a combined 84 touchdown passes versus just 14 picks. He also threw for 8,938 yards and had a quarterback rating of 115.3 over those two seasons.
Bottom line, the odds are very strong that Rodgers will put up another season worthy of winning the NFL's most prestigious individual award.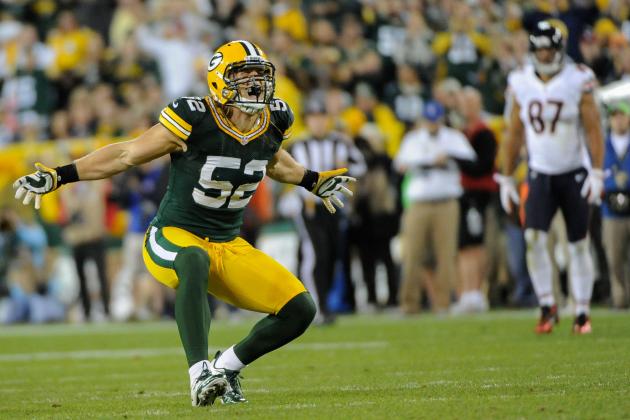 Benny Sieu-USA TODAY Sports

Clay Matthews
In 2010, many observers felt that outside linebacker Clay Matthews was deserving of the Defensive Player of the Year award in the NFL. However, the award went to safety Troy Polamalu instead. Matthews had to settle for NFC Defensive Player of the Year and the Sporting News Defensive Player of the Year.
Matthews had 83 total tackles, 13.5 sacks, one interception for a touchdown and two forced fumbles during that epic season.
Matthews has been a consistent performer every season that he has been in the NFL. He has been named to the Pro Bowl in each of his four seasons in the league, and has averaged 67.5 tackles, 10.6 sacks, one interception and forced 1.75 fumbles per season.
No. 52 is a well-rounded defensive player who plays the run very well. He has improved every year in pass coverage and is among the best pass-rushers in the league. Matthews had 13 sacks last season in just 12 games. If he stays healthy for all 16 games this season, plus with the added defensive talent surrounding him, Matthews will most definitely be the Defensive Player of the Year for Green Bay, if not the entire NFL.
Dilip Vishwanat/Getty Images

The Packers finally got an opportunity to see rookie running back Eddie Lacy against a NFL opponent last weekend versus the St. Louis Rams. Lacy looked exactly like he has looked during the team's Family Night scrimmage and training camp this year. He looks like a difference-maker at running back.
Lacy only played three series, but he totaled 40 yards on just eight carries. He also caught a pass for 11 yards which saw Lacy do his famous spin move.
Lacy has been a difference-maker for awhile now. As a junior at Alabama in 2012, Lacy rushed for 1,322 yards and 17 touchdowns. He also dominated in both the SEC Championship Game, as well as the BCS National Title Game.
Lacy should be the primary running back that the Packers will use. He does well in all phases of the game. He is an explosive runner, a solid receiver and has shown some nice skills blocking in the blitz-pickup drills in camp.
Lacy will have some competition for Offensive Rookie of the Year for the Packers, as left tackle David Bakhtiari looks to be an exceptional offensive lineman. But Lacy will be the difference-maker for the Packers offensively, as his running skills will open up the offense even more for quarterback Aaron Rodgers to exploit defenses this season.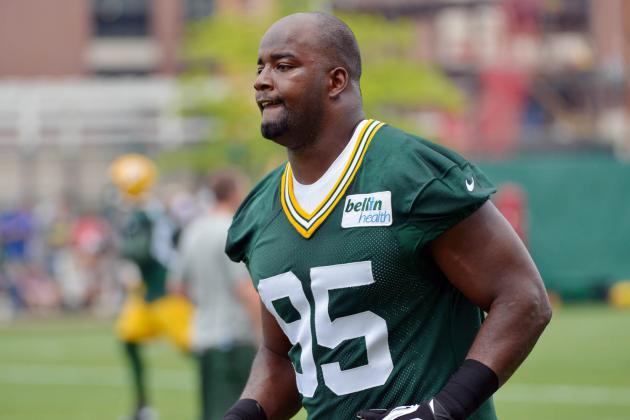 Benny Sieu-USA TODAY Sports

Datone Jones
579 yards. That is what the defense of the Green Bay Packers allowed last postseason in a NFC Divisional Game versus the San Francisco 49ers. The 49ers won that game 45-31, as quarterback Colin Kaepernick kept utilizing the read-option offense. Kaepernick had 444 total yards just by himself.
That takes us to the 2013 NFL draft. With that postseason game against the Niners clearly on their mind, the Packers selected defensive end Datone Jones out of UCLA in the first round.
Jones is exceptionally quick for a defensive end, both against the run and in rushing the passer. At UCLA in 2012, Jones had 62 tackles, 19 tackles for a loss, 6.5 sacks and one forced fumble. Jones also saw the read-option offense a number of times during his final collegiate season.
Jones was having a very good training camp until he sprained his ankle in the very first defensive series in the first preseason game against the Arizona Cardinals. Jones missed the next preseason game versus the St. Louis Rams, but has been back at practice this week.
I expect Jones to be the best defensive rookie that the team has had since Clay Matthews arrived in 2009. If Jones approaches any of the numbers that Matthews put up his rookie year, the Packers will be quite pleased.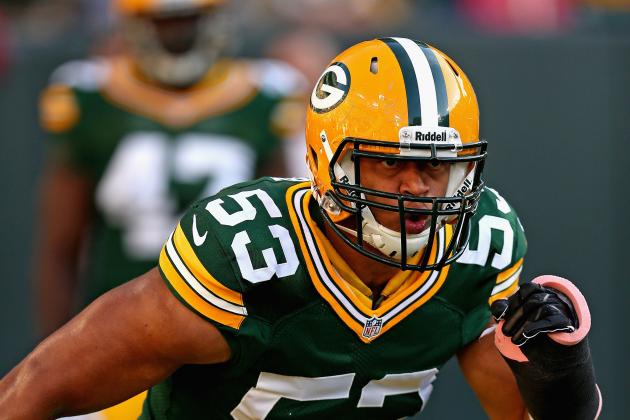 Jonathan Daniel/Getty Images

Nick Perry
The Packers drafted Nick Perry in the first round of the 2012 NFL draft with high expectations. Perry was coming off a great junior year at USC, where he had 9.5 sacks to lead the PAC-12 conference. He also had 54 tackles, including 13 tackles for a loss, three forced fumbles and a fumble recovery.
Perry was a defensive end as a Trojan, but the Packers decided to put Perry at outside linebacker opposite Clay Matthews, another former USC star.
The learning process for Perry was coming around slowly, but surely, under the tutelage of outside linebackers coach, Kevin Greene. Perry was also dealing with a couple of injuries. First he suffered a wrist injury and then a knee injury. The wrist injury eventually ended Perry's season as he was put on injured reserve after just six games.
Perry flashed some real talent in the first part of the season and he ended up with 29 total tackles and two sacks.
Based on what I have seen of Perry at training camp, and in the two preseason games, Perry looks to be much improved, both in stopping the run and rushing the passer.
The skills of the players surrounding Perry will definitely help his production this season, but his talent will be the biggest reason why he will put up some nice numbers in 2013.