Although the stars that were appearing to align are now suddenly in disarray, Peyton Manning and the Denver Broncos are in no position to panic ahead of their upcoming Super Bowl-or-bust season.
Despite the likely suspension of star pass-rusher Von Miller, the ups and downs of the young offensive backfield and an injury report consisting of big name after big name, the Broncos are still favorites to win the AFC West, secure a home playoff game and make a serious run at a championship.
However, no one would blame the Broncos for eagerly anticipating the start of the regular season, for no other reason than a disastrous preseason finally coming to an end.
The hits have kept coming during the month of August.
Denver learned Monday that Miller, who tallied 18.5 sacks last season and is one of the most complete defensive players in football, will likely be suspended for at least six games to start 2013, according to Adam Schefter and Chris Mortensen of ESPN.
From @Mortreport and me: Broncos LB Von Miller likely will be suspended as soon as today for at least six games.

— Adam Schefter (@AdamSchefter) August 19, 2013
If the suspension holds, and both Schefter and Mortensen remain convinced it will, the Broncos will be without their best pass-rusher for key early contests against the Baltimore Ravens, New York Giants and Dallas Cowboys. A Denver defense that also lost Elvis Dumervil this offseason would suddenly look very vulnerable for the fist six games of the 2013 season.
The Broncos have more to worry about than just Miller's likely absence, however.
Through two preseason games, an offensive backfield featuring two young running backs has not yet displayed the kind of consistency desired at the position.
Second-round pick Montee Ball has struggled at times in pass protection, which could ultimately limit how often he sees the field early on during his rookie season.
While facing the Seattle Seahawks last weekend, Ball whiffed on a block against a free Seahawks blitz that caused Manning to take a big shot from linebacker Bobby Wagner. Later, Manning attempted to audible but was forced to call a timeout when Ball appeared lost with the new play call.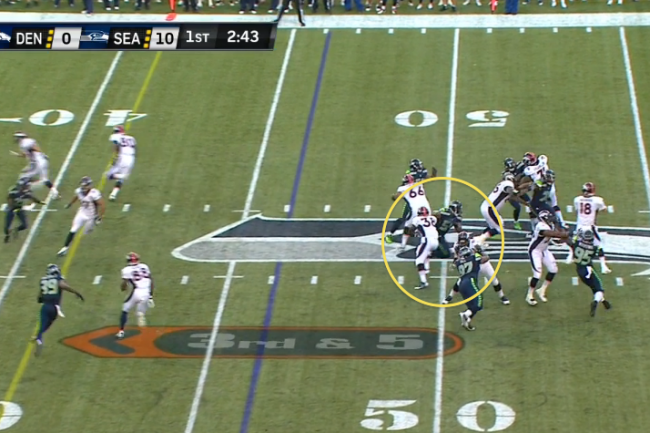 On each occasion, the Broncos pulled Ball in favor of Ronnie Hillman, who has been starting for the Denver offense.
However, Hillman is dealing with his own struggles. He coughed up the football twice against the Seahawks, including once in the red zone with the Broncos at the doorstep of the end zone. Seattle cornerback Brandon Browner returned the fumble 106 yards for a score.
Last season, Hillman fumbled twice over 85 carries. He also struggled with holding onto the football at San Diego State (five lost fumbles during his senior season).
Ronnie Hillman's Recent Fumbling History

| | | | |
| --- | --- | --- | --- |
| Year | Team | Att | Fumbles/Lost |
| 2011 | San Diego State (NCAA) | 311 | 7/5 |
| 2012 | Broncos (NFL) | 85 | 2/1 |
| 2013 | Broncos (NFL) | 16 | 2/1 |
Source: ESPN
The Broncos are now banking on Ball and Hillman—and possibly even Knowshon Moreno, who returned to practice this week—to replace veteran Willis McGahee in 2013. They certainly need to see better blitz pickup from Ball, especially with Manning at quarterback, and improved ball security from Hillman.
At least the running back position is relatively healthy. The rest of the Broncos roster can't say the same.
The following players have missed significant time this preseason: Center Dan Koppen (ACL, out for season), tackle Ryan Clady (offseason shoulder surgery), center J.D. Walton (ankle surgery), cornerback Dominique Rodgers-Cromartie (ankle), tight end Joel Dreessen (knee surgery) and Moreno (offseason knee surgery).
The list added a few important names following the loss to Seattle.
Cornerback Champ Bailey suffered a foot injury, receiver Wes Welker sprained his ankle, defensive lineman Derek Wolfe had a scary neck injury and guard Louis Vasquez (knee) and linebacker Stewart Bradley (wrist) both left the contest.
Bailey and Welker are the most important names of the bunch, although Welker's sprain isn't expected to keep him out of the lineup long, per Lindsey Jones of USA Today.
The Broncos are officially calling Wes Welker's ankle sprain "minor." Team also announces a sprain for Champ Bailey.

— Lindsay Jones (@bylindsayhjones) August 18, 2013
For many NFL teams, the combination of losing a star player, uncertainty at a key position and unwavering injuries would signal the unified mashing of the panic button. But not the Broncos. Not in 2013.
Manning, who threw for over 4,600 yards and 37 touchdowns last season, is healthy and now even more comfortable in the Broncos offense. The neck injury that cost him the 2011 season is a distant memory. He's hands down the best quarterback in the AFC West, even if there's added pressure on him to perform with Miller and others out of the lineup.
At the very least, Manning still has the best trio of receivers (Welker, Eric Decker, Demaryius Thomas) in football at his disposal. The passing offense could be even more productive.
Easiest Schedules in 2013, Based on 2012 Records

| | | |
| --- | --- | --- |
| Team | SOS | Opponent Record |
| Denver Broncos | .430 | 110-146 |
| San Diego Chargers | .457 | 117-139 |
| Indianapolis Colts | .461 | 117-137-2 |
| Oakland Raiders | .469 | 120-136 |
| Kansas City Chiefs | .473 | 121-135 |
Source: NFL.com
The Broncos also face the easiest schedule, in terms of 2012 records, next season. Their 16 opponents combined to go 110-146 last season. While a true measure of a team's strength of schedule cannot be fully determined in August, it would appear the Broncos are set up to face an easier road to the playoffs than other AFC contenders.
Even the most conservative of predictions on the Broncos' record would still see Denver win nine or 10 games.
Are the Denver Broncos still one of the teams to beat in the AFC this season?
Helping that cause is an improved but still weakened AFC West, which features rebuilding projects in both San Diego and Oakland and an entirely new set of characters in Kansas City. The Chiefs appear in the best position to challenge Denver for the division crown, but few will still pick anyone but the Broncos to win the AFC West in 2013.
By winning the division, the Broncos can stamp their ticket to the postseason—where anything can and usually does happen—while also ensuring at least one game will be played in Denver in January. Even if there are early struggles, this team can still become the "hot" club that tears through the postseason.
From suspensions to struggles to injuries, the Broncos have certainly had a forgettable month of August. Luckily for Denver, championships are rarely lost before September.
Manning is still Manning, the schedule shapes up nicely and the division still doesn't appear to have a true contender that can handle the Broncos' firepower.
The championship stars can still align for the Broncos this season, even if that means doing some unexpected rearranging early on in 2013.