Liverpool's 20 Most Expensive Transfer Buys and How They Fared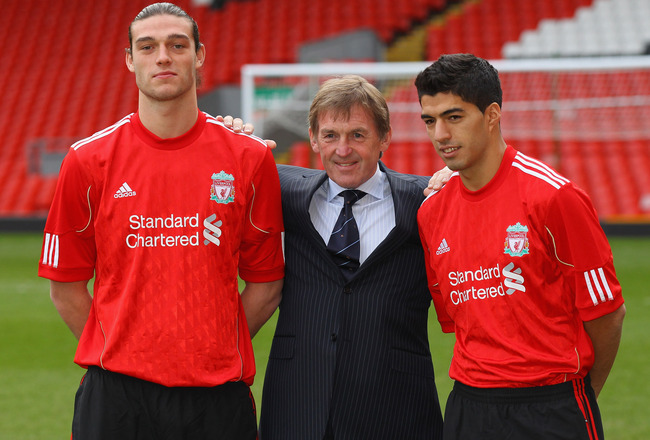 Alex Livesey/Getty Images
Liverpool are still searching for one or two more players in the current transfer window, and there has been speculation that a big-money signing might yet be incoming.
The Reds are usually one of the top gross spenders in the Premier League and have often been comfortable spending tens of millions of pounds on a single player.
But how successful have they been with these biggest signings of all? Here's a run-down of the 20 most expensive Liverpool signings of all time, with a look at how they got on in their time at Anfield.
For consistency, all transfer fees taken from LFChistory.net, with special thanks to Arnie Baldursson.
Gradings (from A, highest, to E, lowest) are yielded based on pre-arrival expectation, achievement at the club, value for money and any fees recouped.
20. Simon Mignolet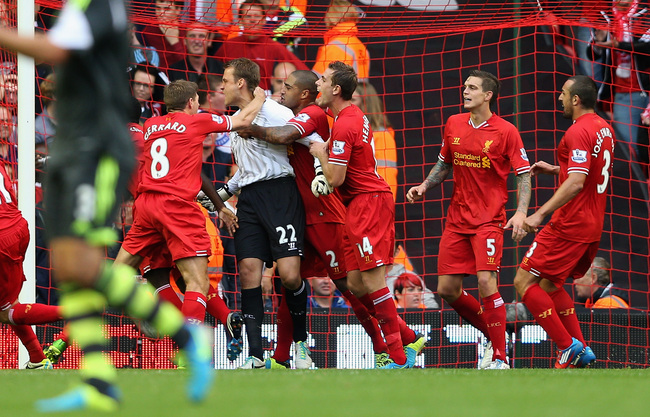 Clive Brunskill/Getty Images
Player: Simon Mignolet
Position: Goalkeeper
Fee: £9 million
From: Sunderland
One of the Reds' most recent acquisitions just about sneaks into the top 20, with goalkeeper Simon Mignolet only making his Liverpool debut on Saturday against Stoke City.
He did pretty well, too, all things considered: Mignolet kept a clean sheet, and saved a last-minute penalty to preserve the win for the team.
It's far too early to judge how well he'll do, but he certainly couldn't have made a better start.
Grade so far: n/a, but the potential is there to do well
19. Dirk Kuyt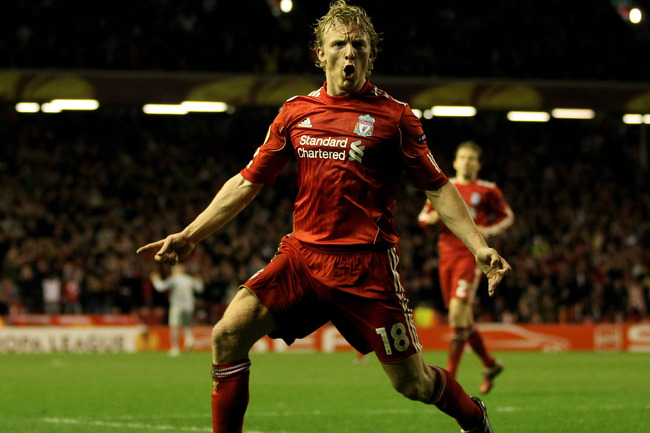 Richard Heathcote/Getty Images
Player: Dirk Kuyt
Position: Forward
Fee: £9 million
From: Feyenoord, 2006
Liverpool moved to boost their forward line in 2006 with the signing of Dirk Kuyt, who quickly won the fans over with his all-action style of play and committed approach to attacking.
He was never the most technical of players, but always reliable in his tactical discipline, willingness to help out in a variety of positions and his ability to score goals at important moments. His hat-trick against Manchester United will live long in the memory, while Kuyt also scored in the Champions League final defeat to AC Milan in 2007 and a succession of penalties against rivals Everton.
He wasn't a flashy forward, blessed with great pace or capable of hitting 25 goals a season, but Kuyt gave everything in Red and was as honorary a Scouser as they come.
Grade: B
18. El-Hadji Diouf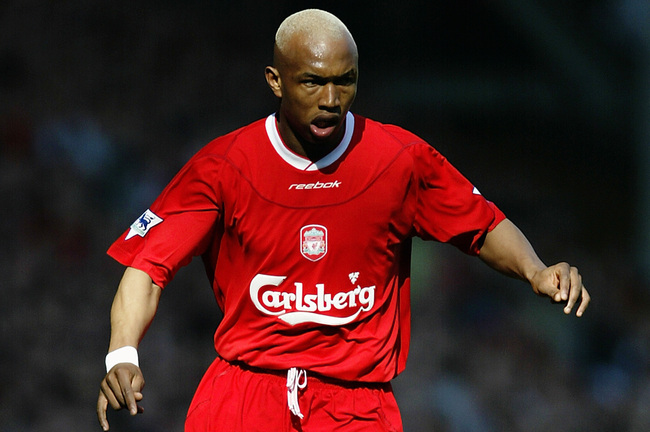 Alex Livesey/Getty Images
Player: El-Hadji Diouf
Position: Forward
Fee: £10 million
From: Lens, 2002
Rarely has there been a forward as eagerly anticipated prior to his arrival, yet utterly vilified before his departure, as El-Hadji Diouf.
The Senegalese forward was signed by Gérard Houllier ahead of the 2002 World Cup and his displays against the likes of France gave Kopites hope that they had the man to fire them to Premier League glory the next season, having finished runners-up in 2001-02.
It didn't turn out that way, and what made it all worse was that the Reds had let Nicolas Anelka go without a fight to bring Diouf in.
Diouf was petulant, lethargic, lazy and completely disliked by the vast majority of the crowd for his lack of effort and threadbare quality provided to the team. After a run in his preferred position up front, Houllier shifted him wide right due to his innate inability to get anywhere near the goal.
A spitting incident or two further down the line, Diouf was loaned out before finally being shifted to Bolton for good.
Grade: E
17. Fabio Borini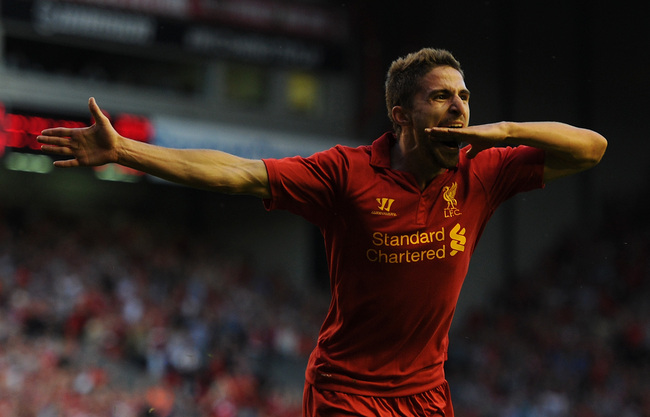 Chris Brunskill/Getty Images
Player: Fabio Borini
Position: Forward
Fee: £10.4 million
From: AS Roma, 2012
Another forward who Liverpool are still waiting to see properly is Fabio Borini. His maiden season was disrupted by two long-term injuries.
Despite scoring on his Anfield bow against Gomel, he had to wait until almost the season's end for his first Premier League goal, and the Italian will be hoping for a far better return during the present campaign.
Borini's versatility and exemplary movement make him a good squad option, but until he manages to regularly find the net he's not likely to displace Daniel Sturridge in the current XI.
The potential is there, as showcased by his recent brace for the Under-21s against Manchester United, but Borini needs more consistency in the final third this year.
Grade so far: C
16. Xabi Alonso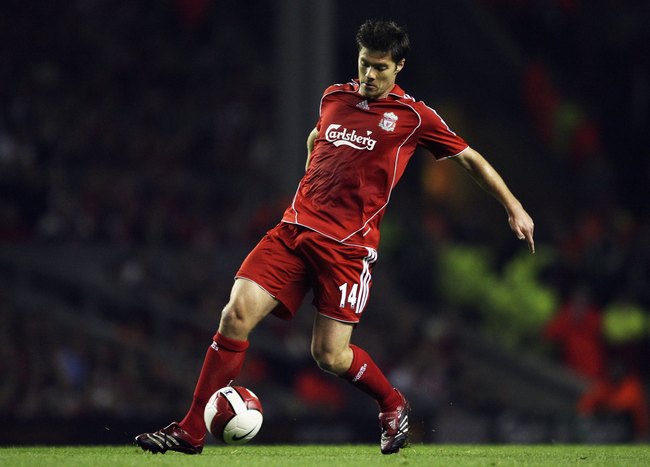 Clive Brunskill/Getty Images
Player: Xabi Alonso
Position: Central midfield
Fee: £10.7 million
From: Real Sociedad, 2004
It's rare these days to find a player still loved after leaving a club, but it seems most Liverpool supporters would welcome Xabi Alonso back with open arms and a great big hug.
Alonso was a genuine world-class talent for Liverpool in a top-drawer midfield from 2004 until 2009, though he suffered a slight dip of form in the middle of that period.
His passing ability, willingness to work hard and the levels of creativity he brought from deep areas of the pitch were impressive and often irrepressible, and until recently many would claim the Reds have yet to replace that since he left.
Add to that his Champions League winners medal, the fact he scored the critical third goal in the final itself, plus his huge sale fee and Alonso was one of the Reds' finest signings of recent times.
Grade: A
15. Emile Heskey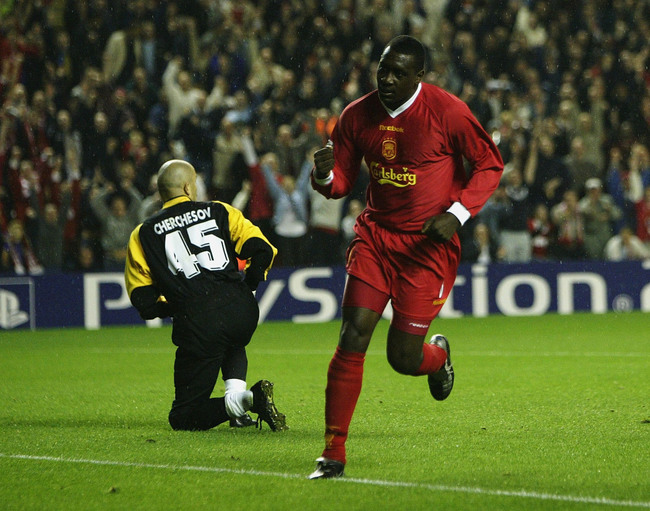 Alex Livesey/Getty Images
Player: Emile Heskey
Position: striker
Fee: £11 million
From: Leicester City, 2000
Heskey was signed by Gérard Houllier to partner Michael Owen, and the former Leicester man enjoyed a great opening 18 months at the club, scoring 22 goals in his first full season as the Reds completed their famous treble of UEFA, League and FA Cup wins.
Strong as a buffalo on steroids and with the powerful pace of a rabbit in headlights, Heskey's main failings were that he often seemed to also have the football brain of the former and the confidence of the latter.
He failed to reach double figures in league goals for the Reds in his remaining three years at Anfield as he was shifted position to the left, then back to the middle again, before the manager accepted he was never going to be the striker he often threatened to be.
Heskey departed for Birmingham City, making a tour around the midlands as he continued to threaten Row Z season ticket holders before recently heading to Australia.
Grade: C
14. Raul Meireles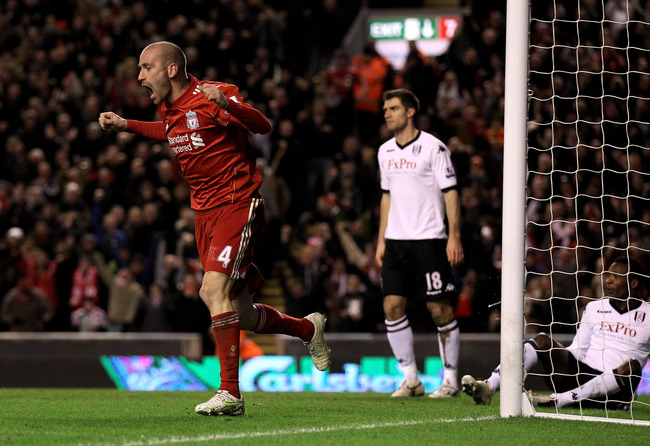 Alex Livesey/Getty Images
Player: Raul Meireles
Position: Central midfield
Fee: £11.5 million
From: Porto, 2010
A one-season wonder for Liverpool, Meireles arrived under Roy Hodgson. To begin with, he did absolutely nothing, shined brightly and briefly under Kenny Dalglish for about two months and then departed for Chelsea after less than a complete year at Anfield.
The Portuguese international can hardly be blamed for having such an inconsistent season given the topsy-turvy nature of the club at that point, but he never quite looked committed enough to playing a true central midfield role in the Premier League.
A spate of goals included strikes against Chelsea and Everton as he found form in the second half of the season, but that was as good as it got as he was quickly moved on to London.
Grade: C+
13. Ryan Babel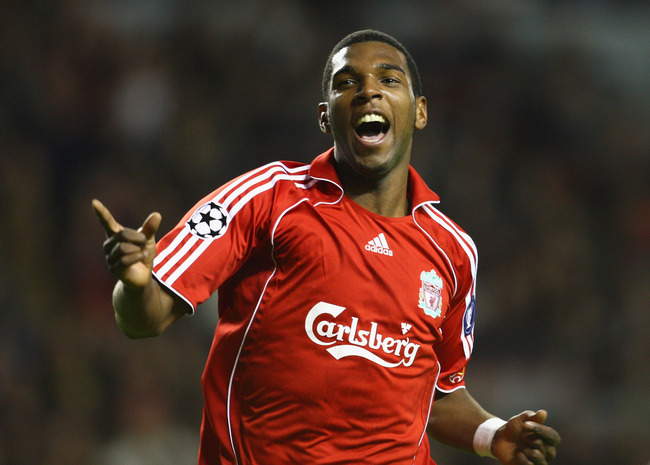 Laurence Griffiths/Getty Images
Player: Ryan Babel
Position: Forward
Fee: £11.5 million
From: Ajax, 2007
One of the great enigmas of the Reds' recent history, Ryan Babel promised oodles yet delivered painfully little.
It was often said that the Dutch forward was never given a proper chance at Anfield in his preferred role of centre-forward. In truth, he rarely showed—from the bench or as a starter—that he deserved more opportunities on the pitch.
Babel's best season was his first as he scored plenty of goals off the bench, but he soon fell out of favour under Rafa Benitez and left for Hoffenheim in 2011, having scored just 12 Premier League goals in three-and-a-half years.
To put that into context, our next player has already hit just one goal less than that tally in 15 games.
Grade: C
12. Daniel Sturridge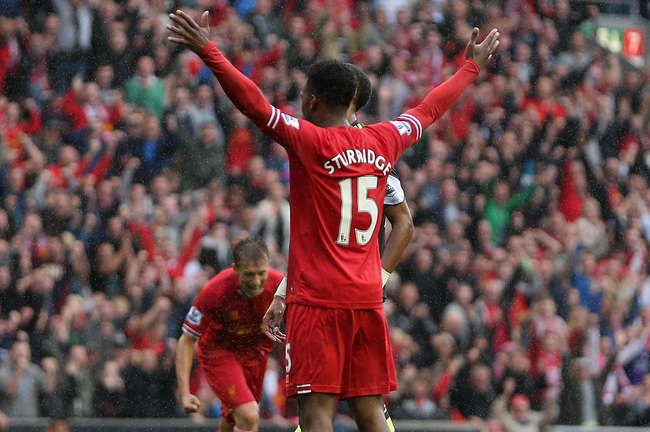 Clive Brunskill/Getty Images
Player: Daniel Sturridge
Position: Striker
Fee: £12 million
From: Chelsea, 2013
The Reds needed goals last winter, and boy did Brendan Rodgers pick the right man to supply them.
Daniel Sturridge has so far netted 12 goals in 17 games for Liverpool since signing from Chelsea in January. And 11 of those have come in just 15 Premier League games.
Fast, powerful and direct when running beyond defenders, Sturridge is all the more threatening because he constantly changes up his approach, dropping deep at times to link play and having the ability to either run with the ball or shoot from long range.
He's got a long way to go to live up to the greatest strikers the club has had down the years, but there's absolutely nothing more he could have done to be better until now.
Undoubtedly, the Reds' biggest challenge will be to keep Sturridge fit and on the pitch.
Grade so far: A
11. Djibril Cisse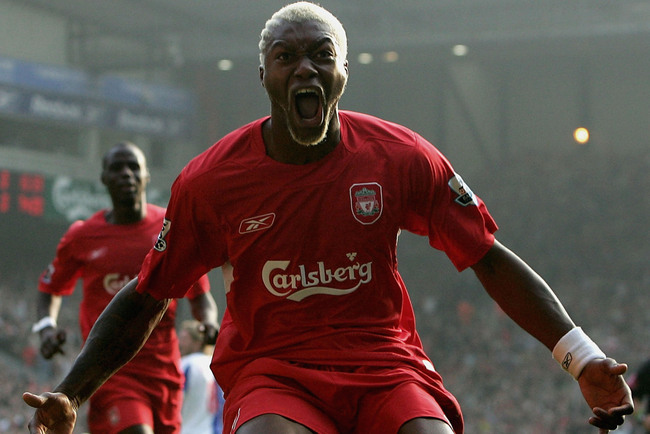 Laurence Griffiths/Getty Images
Player: Djibril Cisse
Position: Striker
Fee: £14.5 million
From: Auxerre, 2004
Djibril Cisse was Liverpool's record signing at the time as well as being Gerard Houllier's last signing, though he joined the club as Rafa Benitez took over.
A debut goal against Spurs made it seem Cisse was bound for great things, but a bad broken leg kept him out for most of the season. Despite that, he made it back in time to score a penalty in the Champions League final in 2005.
Cisse had all the tools to be a quality striker; searing pace, a thunderous finish and a willingness to run onto through balls—but he suffered with multiple injuries and was eventually pushed out to a wide-right position which didn't suit him at all.
He left on a loan deal before permanently moving in 2007 to Marseille.
Grade: C
10. Joe Allen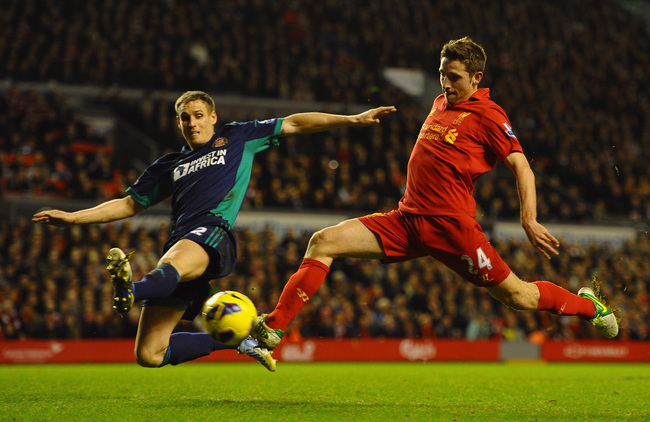 Laurence Griffiths/Getty Images
Player: Joe Allen
Position: Central midfield
Fee: £15 million
From: Swansea City, 2012
Like Borini, Joe Allen joined last summer under Brendan Rodgers but has to an extent seen injuries prevent him from consistently showing his best form.
He started off the last campaign as the Reds' best player by a distance, but when moved further forward became a victim of Liverpool's lack of cutting edge in the final third and his own lack of contribution to scoring or creating goals.
A shoulder injury hampered his progress thereafter, but he still has time to become a solid player for the team.
Grade so far: C+
9. Jordan Henderson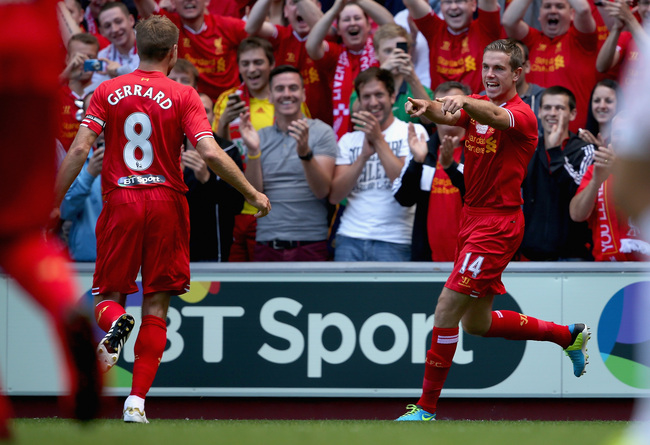 Clive Brunskill/Getty Images
Player: Jordan Henderson
Position: Versatile midfielder
Fee: £16 million
From: Sunderland, 2011
Jordan Henderson became something of an unwitting figure of disappointment after some below-par displays in his first season at the club, but he has continued to improve and is now an important squad player for the team.
His athleticism and hard work are key attributes, but he also combines some good passing, an ability to press high and versatility to find a spot in the team in a number of roles.
Henderson needs to improve further to remain a key figure for the Reds, but he certainly has done enough to warrant his continuing inclusion in the side as Rodgers puts together his new team.
Grade so far: B
8. Alberto Aquilani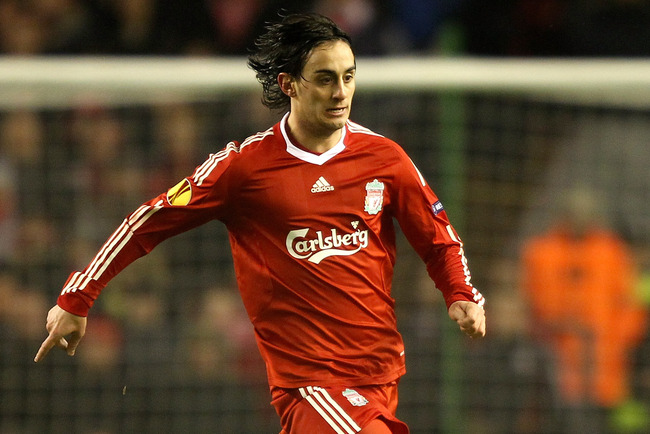 Clive Brunskill/Getty Images
Player: Alberto Aquilani
Position: Attacking midfield
Fee: £17.1 million
From: AS Roma, 2009
What on earth went on with Alberto Aquilani?
Injured when he arrived for more than £17 million, he missed several months' action before returning to have a massive impact in the second half of the season for Liverpool. A number of goals, assists and man of the match performances gave hope that he'd continue in a similar vein thereafter.
Instead, Kopites looked on bemused as Aquilani featured in three consecutive preseasons for Liverpool, under three different managers, before being loaned out and then let go permanently to Fiorentina.
Was it his wages? Poor attitude? A lack of willingness on the part of the player to stay at Anfield?
Whatever it was, it wasn't quality on the ball considering he was competing with the likes of Christian Poulsen, Charlie Adam and Jay Spearing for some of those summers.
It simply never happened for Liverpool and Aquilani.
Grade: D
7. Glen Johnson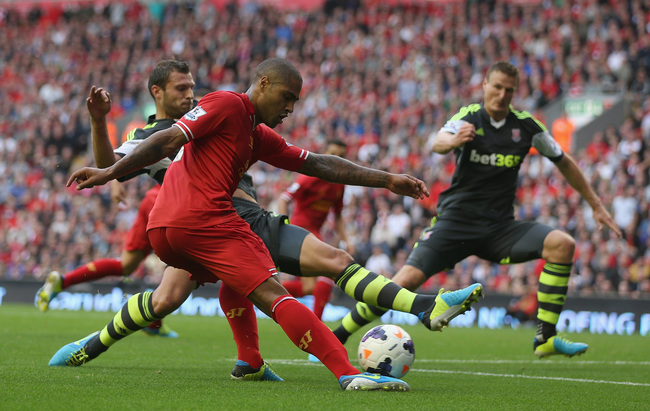 Clive Brunskill/Getty Images
Player: Glen Johnson
Position: Right-back
Fee: £17.5 million
From: Portsmouth, 2009
The Reds brought in Glen Johnson the same summer as Aquilani, for a similarly high fee.
While he is sometimes criticised for a lack of defensive solidity, Johnson is by default asked to contribute much more to the attacking third of the pitch. As a result, he will often, unfortunately, be caught out in the opposite direction.
He has, however, contributed well to Liverpool's play over the past few seasons, although his arrival has coincided with a severe downturn in fortunes for the team.
Johnson remains the first-choice right-back for the club today.
Grade so far: B
6. Stewart Downing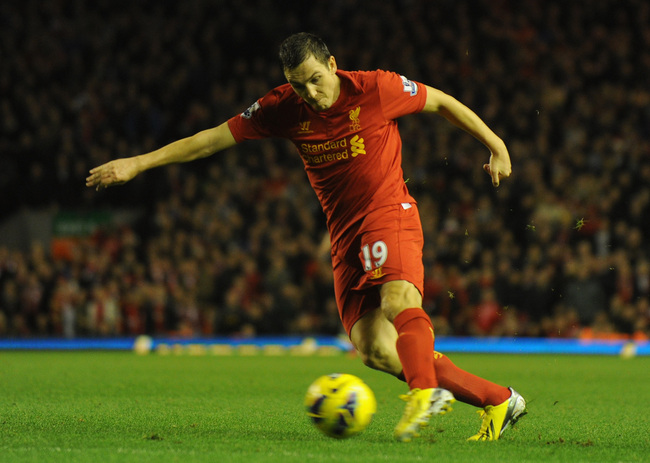 Chris Brunskill/Getty Images
Player: Stewart Downing
Position: Winger
Fee: £18.5 million
From: Aston Villa, 2011
One of the great unexplained decisions was Liverpool's view that Stewart Downing was worth shelling out close to £20 million for, two years ago.
He utterly failed to dazzle in a Red shirt, being hard-working and reliable at best in a four-month spell at the end of last season, but was far from the cutting-edge, electric wide forward that was required.
The England man improved in his second campaign, no doubt, but still never came close to justifying the massive outlay on him—and was never likely to, which wasn't his fault.
He departed for West Ham United less than a week before the start of the 2013-14 season.
Grade: D
5. Javier Mascherano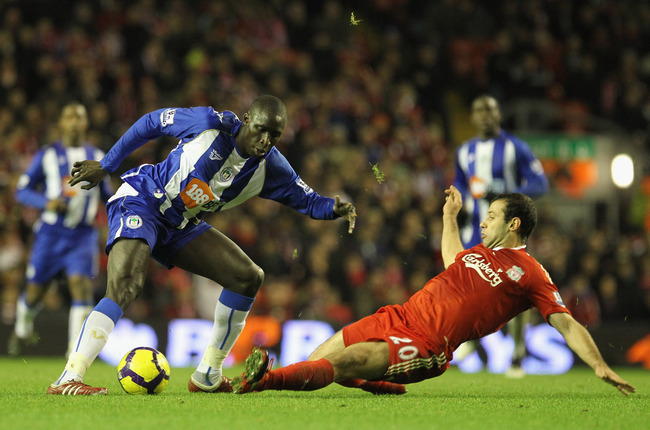 Mark Thompson/Getty Images
Player: Javier Mascherano
Position: Defensive midfield
Fee: £18.6 million
From: West Ham United, 2008
One of the more bizarre Premier League transfers saw Carlos Tevez and Javier Mascherano playing for West Ham United under Alan Pardew back in 2006-07.
He was unable to get the best out of the Argentine midfielder and left him out of the side, before Rafa Benitez loaned him for the second half of that campaign as the Reds strode on toward another Champions League final.
Mascherano signed for Liverpool permanently a year later and kept guard in front of the back four until 2010 when he joined Barcelona.
If supporters think that Alonso was never replaced, they should perhaps watch a few videos of El Jefe's performances—this is the midfielder that the Reds have yet to replace.
Grade: A
4. Robbie Keane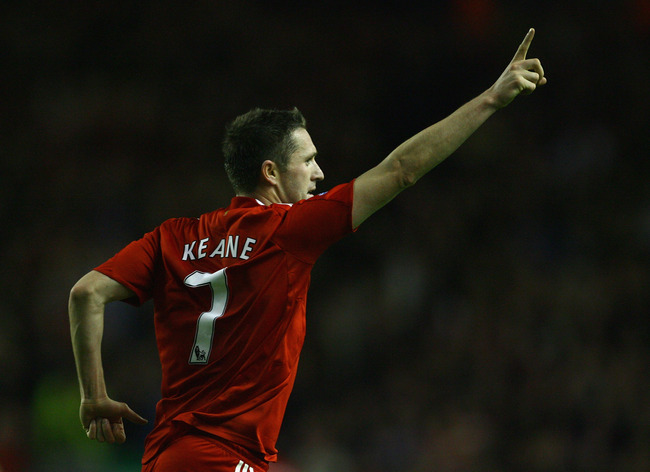 Alex Livesey/Getty Images
Player: Robbie Keane
Position: Forward
Fee: £19 million
From: Tottenham Hotspur, 2008
Robbie Keane: boyhood Liverpool fan, Tottenham creative forward, close-to-£20 million signing. It should have all gone swimmingly well.
Instead, Keane was on his way back to Spurs only six months after signing for the Reds.
Opinion is often split on Keane's time at the club, some saying he wasn't handed enough opportunities and was substituted too many times by Rafa Benitez.
A closer look at his performances at Liverpool, however, show a catalogue of missed opportunities, easy chances passed up and a player who either was trying too hard and made simple, avoidable errors, or else one who couldn't handle the step up.
The Reds went on to finish second after he left, so they certainly didn't miss him.
Grade: D
3. Fernando Torres
Shaun Botterill/Getty Images
Player: Fernando Torres
Position: Striker
Fee: £20.2 million
From: Atletico Madrid, 2007
The boy wonder, Fernando Torres.
He came, he cost a record amount, he scored a lot of goals and he left for an even bigger record amount.
Hasn't scored too many goals since then, though.
What Torres didn't do at Liverpool was win trophies, despite the fact the club went through its best patch since the late 80s while he was spearheading the team.
Champions League semifinals and quarterfinals, and a second-place finish in the Premier League, were the highlights, but they never quite got over the line with Torres as their No. 9.
Liverpool got the very best of Fernando Torres' career, and received a huge sum of money upon his departure.
Grade: A
2. Luis Suarez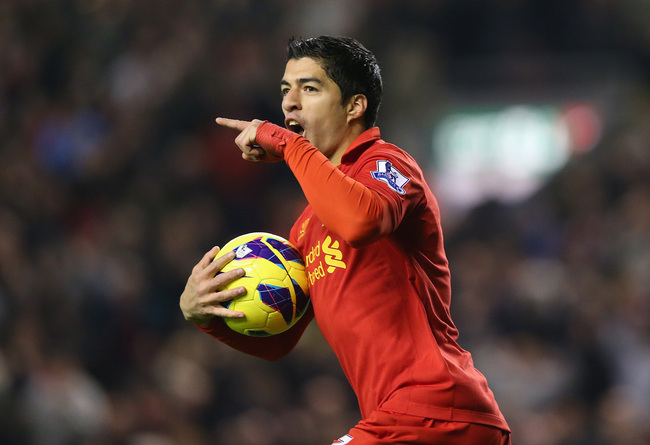 Alex Livesey/Getty Images
Player: Luis Suarez
Position: Forward
Fee: £22.8 million
From: Ajax, 2011
Love him or hate him, Luis Suarez is an amazing footballer capable of winning a game entirely by himself.
The Reds' No. 7 has been in the headlines again this summer and his future might not quite be entirely resolved just yet, but with him in the team Liverpool have one of the genuine stars in European football.
His 30 goals last season prove he retains an end product and not just a flashy buildup.
It's unclear just how long he'll end up staying at Liverpool for, but he can certainly contribute plenty more if he stays on for another season.
Suarez was the club's record signing when he joined from Ajax on deadline day in January 2011—for all of about an hour.
Grade so far: A
1. Andy Carroll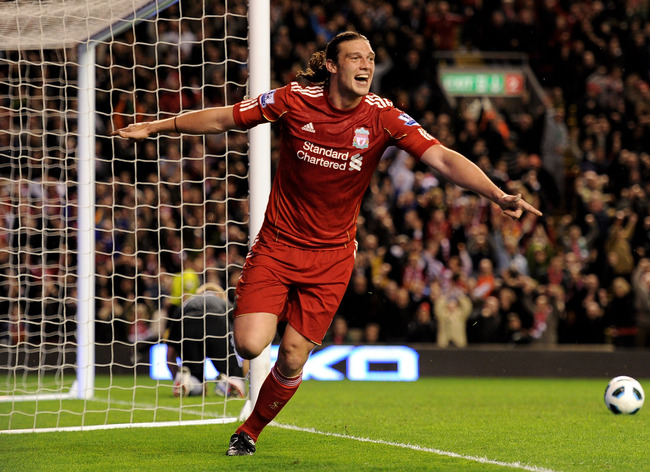 Michael Regan/Getty Images
Player: Andy Carroll
Position: Striker
Fee: £35 million
From: Newcastle United, 2011
Panic buy, or a show of strength after the sale of Fernando Torres? Judge for yourself, but Andy Carroll was never able to hold down a major role in Liverpool's team despite his club record £35 million price tag.
Carroll was, and remains, a real threat, but he needs a team to play to his strengths and he never quite managed to adapt his own game to bring more danger in varying situations to the Liverpool attack.
Two goals against Manchester City, a derby winner at Wembley and an FA Cup final goal were his Anfield career highlights. However, Carroll was sent out on loan last season to West Ham and joined them permanently this summer without having the huge impact at Anfield everybody wanted him to have.
He remains, for now, Liverpool's most expensive ever signing.
Grade: C
Keep Reading

Liverpool: Like this team?