Analyzing Fantasy Value of Top Cincinnati Bengals Playmakers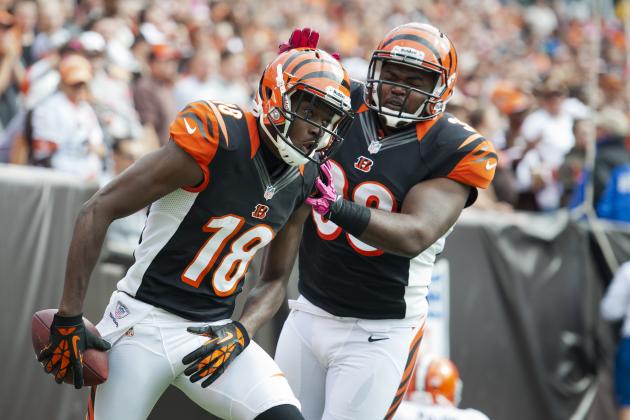 Jason Miller/Getty Images

The NFL preseason has reached its halfway stage and that means fantasy football draft season is on the doorstep.
Aside from A.J. Green, the majority of the Cincinnati Bengals' roster will fly under the radar on fantasy draft day.
That doesn't mean, however, there aren't any players worth your consideration.
With a fiery defense and some new weapons for Bengals quarterback Andy Dalton, you could find the steal of your fantasy lineup in Cincinnati.
Here's a look at where the fantasy value lies in the Queen City.
Begin Slideshow

»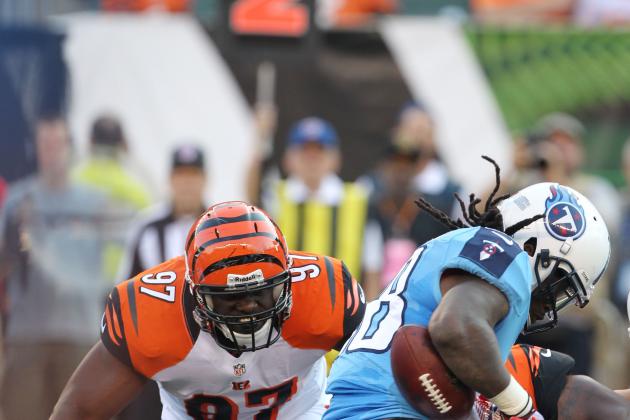 Brian Spurlock-USA TODAY Sports

Despite the exposure HBO's Hard Knocks has given to Mike Zimmer's defense this preseason, the Bengals' unit continues to fly under the radar.
They look to be the fifth-best defense available behind those of the Bears, Seahawks, Broncos and 49ers. You could also make a case for the Texans being in that mix too.
Carlos Dunlap and Geno Atkins should inspire confidence, and with Michael Johnson auditioning for big-money contract offers in 2014, the Bengals' defense could be set for an impressive showing.
The stat breakdown from 2012 had them ranked eighth in forced fumbles with 16 and eighth in points allowed per game with 20.
You should be able to add the Bengals to your team in the last two rounds of your fantasy draft...unless there's a ballsy Bengals fan in your midst.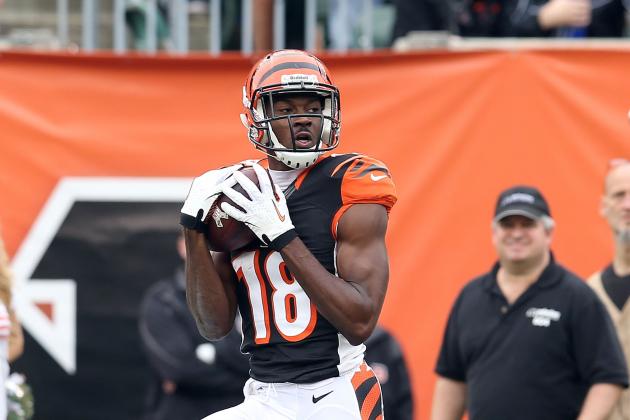 Andy Lyons/Getty Images

In most fantasy football leagues, A.J. Green will be the first Bengal off the board and the second receiver taken after Calvin Johnson.
It's no secret that Andy Dalton looked to Green often in 2012. Only Johnson, Reggie Wayne, Brandon Marshall and Wes Welker saw more targets.
But with Mo Sanu showing steady improvement, Tyler Eifert and Jermaine Gresham poised to create a double-headed monster and Giovani Bernard reviving the run-game, should fantasy owners be worried about A.J.'s targets?
In a word, no.
Dalton threw to A.J. over 30 percent of the time in 2012. That saw Green grab 97 passes for 1,350 yards and 11 touchdowns—a staggering feat for a second-year player. He remains the most dynamic and explosive weapon on the Bengals' offense and now that there are other genuine threats around him, Green should have more opportunities to get open.
Just don't expect Green to be available once your first round is over.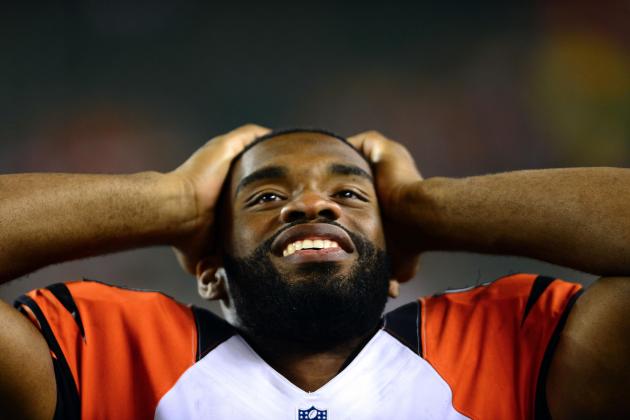 Andrew Weber-USA TODAY Sports

Given the ill-feeling following a disappointing performance in Houston and the drafting of Tyler Eifert, it would be easy to think Jermaine Gresham had a torrid 2012 season.
However, the numbers tell a different story. Gresham had a career-high 64 receptions and 737 yards last year.
Now he looks to build on that. After taking on Geno Atkins in the Oklahoma Drill and flattening Falcons rookie Desmond Trufant in the preseason, the fire looks to have been reignited.
So, where do you take Gresham in your fantasy draft?
Late.
Gresham may be improving, but he's a long way off from being a fantasy stud. With Eifert in the mix, you can expect Gresham's points value to be somewhat impacted.
Gresham will move the chains, but with a receiver-like vertical leap, it'll be Eifert who Andy Dalton looks for in the end zone.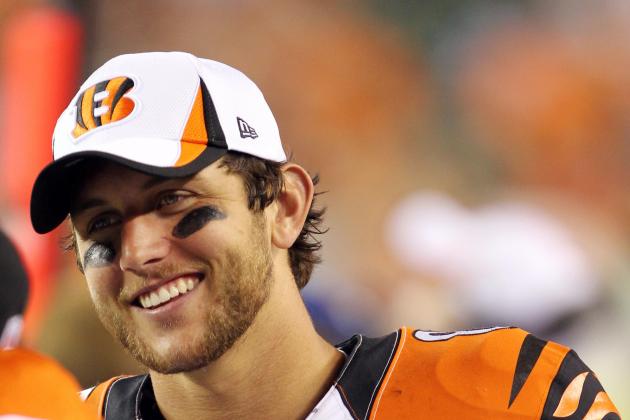 Brian Spurlock-USA TODAY Sports

If you're going to pick up Tyler Eifert in your fantasy draft, you should be able to get him very late in the day.
Jermaine Gresham has had a good preseason, putting a little bit of distance between the two tight ends.
The main point here is that two-tight end sets don't mean big fantasy numbers. Also, the Bengals aren't 'all-in' on the two-tight end offense. They have a number of other weapons that should see extended work, such as BenJarvus Green-Ellis, Giovani Bernard, Mo Sanu, Andrew Hawkins, etc.
Eifert has the tools to be an end zone threat, but until he becomes the No.1 tight end, he's not going to be of much use to fantasy owners.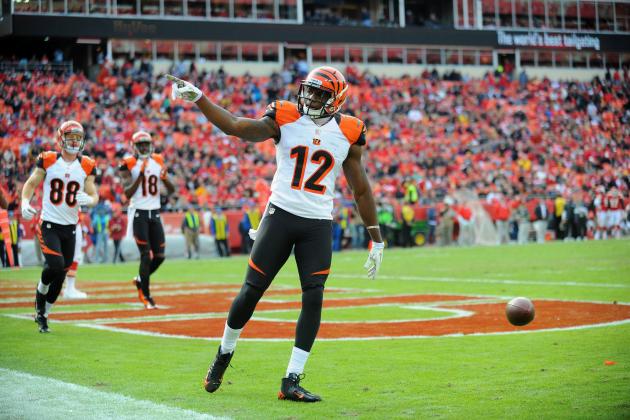 Denny Medley-USA TODAY Sports

Mo Sanu is a sleeper who you should consider taking in the final moments of your fantasy draft.
He accounted for four TDs in 2012 and he showed his talent in catching a nice throw in the end zone against Tennessee last week.
While Sanu appears to have the No.2 receiver job locked up, it doesn't look like he will be a fantasy football success. He'll be productive, but remains a role player.
He has a lot of competition for passes in Tyler Eifert, Jermaine Gresham and Andrew Hawkins, while Marvin Jones waits in the wings for Sanu to slip up.
The talent is certainly there and Sanu may well be a difference-maker for the Bengals, but will that translate into big fantasy points?
Probably not.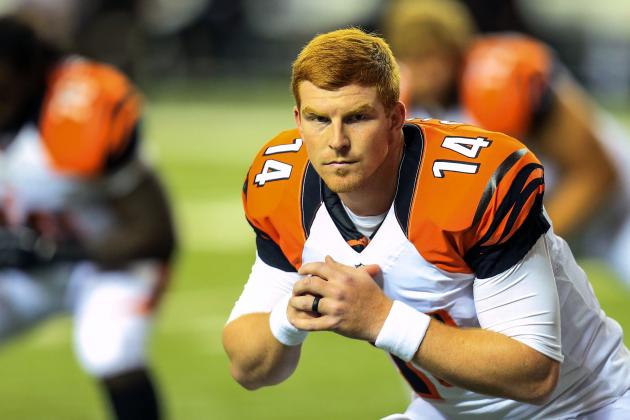 Daniel Shirey-USA TODAY Sports

Meet your bye-week quarterback.
Andy Dalton is likely to be the second quarterback on most fantasy teams this year.
His 62 percent completion rate and 27 touchdown passes were admirable in 2012, but with 3,669 yards and 6.95 yards per attempt, there is definitely room for improvement.
However, he has progressed. His completion percentage climbed by almost 5 percent in his second year and he produced seven more TD's while throwing for 271 more yards.
Dalton has even more weapons to throw to in 2013, but an impressive showing from Gio Bernard this preseason could see a re-focusing on the run.
Let's face it, you're not drafting Dalton to start every week.
As far as No. 2 QBs go, you could do worse than the man with A.J. Green to throw to.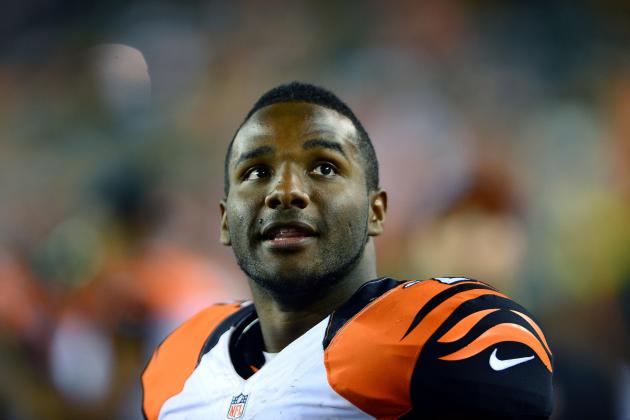 Andrew Weber-USA TODAY Sports

Gio Bernard is already raising eyebrows around the league.
Watching Bernard bounce around the field, you'd be forgiven for mistaking the preseason for the postseason.
He's certainly giving it his all and it looks like he could be a valuable addition to your fantasy team as your second running back.
He'll split carries with BenJarvus Green-Ellis in 2013, and with superior pass-catching and playmaking abilities, Bernard will undoubtedly produce more fantasy points.
The Bengals' desire to revive their running game has been clear, as Geoff Hobson of Bengals.com notes:
After two games the Bengals have rushed it 74 times and thrown it 59, numbers that have to be taken with a grain of salt because quarterback Andy Dalton has played only five series. But that projects to 148 runs and 118 passes for the four preseason games, compared to last year when they ran it 105 times and passed it 133.
If you're going to put a Bengal in your backfield, make sure it's Gio.