Michael Chandler vs. Eddie Alvarez Head-to-Toe Breakdown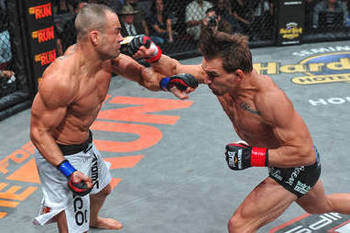 Photo credit: MMAmania.com
Many feared it would never materialize, but—once he settled his differences with Bellator MMA—Eddie Alvarez all but finalized his highly anticipated rematch with lightweight linchpin Michael Chandler.
The rematch will go down at Bellator MMA's first pay-per-view event (Bellator 106) on Nov. 2, nearly two years removed from Chandler's epic win over former champ Alvarez at Bellator 58.
In the first installment of this 155-pound rivalry, Alvarez got dropped twice in Round 1 only to bounce back with an offensive assault in Round 3 that nearly finished an ever-resilient Chandler.
Although both men seemed fresh heading into the fourth, Chandler dropped Alvarez midway through the round, took his back and then cinched up a fight-ending rear-naked choke to take the belt in just his ninth fight.
Because of the thrilling back-and-forth nature of the bout, Yahoo! Sports named it the 2011 "Fight of the Year."
Since their unforgettable showdown, Chandler and Alvarez have gone a combined 5-0 with five finishes in Bellator MMA.
Here's a head-to-toe breakdown of what will be the most hyped rematch in Bellator MMA history.
Striking: Advantage Chandler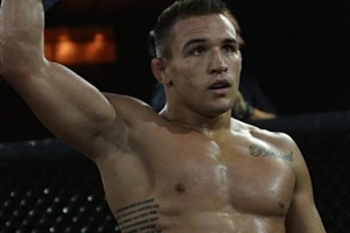 Photo credit: MMAfighting.com
Before their first fight most assumed that Alvarez—from an experience prospective—possessed an edge in the striking department over the relatively green Chandler.
Alvarez had amassed 12 KO's heading into the bout, while Chandler had only mustered three.
However, Chandler dropped Alvarez several times in their first bout, including twice in the first round. And despite the fact that Alvarez put Chandler on the ropes in the third, the former NCAA Division I All-American wrestler kept his cool and bounced back in the fourth by again dropping the Philadelphia native.
Alvarez may have the better technical striking chops, but Chandler certainly holds a slight advantage in the department of KO power.
Chandler seems too young and too venomous to try to bang it out with. If Alvarez chooses to engage in his typical slugfest, then the former champ may again find himself in some precarious positions. But that game seems to be Alvarez's forte, and I don't foresee him straying from it for anyone, even the champ.
Advantage: Chandler
Grapplng: Advantage Chandler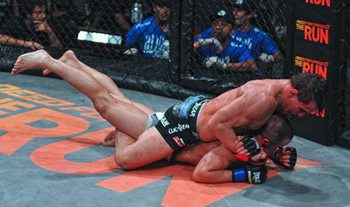 Photo credit: MMAJunkie.com
Granted, Alvarez rarely gets out-grappled, but, in his first bout with Chandler, he frequently found himself in vulnerable scenarios on the ground.
The former University of Missouri stalwart wrestler controlled all the grappling exchanges with Alvarez, and then, following a thunderous overhand right, he mounted Alvarez midway through the fourth round.
A battered and bloody Chandler ultimately floated to take Alvarez's back before locking up an air-tight rear-naked choke with a Gable grip at the 3:06 mark of the stanza. It was just Alvarez's second career submission setback and third career loss.
Alvarez has lethal submissions, a better-than-average wrestling repertoire, and he may very well represent Bellator MMA's second best grappler. However, if Chandler doesn't allow Alvarez to put him in dangerous positions on the ground, then he'll again control the grappling exchanges.
Advantage: Chandler
Wrestling: Advantage Chandler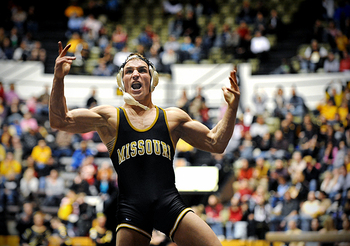 Photo credit: www.themaneater.com
While Alvarez can't match the wrestling pedigree of Chandler, the Blackzillians product has both a motor that never quits and some of Bellator MMA's best dexterity in takedown defense.
But Chandler, a fifth-place finisher in the 2009 NCAA Division I Wrestling Championships, proved in his first fight with Alvarez that he has the ability to floor any 155-pound fighter in the world.
Even after having shots stuffed earlier in the fight, Chandler kept turning to his wrestling to thwart Alvarez's relentless assaults. In the instances he didn't find success flattening his foe, Chandler used his wrestling to avert dangerous situations, effectively pushing Alvarez up against the fence and stalling when he needed to.
Alvarez must set up his takedowns with precise combinations if he intends to put Chandler in an unfamiliar position—on his back. If Alvarez doesn't, the former champ will likely remain just that.
Advantage: Chandler
X-Factor: Advantage Alvarez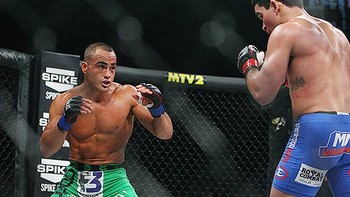 Photo credit: ESPN.com
With more than double the fights of Chandler, Alvarez certainly represents the trickier and more seasoned fighter. Alvarez has also engaged in more wars than Chandler, something that the 29-year-old could use to his advantage in the rematch.
Alvarez earned his unmatched killer instict when he won back-to-back Rocky-like battles with Joachim Hansen and Tatsuya Kawajiri in the Dream Light Grand Prix in 2008.
Then, nearly four years later, Alvarez avenged just his second career loss by handing Shinya Aoki a lopsided beat down at Bellator 66.
Having grown up in the cutthroat Kensington neighborhood of Philadelphia, Alvarez doesn't have to fake a fearless, never-say-die brand of attitude. Alvarez also proved in his win over Aoki that he's a fighter that's constantly evolving, especially in the face of defeat.
If the duo participates in another classic brawl like the one they put on at Bellator 58, then the Missouri native had better anticipate a smarter and more refined Alvarez.
After all, Chandler embarrassed Alvarez for the first time since his submission loss to Aoki, and we all witnessed what happened to Aoki in the rematch.
Advantage: Alvarez
Prediction: Chandler
Photo credit: Sherdog.com
Since I personally contend that their first fight signifies the best battle in MMA history, it's undoubtedly difficult to make a prognosis on whether Chandler or Alvarez will prevail in the rematch.
But with Alvarez coming off more than a year-long layoff, and with Chandler already winning twice in an impressive fashion in 2013, it'd be a mighty risky proposition to endorse Alvarez.
Chandler holds the upper-hand over Alvarez in the wrestling, grappling and striking categories. The champ can also seemingly match the tremendous heart and cardio of Alvarez.
Chandler and Alvarez each have the ingredients to beat any of the world's top 10 lightweights on any given night. But when the lights go out in Long Beach in November, Chandler will once again leave with the lightweight strap.
Prediction: Chandler
Keep Reading