It's midway through the preseason schedule, and the San Diego Chargers have yet to collect a win.
It would be easy to focus on the things that have gone wrong in the two games (poor kick coverage, backups getting pushed around, dropped passes, injuries, etc.) but it is only the preseason, and there are still many positive aspects deserving praise.
The starting defense has looked great in two games, shutting out the Seattle starters in the first game. Things went a little sideways in Chicago, but Corey Liuget dominated in his one series of action, leaving early due to a shoulder injury.
Outside linebacker Dwight Freeney has looked fantastic generating pressure in both games. As the team website noted, barring injuries, this could be an elite defense.
There have been other positives for the team, positives that may be surprising to some.
Ryan Mathews has always had the talent to be an NFL running back. Unfortunately he has had too many injuries to stay on the field and showcase his skills.
At times in his career Mathews has also looked hesitant when running through holes. Granted, the offensive line was poor and the lack of a hole may have been a reason for the hesitation.
Which Charger has been most surprising this preseason?
In two games, Mathews has 12 total carries for 64 yards for an impressive 5.3-yards-per-carry average.
Chris Wesseling with NFL.com said Mathews was "tentative" in 2012, but looked "decisive, quick through the hole, kept his legs churning and consistently fought for extra yards" against the Bears.
While it is still too early to tell if Mathews can carry the load for a full 16-game schedule, the former Fresno State star is looking good so far.
Sticking with surprising running backs, Foswhitt "Fozzy" Whittaker has been the star of the ground game so far. Whittaker leads the team in rushing attempts (23), rushing yards (71) and has the lone rushing touchdown for the Bolts this preseason. The former University of Texas running back has also returned two kickoffs for 33 yards.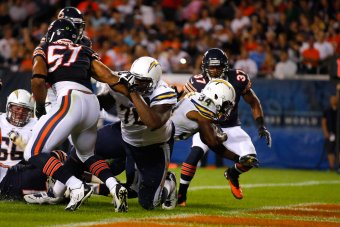 Dennis Wierzbicki-USA TODAY Spor
There is speculation from U-T San Diego writers Kevin Acee and Michael Gehlken that Whittaker could take Ronnie Brown's roster spot. Whether he makes the team or not, Whittaker has made the most of his chances.
Ladarius Green has also made the most of his chances this preseason. His success is not surprising to those closely following the Chargers, but for someone who only caught four passes in 2012, Green leads the team with 104 receiving yards and is tied for the most receptions on the team with seven. His two receiving touchdowns are also tied for the most on the team.
The tight end out of Louisiana-Lafayette only caught four passes last year, but he was only targeted four times in 2012.
Tom Krasovic with U-T San Diego predicts Green will see "substantial" playing time in the regular season because he is "blowing past defenders" in the passing game and has also improved his blocking.
Seventh-round draft choice Brad Sorensen has also had a surprisingly positive preseason.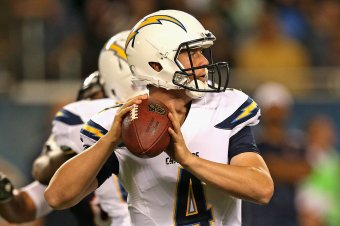 Jonathan Daniel/Getty Images
The Southern Utah product has thrown the ball well and has looked remarkably comfortable for a rookie.
Sorensen has been the top passer in both games in terms of yards. He threw the only San Diego touchdown against the Seahawks and had the most pass attempts against the Bears. He has yet to throw an interception in 24 attempts, and his 8.3 yards per attempt is the best on the team, as is his 118.4 quarterback rating.
Sorensen has only been sacked twice for 13 yards, while Philip Rivers and Charlie Whitehurst have both been sacked three times.
Sorensen is making a push for a final roster spot with the Chargers and seriously battling Whitehurst for the backup position. If Sorensen somehow does not make the final 53-man roster, the Chargers must first cut him before they try to sign him to the practice squad.
In that window following being waived, any team in the NFL can sign him, meaning San Diego needs to make a tough decision regarding Sorensen, Whitehurst and that final spot on the roster, because other teams have seen what Sorensen can do on the football field.