Predicting What the Kansas City Royals Starting Lineup Will Look Like Next Year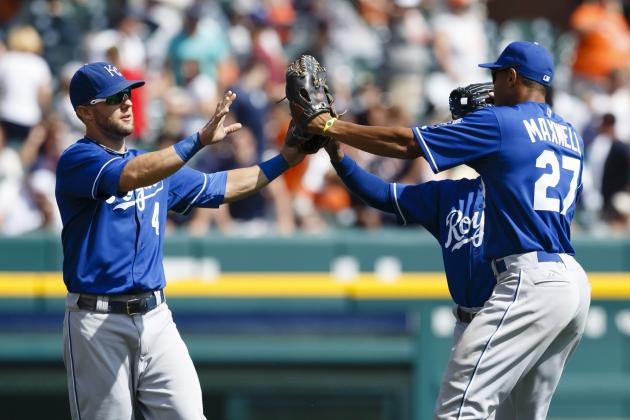 Rick Osentoski-USA TODAY Sports

As we enter baseball's final quarter of the season, it's hard to not look to next season already.
This year's offseason is sure to bring plenty of turnover, as it does every year. But for the Kansas City Royals it seems the turnover may have already happened, and the roster should remain relatively calm during the winter.
With that, here's a look at the possible starting lineup for the Royals in 2014.
Begin Slideshow

»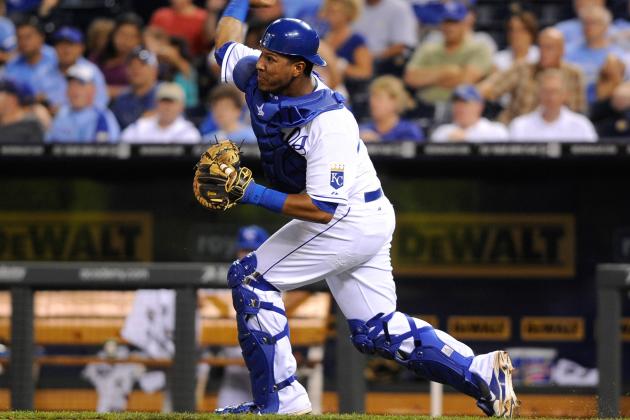 John Rieger-USA TODAY Sports
Salvador Perez
Salvador Perez, at just 23 years old, has been a mainstay for the Royals this season and was even named as one of just two catchers to the American League All-Star team this year.
He's hitting .273 with 47 RBI this season and also leads all AL catchers in assists. Expect Perez to become one of the centerpieces in Kansas City.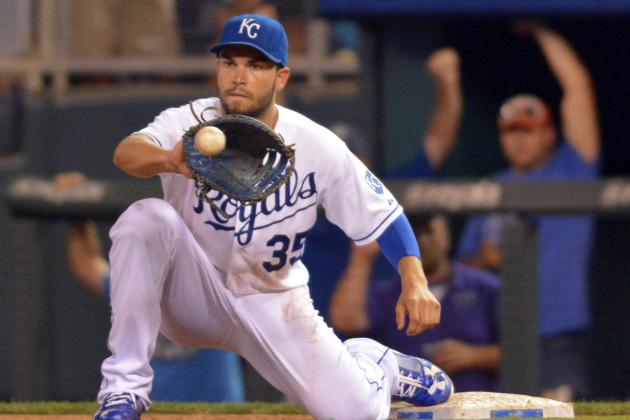 Denny Medley-USA TODAY Sports
Eric Hosmer
Eric Hosmer is another one of the young players the club has groomed through its system. And he's proving to be one of the best first basemen in the AL this season.
He's third in the AL in batting average among first basemen this season as he's hitting .294. He's also got 14 homers and 59 RBI.
The Royals can still hold on to this guy for now, but they'll surely want to get him a long-term deal before he's eligible for free agency.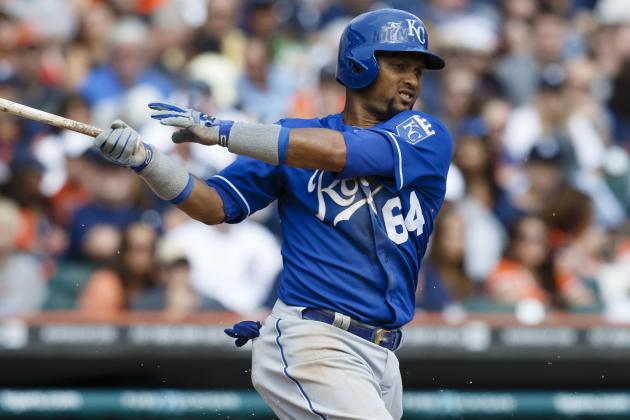 Rick Osentoski-USA TODAY Sports
Emilio Bonifacio
Emilio Bonifacio may be the newest Royal after being acquired on Aug. 14. But he's already making enough of a mark to possibly find a new permanent home in Kansas City.
The utility player, whose natural position is second base, would fill a hole the Royals have been looking to fill. Chris Getz isn't getting the job done, Johnny Giavotella struggled in the majors earlier this year and the club recently released Elliot Johnson.
Bonifacio is also a speedy player that adds a unique element to any team he plays on. In just five games with the Royals, he has stolen four bases.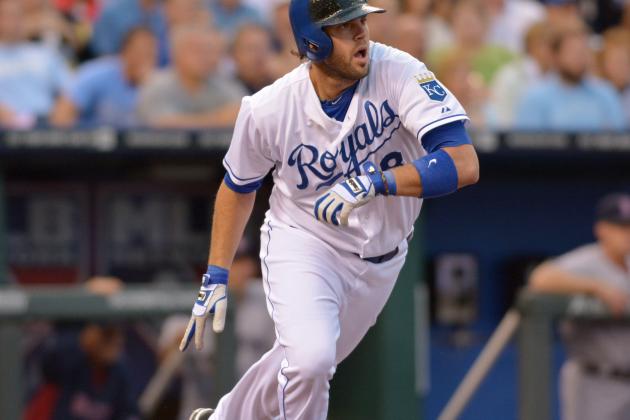 Denny Medley-USA TODAY Sports
Mike Moustakas
Like Eric Hosmer, Mike Moustakas is a young talent for the Royals that is homegrown.
And also like Hosmer, Kansas City should be aching to get this guy a long-term deal.
Moustakas hasn't had a stellar season overall at the plate, but he's turned it on as the Royals have begun their playoff push. In the month of August, he's batting .292 with six RBI and five runs scored.
His fielding has also been solid this year as he ranks third in the AL in putouts among third basemen.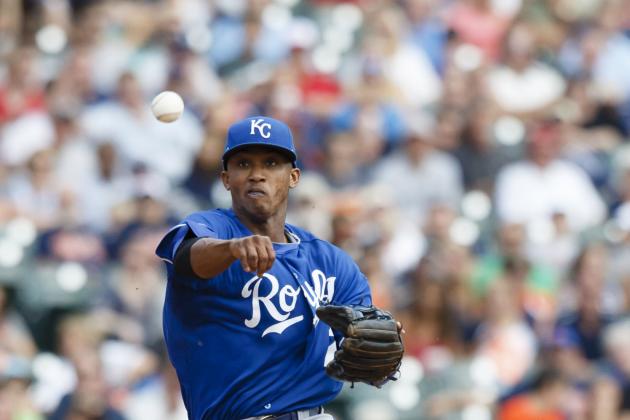 Rick Osentoski-USA TODAY Sports
Alcides Escobar
The Royals committed to having Escobar as their shortstop when they signed him to a long-term deal last year through 2015.
And that move was certainly worth it. He's one of the best fielding shortstops in the game, ranking third in the AL in both putouts and assists among shortstops. And while he's only hitting .241, he has a .287 average with runners in scoring position. So he's a clutch player.
He's also played the second-most games of any shortstop in the AL at 121, so he's proven to not be an injury risk so far.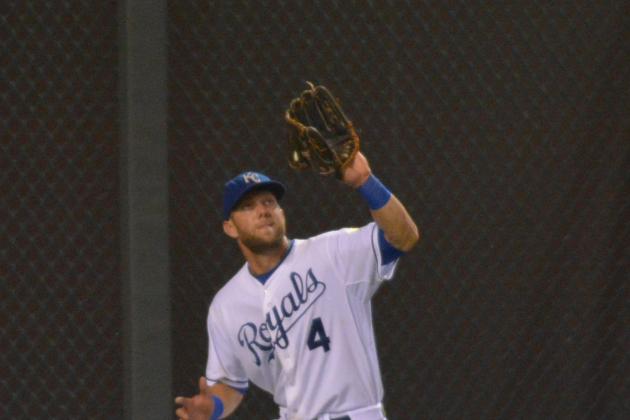 Denny Medley-USA TODAY Sports
Alex Gordon
Alex Gordon may very well be the best left fielder in the AL.
He leads the AL in RBI among left fielders this year with 63, despite having just the fifth-most homers (13) and the third-best batting average (.262).
Gordon is also fielding 1.000 this year with 117 games played and leads left fielders in the AL with 10 assists.
Last year, the Royals signed the star left fielder to a long-term deal. So don't expect Gordon to be going anywhere anytime soon.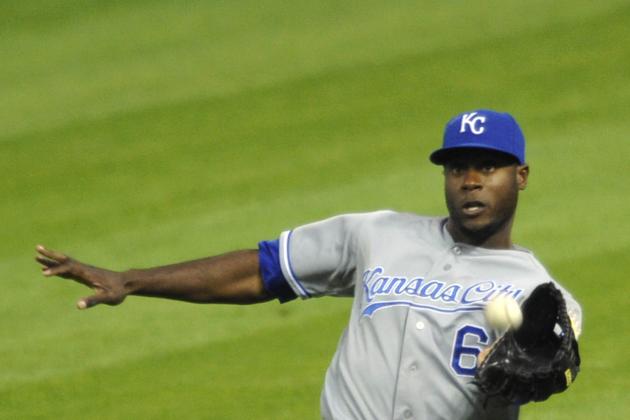 David Richard-USA TODAY Sports
Lorenzo Cain
Lorenzo Cain has shown flashes of greatness this year, making him a fan favorite in Kansas City.
There was that incredible catch he had in Minnesota earlier this year where he robbed a home run while running into the wall at full speed.
Cain is batting .261 with 43 RBI this year so he's also shown he can hit well. He's not eligible for arbitration until 2015, so he should be a mainstay in Kansas City for at least a little while longer.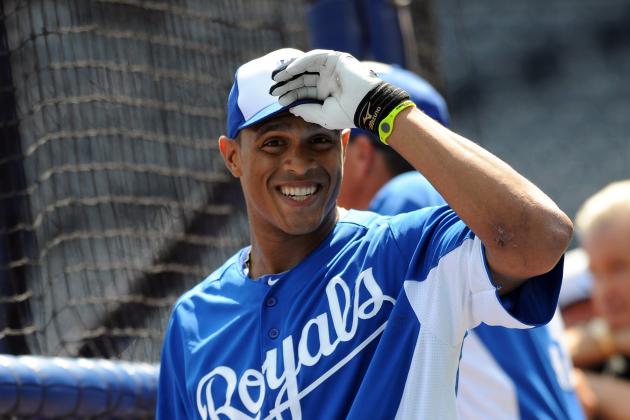 Denny Medley-USA TODAY Sports
Justin Maxwell
Since being acquired on July 31, Maxwell has found a nice home in Kansas City. And he could be the answer the Royals have been looking for in right field.
Kansas City initially took its chances with Jeff Francoeur at right field this season. But after he was designated for assignment and picked up by San Francisco, the Royals have tried out various options including right fielder David Lough.
Lough is certainly a quality player and will challenge Maxwell for this spot. But Maxwell has more speed and more overall talent and should develop nicely in next year's spring training.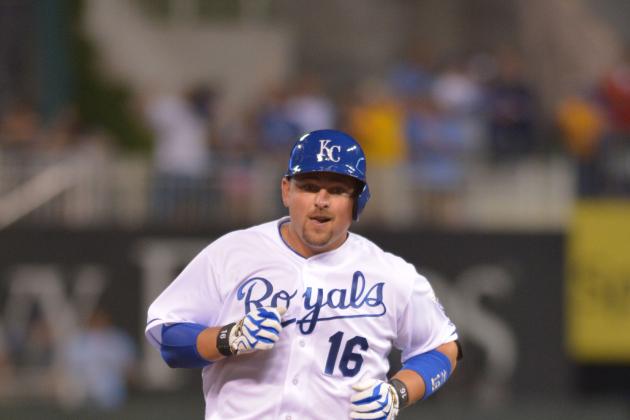 Denny Medley-USA TODAY Sports
Billy Butler
The Royals have their slugger locked up until 2014, with a club option for 2015, per the Associated Press.
Butler has become the star in Kansas City—and for good reason. He's one of the best hitters in the league, hitting .289 with 62 RBI this year.
There's no doubt that the Royals will look to hold onto their franchise player for as long as possible.