Predicting the 2014 St. Louis Cardinals Lineup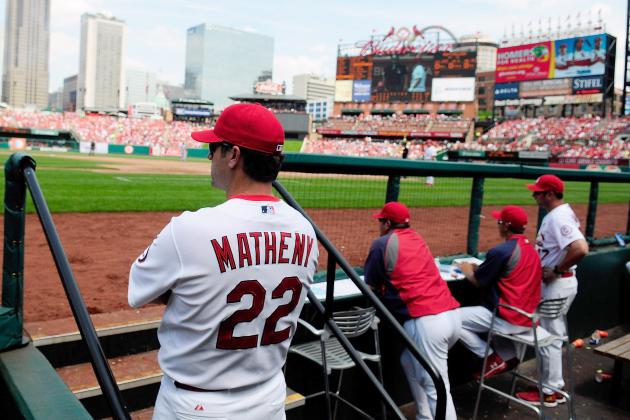 Jeff Curry/Getty Images

We're hitting the home stretch of 2013! In just over a month, we'll be watching playoff baseball. Some teams will be dreaming of a World Series while others are dreaming of another chance in 2014.
I believe the Cardinals will belong to the former category. But it's never too early to ask: What will the St. Louis lineup look like next year?
There's no question that the Cards have some young prospects ready to step into an everyday role in the major leagues, and the lingering questions of Carlos Beltran re-signing and David Freese getting traded are making everyone wonder just how different the field at Busch Stadium could look.
These are just my predictions—based on players' 2013 performances, the moves and style of GM John Mozeliak and the free agents available.
Read on to find out what names may be gracing Cardinal lore!
*All statistics are current on baseball-reference.com as of August 20, 2013*

Begin Slideshow

»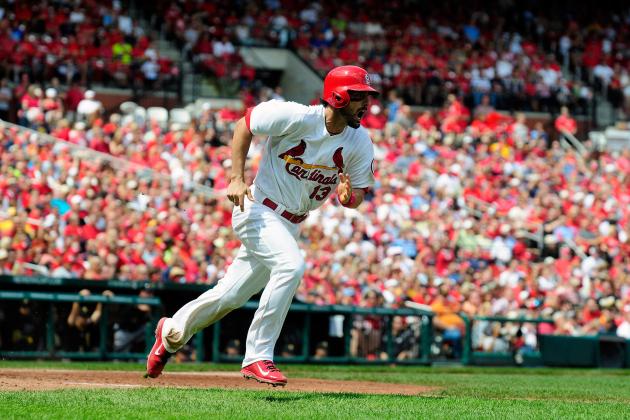 Jeff Curry/Getty Images

It's no surprise that Carpenter would be hitting lead-off. His bat at the top of the lineup has been a large part of the Cardinals' success in 2013. He's been raking in the extra base hits, and he's second in all of baseball when it comes to doubles.
On the other hand, Carpenter playing third may be a bit surprising. After all, he spent this year becoming one of the premier second basemen in the league. That being said, third is his natural position and due to Mozeliak bringing up Kolten Wong this week, I think the current third baseman's days may be numbered. Yes, I'm suggesting the hometown hero, David Freese, may not be playing in his hometown any more.
I, for one, would be extremely sad to see Freese go. He has a lot of talent, as we all saw in the 2011 postseason (and in 2012). But when it comes down to it, it's time for the next generation to reign supreme and Freese is an unfortunate casualty.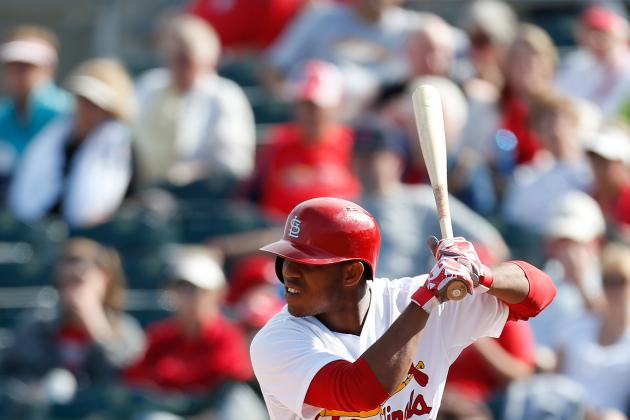 Chris Trotman/Getty Images

Let me start with a disclaimer: I don't think this star prospect will start the year off in the majors. After having season-ending surgery this week, I think it might take him a little bit longer than originally predicted to make his big debut.
But there's no doubt that, if healthy, he'll impress enough in the early stages of the year to become an integral part of the team. He's a proven hitter expected to take up the mantle of some of the greatest players in Cardinal history.
This does mean that Jon Jay might find himself becoming a fourth outfielder. Jay is undoubtedly a key player on a team that (usually) seems to work like a well-oiled machine. However, his bat just can't measure up to that of his competitors.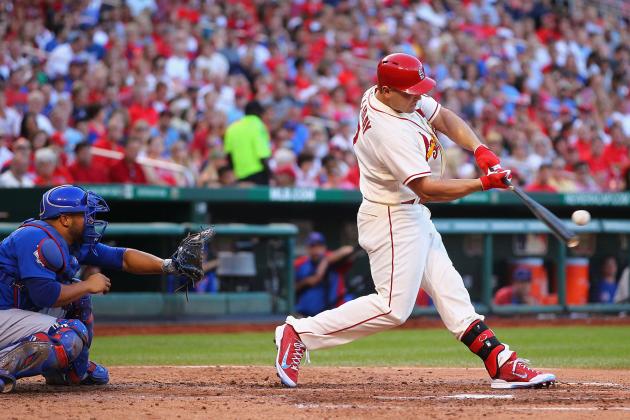 Dilip Vishwanat/Getty Images

A marquee name, there's no way Holliday finds himself out of his spot in the lineup next year. He got an irregularly slow start in 2013, but has lately been one of the team's hottest and most consistent hitters.
I think we all can admit his defense leaves something to be desired. However, he will continue to be a mainstay.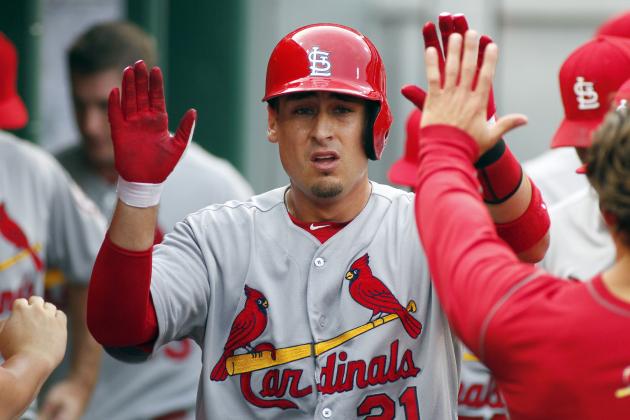 Justin K. Aller/Getty Images

As his new nickname suggests, Craig is indeed an RBI machine. He's hitting .457 with RISP. Enough said. Having him bat fourth should continue to ensure plenty of runs coming the Cardinals' way.
This once "underrated" first baseman/outfielder is now turning heads in a big way. And although he finds himself at first this year, I think Matt Adams may just push him to the outfield.
You might have noticed, this reveals our second Cardinal-favorite casualty of the list: Beltran.
I, personally, am of the camp that signing Beltran for one more year (if he'll take it) could do us some good. He's getting old, but his veteran presence and expertise are a huge part of the team's success, and he could provide an example for the developing Taveras. But I just don't see this happening, as one year for a guy like Beltran is unrealistic.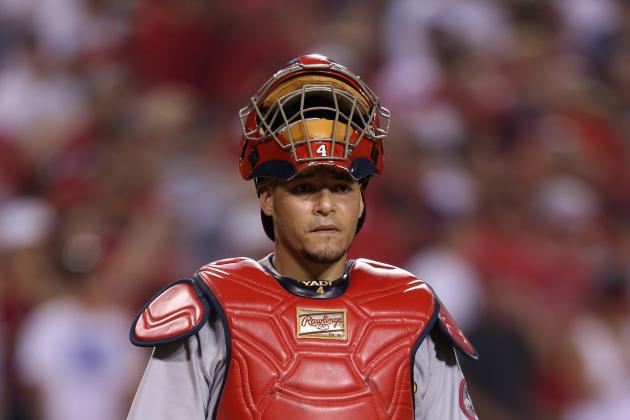 Jeff Gross/Getty Images

Molina is the best catcher in baseball and a possible MVP candidate for 2013. He's hitting .328 with 56 RBI and an .859 OPS. Fans just have to hope that the knee injury that's been plaguing him lately disappears without long-term effects.
The Cardinals have Molina locked up through 2017, so he's definitely not going anywhere.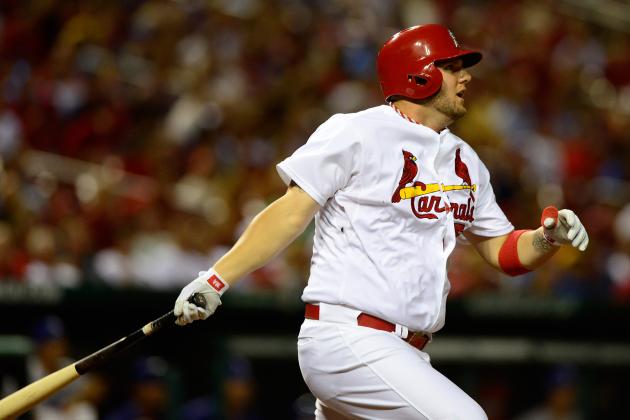 Jeff Curry/Getty Images

Adams is continuing to make it difficult to keep his bat out of the lineup. And I think that Matheny is finally going to have to break down and make him an everyday guy for 2014. He has actually gotten to see some time as a starter this year, and additionally he's hitting an impressive .345 as a pinch hitter.
This, of course, moves current first baseman, Craig, to the outfield. But Adams is more than capable of stepping up in his own way.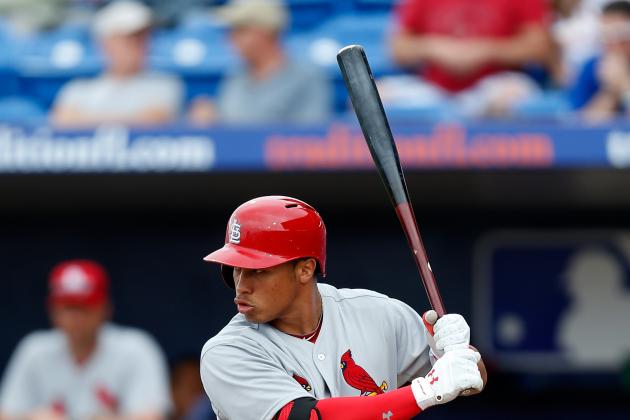 Chris Trotman/Getty Images

A top prospect for some time, Wong finally made his MLB debut this week. And his 2 for 5 performance on Monday showed promise.
He has found himself blocked from making the big league team due to a need to get Carpenter's bat in the lineup. And lately, it seems that either he or Freese might be dealt to fill a hole in the roster. I tend to take Wong's recent call-up as a sign that it might be the latter. Although, this might also be more like an audition for the youngster.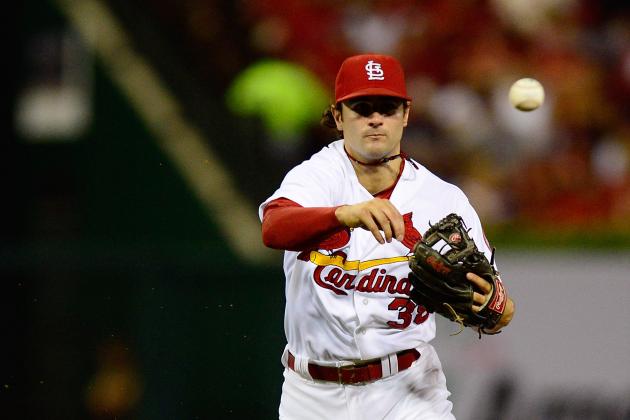 Jeff Curry/Getty Images

Surprised? I was, too.
Kozma has been the butt of many Cardinals fans' jokes this year, and everyone keeps wondering when we might trade for an upgrade at shortstop.
The honest answer is that there just aren't too many good free agent shortstops available. And trading for a Troy Tulowitzki or an Asdrubal Cabrera would require giving up top prospects, which Mozeliak hasn't necessarily wanted to do in the past. That being said, one of these could be the type of impact player he thinks would warrant such high stakes.
More likely than not, we will have Kozma or prospect Ryan Jackson patrolling the infield as 2014 begins.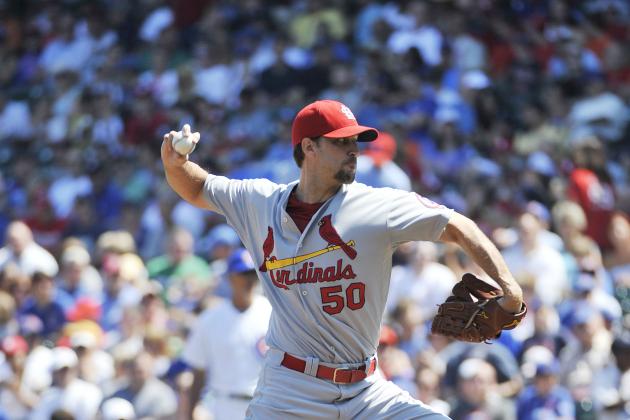 David Banks/Getty Images

Batting ninth will, of course, belong to the pitcher. Here's a quick rundown of what I foresee as 2014's starting rotation:
Adam Wainwright, RHP
Shelby Miller, RHP
Jaime Garcia, LHP
Lance Lynn, RHP
Michael Wacha, RHP