Predicting Awards and Honors for the Denver Broncos' 2013 Season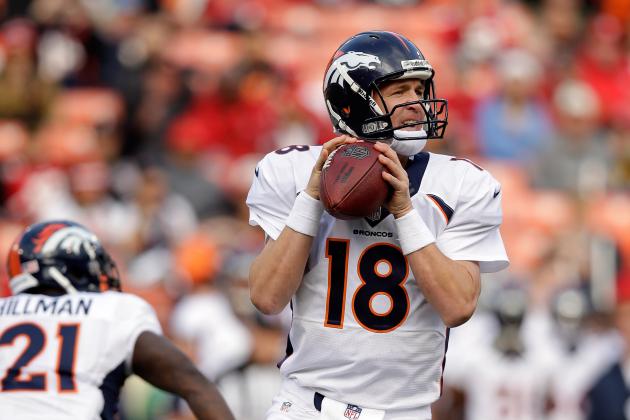 Ezra Shaw/Getty Images

The Denver Broncos are built to make another playoff run in 2013. This season they want to get further than they did last year and make it to the Super Bowl.
In order to get there the Broncos will need breakout players, rookie standouts and MVP-like performances from their future Hall of Fame players.
The honors bestowed here include:
Most Valuable Player
Most Improved Player
Rookie of the Year
Biggest Disappointment
Biggest Surprise
Offensive Player of the Year
Defensive Player of the Year
It's time to look ahead to this season and predict who the award winners will be.
Begin Slideshow

»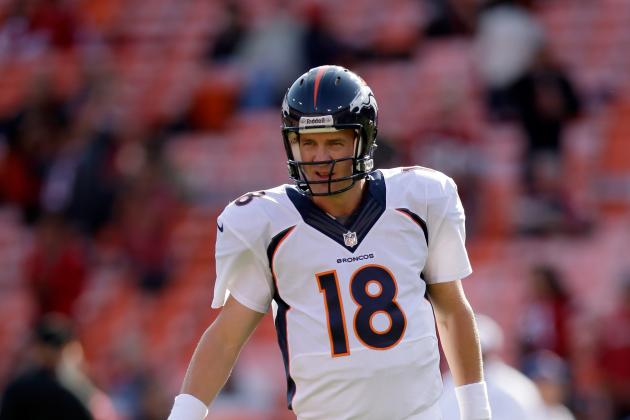 Ezra Shaw/Getty Images

The Denver Broncos will get as far as Peyton Manning takes them. The team has several talented players and some that should be future Hall of Fame members (including Manning). However, only one player can completely change the direction of the 2013 season for Denver.
Manning is the engine that makes up the Broncos' horsepower. Without him, this team would compete for the AFC West but would be zero threat to make it to (or win) the Super Bowl.
Manning's arm strength and timing stood out to me during minicamp earlier this offseason. Even head coach John Fox sees improvement from last year.
"His arm appears to be a little stronger, more zip," Fox told reporters in May.
The stronger arm, the added weapons like wide receiver Wes Welker, better timing and chemistry than he had last year—all of these things add up to what I see as a 5,000 yard passing season for Manning and an easy win for team MVP.
WINNER: Peyton Manning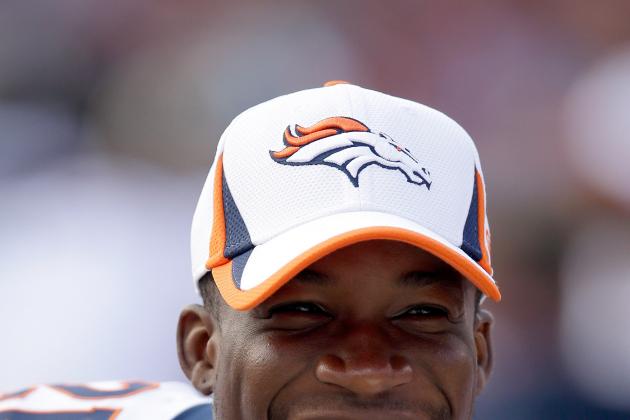 Ezra Shaw/Getty Images

In order for the Broncos to make it to the Super Bowl, they'll need a few players to have better seasons than they did last year. This team knows they're in a Super Bowl window and there are a few players looking to make a bigger impact this year than they did in 2012.
The top player on the list should be second-year running back Ronnie Hillman. As a rookie, he worked primarily as a change of pace back behind starters Willis McGahee and Knowshon Moreno. He did get a chance for a heavier workload in the Broncos' playoff game against the Ravens and didn't disappoint, with more than 100 all-purpose yards on 25 touches. He did all this while weighing less than 180 pounds.
This offseason, he has put on 20 pounds of muscle in order to improve his chances of getting a starter's workload. The Broncos selected running back Montee Ball in the second-round of the 2013 NFL draft to compete for the starting job and some felt at the time it would keep Hillman in a change of pace role. That's not what has played out before us to this point.
He began offseason workouts as the starter, and during minicamp, he was getting about 75 percent of the first-team reps.
Now that training camp has wrapped up and we're approaching week three in the preseason, we still see Hillman atop the Broncos depth chart. With Ball struggling to impress as a runner and in pass protection, we could see Hillman hold onto the job for a majority (if not the entire) season.
WINNER: Ronnie Hillman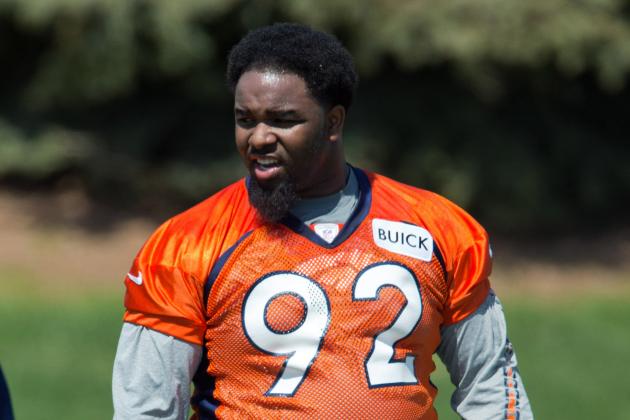 Justin Edmonds/Getty Images

The Broncos have a few different options on the team who could win rookie of the year. After the 2013 NFL draft, I ended up giving the Broncos an A- for the group of rookies they assembled.
In the first round, the Broncos added defensive tackle Sylvester Williams out of North Carolina. He's a mountain of a man who can stuff the run and hold up against double teams because of his outstanding functional strength. Williams also has a quick burst off the line of scrimmage and can create middle pressure on opposing quarterbacks.
In the second round, the Broncos selected running back Montee Ball from Wisconsin. Ball finished his college career with the most touchdowns scored in NCAA history (83). He is adept at running between the tackles and can pick up tough yards after contact.
Ball also is effective outside the tackles. He averaged 7.1 yards per carry outside the tackles with almost 37 percent of his rushing attempts coming there over the last two years.
In the third round, the Broncos surprised some by drafting cornerback Kayvon Webster from South Florida. Webster had a fifth-round grade by some in the draft community during the pre-draft process. He's a big, physical corner who can click and close quickly to get to the football.
His transition is a problem spot, and Webster can get beat by receivers with deep speed. He's capable of being a quality run defender and can play close to the line of scrimmage as well.
All three of their top rookies could eventually be impact players. At this time, the player that has stood out the most during the offseason and training camp is Williams.
With the suspension of linebacker Von Miller for the first six games of the year, Denver will be looking for pass rush help at many different positions. Williams may not rack up a ton of sacks, but creating middle pressure will make opposing quarterbacks uncomfortable and perhaps lead to more sacks for players on the edge. Williams has a tremendous work ethic and could make the biggest impact from this rookie class in 2013.
WINNER: Sylvester Williams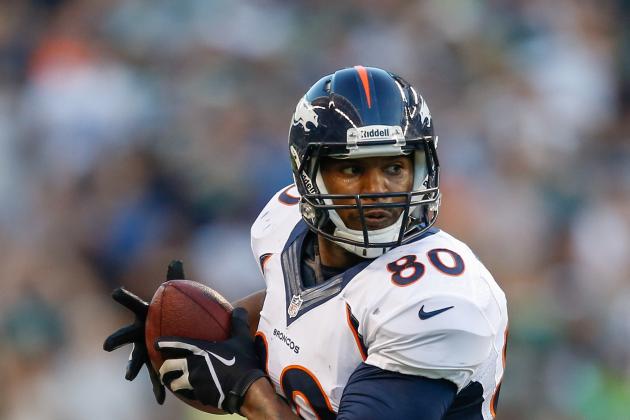 Otto Greule Jr/Getty Images

Successful teams invariably benefit from surprise contributions from unexpected sources.
Denver has a few options in this category, with the first being third-year tight end Julius Thomas.
The former Portland State basketball star was a standout player at the Shrine Game in 2011. At the Scouting Combine that year, he told me he could probably jump over a car and dunk a basketball.
The guy is incredibly athletic and uses his basketball skill set to box out smaller defenders. He can high point and rebound passes in the red zone and has been a standout player in training camp this year.
We haven't heard much from Thomas during his pro career because of an ankle injury that robbed him of his first two seasons. He's healthy now and could be the starting tight end for the Broncos when they open the regular season against the Ravens.
Another option for biggest surprise is second-year strong safety Duke Ihenacho. He was an undrafted free agent last year, but some evaluators felt the Broncos could have a big hit on their hands when they added him.
Ihenacho was a converted linebacker in college and plays with a "seek and destroy" mentality. He has a nose for the football and is always looking to make a big hit.
During training camp this year, Ihenacho has made several big hits and likes to tell the opposition all about it. In fact, Ihenacho has gotten in a few shouting matches (with running backs Ronnie Hillman and Knowshon Moreno) because of his overaggressive style.
Ihenacho was an unknown player heading into camp and has turned into a media darling over the course of three weeks. He's likely to start for the Broncos opposite Rahim Moore.
The final candidate for biggest surprise is second-year defensive end Malik Jackson. In the fifth round of the 2012 NFL draft, the Broncos added Jackson to the roster. Coming out of the University of Tennessee, Jackson was known for his strong hands, quick initial burst and position versatility. The Broncos are looking for pass-rushing help, and Jackson could be a surprise player who could post five or more sacks in 2013.
I give the nod to Thomas here, because the team is going to be known for their high powered offense. Thomas creates mismatches every time he's on the field and could be the biggest surprise this season.
WINNER: Julius Thomas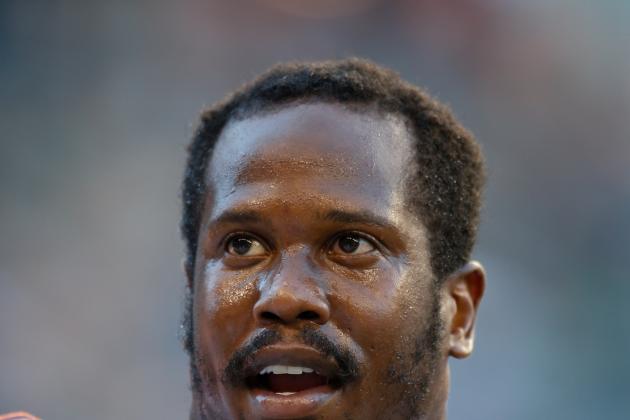 Otto Greule Jr/Getty Images

Along with the good must come the bad. There will be breakout players, but there will also be players who disappoint in 2013.
A few disappointments from training camp include free safety Quentin Jammer, linebacker Nate Irving, and rookie running back Montee Ball.
Jammer was added in free agency when the Broncos missed out on getting veteran Charles Woodson. His \experience was supposed to make the transition from cornerback to safety an easier one. Instead, we haven't seen many standout plays from Jammer in camp, and some feel his roster spot is in danger.
Irving entered this year as the likely starter at middle linebacker. He failed to beat out Stewart Bradley for the starting position early in the preseason and has now been moved to strongside linebacker. Irving can deliver the big hit, but too often he was out of position and has struggled in coverage.
Broncos fans had high hopes for Ball. He was supposed to come in and easily win the starting job over second-year back Ronnie Hillman. Instead, Ball has looked tentative as a runner during camp and the preseason. He has also struggled mightily in pass protection and missed a block that got Peyton Manning smashed in the week two preseason game against the Seahawks.
He could still win the starting job and will be part of the Broncos' running back by committee. It's a disappointment because of the initial expectations when he was drafted.
However, the winner here has to be linebacker Von Miller. John Elway, the Broncos Vice President of Football Operations, even said that he was disappointed in Miller after the six-game suspension was announced. The suspension will put the Broncos in a bind for over a month.
This team was already trying to make up for the loss of Elvis Dumervil and now will be without their top two pass rushers from 2012 to begin the 2013 season. Miller can shed this title of biggest disappointment if he comes back with a vengeance in the week seven game on the road against the Indianapolis Colts.
WINNER: Von Miller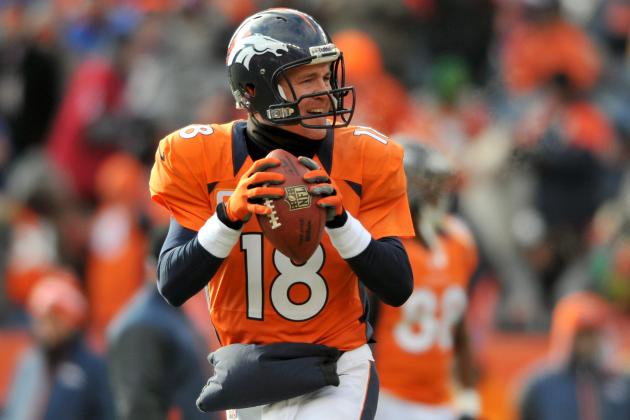 Dustin Bradford/Getty Images

Denver has several players on offense who could be worthy of this award.
Quarterback Peyton Manning could throw for over 5,000 yards this season for the first time in his career. This passing game is geared to be incredibly dangerous, and the Broncos have multiple weapons to utilize at several different positions.
Manning is a master at changing the play and exploiting a defense's weakness. Not only does he have many talented skill position players under his command, Manning will also be able to use tempo as a weapon. When the Broncos get the defensive look, they like to move to a high-paced, up-tempo system that prevents the defense from substituting.
Free agent addition Wes Welker may catch nearly 100 passes for the Broncos in 2013. Adding him to the roster was arguably the biggest move the Broncos made in free agency this year. Welker is working hard to establish chemistry with Manning during training camp and has looked sharp in August. He can still get open with ease and will help the Broncos cure the short yardage woes that plagued them last year.
Wide receiver Demaryius Thomas is a star on the rise in the NFL. He has the size to impose his will on smaller cornerbacks tasked with the job of covering him. Thomas can make difficult catches seem routine and has no problem hauling in touchdown catches between two defenders.
He's not quite on the level of Calvin Johnson (Lions), but Thomas is close. Last year Thomas posted 94 catches for 1,442 yards and 10 receiving touchdowns. This year those numbers could be even better.
WINNER: Peyton Manning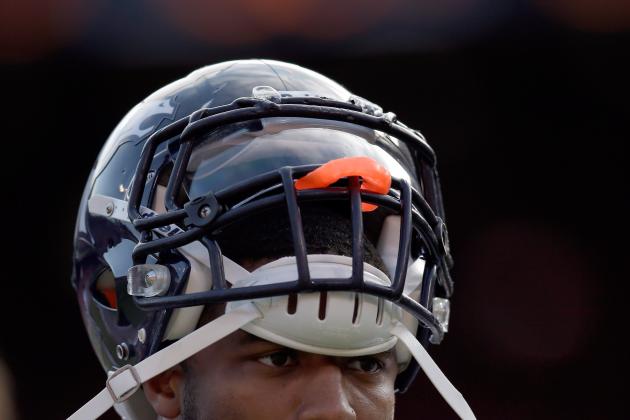 Ezra Shaw/Getty Images

The Defensive Player of the Year award could go to one of the many talented players on defense.
Wesley Woodyard is considered by many to be the heart and soul of this defense. After going undrafted coming out of the University of Kentucky in 2008, Woodyard made his initial impact as a quality special teams player.
When the Broncos gave him a bigger role in 2012, he shined under defensive coordinator Jack Del Rio. Woodyard has the speed to cover athletic tight ends and can fly to the football when the pass is coming in.He's got high football intelligence and can diagnose quickly as the play breaks down in front of him.
Woodyard calls the defense for the Broncos, because he knows how to change the call based on what the offense is showing before the snap. Coming into 2013, he was once again set to shine at weakside linebacker for the Broncos.
Now, Woodyard is going to start at the middle linebacker spot due to question marks surrounding the health of Stewart Bradley and the ineffectiveness of Nate Irving.
Champ Bailey is going to be in the Hall of Fame someday. He's still the leader of the secondary and does a good job in coverage and against the run. Bailey is a sound tackler who isn't afraid to get his hands dirty taking on bigger players in the open field. He's not quite the shutdown corner he used to be but still gives opposing quarterbacks pause when considering throwing in his direction.
Derek Wolfe could notch 10 sacks in 2013. Coming out of college in 2012, Wolfe was known for his high motor, quick initial burst, and good functional strength.
As a rookie last season, he proved that he could have better stamina and not wear down as games (and the season) went on. Wolfe gets to the ball quickly and is strong enough to bring down even the most stout opponent. A scary neck injury against the Seahawks was thankfully minor. Most expect Wolfe to be ready to go by the time the Broncos open up the regular season.
WINNER: Wesley Woodyard