Predicting Awards Honors for Titans' 2013 Season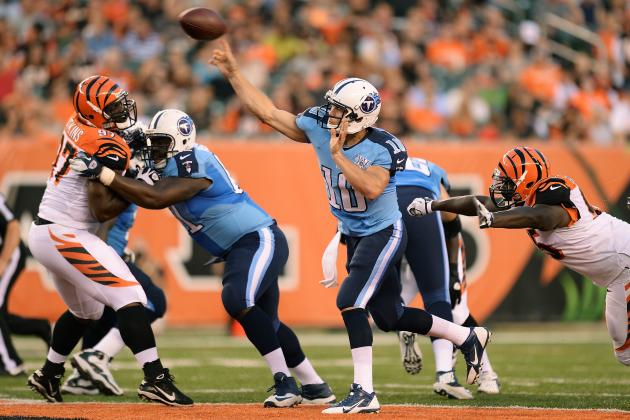 Jamie Sabau/Getty Images

In 2012, there were few standouts on the Titans' squad. Jake Locker was responsible for more turnovers than touchdowns, Chris Johnson spent too much time dancing behind the line of scrimmage, the leading sack artist on the team came away with only 6.5 and the defense as a whole gave up the most points in the NFL.
But 2013 is a new year, with new expectations. Hopefully, individual players and the team overall will have better performances than they did the previous season.
So, were I to predict awards and honors for the team by the season's end, who are the favorites at the moment? Here's my list (with a runner up for every award as well).
Begin Slideshow

»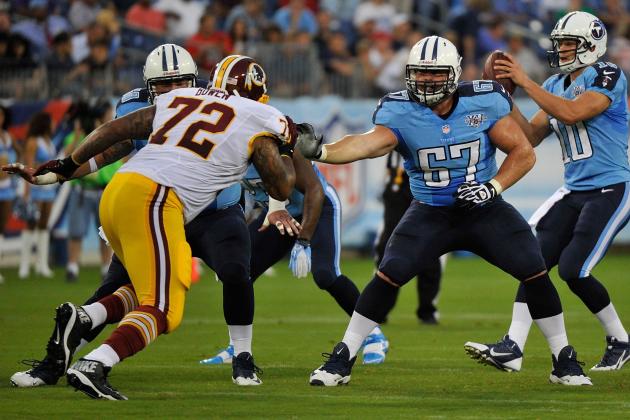 Frederick Breedon/Getty Images

The Titans spent big money in the offseason to land some quality veterans. Shonn Greene, Sammie Hill, and Bernard Pollard have already shown a lot in the preseason, but a lot of credit should go to Andy Levitre.
The former Bills guard has spent his entire career as one of the better guards in the NFL, and his presence in the offensive line is already noticeable.
The Titans have had holes at guard for years. Now, with a proven veteran who still has his best years in front of him locked in long term, that hole seems to be filled. He ought to make the job of Michael Roos easier too, and we all know he's not getting any younger.
Runner Up: Shonn Greene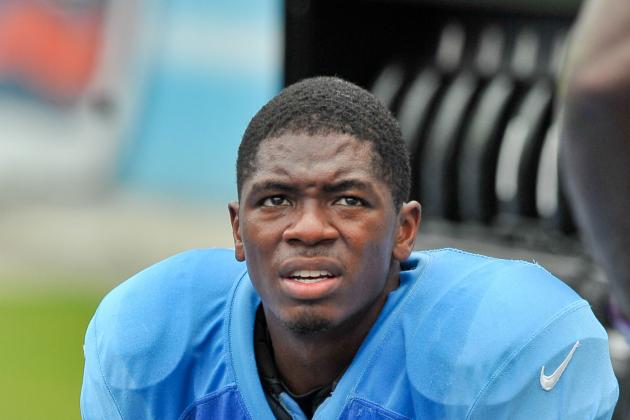 Jim Brown-USA TODAY Sports

I was a little surprised when the Titans drafted Coty Sensabaugh. He seemed like a weird pick to me at the time, and he did little in his rookie season to change my mind.
However, he's been having a stellar preseason; from consistently good performances in training camps to a solid outing in the first couple of preseason games, Sensabaugh has shown a lot of growth already.
He's also fared relatively well in the preseason games. He gave up a touchdown to Mohamed Sanu, but to be fair to Sensabaugh, it was a well thrown ball to the back of the endzone.
Last season, Sensabaugh was statistically one of the worst corners in the league, so seeing this much growth from him in one season is definitely encouraging.
Runner Up: Taylor Thompson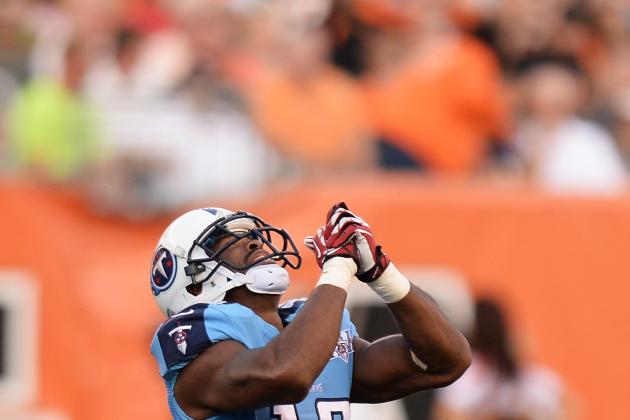 Jamie Sabau/Getty Images

Kenny Britt is finally back to being healthy, and he's shown that when he's 100 percent, he can be a game changer.
Because of his natural athletic ability, I was excited to hear that he was healthy again, but so far, in two preseason games, his hands have been atrocious.
A total of nine balls have been tossed his way, but Britt managed to only catch five of them. Most of those incompletes were not the quarterback missing his target, but Britt simply dropping a pass.
Now catching just over half of the passes thrown to him may not sound awful, but if you watched the Titans' first two preseason games, you'll remember how bad these drops were.
Britt is in a contract year, but if he doesn't improve his hands, the combination of off the field trouble and unreliability will make him unlikely to be a Titan much longer.
Runner Up: Bernard Pollard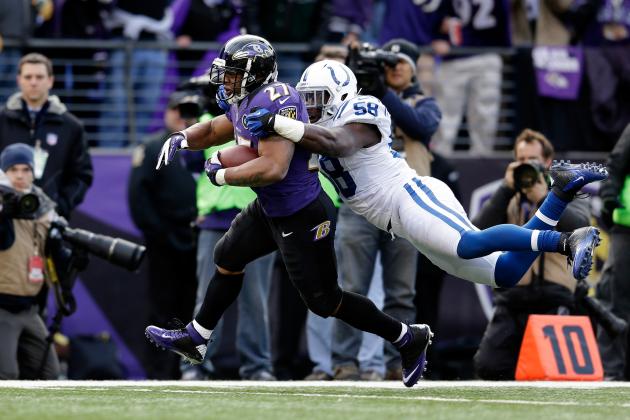 Rob Carr/Getty Images

When Moise Fokou was brought in, I figured he was nothing more than a backup player. However, with Colin McCarthy down yet again with injury, Fokou has stepped in and become the de facto starting middle linebacker.
Now what I saw from him in the preseason was not fantastic, and he's definitely looking like a below average middle linebacker, but since I didn't expect him to do much but compete for a backup spot (and I imagine most others had similar expectations), he's been a pleasant surprise.
If McCarthy gets healthy, he's all but certain to take the starting spot back, but Fokou has taken a commanding lead of the No. 2 spot in the rotation, and I'd be shocked if he didn't end up starting over a constantly injured McCarthy.
Runner Up: Michael Preston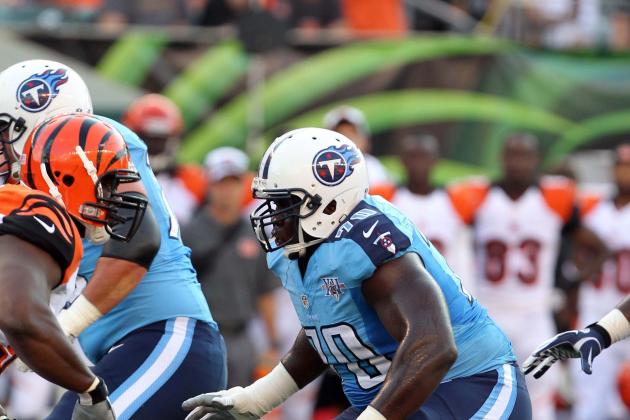 Brian Spurlock-USA TODAY Sports

Justin Hunter isn't going to see a ton of playing time, Blidi Wreh-Wilson isn't catching on as quickly as hoped, Zaviar Gooden will be mostly a backup this season and Brian Schwenke may not win the starting job, since he's injured.
With them out of the equation, it's all but a sure thing who the rookie of the year will be. Chance Warmack showed in the preseason opener that he isn't exactly an elite pass blocker yet, but he also showed that he is a monster run blocker.
His blocking has made Chris Johnson look the best he's looked in years. He's even helped make Shonn Greene and Jackie Battle look decent.
Unless Lavar Edwards, the second most impressive rookie thus far, storms in and makes a big impact as a pass rusher, it's hard to see the competition for best rookie even being close.
Runner Up: Lavar Edwards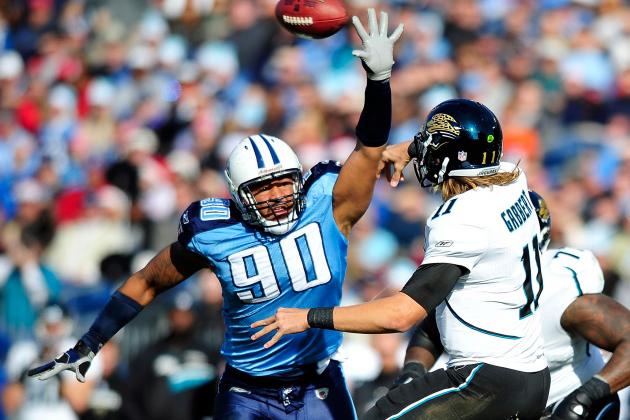 Grant Halverson/Getty Images

This is the prediction that I'm the least sure of. In my mind, it's a three man race between Akeem Ayers, Jurrell Casey, and Derrick Morgan. All three are capable of defending the pass or the run, all three have improved steadily, and all three are great players at their respective positions.
In the end, I went with Morgan because he had two strong showings in the preseason games, netting a tackle for loss in both games and a sack in one.
Morgan only had 6.5 sacks last season, but he was in the backfield constantly, even if he didn't finish with a sack. Now, he's lost some weight and looks to be just a bit faster. That added speed ought to help him end the season with significantly more than 6.5 sacks.
Like I said, either Jurrell Casey or Akeem Ayers could take over and end up being the best defensive players on the team. All three are fantastic players, and this competition is almost too close to call.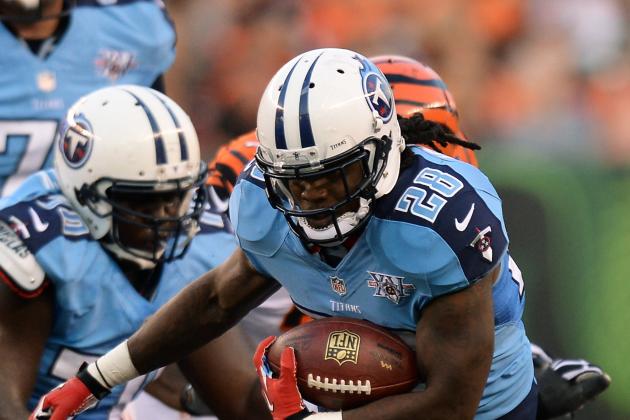 Jamie Sabau/Getty Images

Chris Johnson will probably never sniff a 2,000 yard season again, but you can bet he's going to have a big year this season.
Johnson has always been the kind of guy who gets a few short carries, and a big one. In the first preseason game, he only needed one short carry before he took a 48 yard run all the way to the endzone.
Against the Bengals' stout run defense, he never broke away, but he still ended up with a respectable 30 yards with seven carries.
He looks great. His blocking is there consistently, and he hits the holes with speed. He'll also have less on his plate, as Shonn Greene and (likely) Jackie Battle will be there to shoulder some of the burden, especially on third and short.
Johnson won't see 2,000, but I wouldn't be the least surprised if he ended the season well over the 1,500 mark.
Runner Up: Jake Locker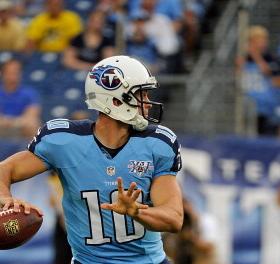 Frederick Breedon/Getty Images

As if it could be any other choice. If the Titans have a winning season this year, it'll be because Jake Locker has made big steps as a quarterback.
He's already given reason to hope. Despite being plagued by dropped passes, Locker has looked sharp, completing 19 of his 31 attempted passes for 174 yards so far.
He hasn't run much yet (three rushes for 11 yards), but that's the only area where he's been consistently solid in his career, so it shouldn't suddenly become a concern going into 2013.
His performance in the redzone is still questionable, as he's yet to throw a touchdown in the preseason, but seeing some accuracy is a big step in the right direction.
A quarterback is the most valuable position on the field by far. If the Titans can get theirs to perform, he'll be the MVP without a doubt. If anyone else is in the running, it probably isn't a good sign.