Top 5 Cincinnati Bengals Who Will Boost Your Fantasy Team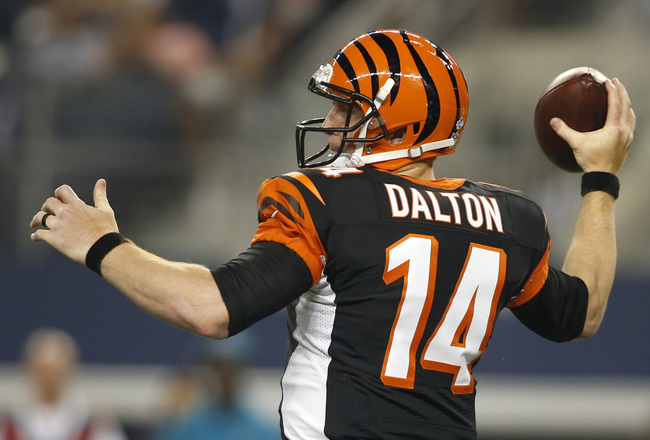 Tim Heitman-USA TODAY Sports
As the summer draws to a close and the NFL regular season grows nearer, football fans around the country are not only preparing themselves to watch their favorite teams on Sundays but also their favorite NFL players.
Since the advent of fantasy football, fans frequently find themselves torn between watching their team and watching an individual player on another team, because he happens to be on that fan's fantasy team as well. The true challenge comes when a fan's favorite team opposes his fantasy quarterback in a given week.
Throughout the next few weeks, millions of football fans will log into sports engine sites like Yahoo! Sports, NFL.com or ESPN.com to set their draft boards with the hopes of choosing the most statistically successful, turnover-averse players in the league.
In Cincinnati, as well as the majority of the NFL, the quarterback earned the most fantasy points last season. With an ever-expanding dynamic offense, 2013 could prove to be even better for those who have Andy Dalton on their fantasy team. But before we get to that point, he must be drafted. Here's a look at five Bengals would would be good picks in your fantasy draft.
All statistics are courtesy of ESPN.com.
Jermaine Gresham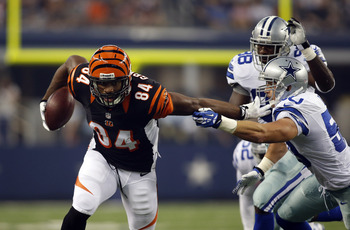 Tim Heitman-USA TODAY Sports
One would imagine that making the Pro Bowl in two straight years would almost guarantee a starting spot for the third. However, with the pressure being applied by the expectations of rookie tight end Tyler Eifert, Jermaine Gresham finds himself in a rare situation. Ultimately, Eifert and Gresham will be more of a complement to each other than a detriment.
Gresham finished eighth amongst tight ends in fantasy points in 2012 but four of the tight ends ahead of him (Rob Gronkowski, Dennis Pitta, Heath Miller and Jimmy Graham) are battling injuries; Pitta and Gronk may be out extensively.
Also, the Bengals offense is expanding, and with the anticipation of more two-tight-end sets Gresham's numbers, while he'll be sharing the load, should improve. Not necessarily because he's made a lot of improvement this offseason (there's no sign that he hasn't; in fact he was so confident in himself that on the first day of hitting, he challenged Geno Atkins in the hamburger drill) but because his counterpart, rookie Tyler Eifert, will demand the attention of safeties, leaving mismatches for the 6'5" Gresham.
Giovani Bernard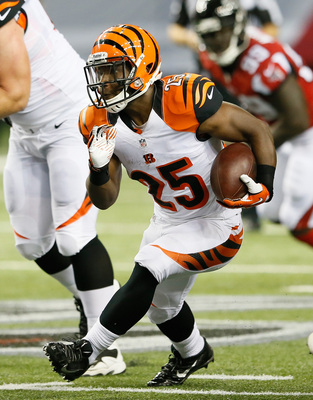 Kevin C. Cox/Getty Images
Rookie running back Giovani Bernard has been impressive ever since he turned heads at the NFL Combine in Indianapolis. His most-heralded trait is his quickness and ability to make defenders miss. Bernard still has to prove that he deserves the starting spot over veteran BenJarvus Green-Ellis. Regardless of whether or not he starts, though, Bernard will be a fantasy steal for those who take him for two reasons.
First, while Bernard is small at only 5'9", he is no stranger to carrying the load between the tackles. In only two years at North Carolina, Bernard carried the ball 423 times and caught 92 passes. In those 515 touches, he scored 31 touchdowns; a rate of one touchdown per 16.5 touches. Compare that to last year's rookie running back sensation Alfred Morris whose touchdown per touch rate (including the playoffs) is one in 27.
Second, Bernard's elusive style of play will still be effective in the NFL. While the ACC defenses he faced last year don't compare to those of the AFC North, if Bernard is one-on-one in space, he has a distinct, proven advantage.
While "The Law Firm," AKA Green-Ellis, will probably begin the season as the starting running back, Bernard's skill set and ability to catch the ball out of the backfield will put him in situations to make big plays. I expect Bernard to rack up lots of yards after the catch and end the season as a hidden gem in the fantasy football universe.
Tyler Eifert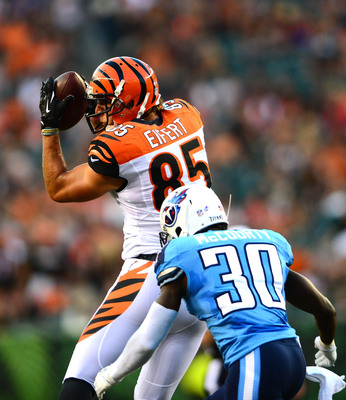 Andrew Weber-USA TODAY Sports
Rookie tight end Tyler Eifert has been possibly the most impressive player for the Bengals this offseason. That's not entirely unexpected given the fact that he was the first-round pick. His versatility on the field should directly translate to fantasy production.
If there's one thing Eifert is good at, it's going up to get the ball at its highest point. At 6'6" with a 35.5" vertical leap, there aren't many players with the physical abilities to compete with Eifert on a jump ball.
While I expect Eifert to draw more attention than fellow tight end Jermaine Gresham from opposing defenses, I also expect Eifert to make more plays against those safeties than Gresham. For this reason, Eifert will improve your fantasy team, and if he's available as your second tight end, it'd be foolish not to take him.
A.J. Green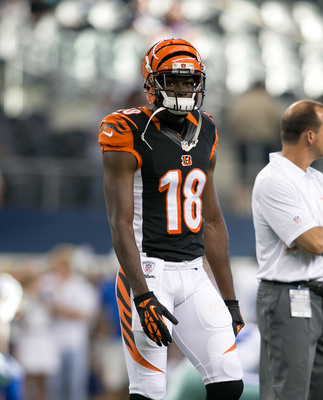 Tim Heitman-USA TODAY Sports
In 2012, A.J. Green had one of the best receiving years that the Bengals have seen in a while pulling in 97 catches for 1,350 yards and 11 touchdowns. Filling the proverbial void left behind by Ochocinco, Green immediately stepped into the role and even earned trips to the Pro Bowl in both of his first two seasons.
Green amassed 194 fantasy points in 2012, fourth amongst receivers behind Calvin Johnson, Brandon Marshall and Dez Bryant. Going into 2013, Green has a firm hold on the outside receiver spot and with a tight end tandem now in Cincinnati, Green will find himself in more one-on-one situations outside while they occupy the safeties.
Green suffered a knee injury in practice two weeks ago but returned to the practice field yesterday according to Bengals editor Geoff Hobson.
Andy Dalton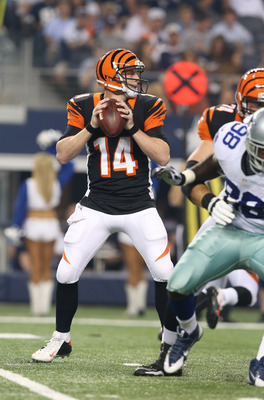 Matthew Emmons-USA TODAY Sports
Quarterback Andy Dalton will benefit most from the many weapons he now has in his arsenal. Dalton led the Bengals with 239 fantasy points in 2012 and should lead the team again in 2013. His favorite target, Green, if healthy, shows no signs of slowing down. The two-tight end sets should make his reads a little easier, and if nothing else, allow him to trust his instinct to look outside and lob it up to A.J. knowing the safeties are occupied by the big boys on the hashes.
If, somehow, defenses find a way to cover all receivers and tight ends, rookie running back Giovani Bernard provides a viable checkdown option for Dalton that he can turn to late in his progression. From there, we've seen Bernard's elusiveness and ability to turn a short pass into a big gain. Those yards, and hence those fantasy points, go to Dalton as well
Ultimately, this will be Dalton's most critical season yet. Anything short of a playoff victory would be a failure and there are even murmurs of outside Super Bowl chances. Since Dalton will be under the microscope, Bengals fans can take solace in the fact that he now has all the tools around him to be successful. Whether or not he uses those tools remains to be seen.
I don't expect Dalton to be the first quarterback taken in many drafts, but that doesn't change the fact that he should be able to produce a consistent 14-18 fantasy points per game in 2013.
Keep Reading

Cincinnati Bengals: Like this team?