5 Players Who Must Step Up for the Cleveland Cavaliers This Season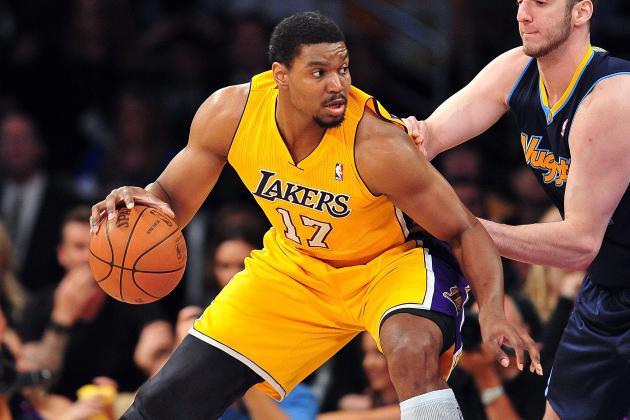 Gary A. Vasquez-USA TODAY Sports

The Cleveland Cavaliers will enter the 2013-14 season with real expectations for the first time in, well, years. Fresh off a successful offseason-haul of talent and with the ever-developing crop of young talent they currently possess, the Cavs will certainly be thinking playoffs or bust.
With these high aspirations come even higher expectations.
Some players will be counted on more than others this coming season, for a number of different reasons. Whether it be a budding positional battle, a large contract or guys trying to live up to their draft position, these five players will be under extreme pressure to perform.
From a team standpoint, these are the players who must improve the most for the Cavs to indeed reach the 2014 postseason.
Begin Slideshow

»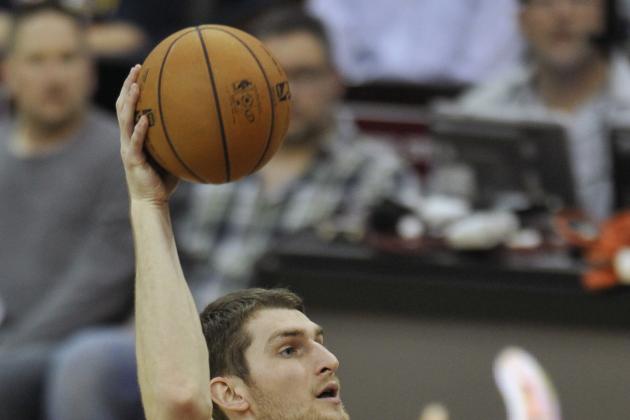 David Richard-USA TODAY Sports

Needs to Improve: Toughness, strength

Zeller started 55 games for the Cavs last season, but will likely enter this year as the team's third-string center. Given the injury history of the two players penciled in before him, however, we could easily see Zeller receiving big minutes once again.
Hopefully, this isn't the case.
That's not a knock on Zeller, though. The 23-year-old spent a lot of time this summer in the gym and looked noticeably bigger and stronger during the NBA Summer League. This was key for the second-year pro, as he was often pushed around by bigger centers last season.
Zeller is such a soft-spoken, happy-go-lucky kind of guy that the Cavs should want to see him develop a mean streak when he gets on the court. The intensity wasn't always there for Zeller last season, and it's something he'll likely have to develop to stay in the league.
Getting bigger, stronger and perhaps a bit meaner could also help Zeller perform better in the season's later months.
In December 2012, Zeller put together averages of 16.9 points and 10.7 rebounds per 48 minutes on 44.6 percent shooting from the field and 91.3 percent from the free-throw line. By April, however, those numbers dropped to 15.1 points, 6.8 rebounds and shooting lines of 42.2 and 76.9 percent.
Clearly, Zeller had hit the rookie wall.
By adding muscle, and maybe some more intensity, Zeller should be better prepared for the upcoming season.
USA TODAY Sports

Needs to Improve: three-point shooting, rebounding

Gee will face his stiffest competition yet, heading into the season.
Almost handed the starting small forward job out of necessity the past few seasons, Gee will certainly be pushed in training camp this fall to keep it.
The Cavs signed Earl Clark, who they believe can be a starting small forward despite being a stretch four for most of his career. They also drafted Sergey Karasev and Carrick Felix, both of whom can play either wing position.
Gee is a fine defender and hustle player, but that may not be enough to cut it anymore. If he's to keep the starting job, a couple aspects of his game will have to improve.
First and foremost is his three-point shooting. Playing with play-making guards like Kyrie Irving and Dion Waiters is going to lead to a lot of open looks. If Gee can't convert these, you can bet Mike Brown will find someone who will. Last season, Gee connected on just 31.5 percent of his three-pointers, a number that's not going to cut it on a playoff team.
Another key to Gee's improvement has to be rebounding. At 6'6", Gee is smaller than most small forwards by about one to two inches, and thus at a disadvantage when trying to clean the glass. However, Gee does possess the vertical leaping ability of players much taller than he. One would think with some more practice reading angles and positioning himself, Gee could certainly improve on the measly 3.9 boards per game he collected last season in his 31 nightly minutes on the court.
The defense, athletic ability and hustle are all there.
If Gee wants to remain a starter and help take the Cavs to the next level, the outside shooting and rebounding better be there as well.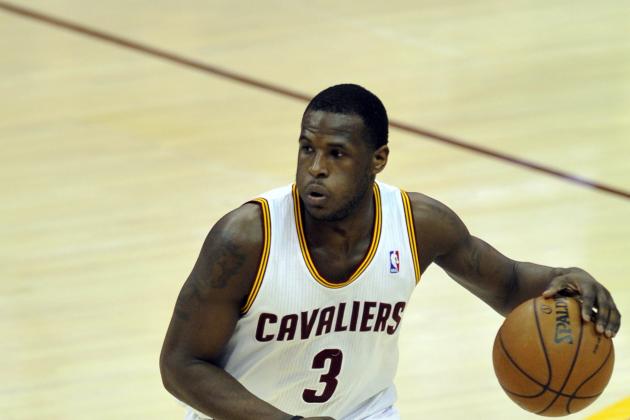 David Richard-USA TODAY Sports

Needs to Improve: converting at the rim, play-making ability for others

Waiters has been praised for his ability to carve his way through opposing defenders to get to the rim.
The problem is, he wasn't very successful when he got there.
According to HoopData.com, of the 33 shooting guards playing at least 25 minutes per night, Waiters was 30th in field goal percentage at the rim. Considering that nearly one out of every three of Waiters' shot attempts (4.4 of 13.4) was taken right at the basket, this wasn't a good sign. Waiters finished with a field goal percentage of 57.9 percent when near the rim. While this may seem like a high number, especially for a guard, consider that Dwyane Wade converted 74.7 percent of the time he got close to the basket last season.
The good news for Waiters and the Cavs is that only Wade, Kobe Bryant and James Harden were able to get to the basket more times than Dion among all NBA shooting guards. That's some pretty good company for a rookie to be joining.
The other area Waiters needs to improve on is his shot-creating for others.
If Waiters and Kyrie Irving want to be at their best together, then they need to throw traditional positions out of the window. Irving can create for others, but he's not a pure point guard at this time. He is plenty effective at knocking down outside shots as a spot-up shooter.
Waiters has shown he can score, but hasn't expressed much desire to get others involved.
Last season, Waiters averaged three assists in 28.8 minutes a game. His assist percentage, or an estimate of teammate field goals that Waiters provided an assist for when on the court, was at 18.4 percent according to basketball-reference.com.
By comparison, Wade's assist percentage was 25.1 percent his rookie season, and reached as high as 40.5 percent during his 2006-07 campaign.
For Waiters, it shouldn't be about scoring, but rather play-making for himself and teammates. If he can improve on this as well as his conversion around the rim, the Wade comparisons will really take off.
Mark J. Rebilas-USA TODAY Sports

Needs to Improve: motivation, shot selection
A healthy, motivated Bynum may single-handedly mean the difference between grabbing the sixth seed in the East or missing the playoffs altogether.
When looking at tape of Bynum at his best, no player has better resembled Shaquille O'Neal since the soon-to-be Hall of Fame center was in his prime. Bynum is a true power center, using his 7'0", 285-pound frame to establish position in the post and give the point guard someone to pound the ball inside to.
The problem with Bynum has been his motivation to be that guy. He often tries to do too much on the court, uses his face-up game too often, and can force shots at the rim when tightly guarded. A more motivated, disciplined Bynum would use that incredible frame to his advantage every single time down the court to back down the opposing center.
Looking back to 2011-2012, it's clear Bynum needs to stay close to the rim. According to HoopData.com, Bynum was third out of 26 centers getting at least 20 minutes a game in field goal percentage at the rim. His 73.2 percent shooting at the basket was only bested by Tyson Chandler (75.8 percent) and Dwight Howard (74.4 percent). Bynum was also fourth among all centers in field goals attempted at the rim at 6.5 a game.
That's the good part.
The bad news, like I mentioned before, is that Bynum often tries to do too much when away from the basket. When shooting from just 3-9 feet away, Bynum's field goal percentage drops from 73.2 percent down to 42.6. He also falls from third in percentage among centers down to ninth overall.
What especially hurt, however, was the frequency with which Bynum attempted those 3-9 footers. Instead of working his way into the post where he had a tremendous amount of success, Bynum settled for 5.2 field goal attempts per game from this 42.6 percent conversion distance. Only Dwight Howard (5.7 a game) attempted more.
With Bynum, talent isn't an issue. If he's healthy, motivated, and continually works his way into the paint attempting those high percentage shots, he could carry the Cavs on many nights.
The question is, will he put in the work to do so?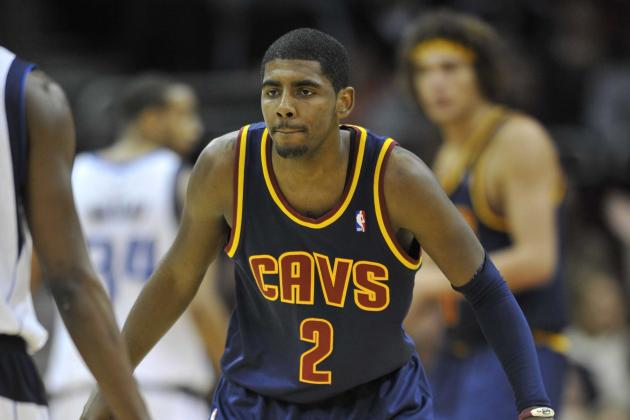 David Richard-USA TODAY Sports

Needs to Improve: defense, leadership

Irving may not be the first who comes to mind when thinking about players who need to raise their game, but there's still lots of improvement to be made by the third-year pro.
Forget that he's 21 years old. Irving is the leader of this team already and needs to set the tone for the rest of the club.
We know he can score, as his 22.7 points per game last season demonstrate. He can also do a little bit of rebounding (3.7 a game) and his assist numbers (5.9) should rise this season with the addition of Andrew Bynum, Anthony Bennett and Jarrett Jack.
That being said, Irving now plays for a coach who preaches defense. Jack is the best backup point guard the Cavs have had since Irving was drafted, so Mike Brown shouldn't be afraid to bench Irving at times if his defense isn't up to par.
According to 82games.com, Irving allowed opposing point guards to post an 18.1 PER against him, over three points above the league average. The Cavs as a team gave up two points less to opposing teams when Irving was out of the game. Up to this point Irving has been able to mask his defensive deficiencies by his offensive prowess. Something tells me Mike Brown won't be so forgiving.
Irving also needs to improve his overall leadership.
This is no easy task for a 21-year-old, but, going into his third pro season, Irving should be up for the challenge. Last winter, in a February game against the Detroit Pistons, the Cavs—for whatever reason—just didn't bring it. The Pistons, who would end the season just 29-53, beat the Cavs 117-99 in what was arguably Cleveland's worst loss of the year.
What made matters worse were the comments from Kyrie Irving afterwards.
Irving told reporters that "My energy wasn't there. It was there in the first quarter, then the second and third, I was disinterested..." He also said that certain plays had him "ticked off" and that his "lackluster play trickled down to everybody else."
Not ideally what one wants to hear from a team leader.
To be fair, Irving was just 20 years old at the time of the game. He's spent his summer traveling, getting stronger and turning heads while training with Team USA. Expect to see a lot of growth in both leadership and maturity in Irving both now and in the future.
He'll need it; and a little bit of defense if he truly wants to become one of the NBA's best.