OKC Thunder Players Fighting for Their Basketball Lives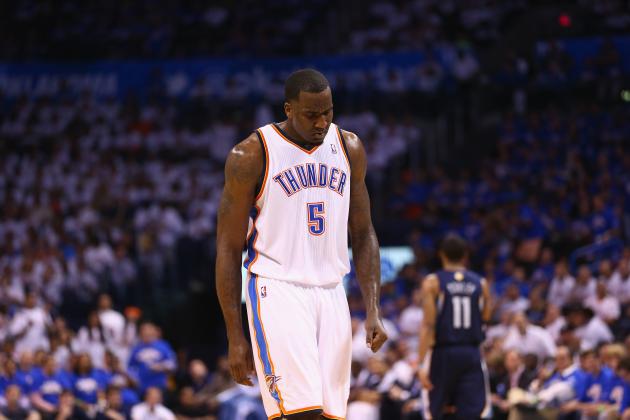 Ronald Martinez/Getty Images

The Oklahoma City Thunder obviously have big aspirations heading into next season. In particular, a handful of guys have much more pressure on them than others for various reasons.
Parts of this roster are players fighting to stick in this league. On this team, there will be plenty of opportunities for them to seize an important role and make a big impression on an upper-echelon ball club.
These players can kiss their NBA careers goodbye if they fail to make noise this year. If a guy cannot make a lasting impression while his career is on its last legs, few options are left.
Here are the OKC members who will be singing for their supper this upcoming season.
Begin Slideshow

»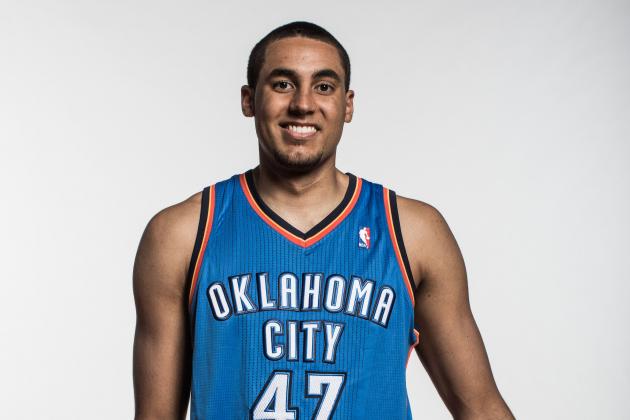 Nick Laham/Getty Images

Grant Jerrett made the shocking decision to leave Sean Miller's program at Arizona after one underwhelming freshman year.
He came to Tucson as the ninth overall recruit in the country, according to ESPN's Top 100. Even in a crowded front-court, Jerrett was expected to show up and make a huge impact as a stretch four.
The 6'10" California native averaged just 5.3 points per game and shocked everyone by leaving school early. He was also heavily criticized for being a poor rebounder and a generally awkward and unathletic big man.
To top it off, he measured out at the NBA Draft Combine at 10 percent body fat.
Everything put together resulted in him falling from a potential lottery talent to the middle of the second round. There is a place for him on this team, but he will have to truly earn it in order to prevent quickly derailing a once promising NBA career before it ever gets off the ground.
Jerrett has to fine-tune many different parts of his game, but for now he is a quality spot-up shooter. He is still fighting for his NBA life due to the uncertainties surrounding the 20-year-old after one average season in college.
USA TODAY Sports

Much of what was already said about Jerrett could also be applied to Daniel Orton.
Orton spent his freshman season backing up DeMarcus Cousins at Kentucky before jumping to the NBA, averaging 3.4 points in the 2009-10 season. To this day, he has scored more points in college than he has in the NBA, netting just 78 points over two seasons.
Orton did get drafted in the first round along with seemingly that entire Kentucky roster. He has not at all lived up to the billing of a first round pick thus far.
With such underwhelming talent down low for OKC, if Orton can get it together it would save his NBA career. The odds are against him, but the talent is there. Now is the time for him to step it up and become a contributor.
For now, leaving school early instead of shining in Lexington after Cousins' departure looks like the wrong move. The bill is still out on whether or not he can salvage his career and justify that decision.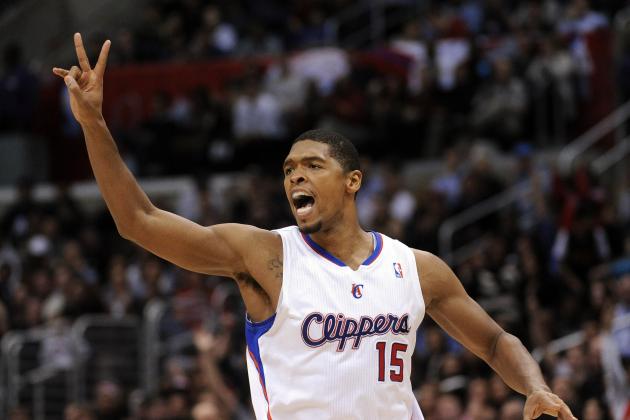 Harry How/Getty Images

Gomes has already exceeded his expectations after being a late second-round pick in 2005. He is now 30 years of age with a solid NBA pedigree under his belt.
Just two years ago, he was still a vital part of an up-and-coming Clippers team. It is surprising to see him clinging to an NBA roster by the skin of his teeth.
Gomes was a full-time starter for six seasons in this league before finding himself playing in Germany last season. The reality is that we all know what he is capable of, and sticking around a while longer in the NBA should not be too difficult for him.
Despite his past, Gomes needs to prove he can still get it done. It is not 2009 anymore. OKC took a bit of a risk bringing him back from overseas, and if he does not give them some return on their investment, he may have burned his last bridge in the NBA.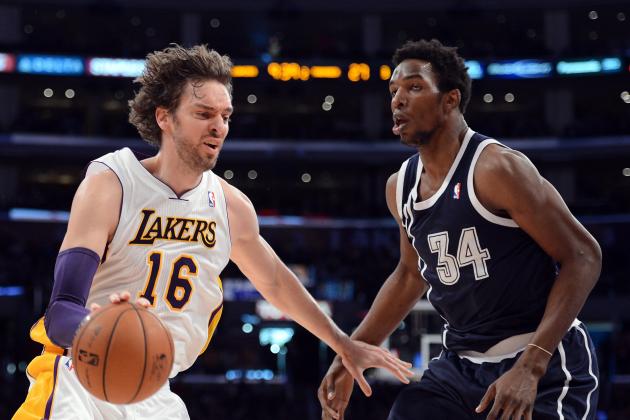 Harry How/Getty Images

Oh, how the mighty have fallen.
Hasheem Thabeet was part of a 2009 draft class that saw Blake Griffin taken first overall right before him. After Griffin were James Harden, Tyreke Evans and Ricky Rubio.
He may never be Mutombo 2.0 like he was supposed to, but he did have a nice season last year in limited minutes with OKC. He shot 60 percent and blocked a shot per night even with his paltry 11 minutes per game.
With Kendrick Perkins being one of the worst starting centers in basketball, it is important for OKC to have a reliable backup. Thabeet has seized that role with his fourth team.
Thabeet is also 26 and on the verge of slipping even further into irrelevancy if he is unable to continue improving. He is dangerously close to being deemed a lost cause due to the enormous expectations he had coming out of UConn.
It is difficult to predict how this one will pan out. Thabeet can end up anywhere from a solid starter alongside Serge Ibaka to a permanent bench warmer. Where he lands on the spectrum, we will have to wait and see.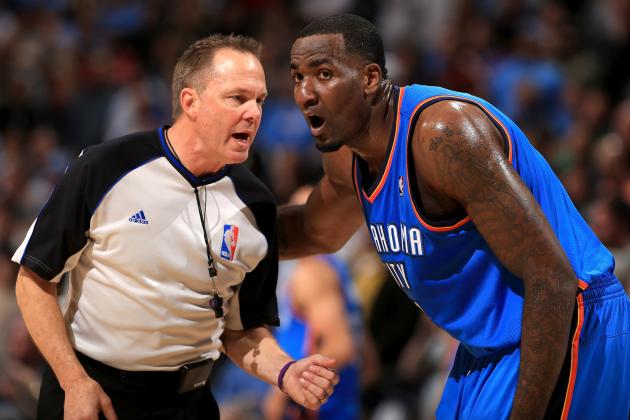 Doug Pensinger/Getty Images

There is no denying how ineffective Kendrick Perkins has become.
He was once considered an elite defensive talent in the league who could rebound and even score here and there when needed.
Now?
His numbers have decreased across the board in each of his three seasons in OKC. He also got paid nearly $8.5 million last season to post 24 points, 41 rebounds, 39 fouls and 23 turnovers in last year's playoffs when his team needed him most.
He is an expensive liability at this point. Nobody on this roster needs to play better more than Perkins. His stats were never overwhelming, but he no longer holds value beyond the box score. He got beaten consistently on the low block last season.
Ibaka does not get enough credit for being such a dominant weak-side shot blocker. He covers up Perkins' mistakes quite often. If Perkins cannot prove that he can stand alone on defense, then he has no true value as an NBA center. It has been his one true calling card, as he is no more than average in any other aspect of his game.
The only reason OKC has not amnestied Perkins so far is probably because of the hefty price they gave up to acquire him, (Jeff Green). Perkins takes up a large portion of their salary cap and he needs to start earning that paycheck.