2013 NFL Preseason: Who Are the Most Important Players to Watch in Week 3?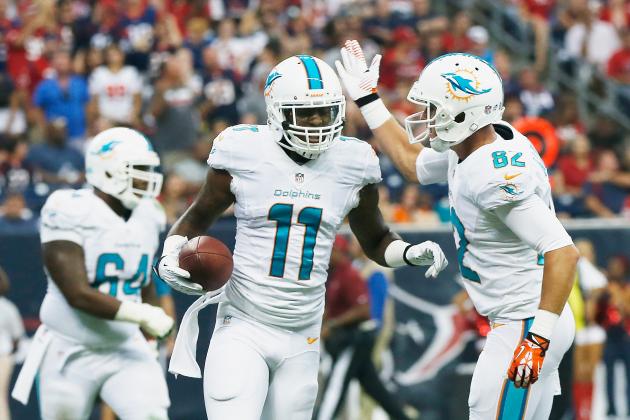 Scott Halleran/Getty Images
Mike Wallace looked good in Week 2 for the Miami Dolphins and is one of the most important players to watch for Week 3.
Week 3 of the NFL preseason is generally the week where we see first-team offenses and defenses get the most playing time. If any game is going to look most like the regular season, this one is it.
This is the week where players on the bubble will either establish themselves as important members of the team or find themselves looking for a new team to play for. We will also be looking at big-name players who have struggled throughout the preseason and need to start playing better football.
Here are the most important players to watch in Week 3 of the preseason.
Begin Slideshow

»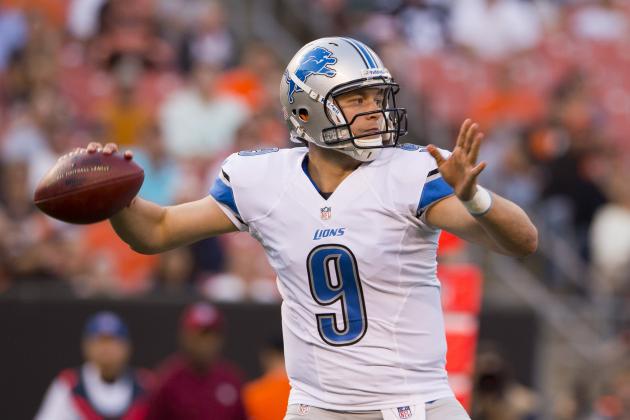 Jason Miller/Getty Images

The 2013 preseason hasn't been too kind to Detroit Lions quarterback Matthew Stafford.
In two games, Stafford is a combined 14-of-24 for 132 yards. He's yet to throw a touchdown pass in the preseason. Heck, Stafford has yet to lead the Lions on a touchdown-scoring drive in two games.
What's really concerning about Stafford's preseason so far has been the fact that he's struggling to push the ball down the field on his passes. For example, he only averaged 4.6 yards per throw against the Cleveland Browns this past week.
With the New England Patriots coming to town this week, Stafford needs to show that the Lions offense can still be a high-powered unit. If he continues to struggle this week, it could be a sign of bad things to come for the regular season.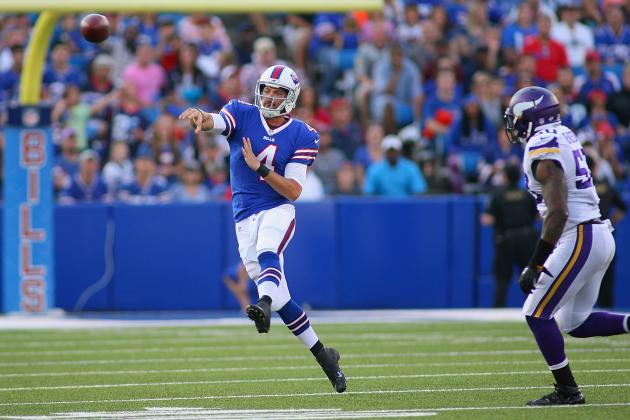 Rick Stewart/Getty Images

With rookie quarterback EJ Manuel sidelined for the rest of the preseason with a knee injury, all eyes will be on veteran Kevin Kolb heading into Week 3.
Manuel had the starting quarterback job all locked up through two preseason games, but now there is a minuscule opening for Kolb. Of course, the only way he'll get himself back into the starting race is if he plays flawless and spectacular football against the Washington Redskins and Detroit Lions.
With that said, there is at least some hope for Kolb heading into this week's game.
Look for him to either confirm his status as a backup quarterback or bring his and Manuel's battle back to life.
Rob Carr/Getty Images

The Pittsburgh Steelers got terrible news when it broke that rookie running back Le'Veon Bell could miss 6-8 weeks due to a Lisfranc injury according to Jason La Canfora of CBSSports.com.
Bell was expected to boost a ground game that struggled at times during last season. Now the Steelers will rely on the same backs as last year, mainly Isaac Redman and Jonathan Dwyer, to carry the load in Bell's absence.
The most pressure is on Dwyer, who is a talented runner but has failed to live up to expectations. He'll now have an opportunity to prove that he's worth getting a share of the loads once Bell returns.
This is a big game for Dwyer due to the fact that a strong performance will mean huge things for him heading into the regular season.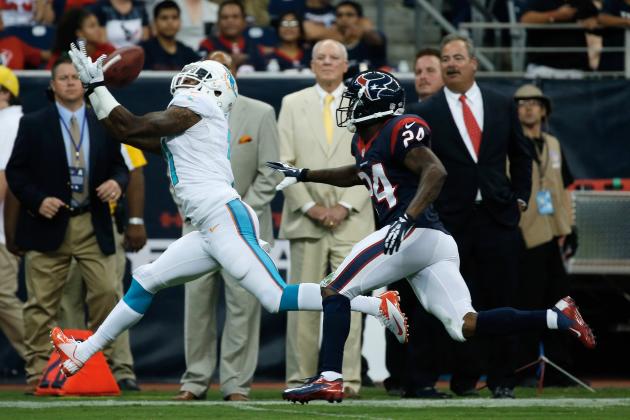 Scott Halleran/Getty Images

After a somewhat shaky start to his career with the Miami Dolphins, wide receiver Mike Wallace looked pretty good in Week 2 of the preseason. He finished with 3 receptions for 58 yards and a touchdown in limited time.
What makes Wallace such an important player to watch is his value to second-year quarterback Ryan Tannehill. There is no doubting Tannehill's potential, but he needs a legitimate No. 1 receiver to help him reach his ceiling.
The Dolphins are hoping that Wallace can become that receiver for their franchise quarterback.
How Wallace handles the new-and-improved secondary of the Tampa Bay Buccaneers that may feature Darrelle Revis (h/t Rotoworld.com) will go a long way to determining the type of season he can have.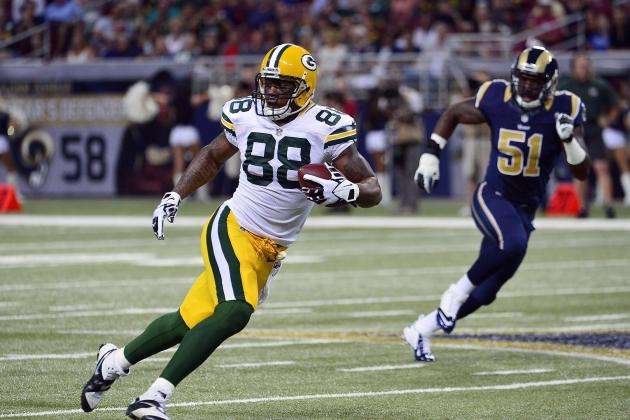 Scott Rovak-USA TODAY Sports

It seems that every year is the year that "experts" predict tight end Jermichael Finley to have a breakout season. Unfortunately, he's failed to do so due to injuries and off-field issues.
It finally seems, however, that things might be looking up for the extremely talented tight end. In his last game, he went for four receptions and 78 yards in limited time showing off his big-play ability with a 33-yard reception.
If Finley can finally become the player that many think he's capable of, the Green Bay Packers will easily have one of the most explosive offenses in the league. Another strong performance from him against a team like the Seattle Seahawks will be a sign of good things to come for the regular season.
Steve Mitchell-USA TODAY Sports

With tight end Dustin Keller out for the season after a gruesome injury in Week 2, the Miami Dolphins desperately need either Charles Clay or Michael Egnew to step up.
Both players have been drafted within the past two seasons and have the potential to become big producers for the Dolphins. It's unlikely that they'll get a better opportunity then the one that's directly in front of them.
The Dolphins have a young offense in quarterback Ryan Tannehill and running back Lamar Miller leading the way. If either Egnew or Clay can prove they're legitimate starters in this league, it could be a huge boost for this team's playoff chances.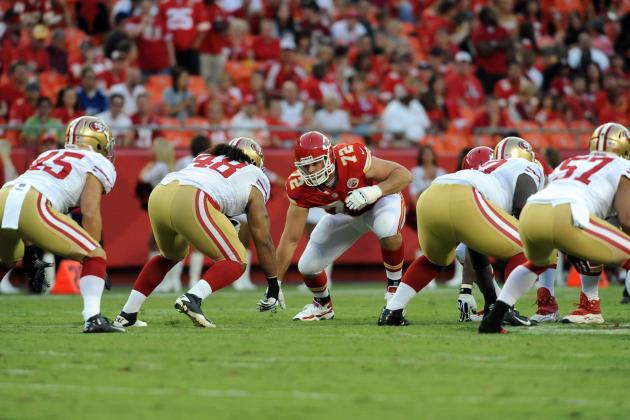 Denny Medley-USA TODAY Sports

As the No. 1 pick in the 2013 NFL draft, many expected offensive tackle Eric Fisher to come in right away and play dominant football for the Kansas City Chiefs.
Unfortunately, that hasn't happened throughout the preseason. Last week against the San Francisco 49ers, Fisher had one of the worst grades of any rookie according to Pro Football Focus.
It's still very early for Fisher, but you can be sure that the Chiefs would love to see him play much better than he has been so far this preseason.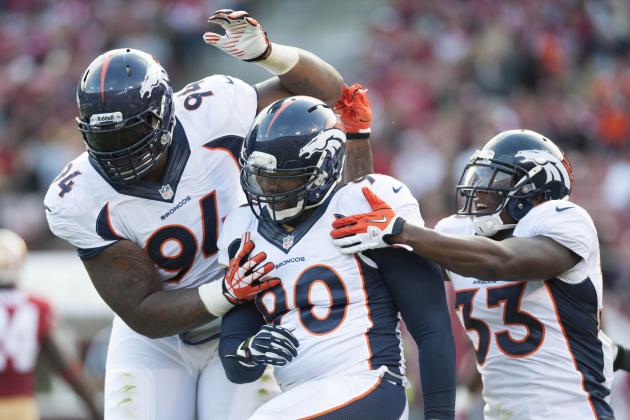 Ed Szczepanski-USA TODAY Sports

Now that the Denver Broncos know for sure that outside linebacker Von Miller will be missing a good chunk of the regular season, they desperately need some players to step up on the defensive side of the ball. One player they could be looking towards for help is outside linebacker Shaun Phillips.
Phillips is entering his first year with the Broncos after spending his entire career with the San Diego Chargers. He's coming off a rather poor season for the Chargers that saw him rank as the second-worst 3-4 outside linebacker according to Pro Football Focus (paid link).
If Phillips plays like he did last year in Miller's absence, it could be an extremely long six games for the Broncos. However, if Phillips can show he can be an impact player this week in the preseason, it could help alleviate some of the pressure currently on Denver's shoulders.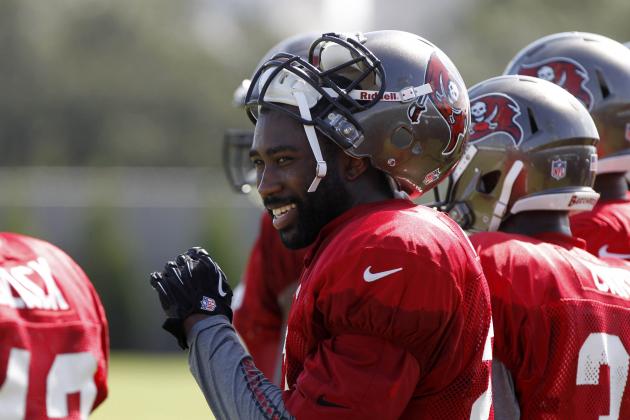 Kim Klement-USA TODAY Sports

It's extremely possible that cornerback Darrelle Revis won't be playing during the preseason. However, Sal Paolantonio of ESPN reported that Revis could possibly play in the Tampa Bay Buccaneers' third preseason game (h/t Rotoworld.com).
If Revis does play, he'll absolutely be one of the premier players to watch. We'll want to see how healthy he looks and if he can get back to being the most dominant cornerback in the league.
Of course, if Revis doesn't play, none of this matters.
Let's hope Revis plays.