John Cena Injury: Updates on WWE Star's Tricep Surgery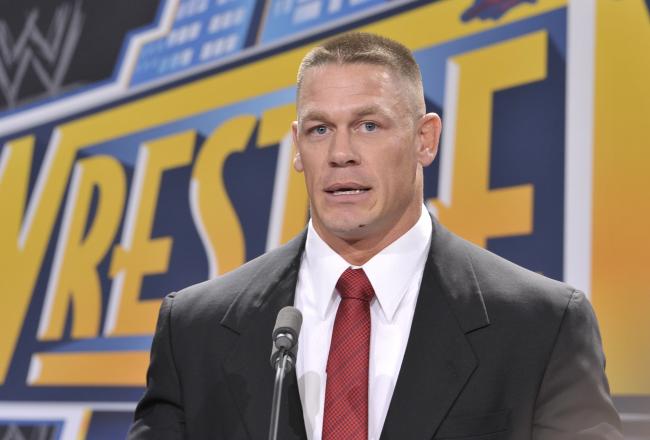 Michael N. Todaro/Getty Images
Rumors of John Cena's extended break from the WWE were confirmed on Monday, Aug. 19, when Cena announced he would undergo surgery on his torn tricep. He has since undergone successful surgery and is already rehabbing.
The WWE Universe Twitter account provided the official diagnosis of Cena's injury along with a timetable for his return:
Cena tells the @WWEUniverse that he was told to get surgery for a torn tricep two weeks ago. He is leaving @WWE tonight for 4-6 months.

— WWE Universe (@WWEUniverse) August 20, 2013
On Monday, Oct. 7, Cena announced his return for the upcoming Hell in a Cell event.
UPDATE: Tuesday, Oct. 8
On Monday, Oct. 7, John Cena confirmed that he would return at WWE's Hell in a Cell event later this month:
You heard it on #RAW, @WWE Universe. Hell in a Cell vs. @VivaDelRio for the WHC. The Champ is... Back! #EvenStronger

— John Cena (@JohnCena) October 8, 2013
UPDATE: Tuesday, Sept. 3
From John Cena:
Gotta keep stitches in a few more days. I am beyond frustrated, but gotta do what Doc says. Adapt. Overcome. #evenstronger @WWEUniverse

— John Cena (@JohnCena) September 3, 2013
UPDATE: Thursday, Aug. 29
From John Cena:
Day 9, post Op. still can't move arm, may be bending rules a bit. I refuse to sit still. Stitches out in 5days. Then time 2 b #evenstronger

— John Cena (@JohnCena) August 29, 2013
UPDATE: Thursday, Aug. 22
John Cena provides a statement on his injury, via WWE.com:
"I cannot put off my surgery any longer," Cena said on Monday, "and tonight I leave WWE."

"I plan on using the next couple months to rehab and get healthy as I can, as quickly as I can," said Cena. "My goal is to return to WWE healthy and strong, and since my expected time away is only six months, this shouldn't affect WrestleMania."

"WWE has never been and never will be dependent on one man, with the exception of Mr. McMahon," Cena said. "In the coming weeks, WWE will be filled with exciting programming as always, and I'll have the best seat in the house! Let's see who captivates the WWE Universe."
UPDATE: Tuesday, Aug. 20
WWE.com's staff passes along a statement from John Cena:
"I cannot put off my surgery any longer. Tonight I leave the WWE," Cena said while praising Daniel Bryan for beating him fairly and squarely at SummerSlam.
The Soup posted a picture of Cena's elbow on Twitter:
John Cena's elbow looks great! #RAW pic.twitter.com/2kMoiKVe5d

— The Soup (@TheSoup) August 20, 2013
WWE's Dr. Michael Sampson also provided a statement to WWE.com:
"John has been dealing with a large left elbow bursitis," said WWE's Dr. Michael Sampson. "We did an MRI which showed a partial triceps tear. Being the warrior that he is, he did not want to have surgery [forcing him to cancel his SummerSlam match]."

"After SummerSlam, John agreed with us to have surgery this week with WWE's Dr. James Andrews. He will begin physical therapy after that."
Cena's girlfriend and WWE Diva, Nikki Bella, also tweeted following the announcement:
I am going to be such a good nurse! This superwoman will be taking care of her superman.
The former champ announced the news on Raw on Aug. 19, and ring announcer Justin Roberts gave us a look at the scene:
WOW major announcement from @JohnCena #RAW pic.twitter.com/8KE0L3vfjz

— Justin Roberts (@JustinRoberts) August 20, 2013
Ever since Cena tweeted about the "baseball" in his left elbow and called the situation "complicated" last week, many saw a hiatus on the horizon. But fans have to credit Cena for sticking out the injury and fighting through SummerSlam's main event with Daniel Bryan Sunday night.
It goes without saying, the company is far better off because he was able to do that.
The match, in which Cena lost his WWE title to Bryan clean, was an instant classic that was wrestled beautifully by both participants. Bryan, of course, subsequently lost the title to a Money in the Bank cash-in by Randy Orton.
Cena's massive leg-drop off the top rope was one of the most memorable moments from the match, and the fact he was able to do it—or anything else in the match, for that matter—with a torn triceps muscle is quite impressive.
The man undoubtedly has a lot of critics, but he deserves loads of respect after the toughness and grit he put on display at SummerSlam.
The question now becomes: Will the company, now without its most marketable star until probably 2014, suffer as a result of his absence from the ring?
Don't count on it. With Bryan, a babyface who is incredibly over with the crowd, chasing the new corporate champion Randy Orton, WWE is in a great place with a level of anticipation we haven't seen in years.
This article is
What is the duplicate article?
Why is this article offensive?
Where is this article plagiarized from?
Why is this article poorly edited?