Predicting the Detroit Lions 2013 Season Awards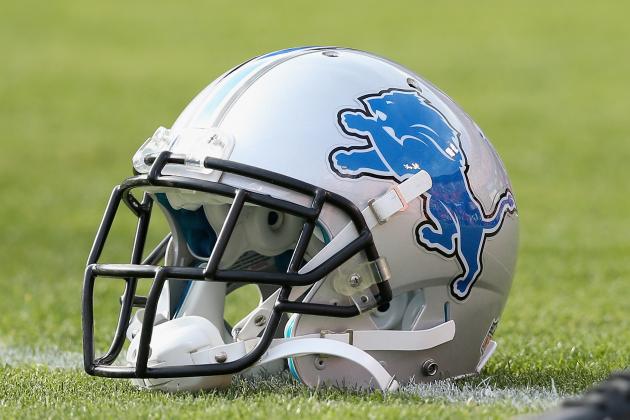 Ezra Shaw/Getty Images

As the regular season inches closer, it's time to take a look forward and predict the individual award winners for the Lions. These are based on all the honorees playing a full slate of games.
The honors bestowed here include:
Most Valuable Player
Most Improved Player
Rookie of the Year
Most Underrated Performer
Offensive Player of the Year
Defensive Player of the Year
Biggest Disappointment
Most Pleasant Surprise
Begin Slideshow

»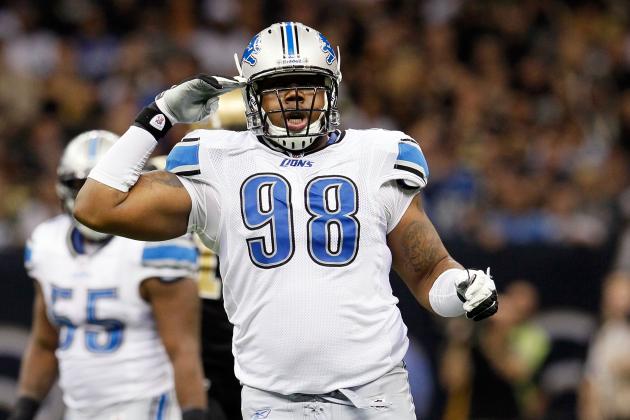 Kevin C. Cox/Getty Images

Detroit has several eminently talented players that will all merit consideration. However, my pick is a player who can make the difference between the Lions making an unexpected surge into the playoffs and falling off into mediocrity, if he plays to his potential.
While that is likely true of quarterback Matthew Stafford, it's the other side of the ball that needs to show more vitality.
Nick Fairley looks like a different man this summer. The former first round pick showed up in excellent condition and with a more mature, focused attitude.
According to Pro Football Focus (subscription required), Fairley was easily the best run defender on the Lions in 2012 as well as being a powerful pass rusher. I believe he plays even better in 2013 and spearheads an overall defensive improvement.
WINNER: Nick Fairley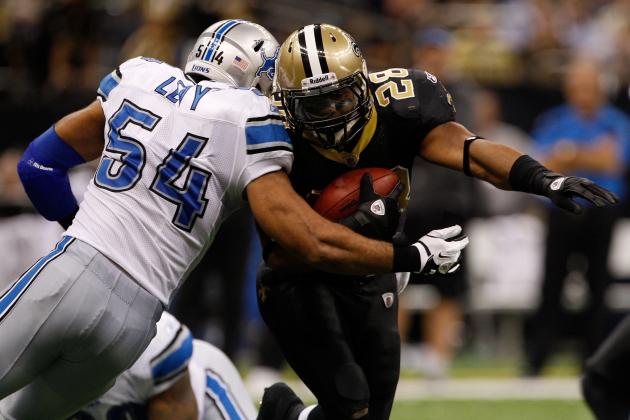 Chris Graythen/Getty Images

Again there should be several candidates here with all the young talent. Nick Fairley will certainly have a claim to this honor as well, but I'm not allowing duplicate winners.
Tight end Brandon Pettigrew is hopefully in the mix. His 2012 was marred by injuries and a lack of concentration that drove Lions fans crazy. The physical talent is still present, and if Pettigrew can stay healthy and regain his confidence, he could put up significantly better numbers.
Offensive lineman Dylan Gandy has been very solid in training camp and preseason. He hasn't played much, getting on the field for just one solitary snap a year ago.
This year Gandy looks like he will begin the season as the starting right guard. Gandy could also see action at center, where he has outplayed fading veteran Dominic Raiola in the first two preseason games.
Fellow lineman Riley Reiff is expected to make a leap forward as well. The 2012 first round pick is transitioning from role player, primarily as an extra right tackle, to starting left tackle.
Defensive end Willie Young was my prediction for this honor a year ago. That pick bombed as Young instead turned into my biggest disappointment this side of Titus Young. Willie Young still has the potential, and he has been fantastic in the preseason thus far.
It would be great if linebacker DeAndre Levy steps up and merits inclusion on this list. If his cover skills show improvement and he makes more downhill plays against the run, the 4th year veteran has a legit shot at this award.
Fellow outside linebacker Ashlee Palmer's arrow is pointing upward as well, though he's a more limited talent than Levy.
WINNER: DeAndre Levy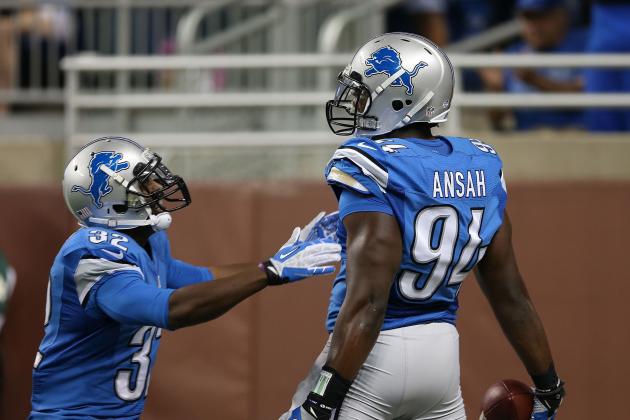 Leon Halip/Getty Images

Several rookies figure to see action for the Lions. The two most prominent draft picks will likely duel for the team's Rookie of the Year honor.
First round pick Ziggy Ansah will start at defensive end. The elevator on his physical potential reaches floors that few players possess. Yet the Ghana native and BYU product will be learning how to play football on the fly.
As he demonstrated in the preseason opener against the Jets, Ansah is capable of making special plays off the edge. Should Ansah make several impact plays he will be a viable candidate for Rookie of the Year honors for the entire league, let alone the Lions.
Second round pick Darius Slay is also slated to start at cornerback. The Lions found his closing speed, length and playmaking ability attractive. A strong scouting report on Slay can be found here.
Slay recently stepped up to the first team. That presents the rangy rookie with an opportunity to make a major impact at a position of strong need.
Fifth round pick Sam Martin could emerge as a sleeper candidate for this honor. If Martin can pin several punts deep and prevent any big returns, he could earn top rookie honors.
WINNER: Ziggy Ansah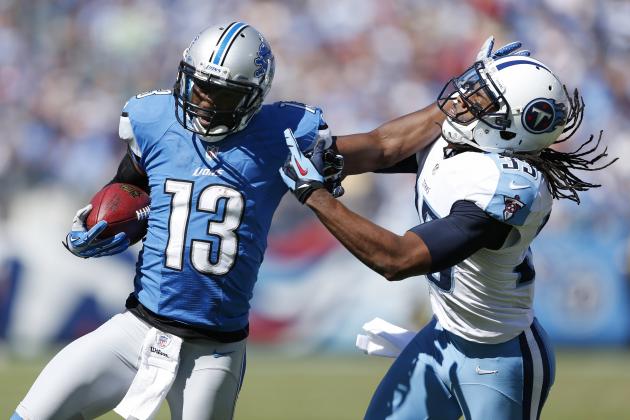 Joe Robbins/Getty Images

Everyone knows about Calvin Johnson, Matthew Stafford, Reggie Bush, Nick Fairley and Ndamukong Suh. They will attract most of the national media attention. Yet every successful team features less prominent players that play critical roles. These Lions will be no exception, and here are some who can make some significant but unsung contributions.
Riley Reiff takes over at left tackle, filling in for longtime starter Jeff Backus. The physical second-year talent can make a big impact in the running game, as well as providing strong blind side protection for Stafford.
Middle linebacker Stephen Tulloch figures to lead the team in tackles. Should he create more turnovers and make more tackles closer to the line of scrimmage, Tulloch's value skyrockets.
Veteran wide receiver Nate Burleson is returning from a broken leg. Burleson was sorely missed as a target, and he should relieve pressure from Johnson.
His leadership both on and off the field is invaluable to Detroit. He's also worked hard to build pride in the loyal fan base by being readily accessible and creating his own line of Lions-related merchandise.
WINNER: Nate Burleson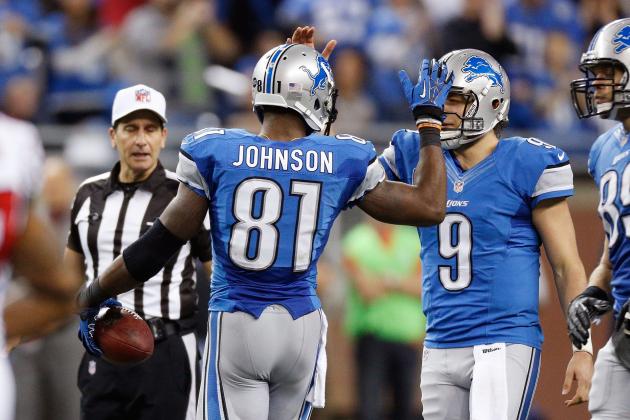 Gregory Shamus/Getty Images

Detroit has several worthy candidates jockeying for this award.
Quarterback Matthew Stafford has thrown for over 10,000 yards in the last two seasons. He could once again top 5,000 yards and 30 touchdowns as the ringleader of what looks to be a very potent offensive attack.
Calvin Johnson is coming off one of the greatest seasons by any wide receiver in NFL history. He broke Jerry Rice's record for single-season receiving yards while leading the league in receptions with 122.
That's a tough act to follow, but if Johnson can come close to his yardage and reception totals while increasing his touchdowns from a relatively meager five, Megatron could be even better.
The Lions targeted Reggie Bush in free agency for his game-breaking ability. Bush figures to play a significant role as both the featured running back but also as a dangerous receiving weapon out of the backfield and in the slot. He is the odds-on favorite to lead the Lions in touchdowns.
WINNER: Calvin Johnson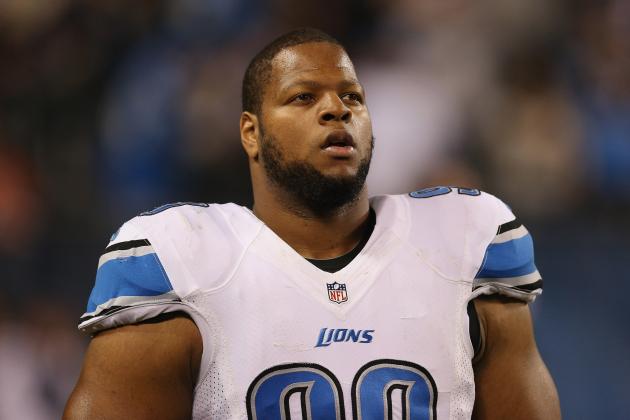 Jonathan Daniel/Getty Images

Just as with the offense, Detroit has several players who figure to compete for Defensive Player of the Year honors. Remember, Nick Fairley is the pick for Most Valuable Player and thus ineligible to win this honor too even though he might be the best defender on the team.
Ndamukong Suh is poised for a monster season playing next to Fairley. Another season of at least eight sacks and eight more tackles for loss are in order. If he can force some fumbles and avoid undisciplined lapses, Suh is a viable candidate to win this award, not just for the Lions, but for the entire NFL.
Glover Quin has a chance to make a major impact. The free agent acquisition brings a steadying presence at safety and will represent a major upgrade in how the Lions cover opposing tight ends. He's also a force against the run.
Cornerback Chris Houston can challenge for this honor if he improves his ball awareness skills. Houston can ramp up the interception and pass deflection numbers while continuing to provide very solid coverage and run support.
WINNER: Ndamukong Suh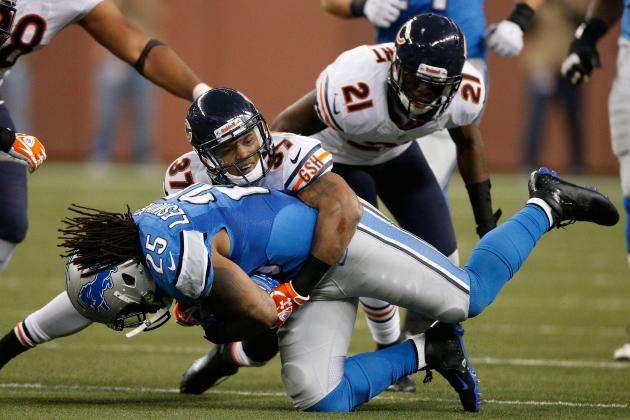 Gregory Shamus/Getty Images

The overriding hope is that the person earning this dubious award stands out from the crowd. The more candidates there are for biggest disappointment, the longer and more aggravating the 2013 season will be for Lions fans.
Louis Delmas is the most obvious candidate. Detroit desperately needs the oft-injured safety to play like he did early in his career, when Delmas was an impact safety against both the run and pass. His balky knees make a return to that level unlikely.
Riley Reiff could merit consideration if he fails to play to the decidedly average level that Jeff Backus provided at left tackle.
The Lions drafted Larry Warford in the third round with the expectation that he would start at right guard sooner rather than later. Entering the third preseason game, however, Warford sits third on the team's unofficial depth chart. If Warford cannot force his way into the lineup by the end of the season, it will be a real downer.
Running back Mikel Leshoure doesn't carry the overall significance of Delmas or Reiff, but he very well could rank as a bigger disappointment.
In a conversation before the 2012 season, Coach Jim Schwartz raved to me about Leshoure's potential and how much he would impact the offense. Other than producing in the red zone, Leshoure largely failed to live up to Schwartz's expectations last year.
Now the former second round pick could be in some danger of not making the team. If he doesn't earn more touches than Joique Bell, Leshoure will be proven a waste of a valuable pick.
WINNER: Mikel Leshoure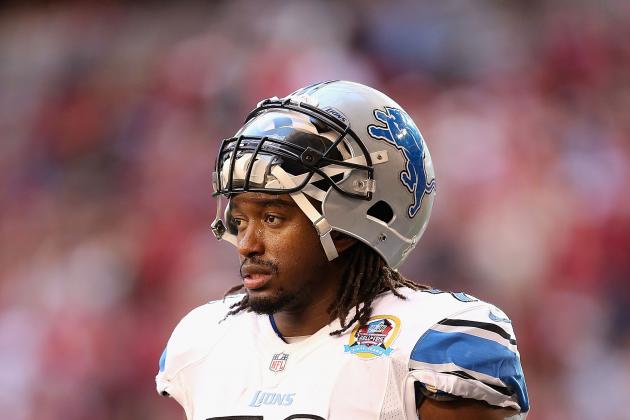 Christian Petersen/Getty Images

Successful teams invariably benefit from surprise contributions from unexpected sources.
Sometimes it's an unprecedented spike from a veteran. Other times it's a breakout campaign from a young player outplaying all expectations. Many times it's a later round rookie or undrafted free agent performing far beyond their draft status.
The Lions will hopefully have several candidates here.
Fourth round pick Devin Taylor has the physical potential to make a splash at defensive end and on special teams.
Willie Young has proven all offseason that he is ready to bury his disappointing 2012 campaign and make a big jump forward at defensive end.
Safety Don Carey figures to see the field a lot as the third safety. The veteran has flashed legit competence at times, including late last year. A career year is not an unreasonable expectation from Carey.
As mentioned earlier, offensive lineman Dylan Gandy has played very well in the preseason and could parlay that into a much more prominent role going forward.
In taking a more abstract view, Offensive Coordinator Scott Linehan could earn this honor if the Lions run the ball more frequently and successfully without sacrificing the potent passing attack.
WINNER: Willie Young