A potential six- or eight-game suspension for star linebacker Von Miller will not cripple the Denver Broncos' high hopes this season.
Bleacher Report's Mike Freeman reported the NFL is currently weighing those options after Miller's latest drug test revealed his urine was "extremely diluted." Miller, per Freeman, did not actually fail a test.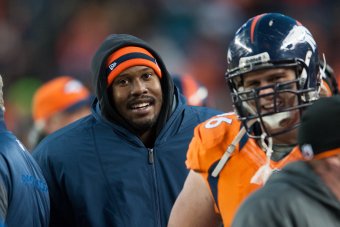 Dustin Bradford/Getty Images
The NFLPA is apparently countering that decision by seeking a four-game suspension for its player, according to Freeman.
Depending on where you look, the Broncos are the lone Super Bowl betting favorites heading into the 2013 NFL season. According to Bovada, though, the San Francisco 49ers are currently locked with the team with 6-1 odds.
Despite the potentially unappealing loss of Miller to start the season, there are plenty of reasons to remain optimistic about the team living up to hefty offseason expectations.
Favorable Early Schedule
Denver Broncos 2013 Schedule Through Week 8

| | | |
| --- | --- | --- |
| Week | Location | Opponent |
| 1 | Denver | Baltimore Ravens |
| 2 | Away | New York Giants |
| 3 | Denver | Oakland Raiders |
| 4 | Denver | Philadelphia Eagles |
| 5 | Away | Dallas Cowboys |
| 6 | Denver | Jacksonville Jaguars |
| 7 | Away | Indianapolis Colts |
| 8 | Denver | Washington Redskins |
DenverBroncos.com
With four home games in the first six—three coming against teams with losing records in 2012—the Broncos seemingly don't have too rough of a road to travel while they likely play without their star pass-rusher.
Opening against the defending Super Bowl champions won't be a walk in the park, but there are plenty of opportunities for the Broncos to stay in contention throughout their first six games.
Looking at their schedule, the Broncos could be looking at a split to begin their season.
Realistically, the Broncos could probably afford to lose a few games early on in the season—much like when they dropped three of their first five contests in 2012 and still made the postseason.
The AFC West is… The AFC West
After Miller's return, the Broncos will get to battle against AFC West teams five times. While those games are not already decided, the likelihood of them winning is high. Denver swept all six games from its divisional opponents a season ago.
The road to the playoffs in the AFC West, potentially the weakest overall group in the league, will not be too difficult to manage even while mitigating the loss of Miller to begin the season. No team in the division other than the Broncos finished with a winning record in 2012.
Denver could potentially slip in its win total from 13 to 10 or nine wins and still find itself in the postseason playing for a shot at the title. Once a team gets to the playoffs, it's anyone's championship to win.
Offense Capable of Carrying the Load
The Denver Broncos were fourth in total offense in 2012. They weren't content with that performance and added Pro Bowl wide receiver Wes Welker in free agency and NCAA rushing touchdown leader Montee Ball during the 2013 draft.
If the Broncos can control the clock by running the ball effectively, opposing offenses won't have much time to fully take advantage of Miller's absence. Rushing will also help Manning take advantage of defenses with his arm.
Manning is a surgeon while operating out of play-action fakes. According to Pro Football Focus (subscription required), the veteran recorded an NFL-best 10.5 yards per attempt on those plays in 2012. His 112 QBR while throwing in those situations was third-best in the league.
While there's plenty to be negative about with Miller facing a potential suspension, don't be too quick to count out the 2013 Broncos.