10 College Football Teams That Have High Bust Potential
Kevin C. Cox/Getty Images

From Louisville to Texas A&M, there are a few college football teams that are ranked highly to begin the season but could find themselves in the "bust" category by the end of the year.
Every season there are a few teams that come out of nowhere to shock the college football world. Notre Dame was an excellent example of that last season.
There are also teams that do not live up to their expectations. An example of that would be USC in 2012.
The season is less than a week away. It is time to pick 10 teams that will not live up to those lofty expectations in 2013.
Begin Slideshow

»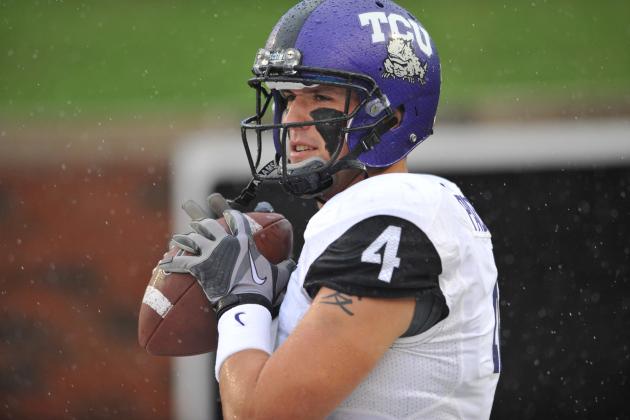 Cooper Neill/Getty Images

TCU was a huge bust last season, but a lot of that had to do with the off-the-field problems of quarterback Casey Pachall.
He is back this season but has yet to be named the starter. If he struggles or does not start, the Horned Frogs could be in a world of trouble.
They do have the potential to win the Big 12 if everything falls into place, but that is not going to be easy.
The Big 12 proved to be much tougher competition than what the Horned Frogs were used to.
This year they take on LSU to open up the season and also play Oklahoma and Oklahoma State on the road.
It is not going to be easy pickings in 2013 for the Horned Frogs.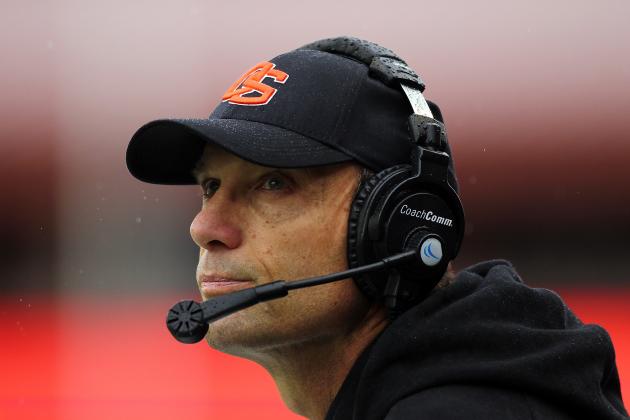 Jonathan Ferrey/Getty Images

Oregon State is another squad who surprised a few folks last season. The Beavers started very strong and finished the year 9-4 overall.
The good news for the Beavers is the early-season schedule is extremely easy. They could roll off six or seven wins to start the season if everything goes according to plan.
After that, the final five games of the year are against Stanford, USC, Arizona State, Washington and Oregon.
The Beavers might have trouble during that stretch.
If sophomore Storm Woods and the running game do not improve, teams will be able to key on the pass in 2013. That could be bad news for the Beavers.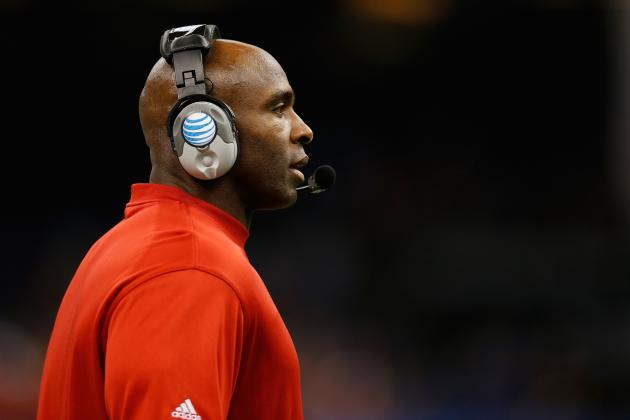 Chris Graythen/Getty Images

Louisville is a hot pick to contend for a national championship, particularly with the easy schedule.
After the Cardinals knocked off Florida in convincing fashion in the Sugar Bowl, they appeared to be poised for a promising 2013.
While that might be the case, the Cardinals are not as talented at their top-10 ranking indicates.
Last season Louisville was only 51st offensively, scoring 31.2 points a game. There could once again be some struggles on that side of the ball.
The schedule is not difficult, but it does have some interesting games, including the season opener against a talented Ohio squad.
In conference play there is also a game against Rutgers and a road game at Cincinnati to finish out the season.
It is possible for this team to go undefeated, but three losses is not out of the question either.
Any more than one loss would be considered a bust by many.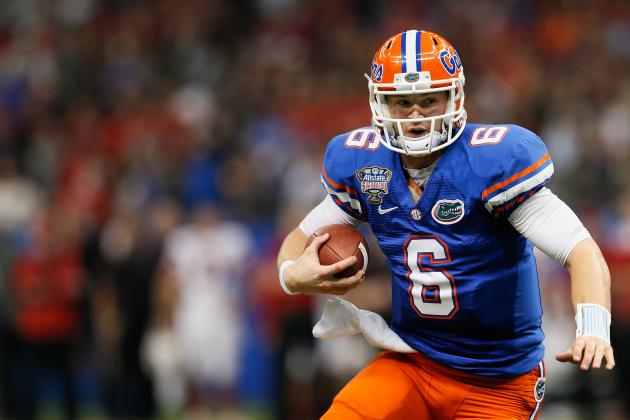 Kevin C. Cox/Getty Images

Florida struggled offensively last season, only averaging 26.5 points a game, ranking 78th in the nation. The defense was in the top five in the country.
If there are not improvements on the offensive side of the ball in 2013, it could be a very long year for head coach Will Muschamp and his squad.
The schedule is not doing the Gators any favors. Toledo at home followed by Miami are the first two games of the season.
In conference play the Gators take on the likes of LSU, Georgia, South Carolina and Vanderbilt. They also finish the season against Florida State.
That is a very challenging schedule. If quarterback Jeff Driskel can't show some major improvements, it could be a four-loss season in Gainesville.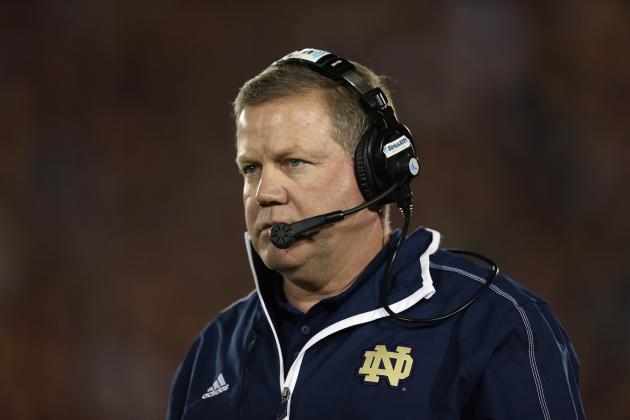 Jeff Gross/Getty Images

For how fortunate Notre Dame was last season, the Fighting Irish could see the opposite happen in 2013.
Notre Dame was lucky to win as many games as it did but came through in those clutch situations.
This season, the Fighting Irish will have a lot of talent to replace, including running backs Cierre Wood and Theo Riddick. Top target Tyler Eifert has also moved on.
Throw in the fact that quarterback Everett Golson is gone, and it could be a long season in South Bend.
Notre Dame has some challenging games once again with contests against Michigan, Oklahoma, Arizona State, USC, BYU and Stanford.
It could be a five-loss season in South Bend for head coach Brian Kelly and his squad.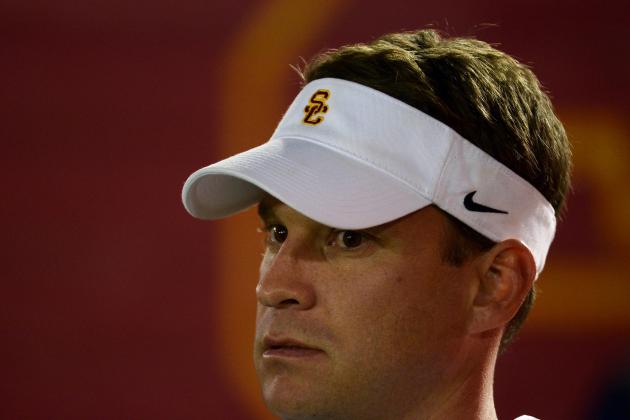 Harry How/Getty Images

In retrospect, USC would be at the top "bust" selection for the 2012 season. The Trojans started the season near the top of the rankings nationally and finished the year 7-6 overall.
This year USC is still starting in the Top 25, but might even be overrated there.
The quarterback situation is still up in the air. That is going to be the biggest question throughout the season. Even with Matt Barkley last season, USC still struggled. The quarterback situation is going to be worse this year.
The schedule is not too challenging, but Utah State out of conference is going to be very difficult. Notre Dame will not be a pushover either.
In league play the Trojans take on both Arizona squads, Oregon State, Stanford and UCLA.
Six losses might not be out of the question once again for this bunch.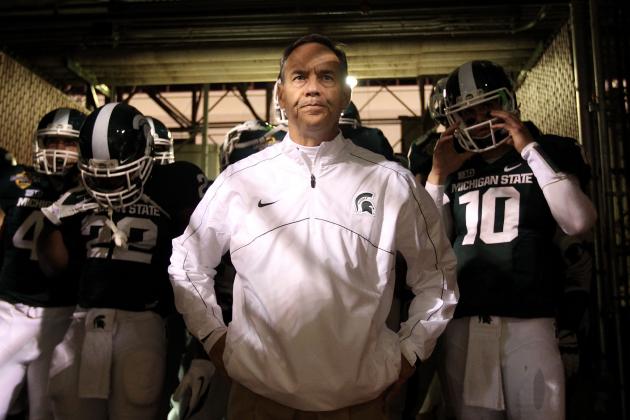 Christian Petersen/Getty Images

Michigan State is nearly ranked in both national polls. That seems a little too high for a team that only won seven games last year and also has to replace star running back Le'Veon Bell.
The Spartans were bad enough on offense last season as it was. They only averaged 20 points a game, ranking 110th in the nation. It might be even worse in 2013.
There's no question that the defense will be solid once again, but with how much that group is likely to be on the field because of the struggles of the offense, it could be a very long year.
Notre Dame comes calling out of conference. There is also a tough three-game stretch toward the end of the season against the likes of Michigan, followed by road games at Nebraska and Northwestern.
Six losses seem likely once again for the Spartans.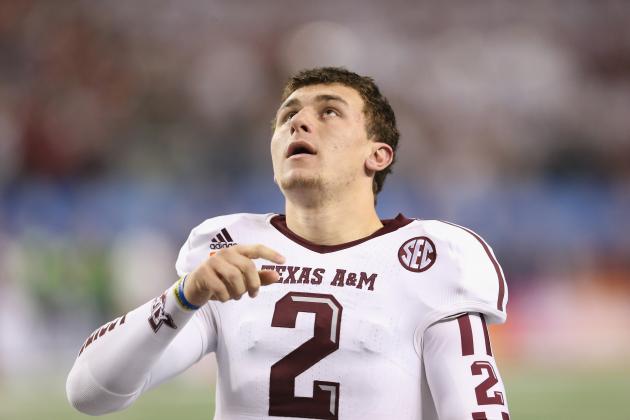 Ronald Martinez/Getty Images

For Texas A&M, the season all comes down to whether or not quarterback Johnny Manziel can stay on the field.
Manziel has been involved in an autograph saga. His status is uncertain for the season and the rest of his collegiate career.
If he does not play, there is no way Texas A&M comes anywhere close to contending for the SEC title.
The schedule is not very difficult with games against Alabama and at LSU as the main challenges.
But, without Johnny Manziel, this team could easily lose four or five games.
Kent Horner/Getty Images

UCLA was outstanding last season, reaching the Pac-12 championship and finishing the year with a 9-5 mark. Not a lot of teams were expecting that. This season, the Bruins will be the hunted and not the hunter.
Losing running back Johnathan Franklin to graduation is going to makes things harder on sophomore quarterback Brett Hundley.
An interesting game against Nevada kicks off the season. The Bruins also battle Nebraska in Lincoln the second game of the year.
The Pac-12 schedule is not exactly easy either with games against Stanford and Oregon on the road in back-to-back weeks.
Arizona and USC are also on the road.
Getting to nine or even eight wins in 2013 seems like a long shot for this team.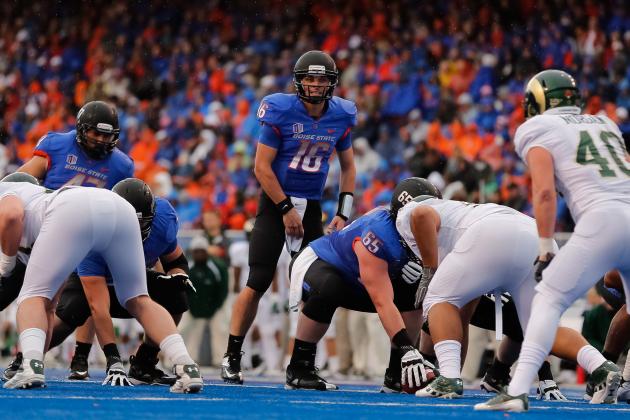 Otto Kitsinger III/Getty Images

Boise State wins 11 or 12 games virtually every season, but this may finally be the year when that does not happen.
The Broncos are still very talented, but this season some teams in the Mountain West Conference may have finally caught up.
The offense has a lot of question marks, particularly with running back D.J. Harper no longer there.
Road trips to Washington and BYU out of conference will be challenging. There are also road contests against Fresno State, Utah State and San Diego State in league play.
Those are certainly not going to be easy. The Broncos could lose as many as four games in 2013.