It can't be easy to be an Arsenal fan right now—and that just might the understatement of the...what's longer than a millennium?
Let's see, where to start?
Well, the club lost—at the Emirates, mind you—3-1 to Aston Villa, who finished an awful 15th in the table last season, to start off the EPL campaign. It is absolutely riddled with injuries, most notably a very serious one to promising youngster Alex Oxlade-Chamberlain. Arsene Wenger and management have failed to bring in any sort of help for the situation, signing only Yaya Sanogo, whose transfer fee was free-ninety-nine. Supporters are about ready to lead a mutiny (WARNING: video in that link contains NSFW language) against the guys in the suits. And to top it all off, Arsenal has become somewhat of a laughing stock around England.
Take this blow delivered by former Liverpool defender Jamie Carragher, via Index Football, as an example:
Jamie Carragher: "Arsene Wenger won't overspend on new signings.. The only people who are overspending at Arsenal, are the fans.."

— Index Football (@indexfootball) August 19, 2013
Or as this astute Arsenal fan put it, "in life, you get what you pay for—unless you're an Arsenal fan."

Still, while Arsenal is apparently falling apart at the seams, there is still time to right the ship with just under two weeks remaining in the transfer window.
Will Wenger finally open the checkbook, appease the fans and add some necessary quality? Or will the summer of frustration continue to rise to unhealthy levels?
Let's take a look at the most recent transfer buzz surrounding Arsenal.
Arsene Makes a Very "Arsene" Offer for Yohan Cabaye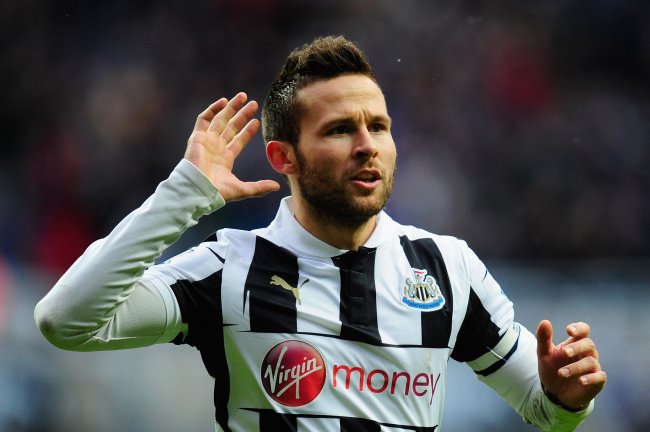 Stu Forster/Getty Images
Oxlade-Chamberlain is out for an extended period of time, while Tomas Rosicky, Jack Wilshere, Aaron Ramsey and Mikel Arteta are all banged up. So, yeah, it's safe to say that it would be wise for Wenger to add some depth in the midfield.
According to Sky Sports, he has targeted Newcastle's Yohan Cabaye, who was held out of the Magpies' opener against Manchester City, to help fill that void:
Sky sources: Arsenal make bid for Newcastle midfielder Yohan Cabaye #SSN

— Sky Sports News (@SkySportsNews) August 19, 2013
Just over an hour later, Sky Sports revealed that the bid was for a mere £10 million and was quickly rejected:
Sky sources: Newcastle reject Arsenal bid of around £10m for midfielder Yohan Cabaye #SSN

— Sky Sports News (@SkySportsNews) August 19, 2013
Cabaye isn't some world-class player who is going to solve all of Arsenal's problems, and he's probably not worth the reported £20 million that Newcastle desires according to Sami Mokbel of the Daily Mail.
But he is a central midfielder with lots of versatility and creativity. He can make tackles, score from outside the box—three of his six EPL goals last season, according to Squawka, came from beyond the 18—and he can create chances, per WhoScored:
Yohan Cabaye: Despite making only 26 PL apps last season, Cabaye created at least 19 more chances (53) than any other Newcastle player #NUFC

— WhoScored.com (@WhoScored) August 19, 2013
There was just no way that an offer of £10 million was ever going to be accepted, and Newcastle manager Alan Pardew was right to be insulted.
Gunners Looking to Bring Paul Pogba Back to the EPL?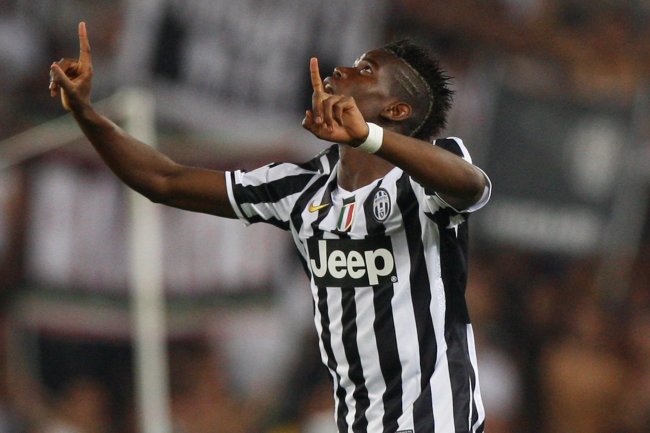 Paolo Bruno/Getty Images
Arsenal is reportedly interested in another French midfielder, as former Manchester United and current Juventus youngster Paul Pogba has entered the radar, according to Goal.com's Twitter account and Sky Sports' Graeme Bailey:
Arsenal launch audacious bid for Paul Pogba, according to reports. Check out the latest rumours here: http://t.co/Fed7F6y4ic #afc

— Goal UK (@GoalUK) August 19, 2013
Whilst Geoffrey Kondogbia remains a firm option for Arsenal, we understand they have enquired about Juventus' Paul Pogba.

— Graeme Bailey (@GraemeBailey) August 19, 2013
Unless Wenger enjoys being rejected, which might actually be true at this point, I would take this rumour with a massive grain of salt, because the odds of Pogba leaving the Serie A squad are somewhere between slim and none.
The 20-year-old had a successful debut season with Juventus last year, he scored, assisted and looked quite spectacular against Lazio in the Super Cup on Sunday, and manager Antonio Conte is documented as a gargantuan fan of the youngster.
Carry on.
Arsenal Going After Swansea Pair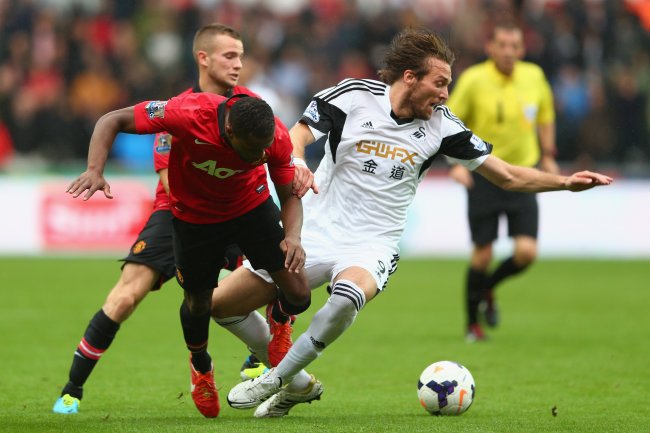 Michael Steele/Getty Images
According to James Olley at the London Evening Standard, Arsenal is set to make a bid for Swansea City's Michu and Ashley Williams:
Arsenal are weighing up a £35million double raid on Swansea for striker Michu and defender Ashley Williams as the club look to respond to mounting criticism over their lack of signings.
The report believes that £25 million would be for Michu and £10 million would be for Ashley Williams.
It's certainly an intriguing proposal.
After scoring 15 La Liga goals with Rayo Vallecano, Michu continued that success last season with Swansea, scoring 18 times in 35 Premier League appearances.
There are certainly concerns, though. The Spaniard tailed off near the end of the campaign, and he was far more dangerous playing behind a striker rather than as the lone option up front.
How many players will Arsenal sign in the next two weeks?
Nevertheless, his production, versatility and ability to play in small spaces in the middle of the pitch—as lots of Arsenal's talent is on the wings—are alluring traits.
Williams, meanwhile, would give Arsenal some important depth in the back.
Is the duo worth £35 million? Certainly not, but a purchase like this could at least inject some life into the franchise will improving the quality on the pitch.
Alas, this comes just a couple of days after Swansea manager Michael Laudrup said the two weren't for sale. Perhaps a bid of this magnitude will change his mind, but it's hard to put too much stock in this rumour with Michu and Williams so crucial to Swansea and so little time in the transfer window to replace them.