College Football Fanbases That Need 2013 Season Now More Than Ever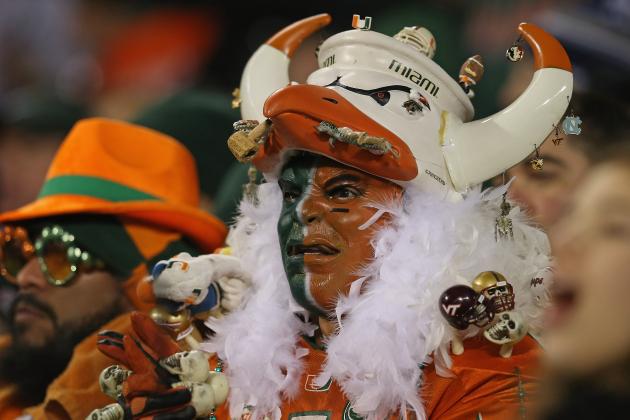 Jonathan Daniel/Getty Images

You're sick and tired of your favorite college football team not living up to expectations. You keep hearing the tireless stories about the good ol' days, but you'd like the current team to create a few successful memories. You're starting to feel like a Chicago Cubs fan and are beginning to wonder if your team will recapture its glory days.
Keep that chin up, this may be the year!
It's a new college football season and every team in the country starts with a clean slate. There's also a good chance your favorite team feels the same way you do and is tired of losing. Hang in there, the bad luck will eventually come to an end.
Some fanbases can't wait any longer, especially those of prestigious programs that haven't given folks a reason to cheer lately.
Begin Slideshow

»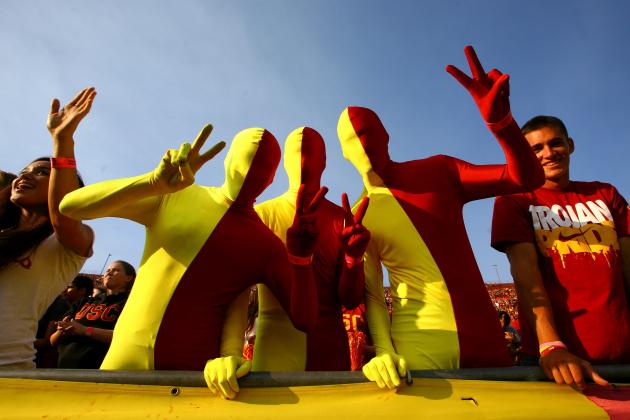 Stephen Dunn/Getty Images

Realistically, USC has had four straight years of disappointment. Pete Carroll's last season resulted in a 9-4 record and a trip to the Emerald Bowl. Lane Kiffin was banned his first two seasons from participating in a bowl game due to NCAA sanctions.
And then last season happened.
The Trojans were pegged as the team to beat heading into the season, but they proved to be one of the most overrated teams in recent memory. Finishing with a 7-6 record, quarterback Matt Barkley couldn't find his rhythm, the defense couldn't defend and Coach Kiffin couldn't stay out of the news like a Kardashian.
Last season hurt the most, but USC hasn't played in a BCS bowl since 2008, after playing in seven straight under Coach Carroll. This year's team has many questions and less talent than usual, but USC fans need to see positive signs or changes within the coaching staff could take place.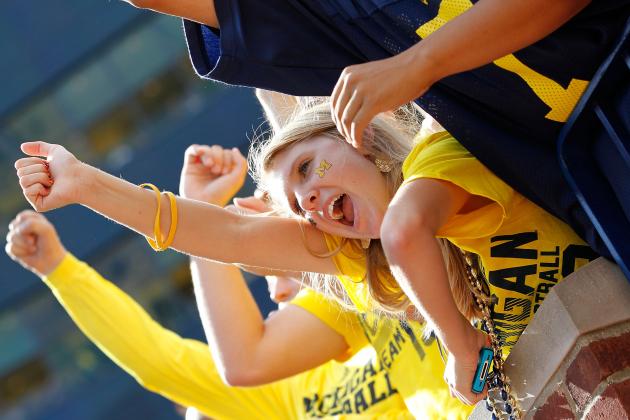 Gregory Shamus/Getty Images

Michigan fans should be sitting on the edge of their seat, as this is the season they will learn a lot about head coach Brady Hoke. He surprisingly led the 2011 team to an 11-2 record and a BCS bowl for the first time since 2006, but last year's 8-5 record didn't sit well with the folks of Ann Arbor.
Despite all of the hype that Ohio State receives, Michigan has a decent shot of winning the Big Ten this season. Quarterback Devin Gardner is a playmaker, and he has more weapons around him. The defense also returns several key players.
It wouldn't be a disappointment if Michigan doesn't win the conference title but a serious push needs to be made.
One year of success doesn't mean much in today's game. Lloyd Carr won 11 games in 2006, and it took Michigan five seasons before reaching double-digit victories again.
Hoke is a terrific recruiter and looks the part as a Michigan coach, but he can't have another mediocre season with this talented team.
Joe Robbins/Getty Images

Missouri wanted to play with the big boys of the SEC, now is the time to remove the diaper and prove it can hold its own. It doesn't take long for a program to fall behind in a conference full of national contenders, especially since Missouri could never take that next step when it was a member of the Big 12.
The Tigers must qualify for a bowl game and beat a couple of ranked opponents this season. Missouri's respect is on the line, as well as head coach Gary Pinkel's job.
The Tigers have more than enough talent to make things interesting in the SEC East. James Franklin is a top-tier dual-threat quarterback, he has terrific weapons around him (Dorial Green-Beckham) and the defense showed flashes of potential.
Missouri must take a step forward or it will begin losing ground to Tennessee and Kentucky as the worst team in the SEC East.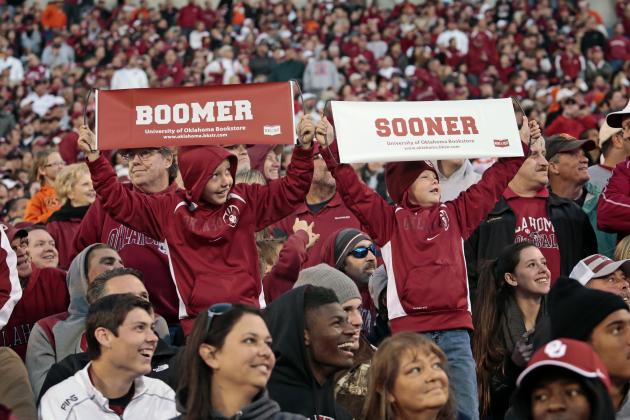 Brett Deering/Getty Images

Yeah, Oklahoma has won at least 10 games the last three seasons. Almost any school in the country would take that consistency in a heartbeat. However, Oklahoma isn't exactly an ordinary program that is satisfied with regular season success.
Oklahoma wants conference titles, BCS bowls and national championships. Anything less should be considered a failure. Well, the Sooners haven't played in a BCS bowl since 2010 and haven't participated in a national championship since 2008.
In fact, Oklahoma begun the last two seasons ranked in the Top 5 of the AP Poll but finished ranked outside the Top 10 and settled for trips to the Insight Bowl and Cotton Bowl. Yuck.
Head coach Bob Stoops must have this year's team competing for a BCS bowl, especially in a Big 12 conference that is as wide open as Megalodon's mouth. Oklahoma must get that edge back and remind the rest of the country that it is one of the better football programs in the nation.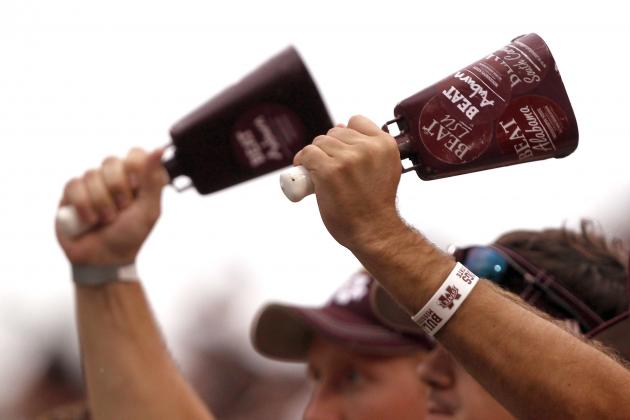 Butch Dill/Getty Images

It is time for Dan Mullen to make a move.
He either gets Mississippi State moving in the right direction or begins printing out copies of his résumé. It looked like last season was the year, as the Bulldogs started off with seven straight victories, but they lost five of their last six games, including the Gator Bowl (34-20) to Northwestern.
Mississippi State is a combined 1-12 since 2010 against ranked opponents. What makes matters worse is that rival Ole Miss is smoking the Bulldogs in recruiting. Believe it or not, Mississippi State could soon become the second most popular school in its own state if a turnaround doesn't happen quickly.
This is a statement season for Mississippi State. It's time to put up or shut up.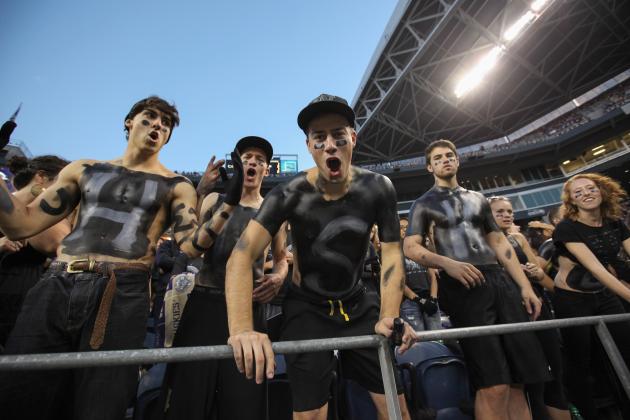 Otto Greule Jr/Getty Images

Washington has been on the bubble for three straight seasons. The Huskies have finished with a 7-6 record every year since 2010 and haven't shown many signs of progress.
Qualifying for a bowl game sure beats the days of when Tyrone Willingham was head coach, but the fans expect a little more than what they've been given. A team can only remain in the same spot for so long before wanting to taste richer success.
Washington has a boatload of young talent with quarterback Keith Price, tight end Austin Seferian-Jenkins and defensive back Shaq Thompson. There's no reason the Huskies can't make a push for double-digit victories and a bid for the Pac-12 Championship Game.
The renovations with Husky Stadium are done, and the fans are eager for that next step to be taken. This should be an exciting season for Washington.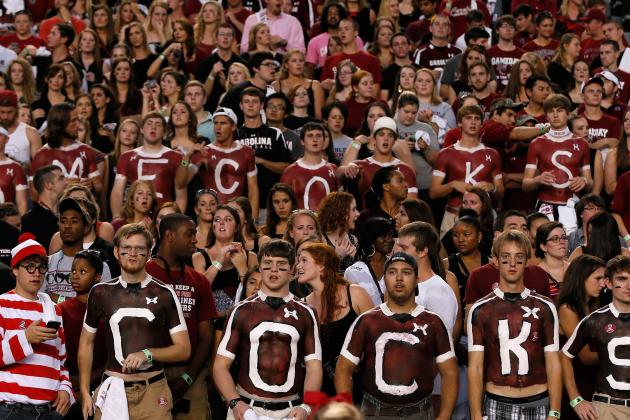 Kevin C. Cox/Getty Images

Hey, guys!
South Carolina is a national championship contender.
When was the last time that was said?
The Gamecocks have experience at quarterback, talent at wide receiver and a scary defense that is led by the best player in the country in Jadeveon Clowney. There's a lot to like about this year's team and a chance to win their first SEC title certainly isn't out of reach.
However, the fact that it's South Carolina makes this season scary for the fanbase. It's a program that hasn't had much success and just had its first season of 11 wins in 2011 (of course that feat was matched in 2012.) The program also doesn't recruit well enough to be a consistent contender in the loaded SEC.
South Carolina must take advantage of its opportunities this season.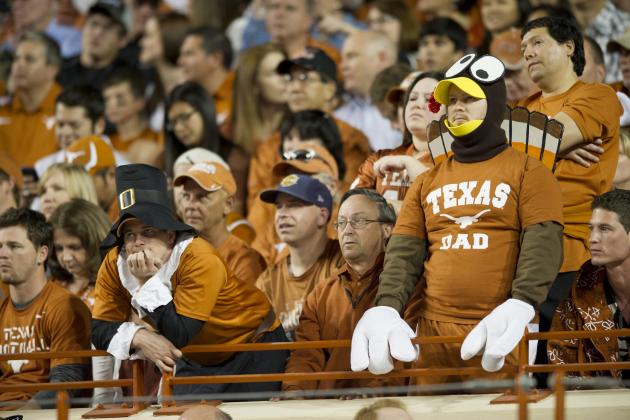 Cooper Neill/Getty Images

Texas has been down in the dumps for three straight seasons.
It all started by failing to qualify for a bowl in 2010, and then lousy bowl appearances such as the Holiday Bowl and the Alamo Bowl that have taken place the last two years.
Blame the lack of success on whatever you'd like, but there's no excuse for Texas not to win at least 10 games consistently. It's surrounded by talent and has better backups than most teams' starters. A talking elephant, a chimpanzee, heck, Charlie Weis could coach this team to a Big 12 title and BCS bowl.
Texas fans are tired of seeing talented teams underachieve and would like to see their team participate in a BCS bowl. Head coach Mack Brown could be replaced if another year of mediocrity continues.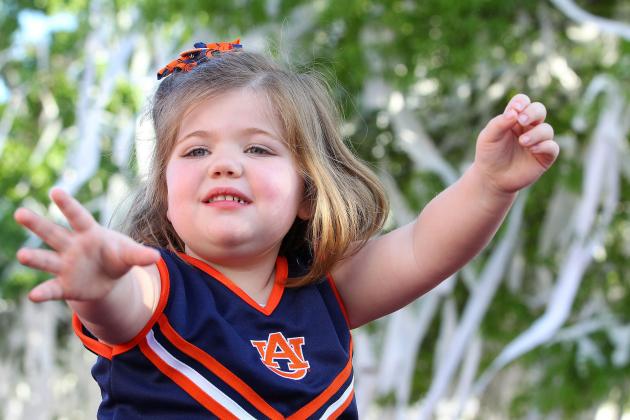 Mike Zarrilli/Getty Images

Auburn's 3-9 season last year may have been the worst in program history. Neither side of the ball could get going, former head coach Gene Chizik had no answers and it wouldn't be surprising if the fans washed their eyes out with bleach each Saturday.
If you remove that magical season in 2010 when Cam Newton unleashed his super powers, Auburn hasn't experienced consistent success over the last decade.
That's expected to change under new head coach Gus Malzahn. An offensive genius, who was the offensive coordinator during Auburn's championship run, will bring energy to the program and excitement on both sides of the ball. He's a young coach at 47 years old and knows how to put players in position to succeed.
Auburn isn't expected to compete for a conference title, but the fans do expect a drastic improvement over last season. Malzahn must show that there is a light at the end of the tunnel for Auburn fans to be happy again.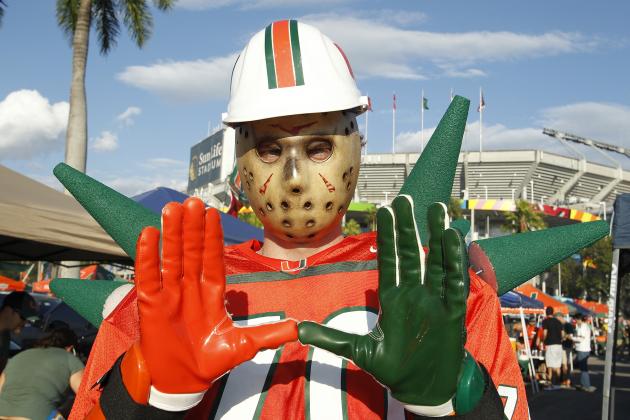 Joel Auerbach/Getty Images

It's been a while since Miami was the king of college football. In fact, things have gotten so bad that the Miami men's basketball team has won an ACC title before the football team. Nobody would have ever thought that was going to happen when joining the conference in 2004.
Miami hasn't played in a BCS bowl since 2003 and has been dealing with an ongoing NCAA investigation the last two years. It's safe to say the Hurricanes have lost their swagger and are not even a shell of themselves from the late 90s.
However, head coach Al Golden seems to have the program on the right track. Miami returns 19 starters, including 10 from an offense that has that traditional Miami speed and is capable of lighting up the scoreboard.
This could finally be the season the Hurricanes win the ACC and climb back into the BCS bowl picture.
Expectations are high again in Miami, and the rest of college football is starting to pay attention.