Colorado Rockies: Predicting Next Year's Starting Lineup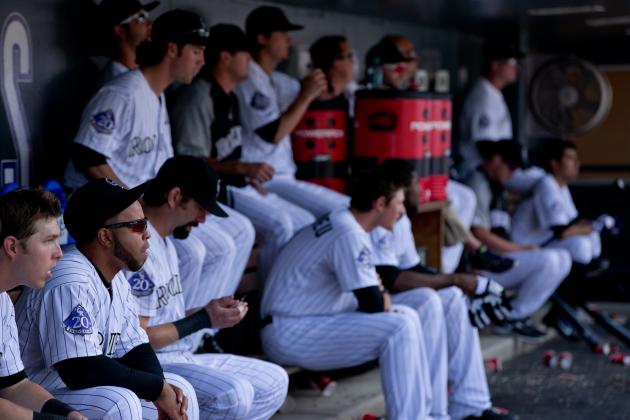 Justin Edmonds/Getty Images
The Rockies are looking to rebound in 2014.
The Colorado Rockies have a collection of exciting, young talent and new faces on display this season who could work their way into next year's starting lineup.
After recording a mundane 12-17 record after the All-Star break, Colorado sits 15 games behind a streaking Los Angeles Dodgers squad whose surge is unlike anything baseball has seen in decades.
Walt Weiss' offense has been unusually dormant in the second half. Troy Tulowitzki and Michael Cuddyer have struggled in August, and the injury to Carlos Gonzalez leaves the Rockies without much-needed offense.
It's been the youngsters like Corey Dickerson, Charlie Culberson and Nolan Arenado proving their worth this month with surprising production. Their success opens the door for a starting job in 2014.
Here's a look at some predictions for the Rockies lineup in 2014.
Begin Slideshow

»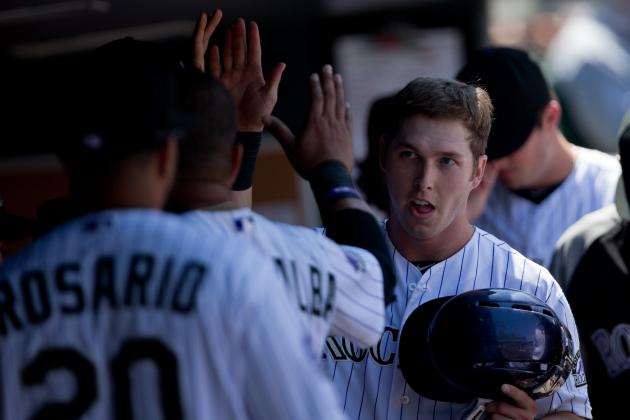 Justin Edmonds/Getty Images

Over the last month, prospect Corey Dickerson has exceeded typical rookie expectations, getting it done with the bat and with the glove.
Dickerson struggled out of the gate as a bench player, batting just .212 through his first MLB stint. Since being recalled on July 27, the 24-year-old outfielder is batting .385 with two homers and six RBI.
He's looking significantly more comfortable and patient at the dish and has been the Rockies' catalyst of late.
After a hot start, Dexter Fowler seems to be moving in the opposite direction. His production has been on steady decline in recent months and his power virtually nonexistent.
Mark Kiszla of The Denver Post believes the Rockies should consider dealing Fowler.
A trade would open the door for Dickerson to take over in center, and Fowler's trade value should allow the organization to get some middle- to upper-tier prospects in return.
While Dan O'Dowd is typically one of the more loyal GMs in MLB, it's clear something needs to be done about Fowler, considering Dickerson is blatantly the better option at this point.
Look for Dickerson to hit around .280 next season with around 60 RBI, and expect trade talk regarding Fowler to heat up this offseason.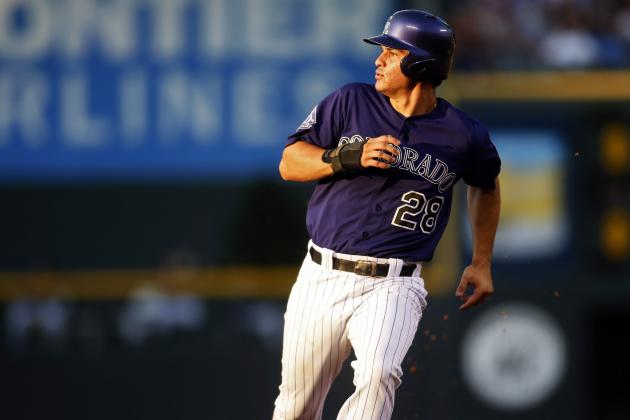 Chris Humphreys-USA TODAY Sports

It's been a whirlwind of a season with the bat for Rockies' top prospect Nolan Arenado.
The 22-year-old third baseman has experienced flashes of utter brilliance and bursts of arduous slumps. Through it all, he's remained a force in the field and a weekly fixture on ESPN's Top 10 Plays.
Overall, he's having a respectable rookie season, batting .264 with nine homers and 41 RBI. He's becoming more patient at the plate each month and managing to get clutch hits down the stretch.
With essentially no other options, Arenado should have no problem securing the starting third base job next season. He's earned the role.
Expect an increase in offense from Arenado in 2014.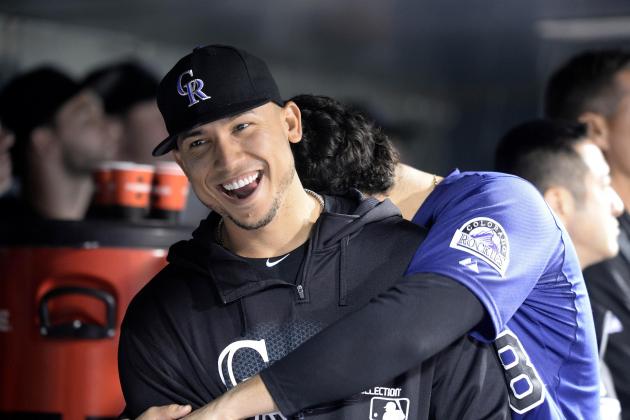 Ron Chenoy-USA TODAY Sports

No surprise here. Carlos Gonzalez is the heart and soul of this Rockies lineup and owns one of the sweetest swings in the game.
Before heading to the disabled list earlier this month with a middle finger injury, Gonzalez was batting .302 with 26 homers and 70 RBI and led his team in most offensive categories.
In April, the Mets were said to have been monitoring the availability of Gonzalez and Marlins' outfielder Giancarlo Stanton to seek a possible trade.
At this point, it wouldn't make sense for the Rockies to put their All-Star left fielder on the block. O'Dowd made that known in June as he put an end to the ridiculous rumor of possibly dealing their best player.
The Rockies have the luxury of having one of the most dangerous 3-4 punches in all of baseball in Gonzalez and Tulowitzki. Breaking the duo up would hardly pay dividends in the long run, no matter who they received in return.
Expect another stellar season from Gonzalez in 2014.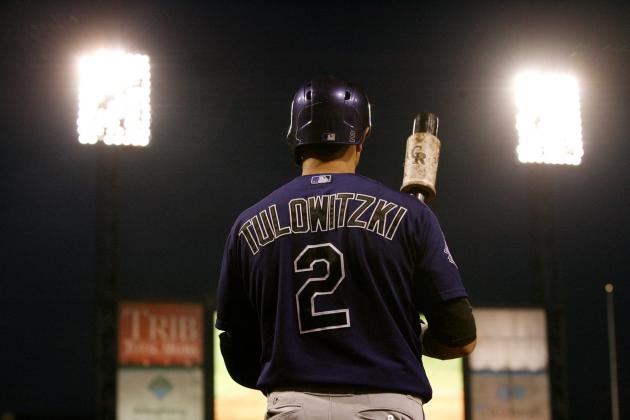 Charles LeClaire-USA TODAY Sport

Few shortstops in baseball have been as impressive offensively and defensively as Tulowitzki.
The Rockies longtime shortstop—still just 28—is having himself another productive but injury-prone season in purple pinstripes.
In June, Tulowitzki suffered a broken rib in a game against the Nationals. Before his injury, he was hitting .347 and was looking like an MVP candidate.
Jeff Passan of Yahoo! Sports even went as far as calling Tulowitzki "baseball's most dominant shortstop" back in March.
If the All-Star shortstop can stay healthy for the majority of next season, he should find his way into MVP talk once again. "If" being the key word.
Tulowitzki will be a fixture at Coors Field for as long as he's in the majors.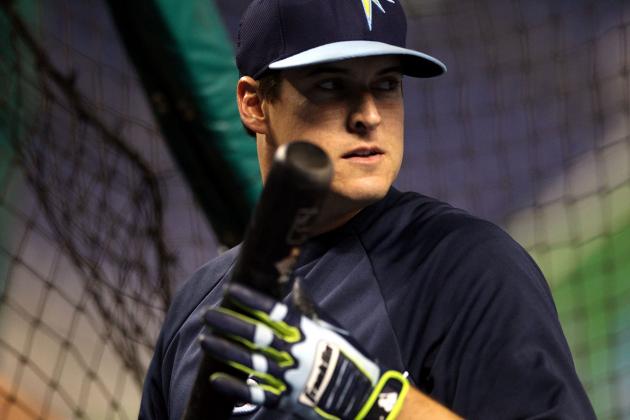 Marc Serota/Getty Images

This is the offseason where the front office will open up their pocket books, pull out a few million dollar bills and fix the perennial lack of production at second base.
Well, that's what Rockies fans are hoping for anyway.
Current options DJ LeMahieu and Charlie Culberson are mirror images of themselves in August, both batting around .275 with minimal RBI and a slew of base knocks.
LeMahieu has done a decent job in the everyday role but hasn't earned that starting second base job for next season.
Culberson, who's spent most of his playing time in the outfield, is hardly looking like an everyday choice for next season.
Therefore, the Rockies should peruse free agency for the best value. Kelly Johnson, whose one-year, $2.45 million deal expires after this season, offers a great bang for your buck.
Johnson has stayed relatively healthy and is actually having one of the more productive seasons of his career, batting .249 with 16 homers and 49 RBI. His versatility to also play the outfield will not only allow guys like Gonzalez and Cuddyer to sit out a game but also give LeMahieu a few spot starts.
Johnson will likely fall into the Rockies' range, and he could be a viable option at second in 2014.
Other manageable free-agent second base options include Skip Schumaker, Omar Infante and Mike Fontenot.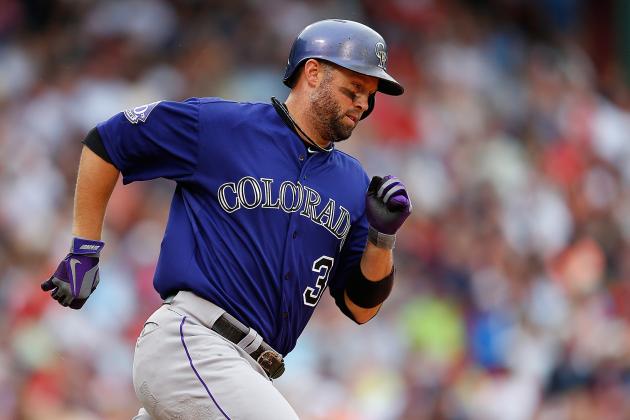 Jim Rogash/Getty Images

After numerous trade rumors (ESPN Insider subscription required) surfaced midseason concerning Michael Cuddyer, the Rockies came out and boldly said "no way" they're trading Cuddyer.
That being said, Cuddyer has been the backbone of this offense for most of the season in the midst of a career year.
Cuddyer is batting an astounding and unexpected .322 with 17 homers and 66 RBI, numbers no one was predicting at the beginning of the season.
He's forced pitchers to pitch to Gonzalez and Tulowitzki because of his success. In the middle of another tumultuous Rockies season, Cuddyer even gave fans something to cheer about at this year's Home Run Derby.
He's an important piece to this lineup and has more than earned his spot in right field for next season.
While no one should expect production like this in 2014, Cuddyer will still be a force in an already stacked lineup.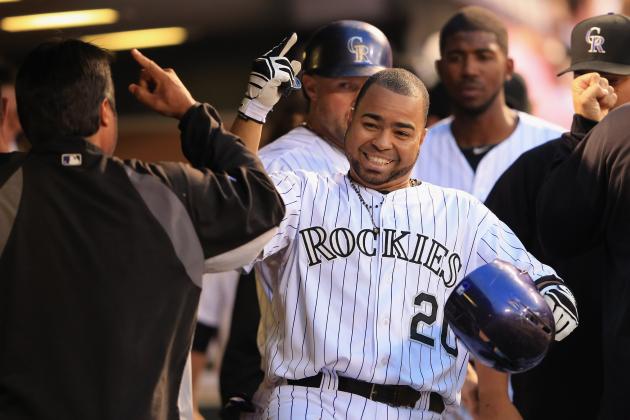 Doug Pensinger/Getty Images

Over the last two seasons, Wilin Rosario has inserted his name into the conversation of being one of the top five catchers in baseball.
Defensively, he's improved tenfold over last season, keeping the passed balls to a minimum with increased mobility behind the plate.
At the dish, Rosario is hitting .285 with 17 homers and 63 RBI, all of which place him in the top five among MLB catchers.
Rosario is becoming another staple in this Rockies lineup as he continues to get better.
Expect his numbers to improve next season.
Dustin Bradford/Getty Images

The longtime face of the franchise, Todd Helton, turns 40 tomorrow as retirement rumors linger.
While it remains uncertain whether or not Helton will retire after this season, his numbers show that he still has a little left in the tank.
He's hitting .254 with eight homers and 39 RBIs, making him the Rockies best option at first.
Colorado will likely peruse other options over the course of next season if he begins to show his age, but purging him of his 17 years at first in a Rockies uniform is unlikely.
Next season should be Helton's swan song. He's a probable Hall of Famer and a career .318 hitter. Whether he retires after this season or the next, the front office won't think twice about retiring the franchise's first number, 17.
Follow me on Twitter @cucch22