Norwich City vs Everton: 5 Things We Learned from Home Draw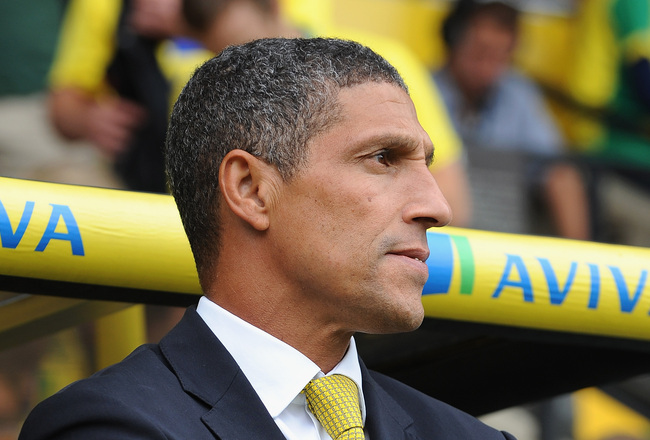 Tony Marshall/Getty Images
So, finally the Premier League season returned on Saturday. It's been a long wait for Norwich City fans to see how the team might get on. Team selection wasn't ideal with a number of key players unavailable for a variety of reasons.
However, despite the difficulties of that, Norwich put on a fine opening display and were certainly good value for at least a point during the 2-2 draw with Everton.
Let's now go through some of the finer points of the game in this latest Norwich City-themed slideshow…
Is Possession Really King?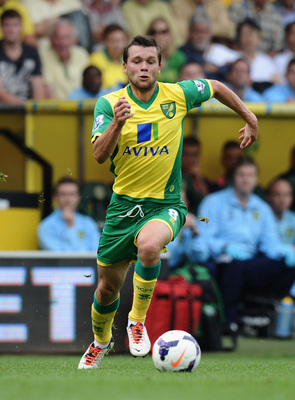 Tony Marshall/Getty Images
Stats from Who Scored suggest that Everton greatly dominated the possession with 68% compared with just 32% for Norwich. However, the Canaries were certainly in this game and showed attacking intent throughout, especially in the second half.
As many fans will say, it's about what you do with the ball rather than how much of it you have. And one thing you can say about Norwich is they took the two opportunities that they did create superbly.
Meanwhile, Everton can be accused of overplaying at times and John Ruddy had a relatively easy afternoon, minus the two goals he did concede.
Was Robert Snodgrass Missed?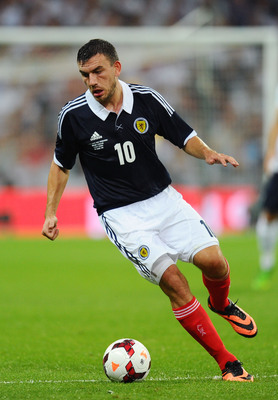 Mike Hewitt/Getty Images
Further stats from the game suggest that Norwich City only managed two successful crosses in the match from the 20 they attempted. This in itself might be seen as a sign that Robert Snodgrass was missed.
The Scottish winger was Norwich's best attacking outlet last season and crossing was one of various things that he dominated at.
That being said, of the two successful crosses, one led to a goal and the other nearly did. But given Ricky van Wolfswinkel's ability to finish, it will be very interesting to see how he gets on with the greater amount of opportunities that Snodgrass is likely to provide.
Can Steven Whittaker Make Right-Back His Own This Season?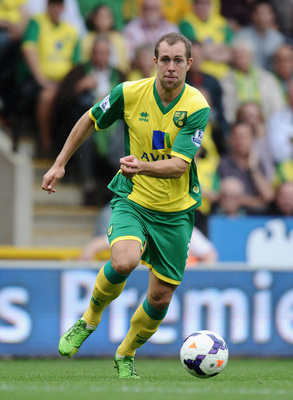 Tony Marshall/Getty Images
This was a great start for Steven Whittaker, especially since he scored and assisted on his first appearance of the season.
Whittaker has had his share of injuries since arriving at Carrow Road, but will now be hoping to nail down that spot at right-back.
His opportunity on Saturday partly came about due to Chris Hughton's decision to play Russell Martin as a central defender. And Whittaker's chances of playing might rest on Martin remaining in that position.
This is because you suspect that Russell Martin would be preferred over Whittaker in the normal course of events.
Nathan Redmond and Ricky Van Wolfswinkel Had Impressive Debuts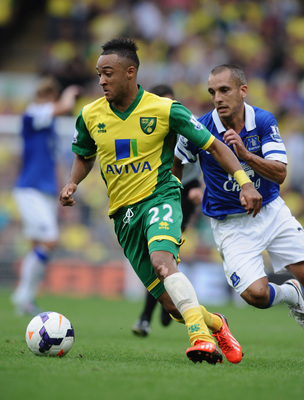 Tony Marshall/Getty Images
Due to the problems that I highlighted before, Norwich only had two of their summer signings making debut appearances.
Nathan Redmond is a livewire winger who caused Everton more than a few problems; having him on one side and Elliott Bennett on the other seemed to work really well.
It gave Norwich a threat on either flank and posed a real problem for the Toffees. Let's hope there is a lot more to come from Redmond over the course of the season. I am particularly looking forward to seeing Redmond on one side and Snodgrass on the other.
Ricky van Wolfswinkel also put in a particularly impressive shift. I know some fans were a little concerned about the Dutch striker following the form he showed in preseason.
But it appears he is going to be a great signing. I think there were a few things to notice. Firstly, he is clearly a very classy striker who has brilliant positioning and was a focal point in the attack. You could tell he was used to playing as a lone striker.
Strikers, however, are always going to be judged on goals and van Wolfswinkel showed great composure to score the equalizer. The fact that he also nearly set up a chance for others on one or two occasions shows he could be the complete striker this season.
There's a Lot More to Come from Norwich City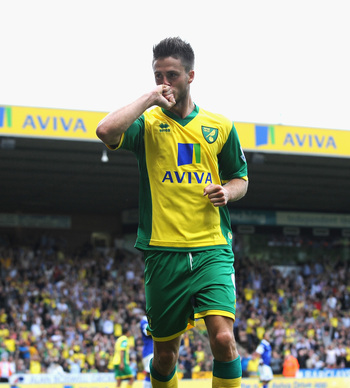 Tony Marshall/Getty Images
The greatest thing about the game on Saturday is that there is so much more to come. Players were injured and unavailable, but the Canaries still put on a show against a very strong Everton side.
There is every evidence to suggest that Norwich will enjoy a very impressive season in the Premier League in 2013/14.
I am particularly interested and excited to see how we get on when we have a full-strength team to choose from. I am also very interested to see how Leroy Fer, Martin Olsson and Gary Hooper perform when they get a chance.
Keep Reading