The first five months of David Wright's stint as captain of the New York Mets haven't quite gone as planned, but rest assured, the franchise doesn't have one iota of regret.
Besides such impending free agents as John Buck, Marlon Byrd and LaTroy Hawkins, Wright leads all Mets in professional experience. More importantly, he has spent his major league lifetime in the Big Apple and knows the unrivaled support a team can receive from the city with some collective success.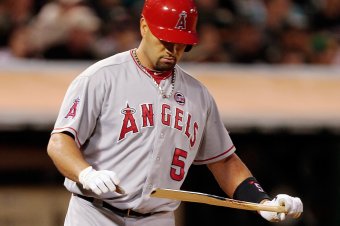 Brian Bahr/Getty Images
The sight of elite ballplayers fading upon turning 30 years old has become all too familiar around the majors. Recent examples include, but haven't been limited to, Carl Crawford, Ryan Howard, Justin Morneau, Albert Pujols and Mark Teixeira.
Guess who's defying that trend?
Wright was firmly in the National League MVP discussion through the first four months of the 2013 season. According to FanGraphs, he still ranks third among National League position players in Wins Above Replacement(WAR) at 5.7. That's due to his excellent defense at the hot corner and heads-up baserunning, not to mention a .309/.391/.512 batting line and his lowest strikeout rate since 2008.
That's a darn good start to the fourth decade of his life.
Byrd and Matt Harvey have been the only Mets with even half of Wright's WAR this summer. Needless to say, the Mets' ability to rise back to relevance hinges on their captain providing more strong individual efforts in future seasons.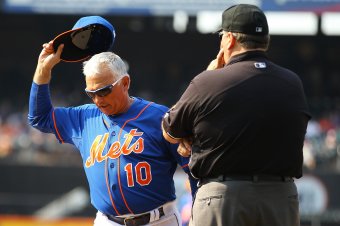 Mike McGinnis/Getty Images
It's going to be a steep uphill climb for the Mets to regain their former glory, as they have struggled on the field and at the turnstile.
Wednesday afternoon's loss to the Atlanta Braves dropped their 2013 record to 58-67 and Citi Field was only half-filled for the game. With the division title already out of reach, the Mets will require near-perfection over the next five-and-a-half weeks to make the playoffs as an NL wild card, an unreasonable expectation for a rookie-laden roster.
Moreover, Wright has been on the disabled list since early August while nursing a mild hamstring strain. There has even been concern that the All-Star third baseman won't return until next season.
Twitter yearns for his return:
I miss David Wright.

— Wendy Thurm (@hangingsliders) August 16, 2013
Its impossible to not love David Wright

— Nico Russo (@nicoorusso) August 21, 2013
So happy to see and hear Kevin Burkhardt interviewing Captain David Wright !!! Miss David Wright !!! Get Well Soon David !!! #Mets

— Michael Chin (@RealMichaelChin) August 21, 2013
#BeisbolistaFavorito David Wright

— Mae Valles Milano (@vallesmarines) August 22, 2013
Wipe your teary eyes, baseball fans. According to Adam Rubin of ESPN New York, Wright is determined to re-board the Mets' ship before it is totally submerged:
Wright stressed the importance of returning this season, even if it's for a short stretch.

"It's always important to me on a number of different levels. One, that this is what I love to do. I can't tell you how bored I was the last two weeks," Wright said. "I think also it kind of helps you confidence-wise going into spring training knowing that you finished the year healthy. So no question I think it's important. Confidence-wise, mentally, obviously physically, to get back out there and finish as strong as I can."
Even the way in which Wright suffered his injury attests to his competitiveness. He had been publicly battling hamstring tightness when the Mets returned to Queens for a six-game homestand.
"I tried to keep myself under control," he explained to Rubin after busting it too hard down the first base line and forcing an errant throw in extra innings of an eventual walk-off victory.
Beyond Wright's intangibles and performance, the Mets considered his interpersonal skills and his perception as a role model and league ambassador before stitching the "C" onto his uniform.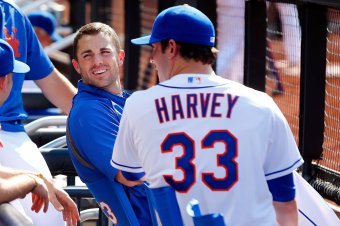 Jim McIsaac/Getty Images
Jennifer Breithaupt, the senior vice president of entertainment marketing for Citi Cards, was also drawn to those qualities. She told Bleacher Report that his demonstrations of leadership and sportsmanship made him "a natural fit" when Citi sought marquee athletes to host youth sports clinics for its Citi ThankYou cardmembers.
The event sold out "almost instantly," she says. About 65 boys and girls have been signed up—with many other hopefuls relegated to a waiting list—to interact with Wright and Mets coaches on Aug. 29 at Citi Field the morning before a matchup with the Philadelphia Phillies.
After giving a personal introduction, Wright will supervise hitting and defensive drills, although he'll most likely be limited by the hamstring injury.
"He just won't be able to get as active as he might get with the kids traditionally," Breithaupt admits. "I don't think he'll be doing a lot of running, but he's definitely still committed to doing this."
That comes as no surprise. Wright never shies away from fan interaction, as MLB.com captured earlier this season:
Only the first few chapters of Wright's legacy have been written. Signing his name to the largest contract in Mets' history will keep him with the team through at least 2020.
He paints a bright future, like a captain should, for ESPN's Jeremy Schaap:
Wright exudes a genuine confidence when he says, "We're gonna get this thing turned around, and we're gonna win." It sounds more like prophecy than just wishful thinking.
Make Ely the captain of your online sports coverage by following him on Twitter for quirky stats and observations, and the latest links to his articles.