UFC Fight Night 26 Results: Most Impressive Performances from Boston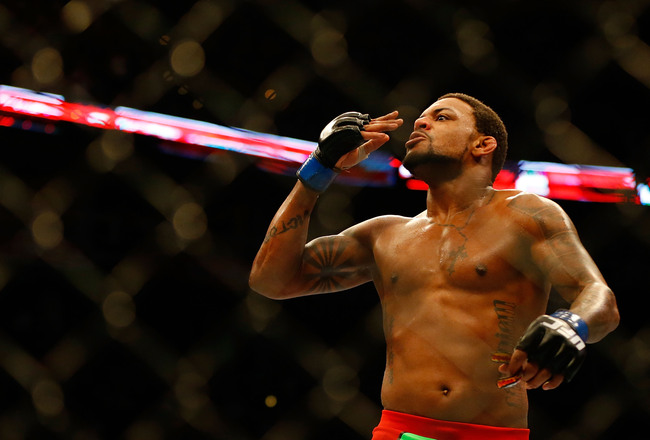 Jared Wickerham/Getty Images
Fox Sports 1's gamble with the UFC paid off on Saturday with Fight Night 6 proving a success on every count.
This was a stacked card from the beginning, and certainly showed why the promotion chose to lead with these men.
They all stepped up to deliver a night of action and shaking up their respective divisions. With three submissions and three knockouts, there's plenty to talk about. Here's a look at the best performances from the night.
Chael Sonnen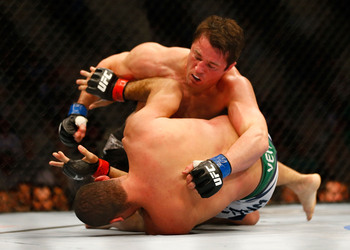 Jared Wickerham/Getty Images
A lot has been written about Chael Sonnen in media pages. The three-time title contender has managed to capture more attention than people think he deserves. But on Saturday, he proved why he deserved that attention.
His win over Mauricio Rua, submitting the BJJ black belt in the first round, displayed his trademark wrestling, which is among the best in all of MMA.
It was a one-sided fight which has done much to strengthen Sonnen's reputation after two one-round losses to champions.
Having scored his first win at light heavyweight against a difficult opponent, he is now a prospect in two weight classes.
Urijah Faber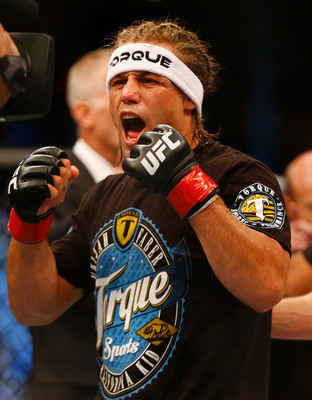 Jared Wickerham/Getty Images
In 35 fights, Urijah Faber's only six losses have come in title fights. He's been a contender in two divisions and showed on Saturday the kind of performance that has earned him that impressive record.
His opponent was a dangerous unknown element, Brazilian Iuri Alcantara, who managed to survive three rounds against Faber.
Those were three one-sided rounds, and Faber came close to finishing his opponent on several occasions. However, Alcantara was a dogged opponent and gave Faber a real battle—one which the "California Kid" was equal to.
Faber is now three-for-three in 2013, an incredible work rate that puts him straight back in the title race.
Matt Brown
Winslow Townson-USA TODAY Sports
Matt Brown seems unstoppable at the moment and has knocked out five of his last six opponents. Mike Pyle took only 29 seconds to dispatch and Brown immediately called out welterweight champion, Georges St. Pierre.
Considering Brown isn't even in the top 10, a testimony to how packed 170 pounds is, that fight is unlikely to happen. But his performances of late are worthy of attention.
He came out like a bullet from the bell and overwhelmed his opponent. In the end the win was easy, with the three losses in 2010 now far behind him.
Michael Johnson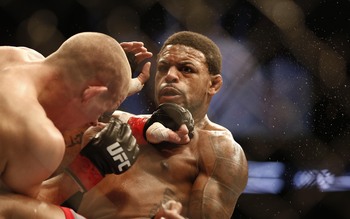 Winslow Townson-USA TODAY Sports
Like many TUF graduates, lightweight Michael Johnson has yet to translate promise into reality. Coming into Fight Night 26, he was on a two fight losing streak and was in danger of being cut from the promotion.
But the training with the Blackzilians down in Florida has certainly paid off. His striking was the best we've seen from the 27-year-old, and against a warrior like Joe Lauzon, that's saying something.
He was the better fighter for three rounds, with one judge giving him an incredible 30-25 score. That's how dominant he was.
Michael McDonald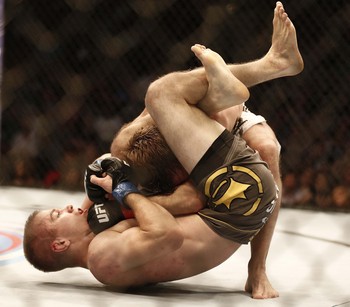 Winslow Townson-USA TODAY Sports
One of the more incredible things about Michael McDonald's performance last night is that he's only 22. But he made the 34-year-old Brad Pickett look completely out of his element.
There wasn't one point in which the Englishman threatened, and while he was getting lit-up on his feet, taking the fight to the mat was an even worse decision.
McDonald proved just how dangerous he is off his back as much as on his feet, and didn't waste a moment in sinking that sublime triangle choke.
Pickett tapped inside the third round and saved himself from an unscheduled nap.
With Dominick Cruz still out, there's only Urijah Faber and champion Renan Barao now ahead of him in the rankings. Having already lost to Barao, a title eliminator against his friend Faber must now surely be in the works.
Keep Reading