Ask Danny Welbeck what his best position is and he'll tell you it's as a centre forward.
He grew up in Longsight scoring goals. He made a name for himself at Manchester United's academy by scoring goals. He got his chance in the first team by scoring goals.
His ranging pace and delicate touch, added to his tall, sturdy physique make him perfectly suited to lead the line. His finishing can look a little rusty but only when he's got too much time to think about a chance.
He's good in the air. Real Madrid and Scotland will testify to that, and when he's in the mood, he has the confidence to show off, like his chipped finish over Michel Vorm against Swansea on Saturday.
But what's best for Welbeck isn't always what's best for United, and his adaptability makes him a manager's dream as well as his own worst enemy.
Sir Alex Ferguson put a lot of trust in the 22-year-old over the two legs with Real Madrid in the Champions League last season. He decided that by stopping Xabi Alonso he could stop Madrid. In the second leg—with the tie in the balance—that job fell to Welbeck.
As reported by Hannah Duncan of Metro, he did it so well that José Mourinho conceded afterwards that United had been the better team over the two games despite Madrid advancing to the quarter-finals.
But while Welbeck is playing out of position for the good of the team, his goal tally suffers.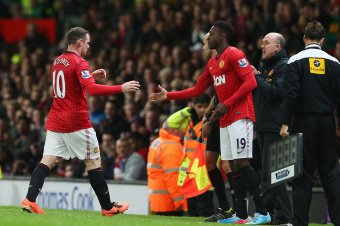 Alex Livesey/Getty Images
He scored twice for United last season, which is a poor total for a centre forward, but then again, he could count on one hand the number of times he actually started up front.
In his two competitive games for United this season, Welbeck has started behind Robin van Persie. For England against Scotland, he started on the left side of a front three.
His two goals against Swansea mean he'll retain the right to partner van Persie for now. But as Wayne Rooney returns to full fitness, he's likely to find that his place will be put under pressure.
David Moyes has set out his stall this season with one out-and-out forward and in a majority of games that's going to be van Persie. It means Welbeck, Rooney and the rest will have to fight it out to play the supporting role.
Given Welbeck's form and the standing in the squad of van Persie and Rooney, Moyes may choose to play the trio together.
But it means, for another season, Welbeck will have to put his own wants behind those of the team.